This post may contain affiliate links. This means I may receive a small commission if products are purchased through them. All opinions are honest and remain my own.
When looking for the best type of litter for cats with asthma, you'll need to consider the dust and fragrance levels as those can both be triggering.
However aside from that, another important factor here is choosing a cat litter that will actually work for you and your cat.
There are so many different types of cat litters out there, it can be difficult to choose!
Not all of the cat litters on this list will work for every cat (and every owner) so I'll go over the pros and cons of each so you can make a better decision for which one is right for you.
Asthma-Friendly Cat Litter, Quick Guide
What causes asthma in cats?
It's estimated that approximately 1% of the nation's domestic cats suffer from feline acute or chronic asthma.
This is caused when a cat's immune system has a strong reaction to some type of allergen. It's not 100% clear what causes this in cats, and is debated among experts.
However, dusty kitty litter is among one of the top causes of allergens that can trigger an asthmatic response in certain cats.
Other causes can include smoke (either tobacco or from fireplaces/candles), household cleaning products and aerosol sprays, mold, mildew, pollen, grass, and weeds.
What happens is their immune system releases stimulants in response to certain irritants that causes swelling and inflammation, which narrows their airways and makes it harder to breath.
What type of litter to use when your cat has asthma (or other respiratory issues)
When choosing cat litter for an asthmatic cat, going as dust-free as possible is best. It's also a good idea to stay clear of those that are extremely strongly scented, as the smell alone can be enough to trigger a strong immune reaction.
Silica litters for cats with asthma
The first type of cat litter that may be better for cats (and owners) who suffer from asthma is silica crystal litter. Compared to natural litters like paper and wood, and dustless clumping clay, they work the best (in my experience).
I've tried several different types of these like Pretty Litter, Fresh Step Crystals, and even a Chewy branded unscented version. (Chewy's version was OK but it was dusty even as I poured it fresh from the bag, so I can't recommend it for asthma sufferers).
✓ Fresh Step Crystals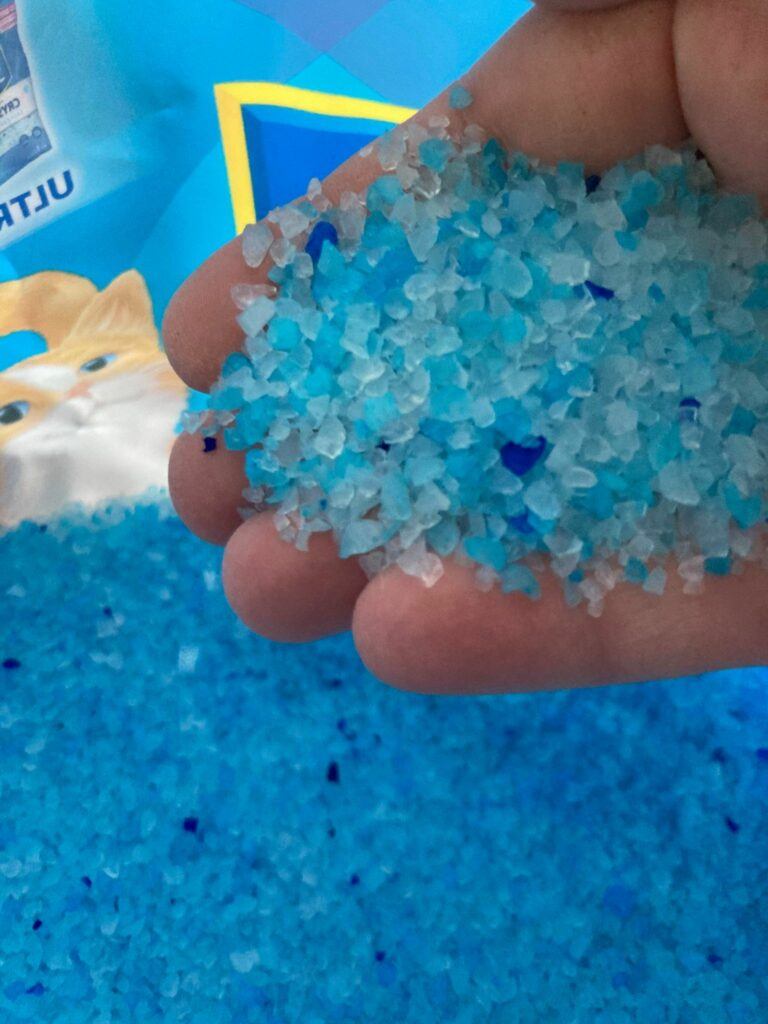 Fresh Step Crystals silica litter isn't advertised as a hypoallergenic, asthma-safe cat litter, but it's one of the least dusty and least offensive smelling litters I've used with my cat.
It has much larger crystals than most other silica litters, which majorly helps to keep the dust to an absolute minimum.
I also can barely notice any type of scent, even though it's supposed to be "fresh scented". Whatever it is, it's not overwhelming like other scented litter, which in and of itself can also trigger asthma.
Aside from being virtually dust-free, it works fantastic. It does a great job absorbing urine and all you have to do is scoop out the poop and stir the litter around regularly.
I never noticed a urine smell the entire time, nor did I notice any urine accumulating at the bottom of the litter box.
The worst part about this litter is that the granules are so large when you step on them, they can really hurt your feet.
This doesn't seem to bother my cat at all, as he took to the litter almost immediately. It also did not stop him from digging excessively in the litter box for a few minutes after he uses it, which can only mean it must not bother his paws at all.
Luckily I didn't notice much tracking outside of the litter box area itself. Use a quality litter mat to keep this to a minimum and/or make sure to sweep and vacuum regularly around the litter box area.
✓ Pretty Litter
You may have heard of this health monitoring cat litter, but it's great for more than just detecting UTIs in your cat.
It's virtually dust-free and has no scent, making it ideal for anyone (cats and people alike) who suffer from asthma, allergies, or any other type of respiratory issues.
However, in my experience I noticed Pretty Litter started to break down and develop dust pretty quickly, within about 2 weeks. And this was just with a single cat.
While it works amazingly, once it stops it's not so good. You'll have to make sure to know when it's reached the end of its lifespan and change it out before it starts getting bad.
✓ Dr. Elsey's Precious Cat Respiratory Relief Unscented Crystal
The last crystal litter I want to mention is the silica crystal version of the Dr. Elsey's Precious Cat Respiratory Relief line.
While I haven't personally tried this silica litter, it's advertised as hypoallergenic and virtually dust-free. It doesn't contain any type of perfumes or deodorants either. It's very well known for being a great litter for cats with asthma.
Warning about silica cat litters!!
Silica litters, even if they're not initially dusty, can get REALLY dusty as they wear out. This is because the particles start to break down over time and emit dust. Remember, these are NON-SCOOPING litters and the crystals absorb urine. They won't last forever.
You'll need to be extra diligent about keeping the litter changed out frequently if you opt for a silica version to keep the dust to an absolute minimum level.
The instructions typically say they'll last 1 month with a single cat, but in my experience, they start to break down and get really dusty after just a couple of weeks.
This was especially true with Pretty Litter, but the Fresh Step Crystals version held up about three weeks – a month before getting dusty.
Natural litters for cats with asthma
---
✓ Yesterday's News Paper Pellets
I haven't tried this type (yet) but some recommend the best route to take if your cat suffers from asthma is a natural litter such as paper pellet litter. These have virtually no dust and are completely natural.
As the paper pellets get wet they will break down and can get dusty, so you'll need to keep all the wet pellets scooped out of the box on a daily basis.
This litter doesn't have as great of odor control as clay or silica litters will, but people who swear by it say as long as you keep the wet pellets cleaned out, it can last awhile if you keep adding fresh pellets each time you scoop.
✓ Feline Pine (pellets)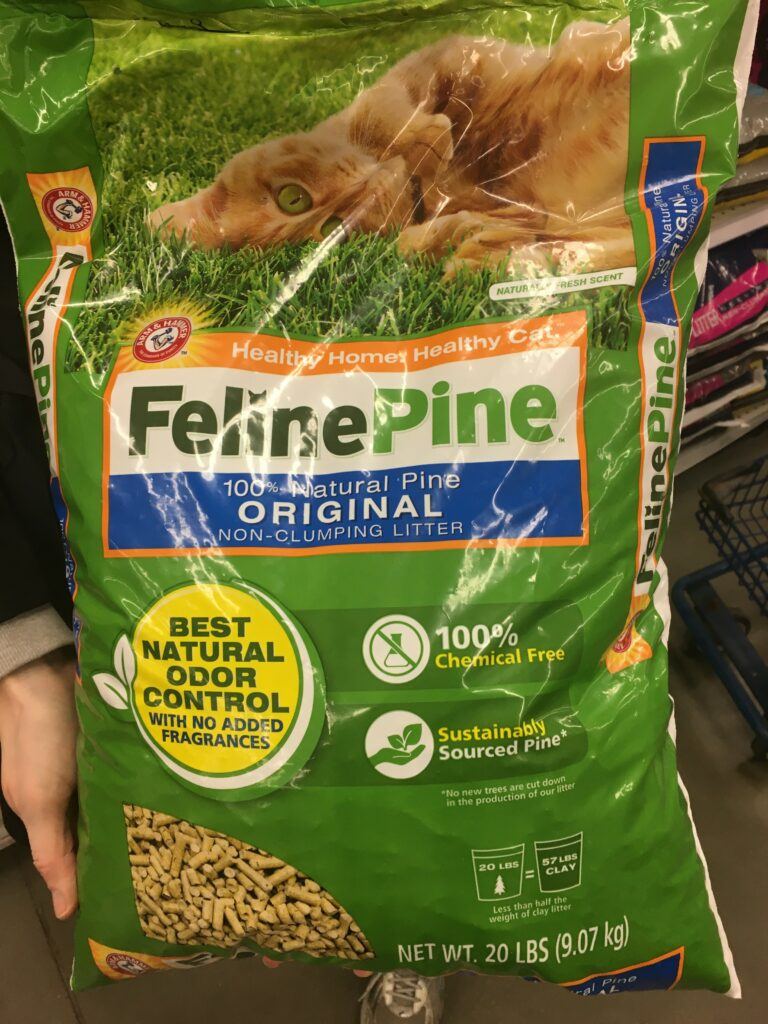 I don't have a ton of experience with wood pelleted cat litter since my cat refused to transition, but I had enough exposure to know it is not dusty. Plus, it doesn't contain any type of artificial scent. It just smells like a woodshop.
Feline Pine is most recommended, but some people use horse bedding pellets instead.
Even though certain studies have linked pine to respiratory issues, the toxic oils are destroyed in the manufacturing process. Plus, the studies were linked with dust exposure. With this litter, the pellets are compressed and the litter is not dusty. Many owners say their cats asthma went away after they made the switch.
But because pine pelleted litters break down and turn to sawdust after they get wet, you'll need to get a good sifting litter pan to easily separate and dispose of the broken down pellets on a regular basis.
Pros and Cons of natural litters
Natural litters are a great eco-friendly option, and they're virtually dust-free. It's also easy to find them without added scents or perfumes. This means they're much less likely to trigger asthma attacks.
However, they can get expensive don't always work as well as silica or clay. Especially when it comes to the longevity of paper pelleted litter and it's ability to cover smells, it may be the weakest of the bunch.
Clay litter for cats with asthma
In general, clay may be one of the worst types of litter to use for asthmatic cats. The problem is this is the MOST popular and widely available type of cat litter. This is because it's relatively cheap, works well, and cats usually don't have any issues using it.
However the nature of clay litters are that they're dusty, and it's hard to completely eliminate. After testing out many different types of litter for my cat, I can assure you that any clay cat litter labeled as "dust free" or "99.9% dust free" STILL has dust.
However, certain versions of clay litter keep dust to a very minimal level. If you want to stick with clay litter, these are among the best options.
✓ Dr. Elsey's Ultra Unscented or Respiratory Relief
If you want to be sure to stay clear of perfumes in your cat litter, but still prefer to use clumping clay, Dr. Elsey's brand makes a few good options.
I am not exactly sure what the difference is between the Ultra Unscented and Respiratory relief clumping clay versions, but they're both hypoallergenic and 99.9% dust free.
You can find the ultra unscented version on Amazon for a good price, but I've only seen the respiratory relief version at Chewy.
✓ Arm and Hammer Platinum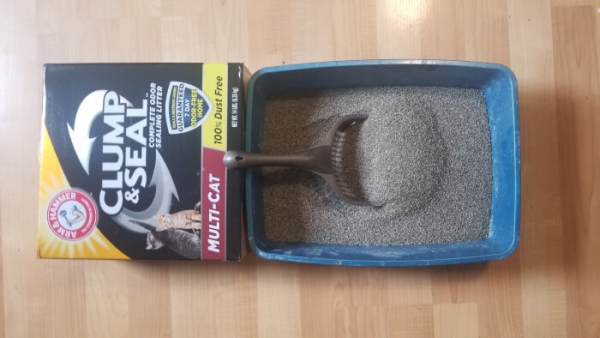 Even though this one has a mild fragrance, Arm and Hammer Platinum Clump and Seal is one of the least dusty clay litters I've tried. Any within the Arm and Hammer Platinum line are good if you're looking for low-dust – just make sure it's labeled 99.9% dust-free or zero dust formula.
The reason I'm including this on my list is that it's much easier to find than the Dr. Elsey's brand, at least if you're shopping in person. It also is better at odor-control. So if you're in a pinch and shopping last minute, it's always an option.
Pros and cons of low-dust clay litters
Clay litter is good at disguising smells, cats often prefer it, and it's widely available.
However I find the lower the dust level of clay litter, the worse it clumps. It also doesn't have the longevity as higher dust versions.
These ones you'll typically need to change out the entire litter box more frequently. Since it doesn't clump as strongly, they tend to break apart into tiny bits that are difficult to remove. This means the litter gets dirty and eventually, smelly.
It may be a fair trade off if you or your cat prefer clay, but there are other options to consider.
Keeping your cat litter box cleaned and maintained properly is important to helping control asthma attacks
Even with the cat litter that is virtually dust-free, it can start to break down and produce more dust as it gets used. This is true with silica, paper, and wood litters.
Keeping the litter box cleaned out on a daily basis, and changing the litter out when its time is up will help keep dust and irritation to a minimum.
Also Check Out: 6 Cat Litter Delivery Services for 2021