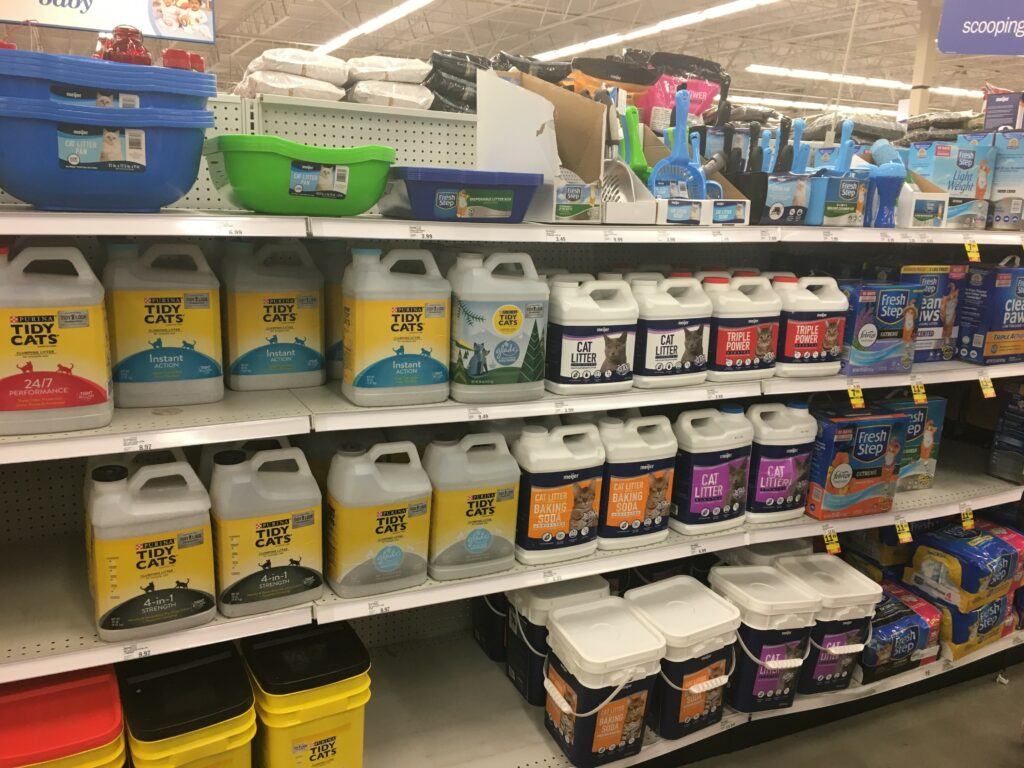 One of the first choices you'll need to make after adopting a kitty is which cat litter to use. What are the cat litter types, pros and cons, and which is really best to use for your cat?
There are so many things to consider when choosing the best litter for your cat – price, ease of use, odor control, environmental impact, and probably (most importantly) if your cat will like it.
This is something I honestly never gave much thought about until recently. Growing up, my mom always used Scoop Away brand clumping litter, and that's what I continued to use as an adult cat owner. Although I've never been exactly brand-loyal, I have always used the clumping litter for my cats.
But if you're a first-time cat owner and just have no idea which type to choose, it can be helpful to know the pros and cons of each type of cat litter on the market.
Litter Type
Pros
Cons
Cost
Clay non-clumping
cats like it
easy to find
litter needs to be changed very
frequently,
doesn't contain odors well,
clay is derived from strip mining, when discarded it takes up lots of room in landfills
$
Clay clumping litter
cats like it
easy to clean
easy to find
can last a long time
material derived from strip mining,
when discarded it takes up lots of
room in landfills
$$
Crystal
super absorbent,
clean,
controls odor
Must rake through litter each
day to prevent urine pooling,
a more expensive alternative than other types
$$$
Wood pellets
Last a long time,
Controls urine
smells, absorbent, biodegradable and
compostable
Cats may hate it and refuse
to use it altogether, it's
more work to clean out
$
Paper pellets
environmentally
friendly, non-toxic,
more absorbent than clay
Cats may hate it, need to switch it out very
often or else urine pools
on the bottom, costs can really add up
$$
Corn
biodegradable,
non-toxic
cats may not like it, can be smelly, some brands are pricey
$$$
Traditional Cat Litters (clay)
The most common types of cat litter are clay-based, which can either be clumping or non-clumping. The reason why clay litters are so popular is that they are really good at absorbing urine and neutralizing the smell. Also, most cats will instinctively use this litter and you won't have to train them.
If you're shopping anywhere other than online or a pet store, this type will make up the vast majority of available options.
Many of these litters have added ingredients like baking soda or other scents to further eliminate or mask smells.
Non-Clumping Litter
Non-clumping litter is made of something called Fuller's Earth, which is clay that absorbs its weight in liquid. It also covers up smell (to a certain extent) however it does not clump, and the litter needs to be dumped and changed frequently.
How often you change the litter out will depend on how many cats you have and how often they go potty, but for the most part you'll need to do it at least once a week, if not more frequently.
This type of litter is much less expensive than the clumping alternative. At my local store, non-clumping litter was selling around 1.4 cents per oz, and the clumping kind was nearly 4 cents per ounce.
However, you need to change it more frequently so you may end up spending more on litter in the long run.
Pros: Cheap, available everywhere, cats like it
Cons: messy, does not control odor well, need to change very frequently, derived from strip-mining so it's not very environmentally friendly, takes up a lot of room in landfills because there's no other way to dispose of it
Popular Brands: Tidy Cat
Clumping Litter
Clumping litter is made from bentonite clay, which allows the urine to form into nice solid clumps that can be scooped out. Common advice is to dump it out entirely at least once a month, but my experience says that's not necessary.
I can go months in between complete litter change-outs if I clean it out regularly (at least once a day) and use a good clumping litter that doesn't break apart easily. Just add fresh litter on top when needed, and it will stay fresh and free of nasty smells for a super long time.
Even though clumping litter is a bit more expensive than the traditional clay type, you may be able to spend less, in the long run, considering it just lasts so much longer.
Pros: Easy to clean, good at keeping smells to a minimum, can last a long time
Cons: sodium bentonite clay used for clumping is derived from strip mining so it's not very environmentally friendly, and it can take up a lot of room in landfills when discarded.
Popular Brands: Scoop Away, Fresh Step, Arm & Hammer
Lightweight Clumping Clay Litter
Lightweight litters are still made of clay but are formulated to be much less heavy than regular litter. This is pretty much the only actual advantage, as they're basically twice the cost. If you're unable to lift heavy things and don't have help, this may be a good option for you.
Non-clay based cat litters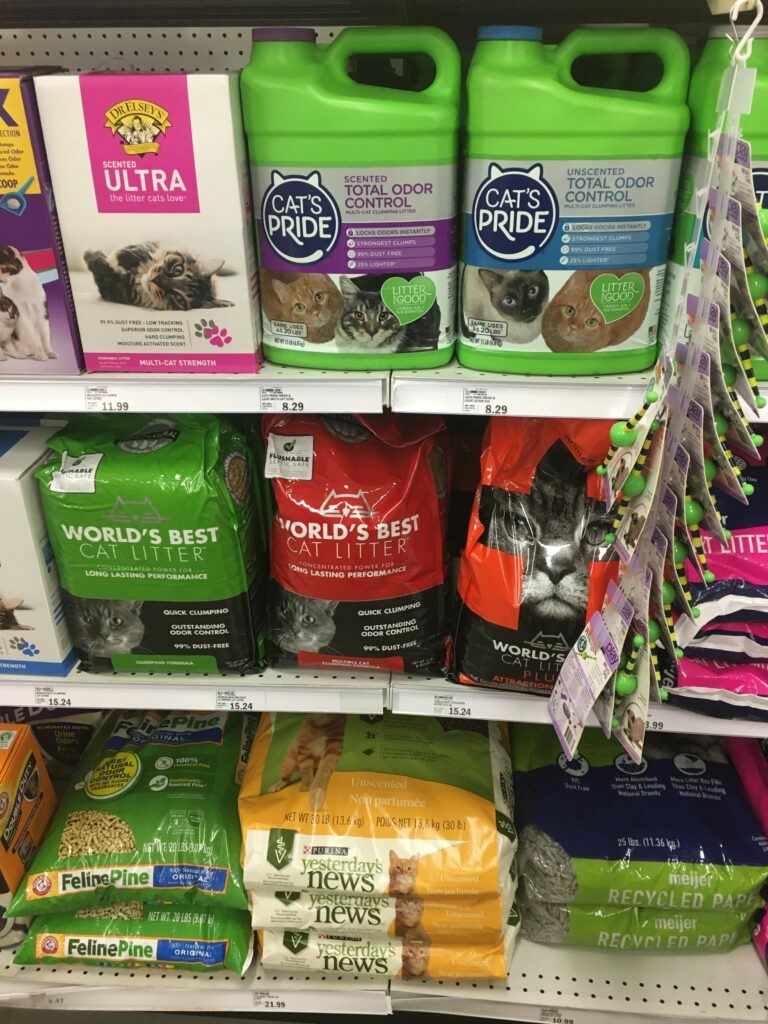 You can find non-clay litters within the cat department of your local Target, Walmart, and perhaps even a supermarket. (And when in doubt, there's always Amazon) These can be made from materials like silica, corn, paper, and even wood.
Crystal Litter
Admittedly, this is a new one for me. I had never even heard of this until recently! Crystal litter is made of silica, which absorbs liquids much better than traditional clay litter and traps in odors.
It does not clump urine, but the crystals are able to trap urine on the inside, and the outside stays dry. The litter box won't become a giant mushy wet mess like with traditional litters, and it traps in the pee odor so well you only need to switch out the litter entirely once per month.
You'll never need to scoop out giant pee clumps or switch out the litter every couple days like regular clay. Compared to non-clumping litter, that's a heck of a lot less upkeep.
This type of litter is great for automatic litter boxes.
Pros: Need to change it much less often than traditional non-clumping clay type so you'll use less (and less in landfills). Controls odor well, absorbs better than clay
Cons: Expensive, some cats might not like it
Popular Brands: Fresh Step Crystals
Wood Litter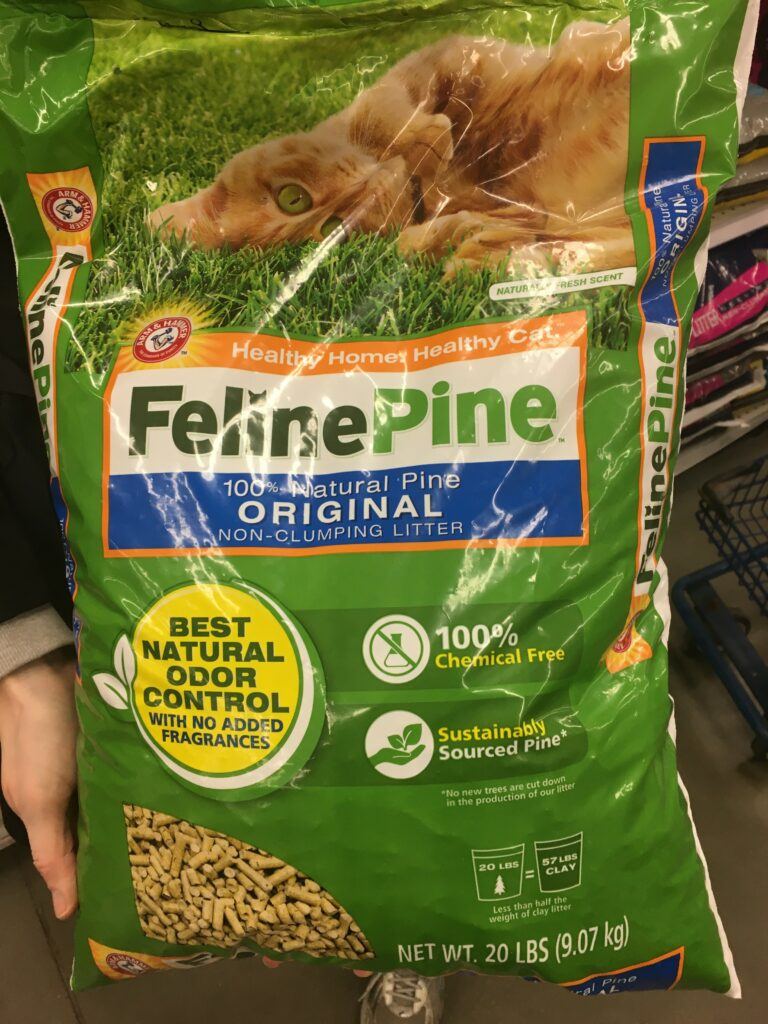 Litter made of wood like pine pellets is another material some cat litters are made out of. Pine pellet litter absorbs liquid super well and then turns to sawdust, so you only have to sift out the sawdust and can keep the unused pellets.
If you're looking for an even cheaper alternative, you can use pine pellet horse bedding (sold at places like Tractor Supply). It may not be marketed as cat litter, but it's the same thing and much less expensive.
Pros: Lasts much longer than other types of litter, less expensive
Cons: A bit trickier and more labor-intensive to clean, cats may refuse to use it
Popular Brand: Feline Pine
Corn Litter
Corn is another type of litter available on the market. Brands like World's Best are made from corn and are formulated to be clumping too, so it can last longer.
Other types have mixes of corn, wood, and other materials.
It may not be the most popular option, but many cat owners swear by it.
Pros: Biodegradable, non-toxic and won't hurt your cats if ingested, lighter than clay
Cons: Expensive, might not trap smells as well, cats may not want to use it
Popular Brand: World's Best Cat Litter
Paper Litter
Another semi-popular alternative to clay is using recycled paper. You can find brands such as Yesterdays's News, which turn materials like old newspapers, phone books, and magazines into paper pellets. These are supposedly highly absorbent and control odor while being safe and non-toxic for your kitties.
Pros: Made from recycled materials, non-toxic, non-tracking, more absorbent than clay litter
Cons: Expensive, can get messy if not switched out regularly so you'll need to repurchase more frequently
Alternatives to using cat litter
You can look beyond the pet section and seek litter that may not be marketed as cat litter such as these 5 cheap alternatives mentioned here. If you do this, you can save a ton of money. However, just like with many of the litter types mentioned above, your cat might not take to it immediately (or at all).
Ultimately, your cat may decide which type of litter you purchase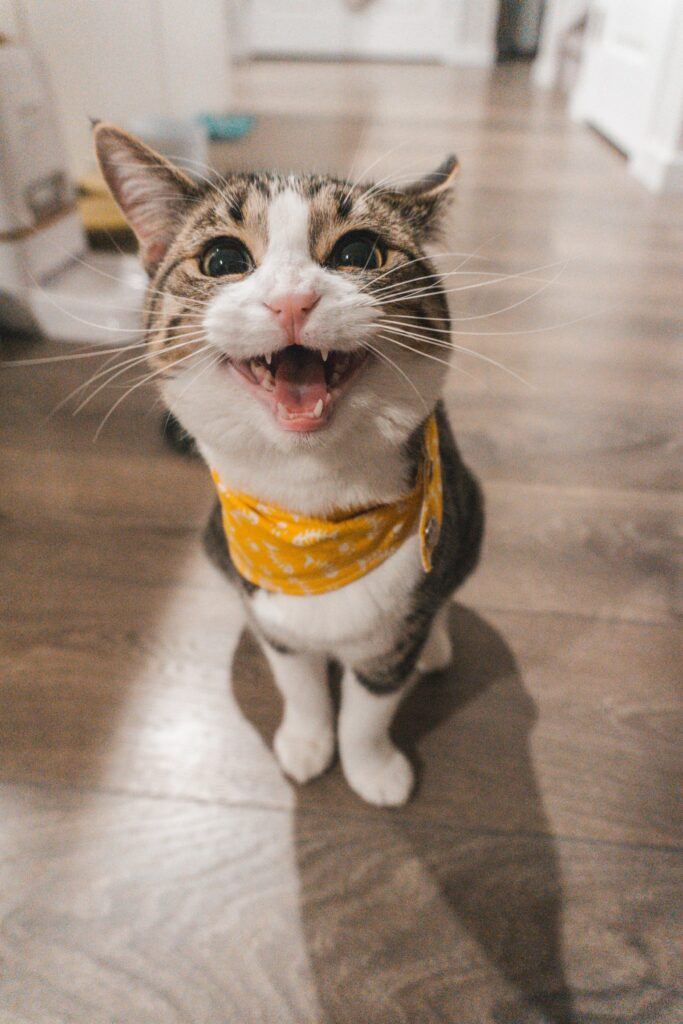 Unfortunately, you just may not get to call the shots on this one. Most cats will instinctively take to clay-based litters, which is in part what makes them so widely used despite their environmental impact.
If you're looking for a litter that will give you the highest success rate, you may want to just stick with clay (preferably clumping).
However many cat owners do have success with training their cat to take to a different litter type, but the best luck will be with new kittens and younger cats. Older cats can tend to be stuck in their ways and more resistant to change.
Each litter type has its pros and cons, and there's no real answer about which is best. The decision will really just come down to what's best for you and what your cat(s) prefer.