This post may contain affiliate links. This means I may receive a small commission if products are purchased through them. All opinions are honest and remain my own.
Pretty Litter – the health monitoring cat litter that's really cool, but also quite pricey. It's probably worth researching to find out if there are any Pretty Litter alternatives on the market. Is there a less expensive solution to monitor your cat's health at home?
However before we get into this, let's talk more about Pretty Litter.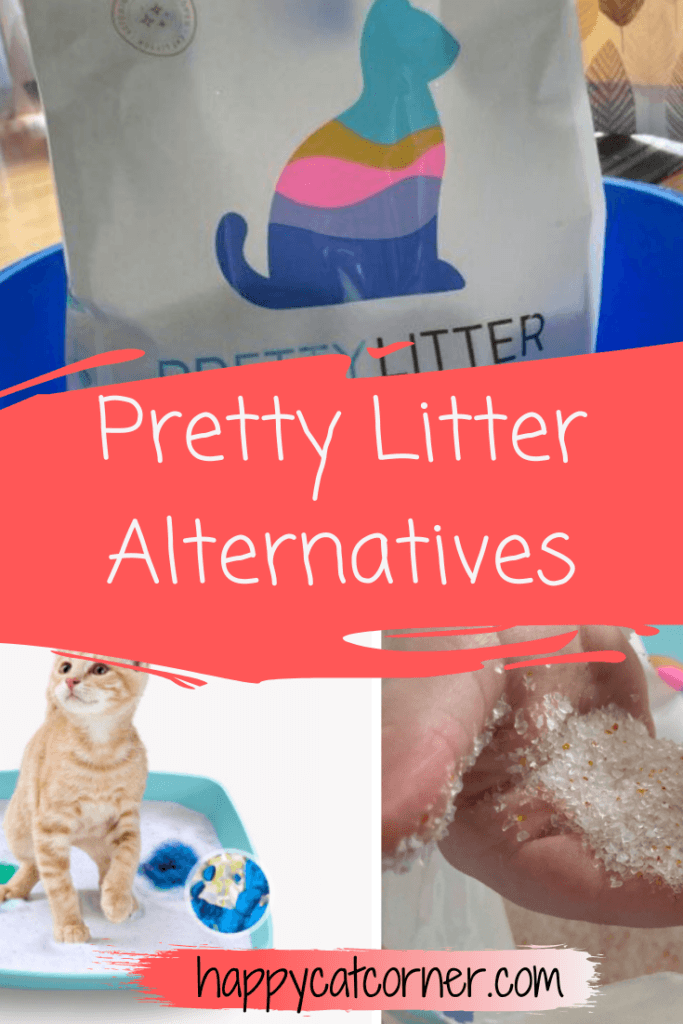 ---
What exactly is Pretty Litter, and what makes it so unique?
On the surface, Pretty Litter acts just like any other crystal cat litter. However what makes it special is that it contains special health monitoring crystals that change color based oh the pH of your cat's urine.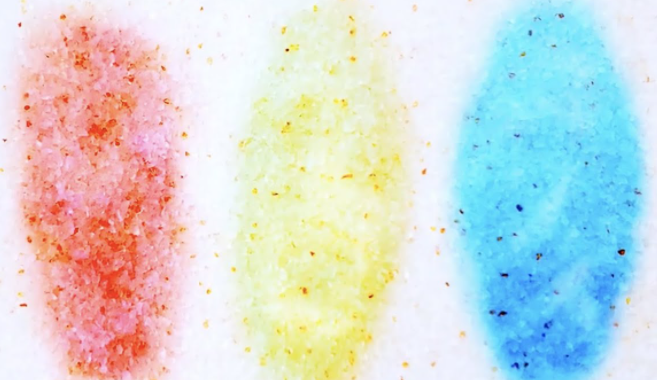 Depending on the color it turns, it can indicate things like bladder crystals or stones, kidney stones, kidney disease, clotting disorders, and UTIs.
Now the theory behind this is that it can help you detect these common health problems EARLY so you can get your cat to the vet before things get really bad (and costly). Cats do not always display symptoms of these things in the earlier stages, and often times it can be pretty severe before you notice anything is wrong.
It is not meant to be a substitute for taking your cat to the veterinarian, and they should still go in for regular check-ups.
So basically this cat litter can act as an everyday early warning health detection system for your cat. This may be especially nice for owner's who have cats that have a history of UTIs or crystal formation, so they can keep a closer eye on it. (In between regular vet check-ups)
Read about my experience with Pretty Litter here
How to save money on Pretty Litter
The downside is this stuff can be quite expensive to use. In addition to the higher price point, in my experience it only lasted a couple of weeks before I had to dump it out!
Plus, one bag alone may not be big enough to fill a larger litter box. The company suggests you buy 2 bags which really bumps up the monthly cost significantly. So it's no wonder you may be searching for a way to keep the cost down.
Here are a few suggestions for saving money on Pretty Litter…
Solution #1. Buy it at Target
If you can find it in stock, you can purchase Pretty Litter at Target in an 8 lb bag for about $25. That's 3 lbs more than the bag you get with a Pretty Litter subscription, at only a few bucks higher cost!
You won't get the monthly subscription service from Target, but at least you'd be saving some money.
Solution #2. Designate 1 litter box as the "health detection" box
Just because you use Pretty Litter doesn't mean you have to keep it in every litter box in your home. If your cat doesn't have problems using different litters, you can designate a single "health detection" litter box with Pretty Litter, and keep your normal litter in the other boxes. This can also keep the monthly cost way down.
But is there a CHEAPER alternative to Pretty Litter?
If you're specifically looking for another brand of cat litter that color changes to indicate health issues, I was only able to find one slightly less expensive alternative. The rest are not really directly comparable. But there are additional ways you can check up on your cat's health at home. Let's review the options.
This Scratchy Paw Cat Litter by Alpha Paw seems pretty much identical to Pretty Litter. Even though the price is slightly higher than a single bag from Pretty Litter's website, you also get a full pound more. Pound for pound, it's less expensive ($4/lb instead of $4.50/lb).
But still, this is only in comparison to the cost of the Pretty Litter subscription. Neither of these options beat the 8 lb bag of Pretty Litter from Target which is only just over $3 per lb!
However not everyone shops or lives near a Target. Considering the 5 lb bag on Pretty Litter's website just isn't quite enough to fill many larger litter boxes appropriately, this Scratchy Paws Litter may provide enough to do so without having to buy an entire extra bag.
The downside is it's far less popular and well known, and the reviews are mixed. Some say it's super dusty and does not work, while others say it's identical to Pretty Litter.
We've tested Pretty Litter, but not this brand. Try it out and let us know how it works!
These Monthly Monitoring Crystals don't work in quite the same way as Pretty Litter. Instead of using this as your normal cat litter, you just sprinkle them over your cat's regular litter before they use the box. Then you'll need to assess the color change within 10 minutes for an accurate reading.
The price is much cheaper than Pretty Litter so it may be a decent option if you only wish to check up periodically between vet check-ups.
However many reviewers say after they sprinkled the crystals over their cat's litter, their cat just went in the box and buried them in with the rest of the regular cat litter, rendering them useless. Other reviewers say their cats refused to use the litter box with this product in it.
Here's the best way to use this product
It seems the best way to use this product is not by following the manufacturer's directions, but rather scoop a hole in the litter where your cat normally does his or her business and fill it with this product. This way, your cat is less likely to feel it on her paws as she steps in the box and much more likely to use the litter box like normal. Also, you'll be able to see the color change much easier.
However, you need to pour this in to the litter each time you want to use it, so it is not a daily monitoring system. This would be something you could do every once in awhile to check up on your cat though (assuming the product works for you).
This KIT4CAT CheckUp Kit is also not a daily monitoring system, but an alternative way to check the pH of your cat's urine at home. This kit contains hydrophobic litter, which is basically sand with a water repellent coating that makes your cat's urine stay on top.
You pour the sand litter in a clean litter box and wait for them to urinate. The amount of litter provided won't be enough to fill a litter box, but most cats will still urinate on it anyway. Afterwards you'll need to collect the urine into a pipette and fill the vial 3/4 full. Then, you can dip the test strip in to check the urine.
This involves more work on your part, but may be a better way to check your cat's urine pH especially without having to switch your cat's regular litter. Also, you can take the sample to your vet for further evaluation. It may reduce your vet bills as they won't have to take a direct sample themselves.
Just keep in mind that the urine needs to be fresh, so preferably you'd need to do this right before a scheduled vet appointment.
Alternative crystal litters (without health monitoring)
If you're just curious about other litters that function much like Pretty Litter, without the health monitoring and for a less expensive price point, any litter made from silica gel will be similar. I did find Pretty Litter to be unique out of all the crystal litters I've tried, but other silica litters are relatively comparable.
My favorite crystal litter so far has been Fresh Step Crystals because it is not dusty at all, and it lasted the longest out of all the types I've tried (including Pretty Litter). However the granules of Fresh Step brand are much larger than Pretty Litter. If you're looking for a litter that looks basically the same, Dr. Elsey's Respiratory Relief Crystals is very very close!
Just like Pretty Litter, these do not clump. You just have to remove the poop and stir each day with the litter scoop to keep it lasting as long as possible.
They all claim to last around a month (for one cat) but in my experience they last between 2-3 weeks. This will vary, depending on the number of cats you have, the number of litter boxes, and your cat's urine volume.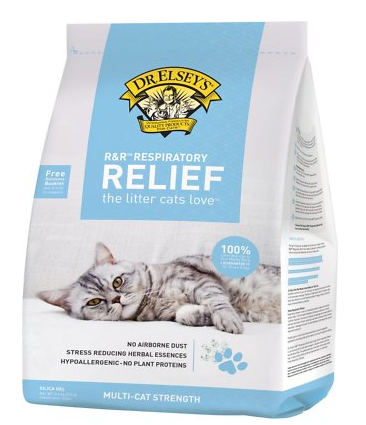 Most similar in terms of granule size and coloration is Dr. Elsey's Respiratory Relief silica gel (crystals) version.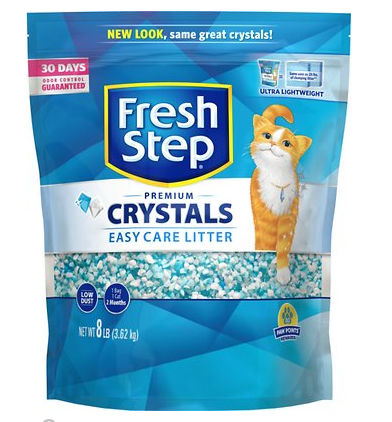 Much different in appearance than Pretty Litter, Fresh Step Crystals have a larger pebble like texture instead of a fine sand.
Very similar to Fresh Step Crystals, but easier to find on Amazon.
The Bottom Line
Unfortunately there's not really a product out there that's directly comparable to Pretty Litter and less expensive. While you can pick up inexpensive home testing kits, they're only for one time use and not everyday monitoring systems.
Remember, none of these options should be used in place of regular vet check-ups! But they can be a great way to check up on your cats from time to time, especially if they're prone to UTIs or crystal formations.
Also check out: 6 Cat Litter Delivery Services for 2021