This post may contain affiliate links. This means I may receive a small commission if products are purchased through them. All opinions are honest and remain my own.
There are so many options for cat litter delivery services these days it can be hard to decide which one to choose! You've probably already heard of Chewy's delivery service (which is on this list for good reason!) however if you're exploring your options, we've compiled a list for 2021.
Here we discuss the pros and cons of different companies so you can make the right decision for you and your furry friends.
---
Our Top Picks for Cat Litter Subscription/Delivery
---
#1. Chewy (our #1 recommendation)
Chewy is probably one of the most popular and largest pet supply delivery services, offering products for pets of all sizes, and of course our beloved felines. The great thing about this company is the convenience – you can set products like cat litter (and food too) to be auto-shipped at recurring intervals of your choosing.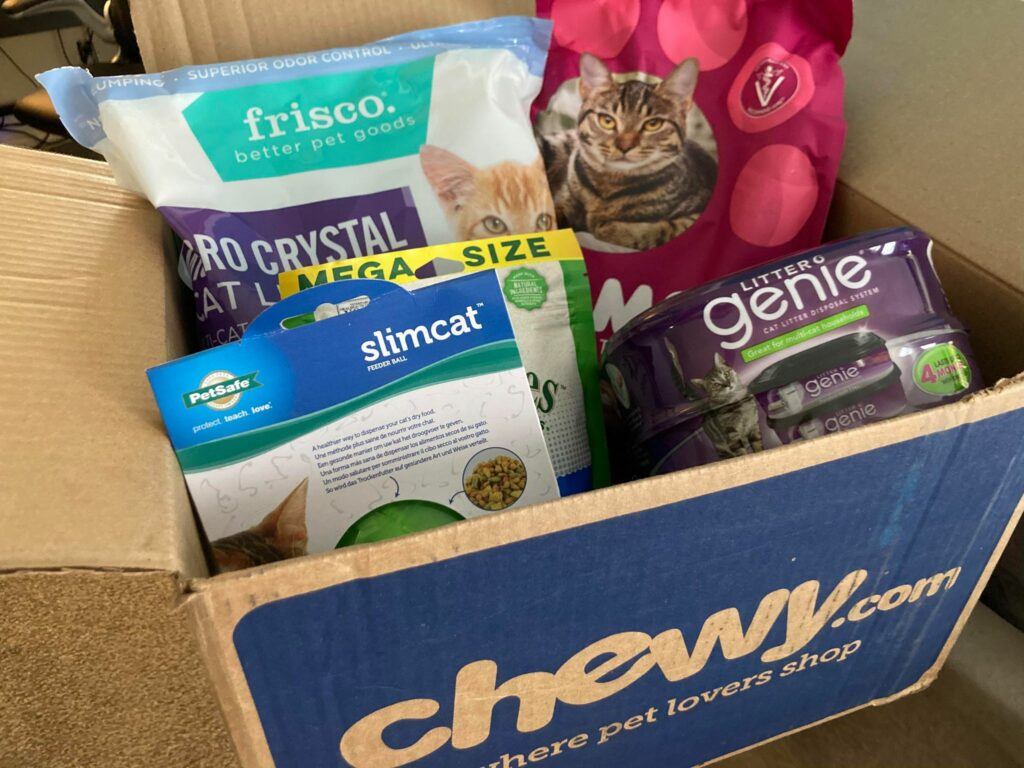 They also offer an incredibly large selection, carrying just about any litter type (and brand) you could think of. If your cat has to use a certain type of litter, you'll probably find it at Chewy.
Their prices are pretty hard to beat too. We've compared across the board and they have some of the lowest we've come across.
They're also known as the customer service king of the pet supply niche, and they certainly live up to that name in our experience!
Pros: Prices are cheap, enticing discounts for new customers, discounts on recurring deliveries, 2-day delivery, huge selection, and AMAZING customer service
Cons: Boxes can come very heavy if you order a ton of litter, they don't have every type of cat litter
You can check out cat litter options at Chewy here!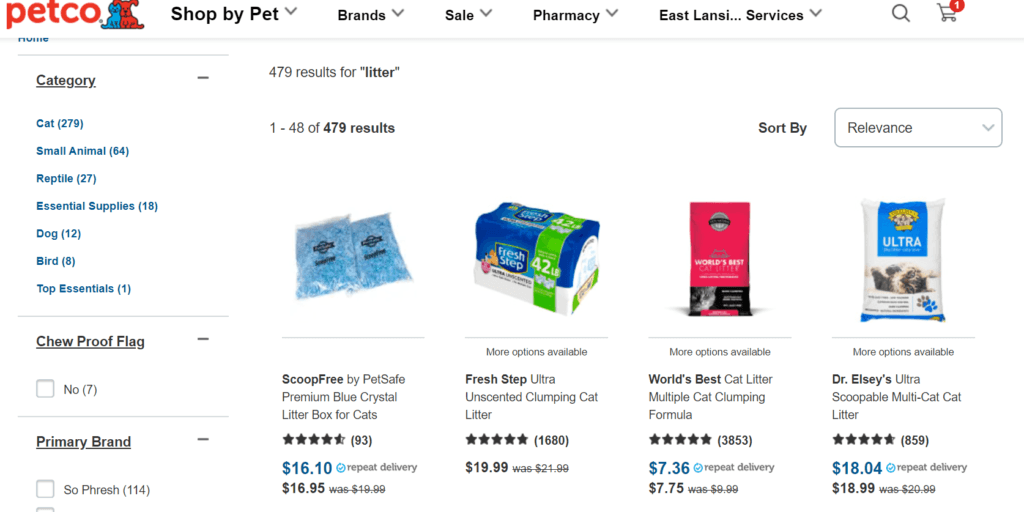 It seems like everyone has heard of Chewy, but did you know that even Petco offers a similar service with their repeat delivery option? The selection of products available for auto-ship is not nearly as large as Chewy's, but they do offer 35% off your first order, plus 5% off future ones.
Shipping is free over $35 and you can cancel your service at any time.
Pros: Free shipping threshold is lower than Chewy's ($35 vs $50), offers Petco's brand litter (So Phresh) that is an awesome deal and not available anywhere else
Cons: Selection limited for delivery service, prices a bit higher for some items
Check out Petco's litter delivery options here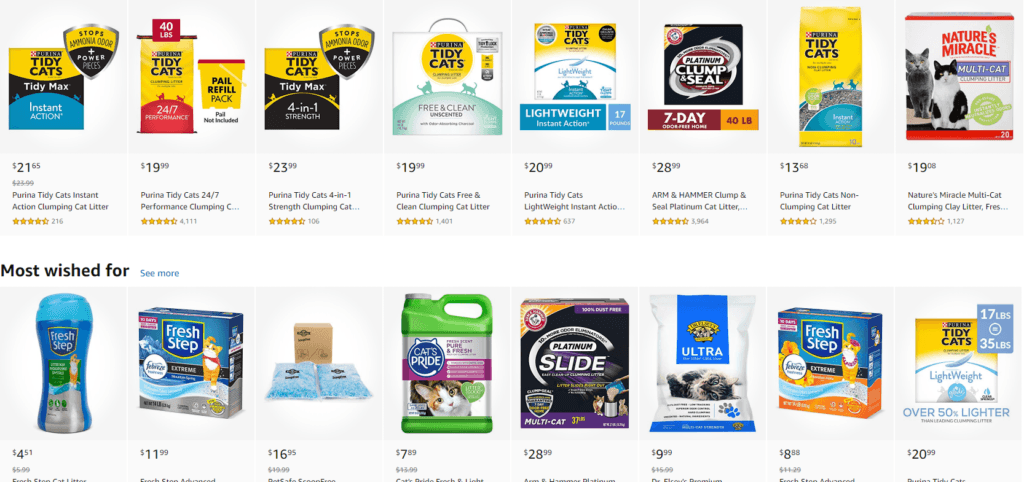 This e-commerce giant is another company that will deliver your cat litter and other pet products. Just like Chewy, Amazon also offers recurring subscriptions for cat litter and other products with their "subscribe and save" service.
The good thing about their service is you can get your cat litter and food delivered with other pantry staples such as toilet paper, laundry detergent, and shelf-stable food if you participate in prime pantry deliveries. If you get 5 items in each order, you receive further discounts.
Amazon's service is most beneficial to prime members as you get free 2-day shipping.
Read our full Amazon vs. Chewy comparison here
Pros: discounts offered, prices for most of their cat litter are identical to Chewy, 2-day shipping with Prime membership
Cons: Not all cat litter and food supplies are available under their recurring delivery service, prices can be all over the place for certain products, 2-day shipping only available for Prime members
Check out Amazon's supply and prices for cat litter here
#4. Petflow
While it may not be as popular, Petflow is most comparable to Chewy out of any other company we've found. They specialize in the delivery of supplies for pets of all types, including cat litter (and food).
While their prices are a bit higher, they still have a great selection, discounts for recurring delivery subscriptions, live chat customer support, and a great referral program where you can invite your friends and give (and get) $10 for every friend you refer.
Get $10 off your order when signing up through this link, and give us $10 too!
Pros: Good selection, customer service, discounts available
Cons: Higher prices than competitors
#5. Kitty Poo Club

This one is different than the others because you're not just getting the actual litter – you get the litter box, too! Kitty Poo Club sends out disposable (recyclable) litter boxes each month.
You won't get to pick a recognized brand of litter (no Scoop Away, Tidy Cats, etc) but they do offer their own unique brand and offer options for litter type – clay, silica, and even soy.
Cat waste will still need to be cleaned from these boxes on a daily basis, but there is no need to add fresh litter. According to the company, 1 box is designed to last a single cat an entire month.
When the month is up, you simply dump out the litter, recycle the box, and switch to a new one (which they send automatically). You won't have to deal with cleaning and sanitizing a litter box.
You don't get to pick the box's pattern, but new ones are released each season.
Pros: Litter box is recyclable, you'll never have clean and sanitize a litter box
Cons: Can end up getting expensive, especially if you have multiple cats or a cat that urinates a lot
Pretty litter is a specialty cat litter that changes color based on the PH level of your cat's urine, which can detect all sorts of health issues like bladder or kidney infections.
This litter could potentially be life-saving since cats don't let humans know they're sick until it's extremely bad. Early detection leads to better treatment and can lessen complications.
The cool part about Pretty Litter is that it's available as a subscription, and you can pick how many bags you want to be delivered each month. They recommend 1 bag per cat, per month, but if you have a large litter box you'll need more.
One of the negatives of this service is it doesn't have a selection of litter types to choose from, it's all made from silica gel. If you or your cat is picky about what litter is made from, this may not be for you. The price point is a bit steep too, but it may be worth it for cats that are prone to infections.
This type of litter does not clump, rather, the silica crystals absorb the moisture and odor. You just have to stir it up to keep it aerated (and remove the clumps of poo) and it lasts a few weeks.
You can read my full review and experience with this stuff here!
Pros: Detects health issues in cats (litter changes color when they pee), no scooping clumps, stays dry and odor free
Cons: Expensive, doesn't always last as long as they claim
Save 20% off your first Pretty Litter order here with code TRT20
The Bottom Line
If you're not looking for specialized litter, Chewy is our #1 pick for its amazing customer service and excellent prices. However there are plenty of cat litter subscriptions these days, so there's definitely something for every cat and cat owner out there!