This post may contain affiliate links. This means I may receive a small commission if products are purchased through them. All opinions are honest and remain my own.
Are you on the hunt for alternative cat litter options? Crystal (silica gel) cat litters are becoming quite a popular pick due to their lightweight, virtually dust-free, and long-lasting nature. Let's talk about silica based litters more in-depth, along with the pros and cons, so you can decide if it's right for you and your feline.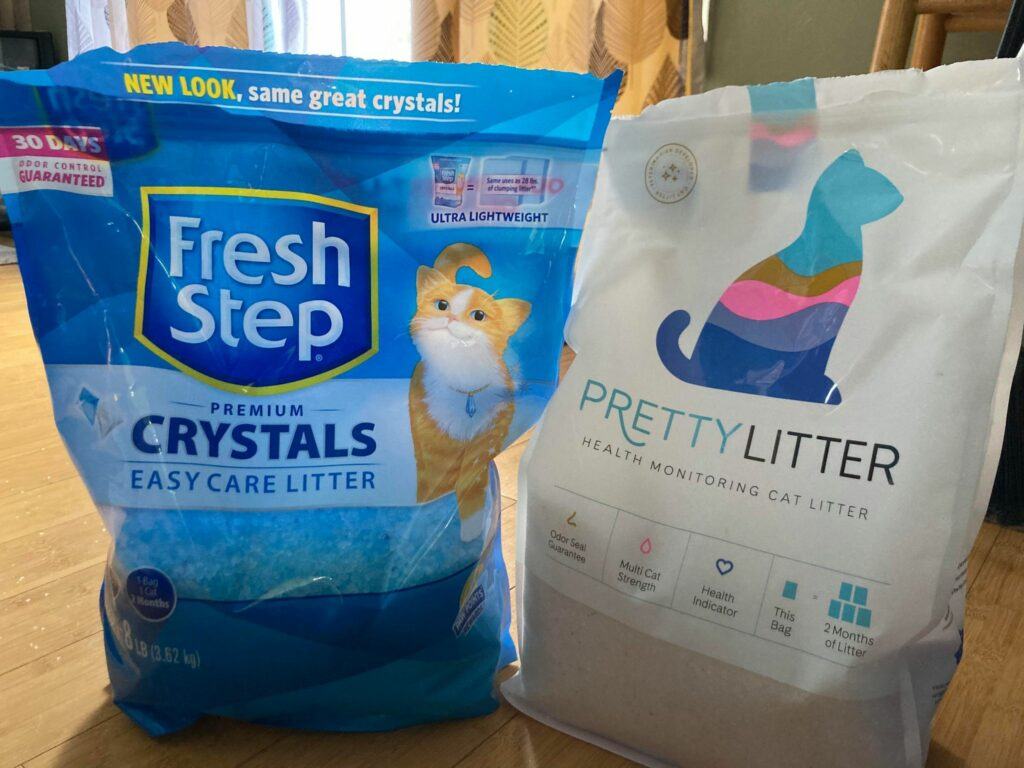 ---
Quick Look: silica (crystal) cat litter pros vs. cons
Pros
✔ Virtually dust-free
✔ No scooping necessary
✔ Box stays dry
✔ Lightweight, easier to handle
✔ Excellent odor control
✔ Don't need to use as much litter
Cons
✘  A bit pricier than its clay alternatives
✘  Must be stirred each day to keep it working its best
✘ Doesn't cover up poo smell
✘  May not last as long as it should, especially with a heavily used litter box
✘  Silica gel crystals may break down prematurely and create dust
What exactly are silica gel litters, and how do they work?
Silica gel cat litter, which is commonly called crystal litter, is mined from quartz sand. It's produced by taking the sand particles and mixing them with water and oxygen. This creates very small pores within the crystals that are incredibly absorbent – each piece can hold approximately 40x its weight in fluid.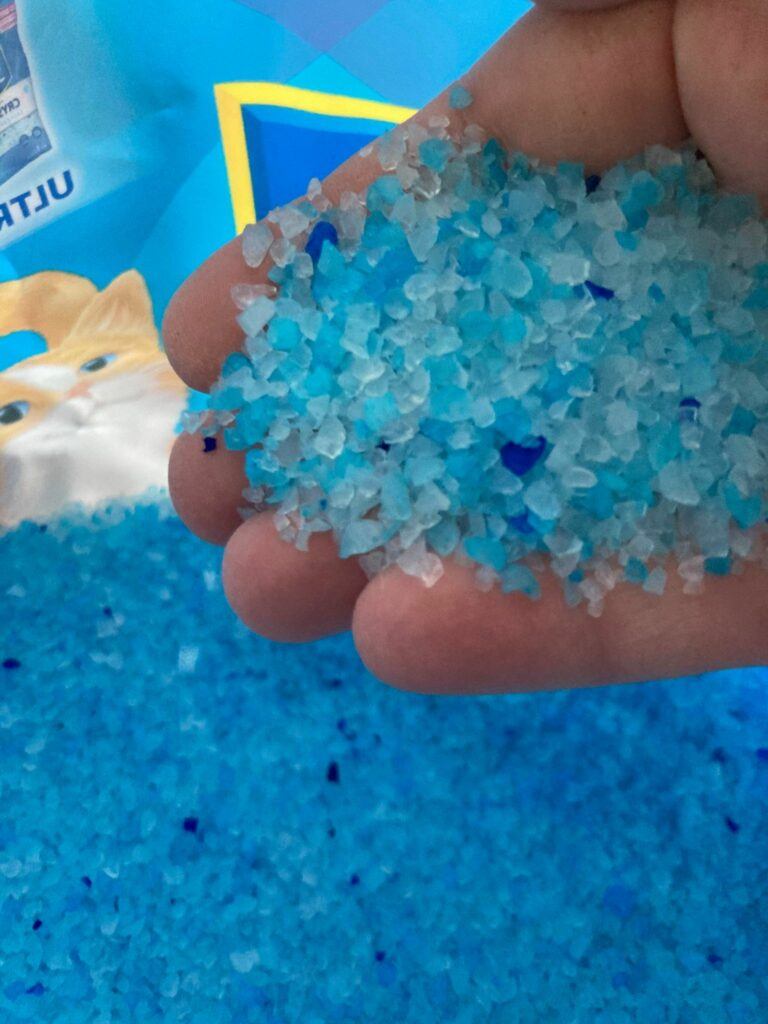 These crystal pieces trap in any liquid they come in contact with into tiny, hollow channels within themselves. They do not clump like most other litters, instead, the moisture is able to evaporate, while odor stays trapped within the crystals.
This type of litter is able to be used for quite a while (up to a month) before needing to be dumped out since after the silica gel crystals get filled with moisture, absorb smells, and evaporate, they're able to continually repeat that process.
Fresh Step Crystals or the famous health monitoring Pretty Litter are examples of litter made out of this material.
Clumping vs. non-clumping silica litter
Typically crystal (silica) cat litters are non-clumping litters, but certain varieties have additives that give them the ability to clump. In general, the clumping silica litters don't work as well as non-clumping versions.
Is silica gel litter safe for cats?
Silica gel litter is safe for cats. This is NOT the same as crystalline silica gel that's found in those little preservative packets (you know, the ones that say THROW OUT, DO NOT EAT). Silica cat litter is made from amorphous silica gel, not the crystalline that's used in those packets.
Unlike crystalline silica, amorphous silica gel is not classified as a carcinogen, and it's non-toxic.
What can make this even more confusing is that silica gel litters are often referred to as "crystal litter" which if you were to just look up and see those packets are made of crystalline silica, you would think they were the same.
Is it dust-free?
Crystal cat litters are advertised as being virtually (99%) free of dust.
Because the particles in these litters are typically larger, there's very little dust that's produced while handling and neither you nor your cat will really be able to inhale it. This is great for people or pets with asthma or allergies, as clay litters are notorious for being extremely dusty. Even if you have no respiratory issues, the dust is annoying to inhale.
Are silica crystal litters a good environmentally friendly alternative?
Clay litter is by and large the most popular pick among consumers, but it's pretty bad for the environment. Silica litters are advertised as being a better, more sustainable option. But is that really the case?
It's arguable that crystal litters are a better option because people are using less of it, and dumping it out less frequently – therefore, less of it ends up in landfills.
However, silica litters are mined from quartz sand and the process is still environmentally destructive, although not as bad as strip mining for clay. It also does not biodegrade very quickly or easily.
The bottom line is silica gel litter is better than clay, but not the most environmentally friendly option if that is what you're looking for. Alternatives such as wood pellet litter are better due to their ability to break down easily and be composted.
How to use crystal cat litters
Using this type of litter is probably different from what you're used to. Instead of scooping clumps out, you only need to scoop out the poop. But unlike other non-clumping litters, the urine is actually absorbed by the litter, so you don't have to change it out very frequently.
When trying to figure out where to place the litter box, most crystal litter instructions recommended keeping it out of humid areas, like the bathroom, to help the most with evaporation and odor control.
Step 1: Fill litter box to approximately 2 inches in depth with crystals.
When using a cat litter made of silica gel, you want to make sure you fill it high enough that your cat's urine (or at least most of it) doesn't reach the bottom of the pan, otherwise, it won't be absorbed as effectively.
Two inches is typically enough, but you can add more if needed.
Step 2: Scoop out poop each day
This type of cat litter does not hide the odor of your cats poop as well as some clay versions, so you'll want to keep it scooped out regularly. Many people use automatic litter boxes with this type of litter, in which case you would only need to worry about taking care of the litter box relatively unfrequently.
Step 3: Rake the litter box daily
Instead of adding fresh litter, you'll need to rake through the litter box a few times with the cat litter scooper each day. This helps keep the litter properly aerated so it can evaporate and do its job – otherwise, it won't work as it should. If you don't stir it up, some spots will become oversaturated, especially if your cat likes to pee in the same spot in the litter box (like mine does).
Step 4: When crystals wear out, dump out the litter box entirely and start with a fresh batch
Eventually, you'll need to replace the litter when it stops working, or once per month.
How do you know when it's time to change crystal silica gel cat litter?
Silica-based litters are advertised as lasting up to 30 days, but the length of time will vary depending on how many cats you have, and your cat's urine volume. If you have many cats using the litter box, or a cat that pees excessively, it probably won't make it the full 30 days.
You'll know when its time to replace the crystals when one or some of these things start to happen:
They all become discolored
The crystal particles start to break down and develop dust when stirred
They stop absorbing liquid
The litter starts to stink
Can you just add fresh crystals to the top instead of completely switching out the litter?
You won't be able to just keep adding fresh litter to the top like you would with the clumping clay type. You can pour fresh crystals in throughout the month to freshen up the box (although it isn't necessary) but it will still need to be dumped entirely after about 3-4 weeks.
The reason for this is that unlike clumping clay litters which can last a very long time if you keep the box clean, eventually, silica litters wear out. Its ability to absorb liquids slowly deteriorates, so they become saturated and just begin to turn a bit sludgy.
In addition, the litter will also start to smell like urine. You'll need to dump it out and clean out the bottom thoroughly before adding fresh litter.
Is silica litter expensive?
If you examine the cost per pound of silica gel litters vs clay (both clumping and non-clumping versions) it appears significantly more expensive.
Silica gel vs Clay litter cost breakdown (per pound)
Cat Litter
Cost (per lb)
Tidy Cats (clay non-clumping)
$0.25/lb
Scoop Away (clay clumping)
$0.40/lb
Fresh Step Crystals
$1.80/lb
Pretty Litter
(health monitoring crystal litter)
$3.12/lb
But keep in mind that 8 lbs of silica litter by volume would look more like around 12-13 lbs of clay, plus it's not necessary to use as much silica litter in the litter box (the box only needs to be 2 inches deep, vs. the recommended 3-4 inches with clay).
This means that 5 or 6 pounds of silica litters work similarly to 15 or 20 pounds of clay. So the direct comparison of price per pound isn't exactly accurate.
Considering the fact you can go weeks without changing the litter for single cat households, the higher cost might equal out in the end.
How long does silica gel litter actually last?
On average, this type of litter lasts anywhere between 2 – 4 weeks.
However it varies depending on multiple factors, including:
Size of the litter box (if you use a jumbo box or larger, you'll need to use more litter than recommended in order to reach the 2" depth)
number of cats you own (more litter box traffic = shorter life)
the volume of pee your cat produces (cats with diabetes can pee excessively, severely shortening the litter lifespan)
Pros and Cons and using crystal cat litters
As with every cat litter type, each comes with its own unique set of pros and cons.

Silica litter advantages
Some of the best advantages to using crystal litters is they're much lighter than clay, and they last a lot longer. You can easily fill a box with 4-6 lbs of silica gel litter, which means for most people, it's relatively easy to dump out without help.
You also won't need to do the daily task of scooping out urine clumps, which makes cleaning the box faster and easier. The litter is also good at trapping in any urine odor.
They're also great for cat owners (and cats) with asthma and they produce virtually no dust at all. However, sometimes the litter can start to break down early with heavy use and create dust.
Silica litter disadvantages
Even though there are many advantages to silica litters, they also come with their fair share of disadvantages.
They're pricier than clay litters, so cat owners (especially those who own multiple cats) may find it a bit impractical for their budget. They also need daily stirring to keep the litter working as well as possible. Otherwise, urine can pool at the bottom and get really nasty.
You also will need to wash out the litter box after each time you dump it out to prevent build up on the bottom.
Quick Summary, Advantages vs Disadvantages of Silica Crystal Litters
Pros
✔ Virtually dust-free
✔ No scooping clumps necessary
✔ Box stays dry
✔ Lightweight, easier to handle
✔ Excellent odor control
✔ Don't need to use as much litter
Cons
✘  A bit pricier than its clay alternatives
✘  Must be stirred each day to keep it working its best
✘ Doesn't cover up poo smell
✘  May not last as long as it should, especially with a heavily used litter box
✘  Silica gel crystals may start to break down prematurely and create dust
Crystal cat litter picks
If you're thinking of trying crystal cat litter, here are our recommendations: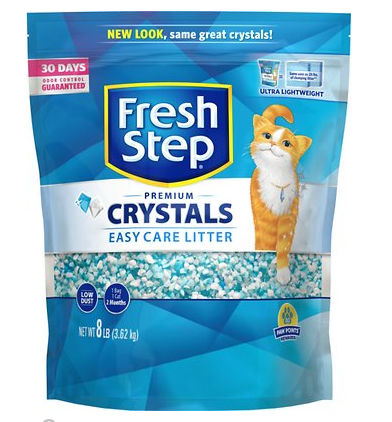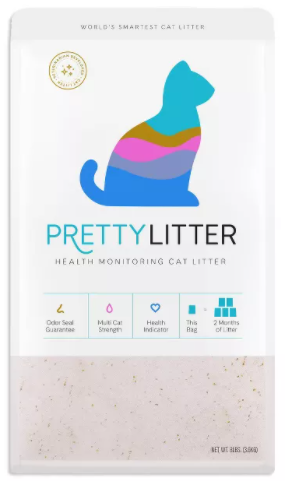 Pretty Litter is a unique crystal litter that can detect early signs of UTIs and kidney disease in cats. It works well but definitely isn't perfect! You can read my full review and experience using this stuff here.
---
Do you find yourself constantly running out of cat supplies? Or are you looking for an easier way to stay stocked on your pet's staples during the Covid-19 pandemic? We recommend checking out Chewy!
Chewy makes online shopping easy and their delivery is as fast as Amazon Prime. With amazing prices, selection, and customer service, they're the KING of the pet supply niche.
Grab 30% off your first Chewy order here, and be sure to check out our in-depth review for more information and ideas.