This post may contain affiliate links. This means I may receive a small commission if products are purchased through them. All opinions are honest and remain my own.
If you've recently made the switch to this cheaper, more eco-friendly cat litter alternative, you may be wondering exactly what type of litter boxes for pine pellets would work best.
Because wood pellets function differently than typical litters, you may find using a standard style litter box too difficult and time consuming to keep clean on a regular basis.
How pine (and wood) pelleted litters work
It's important to understand how pine pelleted litter works before you make the decision to use it for your cats. It is not a clumping litter like most clay types you may be used to. Basically, as your cat uses the pellets, any that come in contact with their urine will break down and turn back into their original state – sawdust.
This is true for both specialty wood pellets that are marketed as cat litter, and for pellets not marketed as such (like equine bedding and wood stove pellets).
This has both pros and cons, but many like the fact they don't have to deal with large nasty clumps of urine. It also does a fairly decent job of eliminating the strong cat urine odor that tends to linger around the cat box. As long as you clean it regularly, your box will smell more like a woodshop than a cat toilet.
However, keep in mind that cats will go poop right on top of these pellets and probably won't bury them down under like they do with traditional clay litters. The reason being because they don't have the instinctual urge to do so with pellets. If you use pine pellets, you're going to want to remove your cats solid waste as often as possible because the odor will be strong.
Cleaning pine pellet litter boxes
Since the litter box will have sawdust mixed with pellets, and not giant clumps of urine you can simply scoop away, it can make cleaning the box a little more time consuming.
You will need to separate the solid pellets from the sawdust and waste.
Many people use a "reverse scooping" process, that is, sifting out the solid pellets from the box with a regular litter scoop to separate the two. However if you want to save time and make life easier, there are better litter box options.
What kind of litter boxes work best for pine pellets?
When it comes to wood pellet litter, a sifting style box is definitely the most efficient. These types of boxes include a special pan with small holes that are nested on top within the box. You simply lift up the top box and shake, so the litter falls through the cracks while the waste stays on top.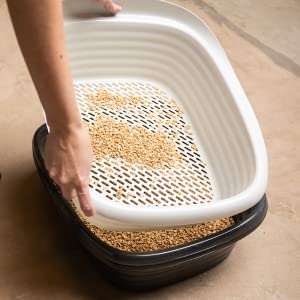 But because pine pelleted litter works differently, it would be the opposite – the pine pellets would stay on top and the sawdust waste would fall through the cracks. This actually makes sifting litter boxes better suited for pellets since clay clumps have a tendency to stick like cement to the sifting pans. Sawdust simply pours right through!
We've compiled a small list of cat litter pans you can use to make your life much easier!
#1. Arm and Hammer Sifting Pan, a basic, budget-friendly pick
Size: 19 x 15 x 8 inches
This sifting cat litter pan is both inexpensive (under $20) and practical. There's really no bells and whistles here, but many reviewers say this works great with pine pellets. The only issue is it might not work well for very large cats, but would be great for kittens and small – average size felines.
#2. SiftEase Litter Box Accessory
This product isn't actually a litter box, but a sifter. We really like this option because if you already have litter boxes, you don't have to go out and purchase new ones. It also allows you to use any litter box of your choosing, since sifting boxes on the market are pretty limited in both size and style.
With SiftEase, you simply pour the contents of your litter box through the sifter sheet, over top the included bin. You can then toss the waste, and throw the pellets back in the litter box. Easy peasy!
While it's a little pricey for what it is, it's a really cool tool and can save you a lot of money over purchasing multiple sifting boxes.
You can learn more about it here on Amazon.
#3. Van Ness Enclosed Sifting Cat Litter Box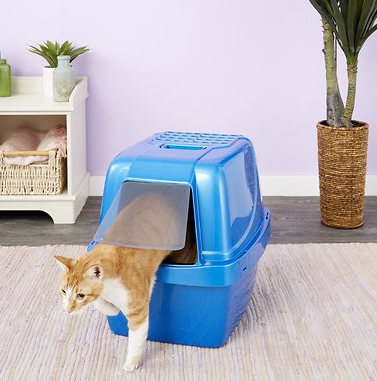 Size: 21.5 x 17.5 x 19
If you prefer your cats use an enclosed litter box, there aren't a ton of options for sifting enclosed litter boxes on the market. This Van Ness model is one of the better picks we've come across. We like that this model is more spacious and roomy than others, which many cats prefer and especially makes it better suited for larger felines.
Another thing that makes it a smart buy is the price – you can also find this for a great price at Chewy. (Amazon sells it too but for a much higher price!)
#4. Van Ness CP5 Sifting Cat Pan
Size: 19 x 15 x 8
This is another basic sifting litter pan that would work for pelleted litter, and is also under $20 in price. This style has high sides, which helps prevent your cat from making a mess around the box. (Although that seems impossible to prevent entirely, it does help some)
You can learn more about it here on Amazon.
#5. DIY
Our 5th choice is going the DIY route. This will allow you to better customize your litter box and use any size pan you want. If you're looking for a good choice for a pine pellet litter box, don't rule this out!
Another good thing about the do-it-yourself route is that you can do it for extremely cheap, especially if you already have containers laying around your home that could work.
Basically you just take 2 plastic tubs of the same size, and drill holes in the bottom of one. You can easily do this with an electric screw gun. The guy in the video recommends using Sterlite brand. While they don't have to be any particular brand, you want to make sure any containers you do decide to use are heavy duty so they can withstand the weight of the pellets.
The Bottom Line
Whether you choose to buy a pre-made sifting litter box or do it yourself, having a way to easily sift out the box makes the process of cleaning wood pellet litter so much faster. If you have multiple cats and many boxes, the time it saves you will make this a no brainer.
Also check out: Pine Pellet Litter Pros and Cons