This post may contain affiliate links. This means I may receive a small commission if products are purchased through them. All opinions are honest and remain my own.
When it comes to the two common garden plants, catnip and catmint are very often confused. In fact, while researching this topic for myself I came across several sources with conflicting information. So when it comes to catnip vs. catmint, what are the differences? Are they really the same plant?
Catnip and catmint are both varieties of the genus Nepeta, of which there about 250 species, so the question regarding their differentiation is not surprising. Catnip is Nepeta cataria, which is also sometimes (confusingly) referred to as catmint or catwort. When gardeners refer to catmint, they are most likely talking about Nepeta mussinii or "Walker's Low", a popular perennial with bluish purple flowers.
I have a particular interest in this subject both because I have cats, and because I've long considered planting some catmint in my garden. The bluish color of the flowers appeals to me and I've heard it's really easy to grow and care for. But will my cats be attracted to catmint the same way they are attracted to catnip? Is it a good idea to plant it in a yard with cats?
Does catmint attract cats?
The question of catmint attracting cats or not can be a little confusing, but the answer is that yes, catmint will attract some cats, but not to the same degree as catnip. And yes, like catnip, catmint is perfectly fine and safe to grow in a yard that cats hang out in.
The component in catnip that makes it so irresistible to many felines is called nepetalactone. Nepetalactone is also found in catmint, (as well as many other species of the Nepeta genus) but in smaller quantities. So while some cats may show an interest in catmint, many others may pay it no mind at all.
It may also surprise you to learn that not all cats are affected by catnip, either! In fact, only about 2/3 of adult domesticated cats show noticeable behavioral changes when in the presence of catnip. Kittens that are less than 3 months old also show no visible effects from the nepetalactone within catnip.
What are the differences between catnip and catmint?
Because these two plants are both from the Lamiaceae (mint) family, AND from the same genus, (Nepeta) they are really very similar. But there are some important and noticeable differences between catnip and catmint.
Catmint is an attractive and ornamental plant. It grows in mounds, and has leaves that measure 1 to 2 inches in length. Blooming profusely in late spring, its bright bluish purple flowers can last for months, through to mid summer.
Catnip, on the other hand, has little ornamental appeal. It has an overall grayish green coloring and a weedier appearance than its cousin. Catnip produces small white flowers, and its leaves grow larger than most mints, about 3 inches in length.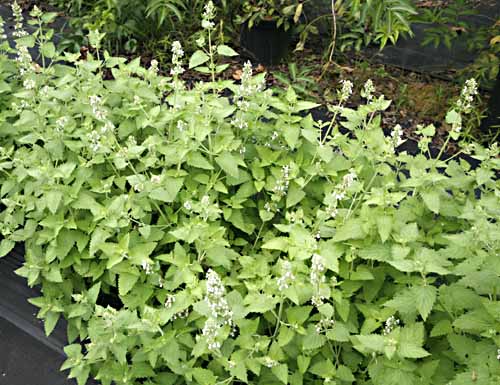 What is catmint used for?
Catmint, like catnip, is an herb, and has several practical purposes. It is a natural insect repellent, and can be planted abundantly around your yard to help control pests. This is good news for folks looking for eco-friendly repellent options!
Nepeta mussinii also has medicinal uses. The leaves can be steeped and used to make tea, which is said to have a calming and relaxing effect. Catmint tea can help with tummy troubles such as gas, indigestion, and cramping. It's also good for respiratory problems such as chest congestion or cold.
The catmint plant is also edible, and can be used for culinary purposes like other kitchen herbs. It has traditionally been used fresh, dried, or frozen, as a flavoring component in soups and sauces. It has a mild, minty taste.
What about catNIP? Does it also have human uses?
Yes, catnip (Nepeta cataria) is also said to have similar human medicinal effects as catmint. The leaves can be used to make tea that can cause drowsiness and may be an effective sleep aid for some people. It is a diuretic though, so be careful about drinking it too close to bedtime. You may find yourself having to get up too many times to use the bathroom.
However, be advised that the benefits of catnip as a human medicinal herb are more anecdotal than scientific at this point. Always consult with your doctor if you are unsure, or if you experience any negative side effects after drinking catnip tea.
Read also: