This post may contain affiliate links. This means I may receive a small commission if products are purchased through them. All opinions are honest and remain my own.
Those of us with cats know that despite all the joy they bring into our lives, there is one area that leaves a little to be desired – cleaning up their litter box messes! That is why we took a deep dive into the world of litter mats to find out which ones are actually going to make that part of cat guardianship a little easier.
In this article we present to you the cat litter mats that work. Meaning, they help contain the litter that cats tend to track outside the box and keep it from getting all over the rest of your house.
How are cat litter mats supposed to work?
Not all cat litter mats are designed to work in the same way. The kind you choose will depend on what cleaning style you prefer, what works best in your home, and of course, the habits and preferences of your cat.
Basically, all cat litter mats have the same end goal – to reduce the amount of tracking around your home and contain excess litter near the box for easier cleanup. If working correctly, they should trap most of the litter that comes off your cat's paws or that gets flicked out of the box during use.
Simplified, there are three basic styles of litter mats –
Sifting "Envelope" Style
This style has two layers that are sealed on all sides except one. The litter is supposed to fall through the top layer and settle into the bottom layer. When it comes time to clean, the rug can be picked up, squeezed open like an envelope, and the litter is all ready to slide out into a waste receptacle or back into the box.
Wipeable Style
A single layer waterproof mat, usually with ridges or channels to keep the litter from escaping. The easiest way to remove the litter is simply to pick it up and fold it from each side so all the litter collects and can be dumped into a waste can. In this way it's similar to the pita pocket style, but it is only one layer and so can be easily wiped clean if any unfortunate kitty messes should occur.
Rug Style
This category has the most variation and options. We call it a rug style because visually it tends to look more like a soft rug than a rubber mat. Examples include foam mats, microfiber mats, and, most popular recently, mesh trapping style mats made out of a synthetic rubber-like material.
Our Top 5 Litter Mat Recommendations for 2021
Based on our personal experience and extensive research, we've selected the best cat litter mats of 2021. All mats on this list are made from materials that are 100% kitty friendly and safe.
Style: Sifting
Highlights
Inexpensive
Made from soft materials
Anti slip and waterproof bottom
Easily washable
The 30″ x 24″ Pieviev anti-tracking litter mat is a sifting style, double layer mat featuring a honeycomb design. The holes in the top layer are the perfect size for litter to fall through, but not so big that it's hard for cats to walk on.
The honeycomb grid actually serves two purposes: one is to enable stray litter to fall through, and the other is to allow cats' paw pads to spread open a little as they walk across it, encouraging every last bit of litter to stay near the box.
Read more here, and be sure to check out the glowing customer reviews with pictures.
2. BlackHole Litter Mat
Style: Sifting
Highlights
Specially designed, convex shape of honeycomb grid traps more litter
Easily washable
Comes in 6 colors
Works with cat litters of all types, including clay, crystal, corn, clumping, wheat, and pellets
Shipped flat, never folded
The BlackHole litter mat is said by some to be the best litter mat on the market. The unique shape of the top layer both encourages cat's paw pads to spread apart (for maximum litter-catching), as well as causing the litter to fall completely through (rather than sit on top.)
At 30″ x 23″, it's a versatile size that isn't too big to wash and handle easily.
Like the Pieviev, the BlackHole mat is designed to be picked up and pinched together envelope-style so you can simply pour the trapped litter out to be thrown away or used again.
This popular mat is a little pricier than some of its competitors, but reviewers say it is well worth it.
3. Pawkin Cat Litter Mat
Style: Rug – mesh
Highlights
Litter Lock mesh technology
Extra long size to fit underneath litter box
Comfortable for cats to walk on
100% money back guarantee
Unlike the sifting style of litter mat, the Pawkin isn't able to simple tilt and pour the litter out when it comes time to clean. The unique litter lock technology is made up of a thick, durable mesh that's designed to trap litter coming at it from all angles.
The Pawkin mat lends itself more to being shaken out, or vacuumed. So if you are looking to reuse and recycle the excess litter that gets trapped, this style may not be your number one choice.
Something else to consider is that the mesh has somewhat fine openings, which may not be suitable for larger litter types such as corn cob or pine pellets.
The Pawkin cat litter mat is water resistant and able to be washed with soap and water. Check out what other reviewers are saying here, on Amazon.
Style: Rug – mesh
Highlights
Thick coils and deep grooves trap litter
Soft on kitty paws
Slip resistant backing
11 colors and 5 sizes to choose from
The well-loved and trusted brand Gorilla Grip introduces its premium litter mat. Similar to the litter lock mesh technology of the Pawkin mat, the Gorilla Grip features an interlocking coils and grooves system designed to contain as much litter as possible.
To clean, the mat can be shaken out, vacuumed, or hand washed with soap and water. It's important with this type of mesh rug style to allow the mat to fully dry after washing before using again.
The Gorilla Grip mat features a large selection of colors and sizes to choose from. Since litter boxes often have to fit into very specific and sometimes visible areas of the house, having the ability to choose the perfect size and color to fit the room is a real bonus.
Browse the selection of Gorilla Grip mats here.
5. PetFusion ToughGrip Waterproof Litter Mat
Style: Wipeable
Highlights
Super flexible and lightweight, yet stays firmly in place
FDA grade silicone – antimicrobial and waterproof
Grooved channels and outer ridges keep litter on the mat
Durable but still comfortable for cats to walk on
Multiple cleaning options
The PetFusion ToughGrip litter mat is a simple, silicone wipeable mat. The thoughtful design of the curved channels and outer ridges helps keep litter scatter contained.
It comes in the standard 30″ x 23″ size, and an XL size of 38″ x 26″. Unlike some of the heavier litter mats, the XL version of this mat is still incredibly lightweight, flexible, and easy to handle when cleaning.
Because the litter isn't being trapped inside of anything, this style of mat may need to be cleaned more often. However, the cleaning process is very straightforward. There are no holes or mesh, so messes can't get trapped anywhere. Simply pick up and slide litter into the trashcan, sweep, or wipe clean.
Check out the PetFusion ToughGrip litter mat here.
Things to consider before choosing your litter mat
These are our top five favorite cat litter mats, but how do you know which one is right for you? Remember, each mat is designed to work slightly differently, so before you purchase, ask yourself these questions: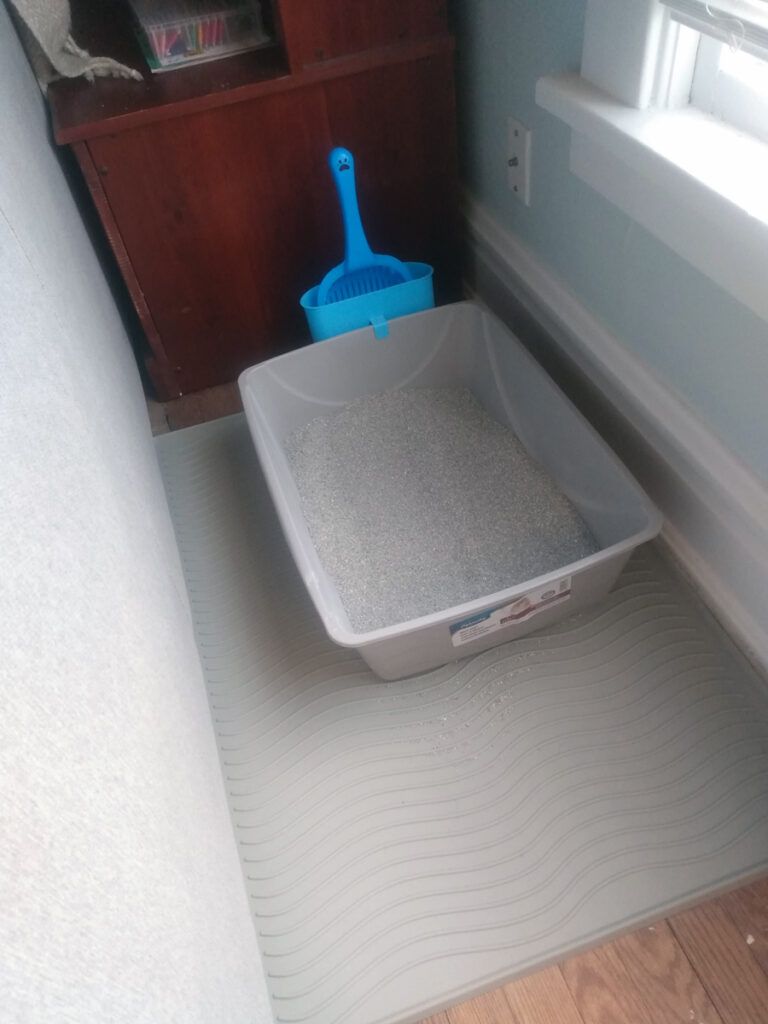 What size do I need? In order for the mat to work properly, the size and shape should make sense for the space that it's going in. Some litter mats come in multiple sizes, while others have only one size option. Measure the area you'd like the mat to fit into and also think about whether you'd like it to go under the whole box, or just lay in front of it.
How am I planning on cleaning it? Each style of litter mat requires a slightly different maintenance style. Think about your cleaning habits and preferences. Would you like to be able to easily wipe clean any possible urine or feces messes without worrying about mesh or layers? Or is it more important to have the excess litter contained down within the mat so it's not hanging out in the open all the time?
What are my cat's litter box habits? If your cat has issues with missing the box or tends to fling the litter quite far away from the box, these could both affect the size and style of mat that would work best for him.
Can I easily lift it? Some of the really large litter mats can get very heavy. Would it make more sense to use two side by side, for cleaning purposes?
Is it in a heavily trafficked area? A lot of the time we have limited options for where to place litter boxes. We usually have to share the space, whether it be in a bathroom, laundry room, living room, etc. A slip resistant backing comes in handy in these instances.
Is appearance important? Again, with multiple litter boxes and limited space, the mats we choose can end up becoming part of our decor. Might it be preferable to go with a brand that offers multiple colors?
A few tips to remember
Remember that no litter mat is magic. They are designed to minimize litter scatter and daily sweeping but they still require maintenance. Keep these few tips in mind for a successful cat litter mat experience.
When lifting up a litter mat to empty it out, be mindful of the way you are holding it. If not careful, the litter could spill, negating the need for a mat in the first place!
When rinsing out a litter mat with soap and water, allow fully to dry before using again. This will prevent any mold or mildew from forming.
If stray litter continues to miss the mat, try repositioning it or adding a second mat until you find the right balance.
Sometimes cats start using litter mats for scratching, which can be frustrating. If this happens, try getting an intentional cat scratching mat and placing it nearby. They're made out a sisal material that most cats will prefer over the litter mat.
If you found this a helpful read, check out our other cat litter-related articles here!