Some links in this post may contain affiliate links, which means if you place an order from the link we will receive a small commission at no additional charge to you. Consider it your small way of supporting our blog 🙂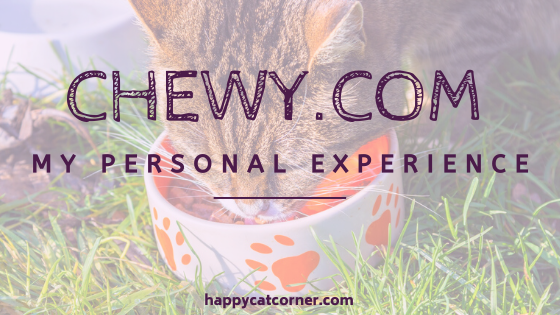 Overview: What is Chewy.com?
Chewy is a pet supply delivery company that was established in 2011. I use them to order supplies for my cats, but they have products for basically any type of pet you can imagine – cats, dogs, birds, reptiles, rabbits- you name it! If you're looking for an honest review of Chewy.com, let me tell you about my experience with them.
Chewy was founded by Ryan Cohen and Michael Day, but was sold to Pet Smart in 2017. Although they're not the only company that provides pet-supply delivery, they're certainly one of the most well-known.
You can order from this link and get 30% off your first auto-ship!
My experience using Chewy for cat food and litter delivery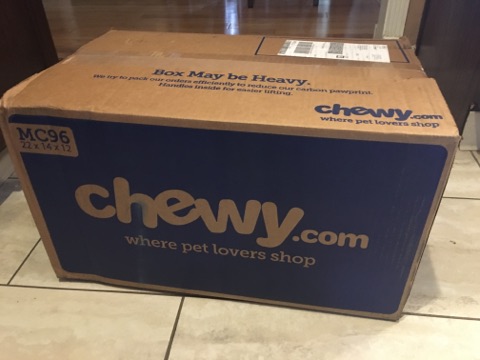 I first ordered Chewy for my cat supplies this past summer. If there is one thing they do well (besides customer service) it's new customer acquisition. They sent me a coupon for $15 off my first order in the mail, so I decided to check them out. I also realized I was going to get an additional 30% off my first order if I signed up for their auto-ship option. (Regular auto-ship discount is 5%)
After shopping the site a bit, I noticed that the prices are actually less expensive than big box stores like Meijer, Target and even Walmart; and definitely cheaper than pet supply shops.
One of my least favorite things to do is buy cat litter and food at the store and haul it home, so being able to get this stuff delivered to my door was something I definitely needed to try.
Selection
Chewy basically has any type of cat (or any pet) food you can imagine – raw, freeze-dried, grain-free, wet, dry, vet diet food – almost anything. They also have every different type of litter, even alternatives to traditional clay.
And they're not just for basics like food and litter either – if there's anything you need for your cat (or any pet!) you could probably order it from Chewy. They have toys galore, even cleaning supplies.
They even added a pet pharmacy section!
Cost
I ended up ordering 2 boxes of cat litter and a large bag of food. With all the first time customer discounts, it cost me about $30. It would have cost me nearly that much for the food alone, so I decided it was definitely worth ordering even if I decided to cancel the service afterward. I had the ability to cancel the auto-ship at any time as there's no commitment required.
After using Chewy a bit more and shopping around, I realized how great their prices were even without the discounts. For cat litter and food, it was even slightly cheaper than the stores (unless I'm able to find it on a good sale). And for other items like pet cleaners, feeding products, and toys – they have the stores beat by a lot. I saw a toy at Meijer the other day for $20 and it was only $7 on Chewy! Kinda hard to beat their prices!
Also considering I'd be getting it delivered to me, (for free if over $50) – total bonus.
Delivery
On the delivery end, while it came super fast (2 days) it all came in 1 box which was heavy.
My husband (who delivered a LOT of Chewy boxes when he worked with FedEx) said they always pack the boxes as full as possible. It's not unusual for them to be over 100 lbs either.
It's definitely more efficient and less wasteful, but if you can't lift heavy boxes be prepared to get help, or to open the box and unload it from your front porch! Either way, it's less work than grabbing it from the store.
Initial disappointment – they forgot a box of cat litter!
I was super excited to get my cat supplies, but imagine my disappointment when I realized they had forgotten one of the items I had ordered. I wasn't really sure what to expect at this point as I had never dealt with this company before, but it wasn't shaping up to be a really great first experience.
Customer service experience
I decided to not be too upset about it before speaking to customer service. Mistakes happen. I hopped on Chewy's website and discovered they have a 24/7 live chat feature, along with an 800 number and contact email.
I was connected to a live chat representative within a minute or two, explained what happened, and was told I'd be getting a new box of cat litter shipped immediately. As per their words, "Oops! There must have been a slip of the paw when packing your order!" Very cute.
I couldn't believe how easy going and supportive they had been. I expected to have to answer more questions, or provide more information, or well – at least something else.
But nope!
A few minutes later I got a shipment confirmation email that they'd sent out the new cat litter. Two days later, it arrived!
I was more than pleased. They couldn't have handled the situation any better.
2nd experience and contact with customer service
So I haven't ordered from Chewy a ton (I actually canceled by first auto-ship for various reasons) but I decided to place another order a few days ago (January 2020). I ordered some food, litter, new cat bowls (they needed to be replaced desperately) and some new toys. My cats had a serious lack of toys and I felt bad!
My 2nd order came with a broken cat toy! I was so disappointed because they packed this plastic ball game at the bottom, underneath a huge bag of cat food with no packing materials (not even the packing paper they usually use).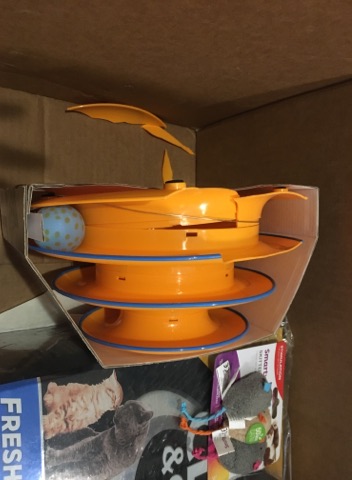 So 2nd order, 2nd time needing to contact customer service! This time I was able to screenshot the chat: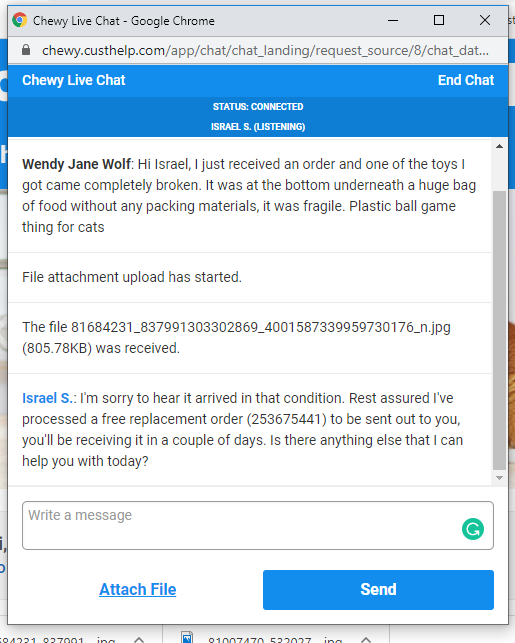 They didn't ask any questions and just sent out a replacement. I actually got the email they had shipped a replacement before the representative even replied!
So admittedly, while they haven't shown the greatest track record on orders (the first box missing a box of litter, second came with a broken toy) the customer support is pretty great at making up for it.
Researching other reviews, my experience seems to be the norm. Not with missing or broken items, but with their easy-going customer service. There was even one lady who said she contacted them after her dog died unexpectedly and they had just received a huge order. They refunded all her money and told her to donate the supplies to a local animal shelter!
The handwritten Christmas card…
I also feel the need to mention I recently got a Christmas card from Chewy. Looking at the envelope I thought it was from a family member. This was not mass-produced, it was handwritten. I did some research and read about how they hire people to write these cards for them.
This is definitely a company that invests in great customer service and making its customers feel like family.
Chewy may not be the only company that delivers animal supplies to your door, but they do a few things well that sets them above the competition.
Does Chewy Actually Save You Money?
While you do get some major discounts as a first-time customer, are you actually going to be saving money in the long run? It really depends. Chewy is definitely less expensive than buying pet food and other products through many smaller shops and specialty pet stores, but you can still find similar deals through other online retailers (like Amazon, Target, Walmart, etc). And if you shop sales through your local stores, you might actually find better deals.
The true appeal of Chewy is the convenience of delivery, fast shipping, huge selection, and great customer service.
Pros. vs. Cons of Chewy delivery
Pros
Prices are comparable to your local stores, if not cheaper
First-time customers get significant promotional discounts ($15 off + 30% off auto-ship)
Pet supplies delivered to your door, you don't need to pick them up and haul them from a store
Selection is HUGE, can get just about anything
Can choose an auto-ship option, and select your delivery intervals (every 2 weeks, 4 weeks, etc) to assure you never run out
You can stop, then restart the service at any time (and no contract/cancellation fees)
Amazing customer service
Cons
Boxes can be heavy if you make large orders (especially if you order a lot of cat litter!) be prepared for that
Orders may be incomplete/broken (my experience – 1 missing cat litter box, 1 broken item) but getting a replacement is hassle-free and fast
You may be able to find better deals at the store if you shop sales
The Bottom Line
Despite the fact they messed up my first order, I still would definitely recommend Chewy to anyone with cats (and dogs, or any other type of pets!) Their customer service took care of the issue, no questions asked and was completely cool about it. Considering the discounts you get as a first-time customer, and their dedication to providing great customer service, it's worth it even if you end up canceling. There's no commitment, so you won't get stuck with any termination fees and at the very least you'll save some money on your pet supplies!
Shop Chewy here and save 30% if you enroll in auto-ship (with no commitment, cancel anytime)