This post may contain affiliate links. This means I may receive a small commission if products are purchased through them. All opinions are honest and remain my own.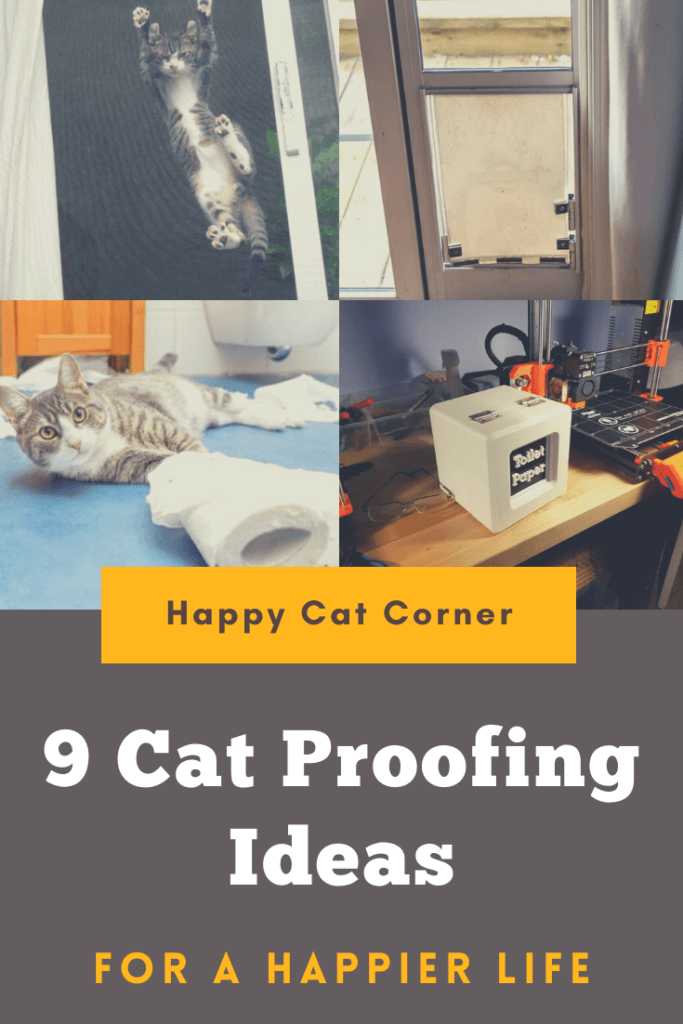 Cats can bring so much joy and comfort into our lives. Once you've gotten used to a cat's unique affection and entertaining quirks, it can be hard to imagine life without at least one of these little fur bundles in your home.
But for as much as we love them, sometimes their antics can interfere with our sanity! That's why we've selected 8 cat proofing ideas to help you and your felines live in harmony. Because for every cat problem, there IS a solution.
1. Cat proof toilet paper holders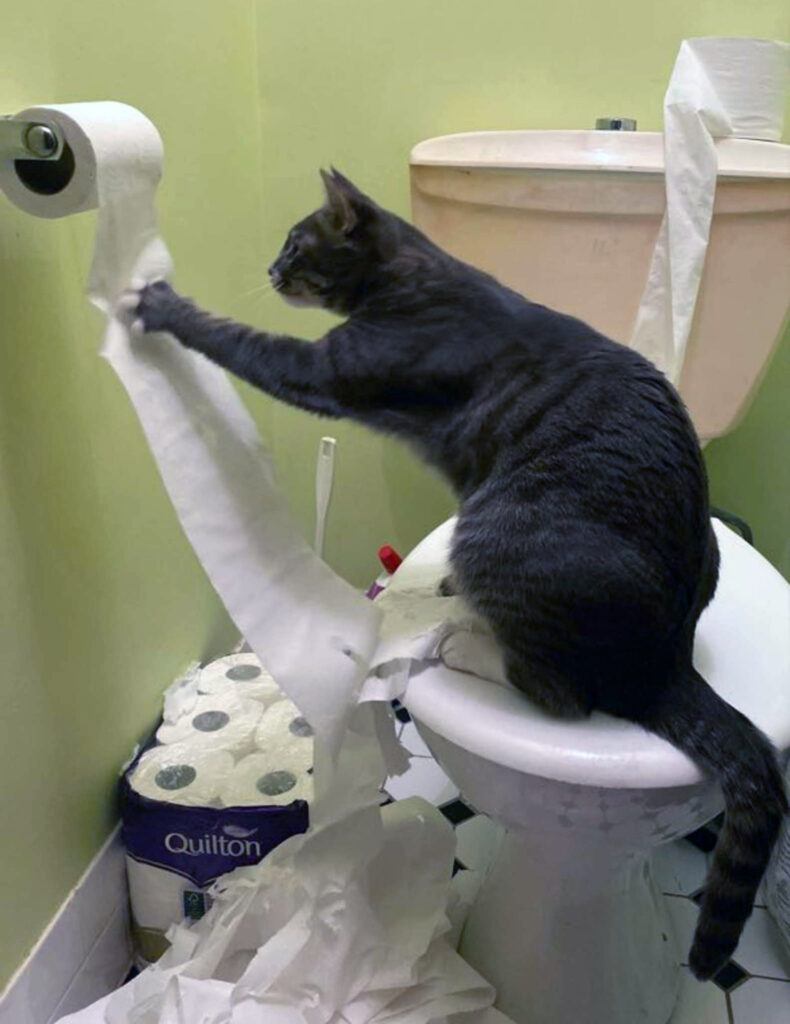 A cat proof toilet paper holder isn't the first thing that comes to mind when we think about cat proofing our house, but it should be! Let's face it. Toilet paper dangling from a roll is basically a cat's dream toy. We can't change that fact, but we CAN easily change the design of the holder to make it harder, or hopefully impossible for your cat to get to it.
So what "cat proof" toilet paper holders actually work without being too annoying to try to use on the human end of this equation?
Crown Bronze Toilet Paper Holder with Cover Dispenser 
The curved end of this tp holder should be sufficient enough to make many cats find a different toy – as long as you remember to keep the loose end tucked inside. This particular model has a nice finish to it, is relatively inexpensive, and probably as close to just using a regular tp holder as you're going to get.
However, this kind of style is never going to be 100% cat proof if your pet is determined to get at the roll because it's not completely incapsulated. If your cat is a toilet paper fiend and you don't think this will be enough to solve the problem, look for one that holds the paper completely inside.
YOMESTE Wall Mounted Waterproof Paper Holder
While not quite as attractive, a more fool proof option for tenacious kitties would be something like this waterproof holder, which does indeed hold the roll completely inside. Again, to make this as effective as possible, try to get into the habit of keeping the loose end tucked up inside the holder.
Inky and Tang Company
If you want to go full beast mode, there's a guy on Etsy who makes cat proof toilet paper holders that will survive a nuclear holocaust. He named his company after his cats, Inky and Tang. The model pictured below is large enough to accommodate jumbo size rolls of tp and when it's attached to the wall, it's sturdy enough for your cat to sit on top of! You can check out the rest of his shop here.
Read also: The Cutest Cat Themed Bathroom Decor
2. Cat proof puzzle tables
There has never been a more ideal time to work on jigsaw puzzles than right now during a global pandemic. But if your cat likes working on them with you, you might want to invest in a cat proof puzzle table so that you can guarantee your progress remains in tact.
By far the best cat proof puzzle we have been able to find on the market is the Bits and Pieces Fold and Go Wooden Jigsaw Table, which is either available here on Amazon, or directly from the Bits and Pieces website.
Bits and Pieces Fold and Go Wooden Jigsaw Table
The inside of this table and the fold out sorting panels are lined in a non slip felt to keep puzzle pieces from sliding all over. There's also a magnetic strip that will hold your puzzle box upright for easy reference while you're working. Then when you need a break, the whole thing folds up and can be stored anywhere you like – totally cat proof!
Bits and Pieces 1500 Piece Puzzle Caddy
Our next favorite cat proof puzzle table, also by Bits and Pieces, isn't actually a table, but a zip up caddy. It works in the same way as the table and is able to close up completely when not in use, protecting your hard work from little paws. Read more about this high quality puzzle caddy here, on Amazon.
Read also: The Best Cat Jigsaw Puzzles – 1,000 Piece, Specialty, and More
3. Cat proof underneath beds and couches
A sure sign of stressed, scared, or anxious cats is when they hide underneath beds and couches. As pet parents we need to address the cause of their anxiety and help them to feel happy and comfortable in the shared living space.
In the meantime, it's a good idea to block off underneath beds and couches so that your cat won't be as inclined to retreat there.
There are a number of ways to do this, but one of our favorite is to fill that area with storage. Pretty much everyone could use extra storage space anyway, so this is a great way to achieve that while simultaneously keeping kitty out from closed off spaces.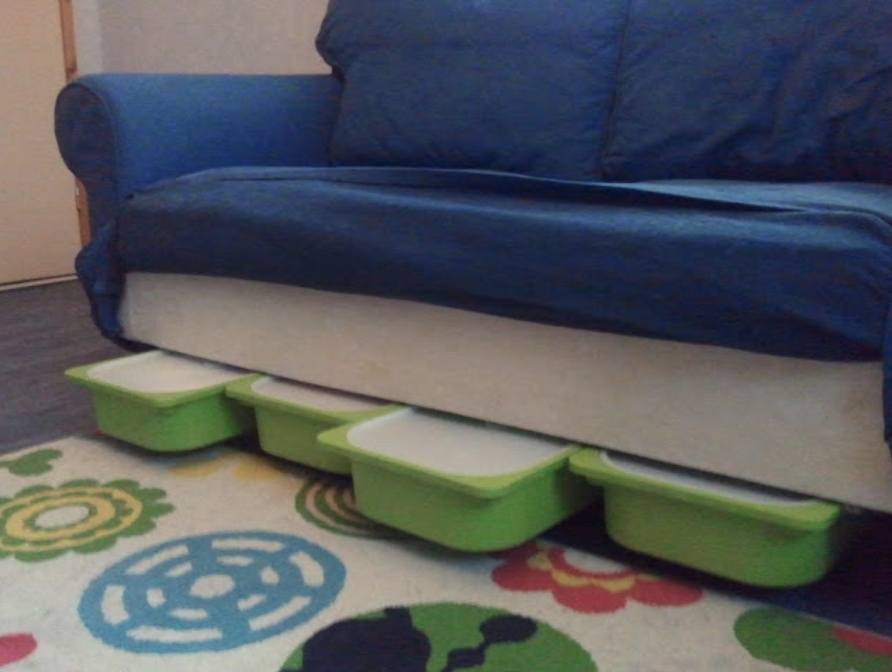 Plastic storage tubs work well, or zippered bags like these are nice because you can see through the top and easily identify what's inside.
Other options include stacking heavy books around the perimeter of the bed or couch, placing scat mats on the floor, or using an under bed blocker.
4. Cat proof vegetable garden
If you love to grow fresh vegetables in your yard but have issues with cats trying to use that area as a restroom, this can quickly turn into a gardener's nightmare. Cat urine and feces contain parasites and microbes that can be dangerous and should not get anywhere near your plants.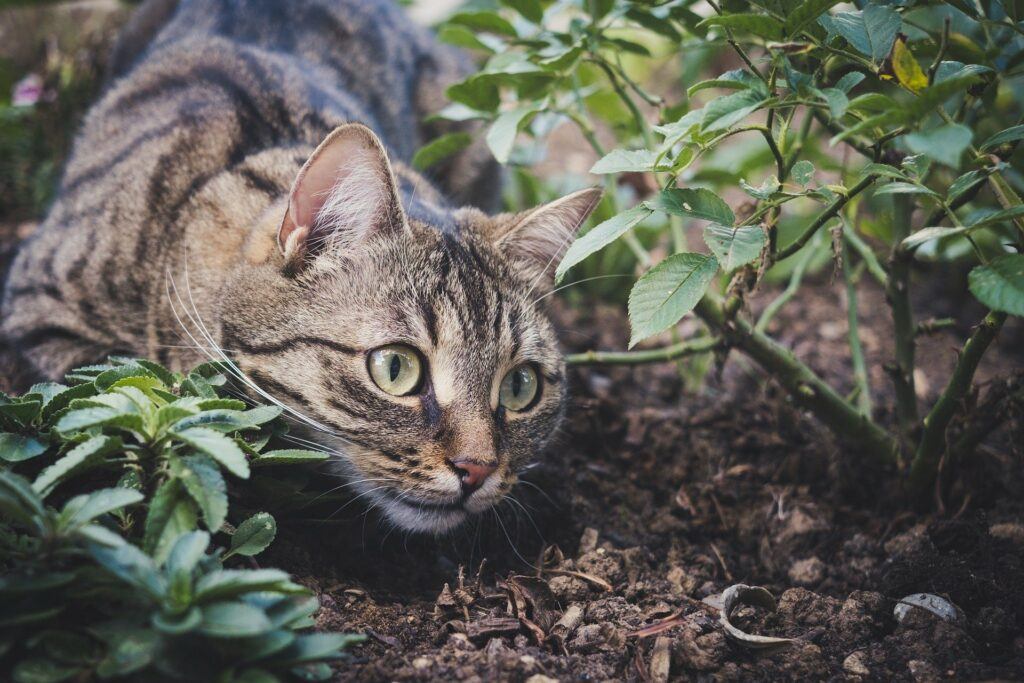 There are a lot of ways that can work to deter cats from using your garden as a litter box, but not every method is guaranteed to work for every situation. Below are some of the best ways to cat proof a vegetable garden. You may get lucky on the first attempt, or you may have to try a combination of ideas before achieving success.
1. Block the garden off
This would most likely be done with chicken wire or other type of fencing.
2. Spread citrus peels around the perimeter
Cats hate the smell of citrus, so if this works for you it could be an easy and inexpensive solution. Used tea bag and coffee grounds may work as well.
3. Grow plants that cats don't like
Lavender, rue, rosemary, geraniums, pennyroyal, and curry plant all have scents that may be enough to turn kitty's sights elsewhere.
4. Use a cat scat mat
This is a simple plastic spiked mesh that can be lain down around the perimeter of your vegetable beds. It doesn't hurt cats, but the material is unpleasant for them to walk on and so they will steer clear of it.
5. Create a more desirable place for them to go
Choose a small section of yard away from the garden and fill it with sand. Cats will most likely prefer the sand to garden soil as a place to alleviate themselves and mark their scent.
6. Wolf urine!
That's right. If you're feeling adventurous, there is even a website that sells various kinds of animal urine online. It comes in liquid or dried granule form, or something called "pee shots" which can be used indoors. Check it out for yourself!
5. Cat proof earbuds
This is one that I really need around my house right now! Our cat Chickadee is a chewer. She likes to chew on two things – human flesh and earbuds! We went through several pairs before realizing we needed a solution.
Turns out, cats are drawn to the smell of earwax because it contains fatty acids and trace amounts of cholesterol. Since a cat's sense of smell is 14 times better than a human's, even a seemingly clean set of earbuds might attract a curious chewer.
As you may have guessed, the best way to keep cats from destroying earbuds is by keeping them in a case whenever you're not using them. Choosing wireless headphones like these is also a good idea for cats who like the chew on the cords.
6. Cat proof screens
Cat proof screens are another seemingly tough problem. If you've ever seen a cat climb to the top of a window screen or a screen door, you know what a spectacle it is, not to mention the unsightly claw marks left behind.
Fortunately several screen brands have successfully addressed this problem. Phifer, Saint-Gabain ADFORS, and DocaScreen are the most well known and widely available. Since screens come in all different sizes, these specialty pet proof screens are typically sold in rolls and need to be installed to fit the dimensions of your door or window.
This product page for a Saint-Gabain ADFORS screen has a helpful video about how to replace a screen, and shows the tools that you will need to complete the job.
7. Cat proof mouse trap
Another helpful modern innovation for pet owners are cat proof mouse traps.
Having a cat around the house is usually a sure way to tell if mice are underfoot. Cats are natural born rodent-catchers and have been doing it since the beginning of their existence.
But, since domesticated house cats don't need to eat the mice for sustenance, they will usually bring you the little dead mouse body as a present or worse – keep catching it over and over without killing it! (One of my cats did this with a baby squirrel once and it was completely traumatizing.)
To avoid cat and mouse interaction, try using a catch and release mouse trap that is pet proof, such as this plastic version by Blinc.
Just make sure that if you use live mouse traps to check them EVERY DAY. Even with the bait food and the air holes, mice have very high metabolic rates and can die quickly from lack of food, water, or hypothermia. Because the last thing we want is for our humane mouse trap to turn into a torture chamber!
If you have a large mouse infestation, make sure to use plenty of traps, or use a trap that can hold multiple mice, such as this metal version by Victor. Place them up against walls, where you'll have the best change of catching these edge running little creatures.
8. Cat proof fish tank
Speaking of protecting little creatures from cats, next on our list of ideas is cat proof fish tanks.
One of the most popular cat proof fish tank brands available on the market today is BiOrb. BiOrb's aquariums are made from durable and sustainable materials, and feature a magnetic closure on the top that is satisfying to click shut.
The tank is made from a strong acrylic that is 10 times stronger than glass, and also works to distort and amplify the objects inside, making them appear larger.
Cats will not be able to get inside of this tank, or knock it over. Below is a helpful video detailing the setup of an 8 gallon BiOrb Halo aquarium (with the aid of three adorable tuxedo cats!)
BiOrbs are a hot item right now, and the pandemic has seemed to cause lower availability for some of the models. You can find the same model as in this video here, on Amazon. Some models are also available on Chewy.
Another cat proof solution for an existing tank is a special screened grate to go over the top. The brand Zilla makes a variety of sizes of these steel frames that are designed to hold up to pets while still allowing air flow. Some reviewers have even sent in pictures of their cats sitting on top of the grates, proving that they can stand up to the weight test!
9. Cat proof dog door
The last issue we'll look at is something common to pet guardians with multi species households – a cat proof dog door. As usual, the solution to this challenge might look different for different households and depends on the specific behaviors of the animals in question.
The first idea for a cat proof dog door is to purchase and install a "smart" aka an electric dog door. The idea behind these is that the door only opens if an animal wearing a special receiver on his collar tries to go through it. So in the case of a cat and a dog in the same household, the dog would have the receiver on his collar, allowing him to pass through the door, while the cat would not.
The High Tech Pet Store makes a popular electric dog door model, which you can find here, as well as a helpful video explaining how it works exactly.
The obvious problem with an electronically opening door is that cats are both resourceful and fast. If they are laying in wait to follow the dog out the door as soon as he uses it, they will most likely be able to succeed. So, to combat this problem, From House To Home's blogger Wanda found an ingenious solution.
She carefully watched how her cat was opening the dog door, where the pressure points were, and installed a set of magnets onto the sides of the flap to increase its resistance. She used just enough so that the dog would still be able to get through, but the cat could not. How clever! Read all about her experience here.
And that's a wrap!
We hope you found the ideas in this article helpful. If you'd like to read more, check out some of our related articles:
How to Stop Cats From Scratching the Carpet
How to Get Rid of Cat Hair Everywhere
Do Calming Collars For Cats Really Work?