This post may contain affiliate links. This means I may receive a small commission if products are purchased through them. All opinions are honest and remain my own.
If you're a cat lover, you might want to consider decorating your bathroom in a cat theme! Everyone knows that cats LOVE bathrooms (especially when you're in them), so what better way to honor your peeping kitty than by adorning the lavatory with cat stuff? We've searched far and wide and put together a great list of the cutest cat themed bathroom decor.
For this collection we used two of our favorite online marketplaces – Amazon and Society 6. Between these two websites, there is a huge selection of goods and you are always sure to find the perfect items to match your style and taste.
1. East World Cat Toilet Paper Holder
This cat-shaped toilet paper holder is just too cute and will definitely put a smile on anyone's face. Love how it looks like she's peeking around! Made out of strong steel, this little gem is 21″ long and 12.5″ tall.
2. Comfify Yoga Cat Decorative Paper Towel Holder or Toilet Paper Holder 
Available on Amazon, this cast iron yoga cat can serve as either a toilet paper holder or a paper towel holder. This space-saving design is 19″ tall and comes in either a silver/black or brown finish.
3. Isaac Jacobs White Ceramic Cat Liquid Soap Pump
Isaac Jacobs has an adorable line of cat themed bathroom accessories on Amazon. This ceramic cat soap dispenser features a pretty pastel matte glaze and a chrome metal pump.
4. Isaac Jacobs White Ceramic Cat Organizer
Also from the Isaac Jacobs line is this ceramic cat organizer. This design is nice because you could use it to hold makeup brushes, toothbrushes, nail files – really anything you can think of! It's about 4″ tall and comes in a few different color options.
5. Isaac Jacobs White Ceramic Cat Toilet Bowl Brush Holder
To complete your Isaac Jacobs bathroom set, Amazon offers this cat-shaped toilet brush holder. It features the same sturdy design and white matte glaze as the other pieces in the collection. Quite a step up from your standard, run-of-the-mill toilet brush holder!
6. Splash Home Ceramic Cat Toilet Brush and Holder
We also like the slightly more statuesque style of this toilet brush holder by Splash. The back of the holder is open for faster drying and air flow. This ceramic holder comes in white, black, or a lovely shade of gray.
7. Cat Themed Organizational Trays
Society 6 offers artwork from individual sellers, printed on a huge selection of different products. Acrylic organizational trays like this one would be a great touch for a cat-themed bathroom.
You could use it for all sorts of storage like makeup products, lotions, body sprays, personal care items, etc. They're attractive, easy to clean, and the best part is that there are so many designs to choose from!
We have ordered many different products from Society 6 over the years and the quality is always top-notch. We really feel that it's a wonderful online marketplace and one of the best places to find unique items to decorate your home.
8. Cat Themed Hand and Bath Towels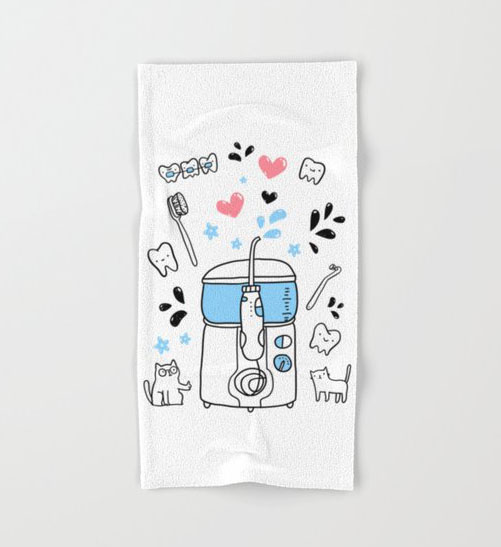 Society 6 also prints designs onto hand and bath towels, which would be just the ticket for a cat-themed bathroom.
The artwork of your choice is printed onto the microfiber front and the back is made out of white terrycloth. The hand towels measure 15″ x 30″ and the bath towels measure 32″ x 64.
The towels are pretty pricy if you buy them individually, but the set of four towels (2 hand and 2 bath) is a pretty good deal and would definitely be the way to go. Society 6 also has sales pretty frequently so keep your eye out for that.
9. Evelots Over The Door Hanger
What a cute touch this hanger would make over the bathroom door! It's made out of iron and has a rust-proof coating to ensure it lasts forever. Each hanger is only 6.5″ wide so you could fit two on one door for extra storage.
10. Lily's Home Black Metal Countertop Wire Shelf Rack
Combining functionality with cuteness is the best part of putting together a cat themed bathroom. This wire shelf rack does just that. At 11 1/2″ x 5 3/4″ x 11 1/2″ this charming little shelf would fit perfectly on the back of a toilet. You could use it to store rolls of toilet paper, hand towels, candles, or anything else you can think of!
11. Lily's Home Wire Storage Basket
Also from Lily's Home is this wire storage basket, which comes in three different sizes. You really can never have too many storage baskets in a bathroom. No matter how hard you try to consolidate, the bathroom always ends up with a seemingly never ending amount of toiletries and beauty products. These wire baskets are nice for bathrooms because there's less surface area for water and gunk to accumulate.
12. Exembe Ring Holder/Trinket Dish
This pretty little ring holder comes in 11 different color schemes. Perfect for storing your small valuables when not in use, this dish would also make a great accent piece for a cat themed bathroom. Find it here on Amazon.
13. KittyKats – Pink Palette Bath Mat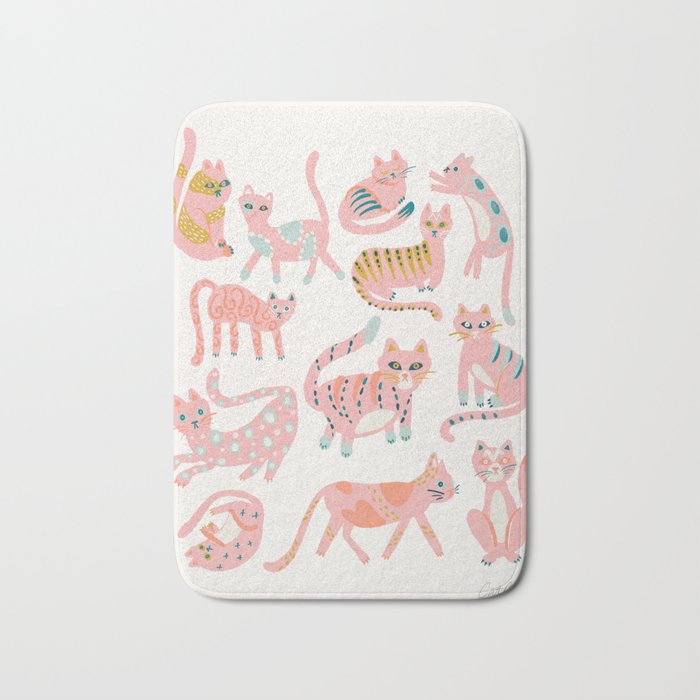 Another product offered by Society 6 is their bath mat. They're available in two sizes – 17″ x 24″ and 21″ x 34″. The surface is made out of a fuzzy microfiber and is printed with your favorite Society 6 artist design. They also feature a memory foam cushioning and a non-skid bottom.
16. HelloTree Microfiber Bathroom Rug
This cat-shaped bathroom rug really makes a fun statement. It has a non-skid backing and a high pile microfiber, perfect for absorbing water. Available in gray, white, or black.
15. Sunlit Cute Paw Print Shower Curtain Hooks
Give your cat themed bathroom the perfect finishing touch with these paw print shower curtain hooks. This set of 12 hooks has a matte nickel finish and a rust resistant coating. Available here on Amazon.
Shower Curtains
Shower curtains are one of the most fun ways to decorate a bathroom. They offer a huge surface area to highlight your favorite design, and with so many patterns to choose from, the selection process can be really fun. These are some of our favorites.
1. Sunlit Fabric Shower Curtain
This shower curtain by Sunlit is absolutely adorable. My cats really do like to sit on the edge of the tub so this design really cracks me up! The gray mosaic pattern is really nice for bathrooms as well.
2. Cats Shower Curtain by Tasiania
We love the color palette on this quirky cat shower curtain by artist Tasiania. Society 6's shower curtains measure 71″ x 74″, are made out of polyester, and have the standard 12 ring holes at the top. Find this shower curtain here. (You won't find it anywhere else!)
3. Artsy Cats Shower Curtain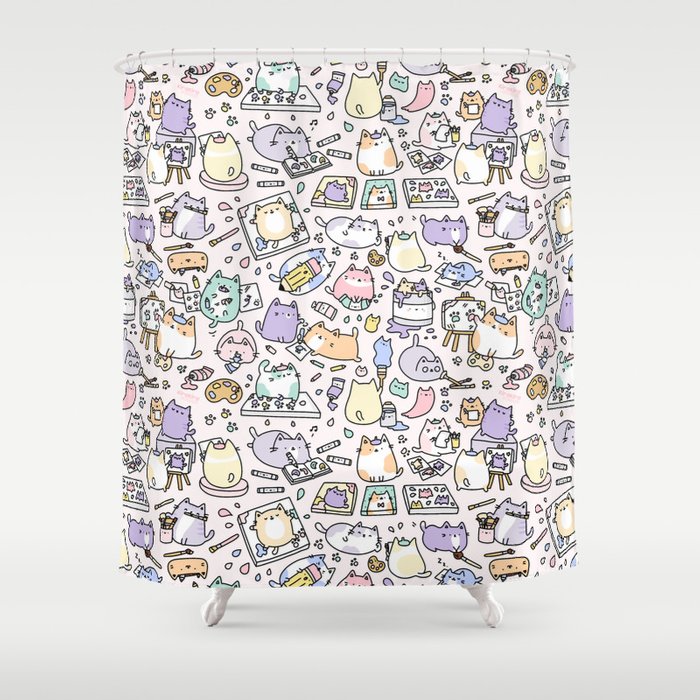 The cuteness level is out of control on this design by seller KiraKiraDoodles. Find it here on Society 6.
4. Cats With Soft Hearts Shower Curtain
By the artist and seller Fairychamber, this sweet hugging cats shower curtain will surely bring a smile to your face. Find it here.
5. BTTY Cute Cat Shower Curtain
Stare much? Find this peeping cat shower curtain here on Amazon.
6. Space Cat Shower Curtain
Space cat attack! Find this cosmic kitty curtain here.
7. Sunlit Design Lovely Multicolor Cartoon Cats Fabric Shower Curtain
Featuring pretty tones of teal, green, and peach, this shower curtain by Sunlit could serve to inspire your color scheme for the rest of the bathroom.
8. MitoVilla Witch's Cat Shower Curtain Set with Curtain Rings
This exquisite design features sugar skull cats, crystals, and stars. This design is so cool they make it in 7 different sizes so it could also be used as a curtain or a partition background. Check it out here, on Amazon.
Wall Art
Don't forget about the walls!
Quick decorating tip: When trying to decide on a color scheme for a room, it helps to first pick out a piece of artwork that you really love. Then you can use the artwork as inspiration to help you choose the style and colors for the rest of the room.
Society 6 is a fantastic place to browse for art. Since any artist can sign up to be a seller, there's a huge variety of styles and they are generally ranked by popularity. The artwork is available in many different formats including art prints on paper, canvas prints, metal prints, framed prints, mini framed prints, posters, and more!
These are some of our favorite wall art ideas for a cute cat themed bathroom.
1. Framed Mini Art Prints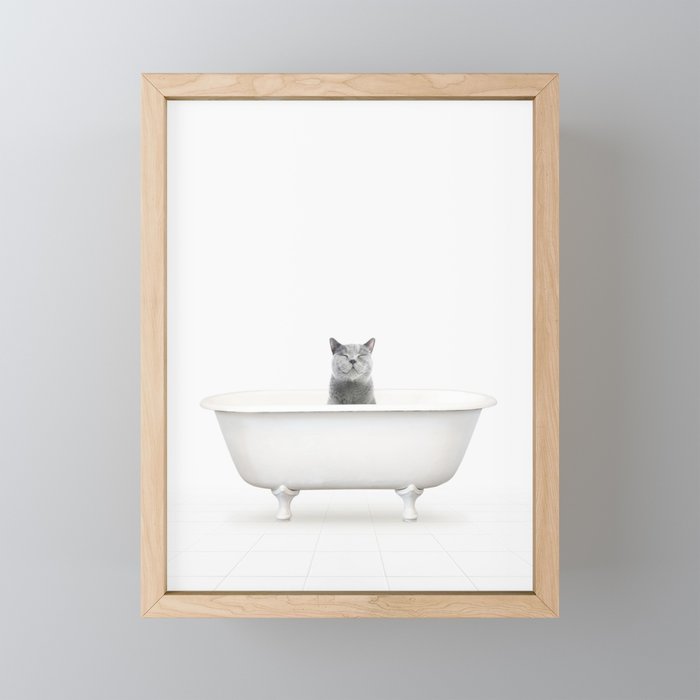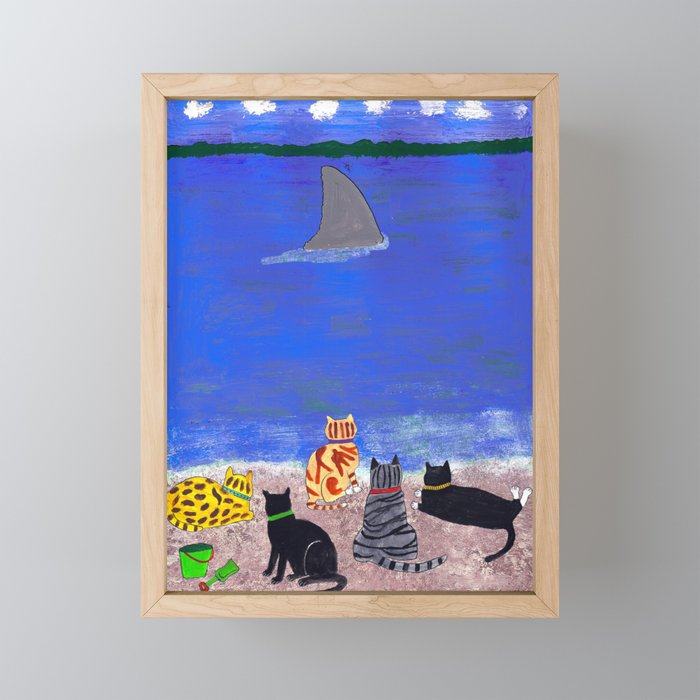 These mini framed art prints by Society 6 would be so cute as bathroom decor for a few reasons:
They fit well into small spaces
Could easily group a few together to create a mini gallery wall
They're covered with waterproof and shatterproof acrylic
Compact size prevents warping
Budget-friendly
Super cute!
At only 3″ x 4″ these pre-framed art prints are versatile and lend themselves to creating a "gallery" or "collage" look on one of your bathroom walls. Picking out a few of your favorites is a great way to find inspiration for decorating the rest of the bathroom.
2. Framed Art Prints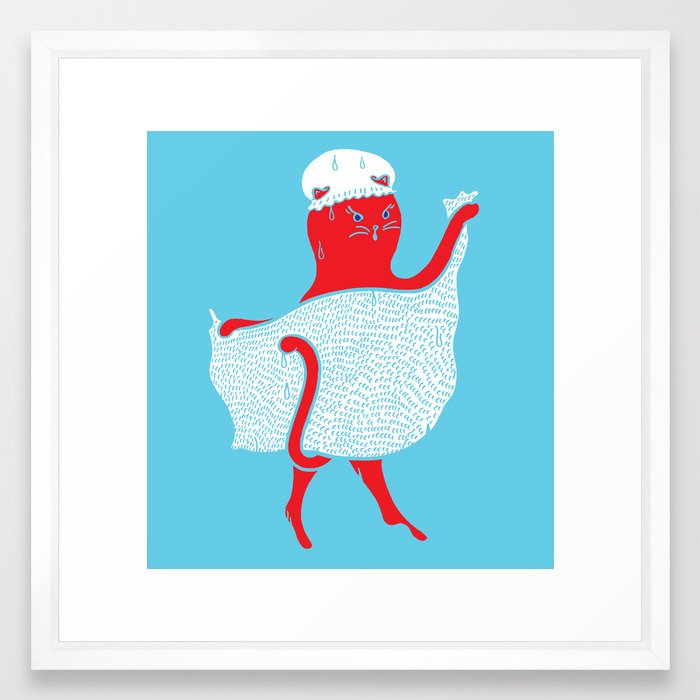 For something a little larger, Society 6 also offers larger framed art prints, like this Shower Kitty print by Kathryn Nyquist. They come in six sizes starting at 10″ x 12″ and maxing out at 26″ x 38″ (which is a standard large poster size.)
The framed art prints are also covered with a shatterproof acrylic, but they include a white mat around the artwork to give it larger, more "fine art" finished look. There are eight different frame colors to choose from.
3. Unframed Art Prints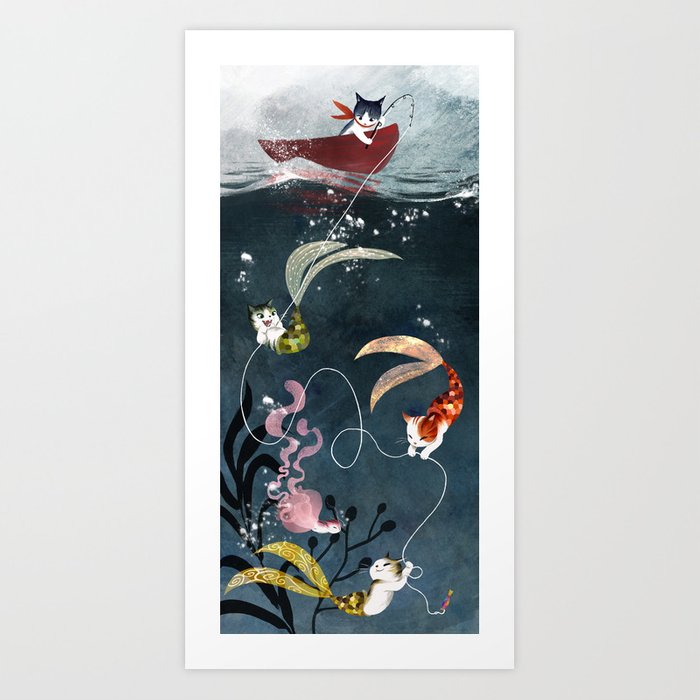 Of course, if you prefer to do your own custom framing at your local frame shop, you can always purchase art prints unframed, like this whimsical Catfish and Purrmaids print by Vivien Wu.
*Also important to note is that on Society 6, not every piece of artwork is available in every format. For example, the artwork pictured above is available 12 different formats ( fine art print, framed art print, bath mat, carry-all pouch, etc. )
Society 6 has close to 100 different formats (aka products) in total. To see all the available formats for a piece of artwork, scroll down to the bottom of the page where it says, "Also available as…"
4. Canvas Prints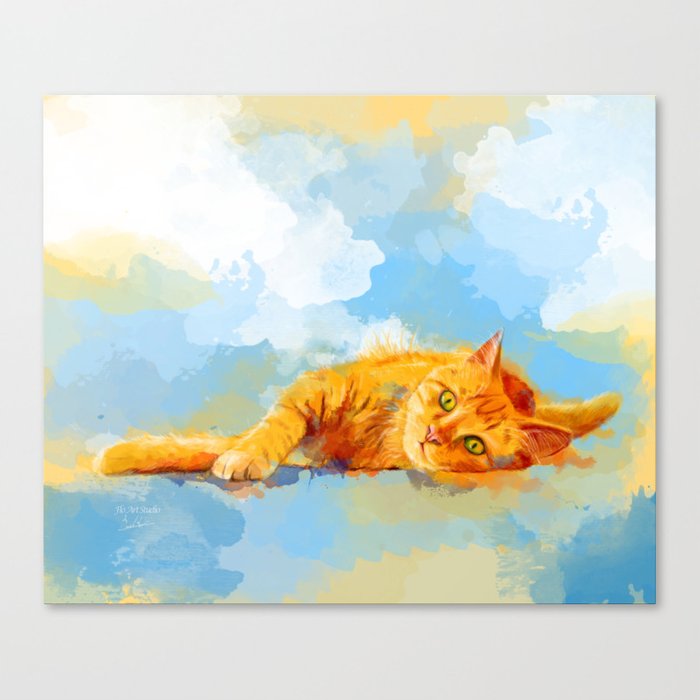 Canvas prints are another option for bathroom wall art. No frame required! They come pre-stretched on 1 1/2″ thick bars, ready to hang, and available in 3 different sizes.
5. Metal Prints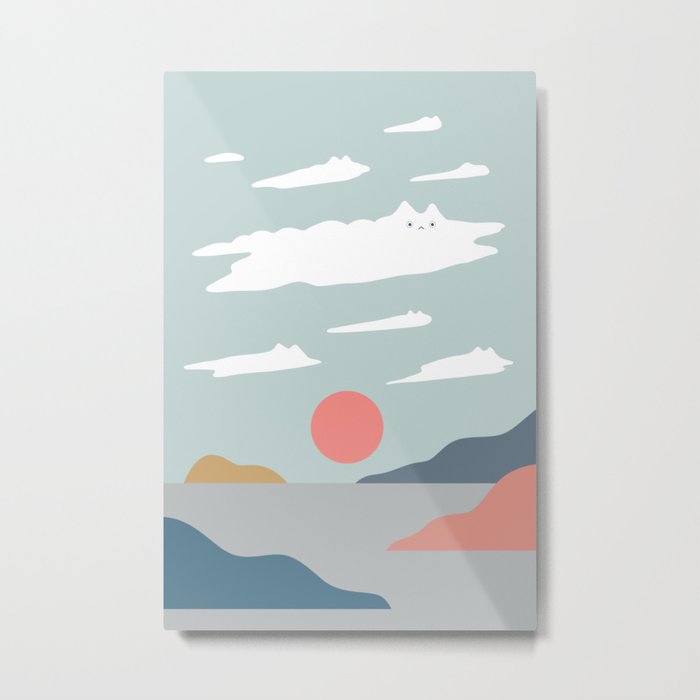 Finally, we wanted to briefly go over metal prints. Metal prints are pretty much just what they sound like. The artwork is printed onto a sheet of aluminium instead of onto paper or canvas. Wooden bars are then attached to the back to make it even stronger and give the print a look like it is floating about an inch away from the wall.
Metal prints are very modern and sleek. The surface is shiny and extra crisp-looking. The surface can be wiped clean with a microfiber cloth and a little water or Windex.
---
Hopefully this helped spark a few ideas on your quest for a kitty themed bathroom! Peace, love, and cats everywhere!