This post may contain affiliate links. This means I may receive a small commission if products are purchased through them. All opinions are honest and remain my own.
Since two of my best friends are big into jigsaw puzzling, I often find myself combing the internet for unique and exciting puzzles to buy as presents for them. And, because they are also two of the biggest cat lovers in the world, I've typed "best cat jigsaw puzzles 1000 piece" into that search bar more than once, hoping to find some perfect collection of awesome cat puzzles for me to choose from. Since I was never been able to find any lists that I liked, so I decided to make my own!
I've included a lot of 1,000 piece options in my list because I think that's sort of the perfect number of pieces for the average puzzle fan. The difficulty level is challenging while still fitting on a card table. But I've also included puzzles with fewer pieces, beginner puzzles for children, specialty puzzles, and some additional products at the end that are designed to making the puzzlin' life easier.
1,000 Piece Puzzles
I'll start with my favorite one. The eeBoo company has the most beautiful puzzle designs, in my opinion. I purchased this one a couple of years ago and it was a huge hit. The artwork is a square design, with no top or bottom.
The New York Puzzle Company offers, among many other things, puzzles featuring covers of The New Yorker magazine. They have more than one cat-themed cover, but I'm especially fond of this one with a pensive black cat looking out onto the New York City scenery.
How cute is this one? It has a breed of cat for (nearly) every letter of the alphabet, and the artwork couldn't be more adorable.
I absolutely love Edward Gorey as an artist, and the fact that he loved cats just makes it that much better. This illustration makes a perfect puzzle because of its intricacy and fine detail.
Gibsons is a very well-respected puzzle company and has been in business for over 100 years. This one is amazing to me because it combines two of my great loves – cats and camping!
Heye, a puzzle company founded in 1962, has some of the best designs I've ever seen. One reviewer said, "Heye puzzles are among my favorites, on par with Ravensburger, Buffalo Games and Schmidt. Pieces are sized just right, fit together well. The artwork by Rosina Wachtmeister is fabulous. Lots of fun putting this together."
Another great Heye cat puzzle!
This one has an excellent amount of detail for people who enjoy challenging puzzles.
Circle puzzles are fun to throw into the mix and I think this Kitty Madness design is amazing.
Being a HUGE Marc Chagall fan, I was pumped to find this puzzle from Eurographics. Chagall was a prolific artist who incorporated cats into a LOT of his work. Maybe that's one of the reasons why I like him so much?
From Lantern Press, this is a puzzle of a classic vintage promotional poster. I love this old style of artwork and I think vintage posters like this make great subjects for puzzles.
This puzzle featuring kittens and yarn on a beautifully upholstered armchair is super cute, and would be perfect for crafters.
Another pretty puzzle from SunsOut. The featured artist for this and the previous design is Chrissie Snelling. If you're a fan of her artwork you can check more of her paintings here.
Ravensburger is one of the highest quality puzzle brands. They use what they call "softclick" technology so that the pieces fit together snugly and comfortably. Their puzzles are printed onto extra thick cardboard so the whole thing is more sturdy when completed. It even has an anti-glare surface. I have purchased this brand several times and definitely recommend it.
I'm a sucker for calico cats and this one reminds me so much of my old cat, Bela. This puzzle by MasterPieces features a 25″ x 25″ square puzzle when finished.
Fewer Piece Puzzles
This 500 piece jigsaw puzzle features a cute allover cat patterned design and measures 18″ x 24″ when finished, which is a perfect readymade size for framing.
As you may or may not have noticed, I like art. This Artsy Cats puzzle would be a fun way to teach kids about the various artists and art movements featured in the design. FUN FACT: From the top left down, the artists that the puzzle is referencing are Yayoi Kusama, Georges Seurat, Henri Matisse, Vincent Van Gogh, Piet Mondrian, Claude Monet, Pablo Picasso, Frida Kahlo, and Wassily Kandinsky.
Mudpuppy really has the cutest puzzle themes. This cats as desserts motif make me smile.
I can't even handle this one. What a perfect present this would make for a cat lover who is also into astrology!
Charles Lynn Bragg is an amazing wildlife and surrealist artist. The whimsical subject matter of this puzzle and the smaller piece counts makes it perfect for younger folk. The box contains more information about the artist, or you can check out his website here.
This is my favorite cat-themed Christmas puzzle. I think it would be fun to do around the holidays with family or friends.
This one is for young cat and dog lovers alike. Two puzzles in one, it features a cute cat design on one side, and dog pattern on the opposite side.
This charming puzzle features a design by Amy Rosenberg.
This one is by Ravensburger again, so you know it will be very high quality. The artwork in this puzzle makes me want to curl up with my cats and a good book.
Wooden Puzzles
If you haven't heard of wooden puzzles before, you are in for a treat. They are a beautiful specialty item, featuring extra thick wooden pieces for a more three dimensional, handcrafted look. They often include 'whimsy' pieces, which are specially cut out to look like recognizable shapes or intricate geometric designs. Wooden puzzles make excellent pieces for framing because they are so artistic in nature. When I worked as a custom picture framer, I used to 'float' wooden puzzles on top of the mat board backing so the customer would be able to see the entire piece and all its beautiful, finished edges.
Wooden puzzles are typically smaller than cardboard puzzles, with fewer pieces, but overall heavier in weight. They are usually more expensive because of the nature of the materials. Artifact Puzzles is a well-known manufacturer of wooden puzzles and is the first one up in this section.
This wooden puzzle features a 19th century woodblock print by Utagawa Kuniyoshi. It has several cat-shaped whimsy pieces throughout, making it a perfect puzzle for cat lovers.
Here is another beautiful wooden puzzle. It has 215 pieces in total, including LOTS of cat-shaped whimsy pieces. Like most wooden puzzles, it is smaller, and measures a dainty 11″ x 11″ when finished.
I love, love, love Halloween. Putting together a well-crafted puzzle like this one would be a fun activity to do before party time. This festive wooden puzzle by Wentworth features spooky artwork and Halloween-themed whimsy pieces.
My niece is almost three years old and exactly the right age to enjoy a puzzle like this right now. Puzzles are a great way for kids to learn and practice things like spatial thinking, problem solving, and hand-eye coordination. A well-made wooden puzzle like this one won't get destroyed with use and can be passed down from generation to generation.
More Specialty Puzzles
Another type of specialty puzzle are ones that you can color in yourself after putting it all together. I like this idea because the initial black and white outline pieces would be extra challenging to put together. Then when you are finished, you have a whole new activity to do!
What could be better than putting together a puzzle of cats in the SHAPE of a cat? Definitely a must-have.
Puzzles also come in a 3D sculptural format. I like this one because it's adorable and you end up with a matching set upon completion. It has 49 tiny, interlocking pieces and the tallest cat measures just under four inches, so it's best for ages 12 and up.
32. Custom Photo Jigsaw Puzzles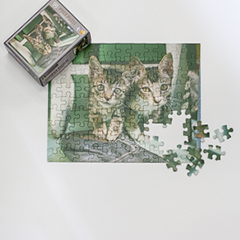 Another brilliant idea for a cat puzzle is to get a custom puzzle made using a picture of your very own cat! There is a company based in Wisconsin, called Portrait Puzzles, that offers this service and has amazing customer reviews. I haven't tried them yet myself, but based on over 4,000 reviews they have a 97% approval rating. People rave about the quality of the puzzles and the good customer service. I'm definitely keeping this in mind for future reference!
Other Puzzle Products
I've used this product before, and so I wanted to recommend it if you are interested in framing a jigsaw puzzle. I think this method works better than gluing, is less messy, and doesn't put a weird sheen on the surface of the puzzle you just worked so hard on. Here's a quick video illustrating how it works.
These handy sorting trays are popular amongst puzzlers. They stack on top of each other for easy storage, and are handy when sorting out different colors for large projects.
Avid puzzlers might want to consider some kind of product like this at some point. I like that it gives you a nice, even surface to work on. The built-in storage trays are a nice way to save areas of sorted or partially completed puzzle.
And now, I leave you with a cute cat picture. Happy puzzlin', everyone!