This post may contain affiliate links. This means I may receive a small commission if products are purchased through them. All opinions are honest and remain my own.
Dealing with cat hair all over your home is one of the downsides to being a cat parent. It's inevitable. But fear not! I'm going to explain how to get rid of cat hair everywhere in your home so you don't have to live in a nest of fur.
Cats naturally shed their hairs, just like people. The average human head has 90,000 to 150,000 hairs on it, compared to the average domestic cat's 130,000…per square inch. That means on its adorable little body a typical cat has approximately thirty million hairs. That's a lot of hair being transferred to your chairs and couches (and everywhere else) on a daily basis.
The best way to get rid of cat hair everywhere is to take a 3 step approach. First, brush your cat on a regular basis to help fight cat hair before it accumulates. Second, buy yourself a high quality vacuum cleaner specifically designed to suck up cat hair. Take a day to go over every surface thoroughly to get a base clean. Finally, keep a variety of additional products on hand to help remove cat hair from your clothing and hard to reach places. Lint rollers, rubber bristled brooms, and electrostatically charged cat beds are all great products to help contain cat hair.
1. Start by brushing your cat
When dealing with cat hair, begin at the source. Cats should be brushed regularly. It helps to remove grease and dead hair from their coats, as well as promote blood circulation.
Depending on the cat, this might mean once a day, once every few days, or possibly even less depending on what time of year it is (cats tend to shed more in spring and summer than during the winter.) Also, some cats just shed more than others naturally.
I've tried several different types of cat hair brushes and I've found that this style works the best. The single layer of fine-toothed stainless steel comb extracts the most hair from your cat, compared to other products. The design is comfortable for the cats too (my cats LOVE to be brushed with this type of tool.)
Avoid the style of brush that has a large pincushion type of head, with all the little metal teeth. It doesn't work as well and it can poke/hurt the cat's skin.
Another product that works well is a pet grooming glove. It doesn't groom as deeply as a brush, so I would recommend using it as a supplement to a brush, just to change things up for your cat.
To use, you simply slip the glove on and pet your cat; They usually love the massage session! When finished, the cat hair easily peels off the glove in a single piece. But think twice about chucking the hair into the garbage. Did you know there are actually a lot of practical purposes for cat hair? Check out my article for ideas – 8 Surprising Uses for Cat Hair.
To determine how much to brush your cat, simply look at the amount of fur that is coming off in the brush. If a lot of hair is coming off with each stroke, the cat is in need of a good grooming. Brush her for a few minutes until the amount of fur coming off with each stroke is lessened. (Always brush in the direction the fur grows.) If your cat brush yields very little hair with each stroke then kitty is all set and doesn't require your assistance.
2. The next step is to thoroughly vacuum
If your home is accumulating cat hair, you will need to bite the bullet and purchase a good vacuum. This is crucial to cat hair management. A powerful vacuum cleaner is the best way to remove most of the hair from furniture and carpeting.
The more cat hair that has accumulated, the more difficult it will be to completely remove. Vacuums will always be a great way to extract and contain a large quantity of pet hair.
I've done quite a bit of research on vacuums and I keep coming back to three. Dyson, Shark, and Bissell seem to be the best pet hair friendly vacuum cleaners on the market right now. And, at three different price points, there is an option for everyone.
Dyson
The most powerful vacuum for pet hair is the Dyson Animal Ball 2. It has a self-adjusting cleaning head and bristle technology, so it works on hardwood floors and linoleum as well as carpet. If you spring for the Total Clean model, it's the same power but it comes with 6 extra attachments so you can reach up high and in every nook and cranny. However, just because it's the most powerful vacuum doesn't necessarily mean it's right for you. Reviewers have said that this vacuum is too difficult to use on thick or shag carpeting.
Another pet-friendly option is the Dyson Cyclone V10 Animal Lightweight Cordless Stick Vacuum Cleaner.
With this, you get the super strong power of Dyson but in an easier to use form. It also transforms into a handheld vacuum so you can use it for furniture, which we all know is where much of the cat hair winds up!
Shark
Shark is one of Dyson's biggest competitors for a reason. Both brands feature a HEPA filtration system (which means the filter is capable of trapping extremely small, micron-sized particles and is therefore allergy-friendly.) They each have innovative technology that makes vacuuming up cat hair easier and better than ever. The main difference seems to be that the Shark brand is significantly less expensive than Dyson.
My vacuum of choice would be the Shark Rotator. It's less expensive than a Dyson, which is good for my budget, and it seems to have better customer review ratings. The Rotator is lighter weight, versatile, and easily maneuverable. There's a promotional video here that I found useful (just make sure the volume isn't too loud on your computer.)
The Shark Rotator has something called, 'lift away mode', meaning you can detach the canister section and use it like you would a stick vacuum. That way you can reach underneath furniture and chairs without having to rearrange everything. It also has LED lights on the head so you can easily see if you are about to suck up a bobby pin or something that could clog the brush roll. All in all, it's a great vacuum for most homes.
Bissell
Bissell is the most budget-friendly of the three brands I looked into. I would recommend the Bissell Cleanview Swivel Pet Upright.
Despite it only being $100, it has thousands of excellent reviews attesting to its reliability and suction power. It has specialized tools for picking up pet hair and a triple brush roll to get deep into carpet fibers. The canister is super easy to empty, and one helpful reviewer noted that all the parts of the vacuum (except the motor area) can be taken apart and washed.
It doesn't have the fancy lift-away feature of the Shark Rotator but for a $100 price tag, this would be an excellent choice to clean your home of cat hair.
Also available for an extra $15 is the Bissell Cleanview Automatic Cord Rewind. The press of a button zips the cord back up into the vacuum when you are done, which is a pretty handy feature.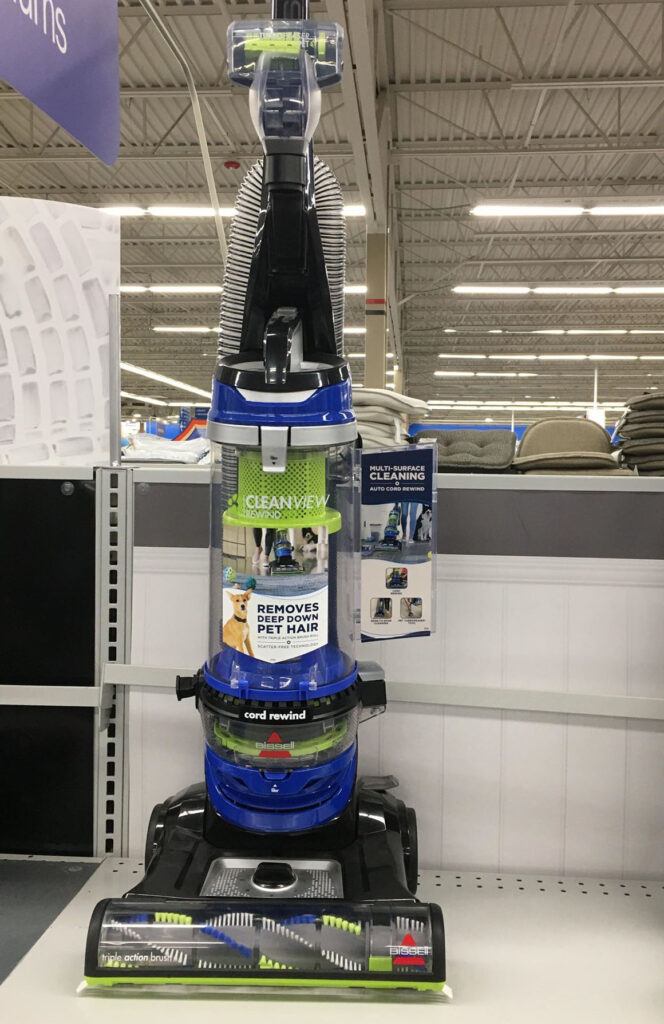 3. Supplement with a variety of other pet hair control products
The most important thing to remember when it comes to ridding your house of cat hair, is to keep a variety of tools on hand and to use the right tool for each job. Brushing and vacuuming alone are not enough. (The war against cat hair is real, people!) You will need some additional products for clothing, hard to reach places, and preventative measures.
Lint rollers and Remover brushes
Any cat hair management routine must include lint rollers at some point. These are great for recently shed, loose hairs, which seem to find their way onto your clothing no matter how hard you try to prevent it. I keep a couple around the house at all times, mainly for clothing, but I also like to use them sometimes to touch up my cat tower and drapes when I don't feel like getting the vacuum out.
Alternatively, you could use this pet hair remover brush, by Brellavi, which has a self-cleaning base. This doesn't require refill rolls and so it's more economical and environmentally friendly. You dip the brush into the base to remove the fur, use again and again, then clean the cat hair out from the bottom of the base when it fills up.
Again, these little tools are just to supplement a regular routine of vacuuming and cat grooming. Lint rollers and brushes are great for smaller jobs, touch-ups, and taking with you when you travel, but shouldn't be expected to perform miracles on larger areas.
There is also a hair-removing roller brush called a ChomChom. This product is less for clothing and more for areas of the house like furniture and blankets. Blankets can be particularly challenging to clean, but the ChomChom does an amazing job.
The reason it works so well is because it has a patented roller brush, similar to the roller brush inside of a Dyson or Shark vacuum cleaner, but with no motor or electricity required. The ChomChom is designed to roll in short, repeated strokes over problem areas on beds or couches. When finished, you simply empty the chamber out and it's good to go again. This little guy is the best in its class.
* The promotional video for the ChomChom is actually super helpful. It's not hokey or annoying, just the CEO of the company talking to you like a real person and demonstrating how it works.
Rubber brooms
I honestly can't believe it took me until my mid-thirties to realize that rubber brooms exist. With these you can go across carpet in short, back and forth strides, to collect gobs of pet hair. Static electricity helps it work. And, bonus, it has tons of other functions too!
You can use it to mop a floor, and then rinse out the rubber bristles no problem! Plus, the backside is a squeegee, so it can be used to clean windows or even brush off your car in winter.
Seriously, HOW did I not know about this sooner?
This Evriholder rubber broom from Amazon has a metal handle so it may hold up better than this version with a plastic handle.
However…I will let you in on a secret. Since everything seems to be made a bit more cheaply these days, I've had to learn a little trick out of necessity. If you purchase a perfectly good broom, and everything about it is wonderful except that the handle breaks, all you really need to do is epoxy it!
I recommend you use Loctite brand epoxy. I've used this brand for years and it works. I will tell you an embarrassing story.
Once, I needed a new broom. Like just a regular kitchen broom. I searched and searched online for the perfect one. I watched videos. I read review after review after review. Finally, I settled on what I was sure was the world's most perfect kitchen broom. When it arrived, I was so excited. I bragged about what a smart purchase I had made. Then, not kidding, while using the broom for the first time, and in mid-sentence of talking about how great it was, the handle broke off.
My husband swore he would never be able to stop laughing, But I showed him. I got out my Loctite epoxy, mixed up a small amount, applied it to the infected area, and voila! I now have a good kitchen broom with a handle that could never come off (even if I wanted it to.)
The Mysterious Purr Padd
The Mysterious Purr Padd is a labor-free product I found that helps to contain cat hair and keep it from drifting all over the house. It's a cat bed made out of a special polyester material that uses one of our greatest natural allies in the war against cat hair, static electricity.
The fibers attract hair and dander and locks them into the bed itself. I'm not sure why cats love to lay on them so much, but they really do. It costs $10.75 for two 20″ x 20″ white beds or $13.99 for the charcoal color.
They do wear out over time but the amount of use that your cats get out of them, and the amount of labor-free cat hair retention is well worth replenishing your supply every year or so.
*The Purr Padd doesn't come with washing instructions. Some reviewers have said not to wash it, while others have had success washing it on a delicate cycle and allowing to air dry. Either way, the material isn't designed to last forever but does last a fairly long time.
Remember the 3 step approach
Of course, there are many more products on the market designed to help control cat hair, but these are my top picks. Remember, when attempting to get rid of all the cat hair around your house, use the three-step approach:
Brush your cat on the regular
Equip yourself with a pet hair friendly vacuum cleaner
Supplement with products that target specific jobs and problem areas
Good luck! Peace, love, and cats everyone!