This post may contain affiliate links. This means I may receive a small commission if products are purchased through them. All opinions are honest and remain my own.
Dealing with a stressed or anxious kitty is never a fun experience. It can feel hopeless when nothing you try seems to work to calm them down. If you've been doing research on different ways to try and calm an anxious cat, you may have heard of calming collars… but do calming collars for cats really work?
Calming collars do work with some cats, but not all. These commonly contain synthetic pheromones meant to mimic the ones released by cats in nature. Other types of collars work by using a mix of herbs and spices, or essential oils that are meant to having a calming effect.
My cat Charlie (who we unfortunately recently had to rehome) was a giant ball of nerves. Everything seemed to trigger stress and anxiety in that cat, no matter what I tried to do to make it better.
However before I made that difficult decision to rehome him, there was a strong effort to try whatever I could to make him calm and happy so he could stay.
One of the things I had heard about from the vet was a calming collar, so I decided to give it a try.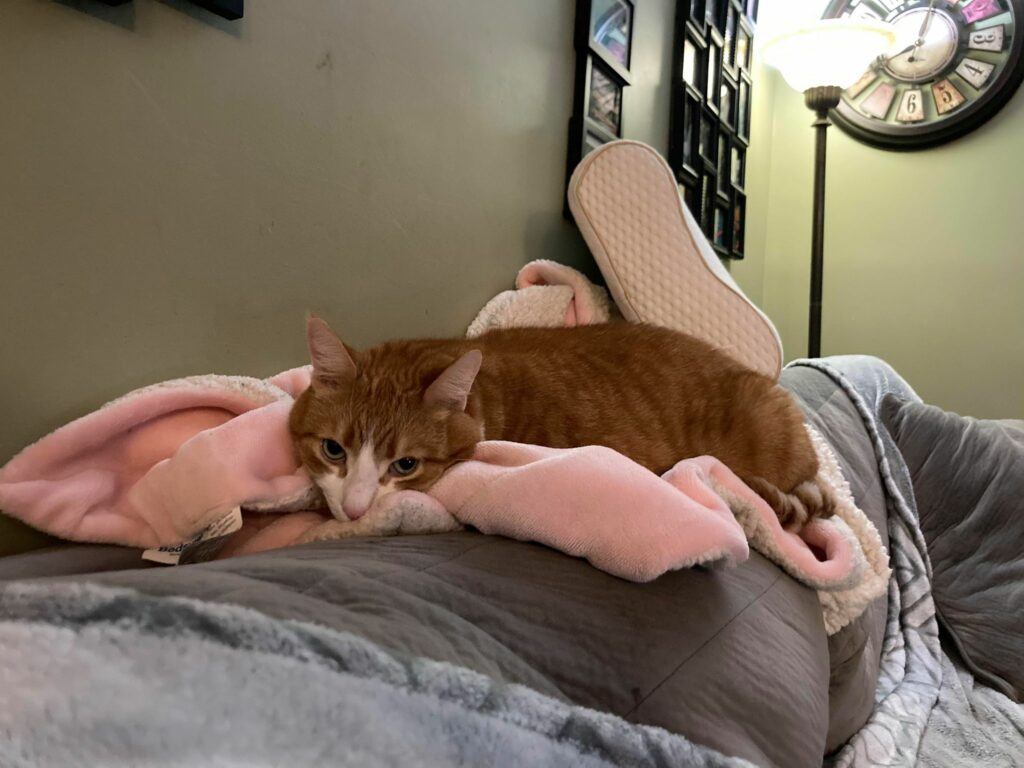 And while my efforts didn't work out quite the way we had hoped, I did learn some things along the way that could be helpful to others who are struggling with anxiety in their cats.
How do cat calming collars work?
Calming collars are meant to calm distressed cats, and stop excessive scratching, meowing, and spraying. However, not all of them are equal and have varying levels of effectiveness.
They typically work by containing either:
Synthetic pheromones
Dried herbs, spices, and/or essential oils
Since collars vary in the active ingredients they contain, it's important to research the product before you decide which collar to get.
Some brands, like the Scentry brand I used, have synthetic pheromones that are designed to replicate those released by a mother feline to her kittens. These pheromones make cats feel calm (theoretically). These are continuously released from the collar and last about a month before wearing out.
Other brands and many home-made versions (like ones you find on Etsy) use aromatherapy. These kind rely on natural herbs, essential oils, or spices to make cats feel at ease.
It's common for these types to include things like lavender and chamomile, but they may contain a mix of many different types of ingredients so you'd need to be sure to read the specific product information to know if it'd be right for your cat.
Pheromone Calming Collars
But what are pheromones, exactly?
In order to understand how pheromone collars work, it's important to know what pheromones are and just how they can influence cat's behavior.
A pheromone is a secreted or excreted chemical factor that triggers a social response in members of the same species. Pheromones are chemicals capable of acting like hormones outside the body of the secreting individual, to impact the behavior of the receiving individuals.

Source: wikipedia.org
So when a mother cat has kittens, she secretes a special pheromone that makes her kittens feel safe and calm. Pheromone collars mimic this natural cat secretion that is proven to influence a cat's behavior.
Other calming products work by mimicking the pheromones secreted by cats when they rub their mouths up to the edges of objects (or people) to mark their territory.
It's important to note that other animals are not effected by these pheromones, including dogs or humans.
For this reason, pheromone collars are more powerful than types that rely purely on dried herbs or oils.
Be cautious with calming collars that contain essential oils, especially lavender
You might want to consider avoiding any with essential oils. Advice is really mixed on the safety of essential oils for cats.
I'm definitely not an expert, but Pet Poison Helpline warns they can be harmful, as well as other professionals.
In addition, the use of lavender specifically, whether it's in the form of essential oil or dried lavender, is also questionable. This is because lavender itself, when ingested, is toxic to cats.
Be wary about trying a homemade collar that hasn't been regulated at all to meet any type of industry safety standards.
Something else to consider with collars that contain essential oils or any dried herbs is that they're going to have strong scents. And considering they'll be in extremely close proximity to your cat's nose 24/7, it could be irritating to them. (And maybe you too!)
Overall, these types of collars do not receive strong reviews from users as most people complain they either don't work at all or that the scent is just way too strong.
My experience with the Sentry brand collar (with pheromones)
I tested the Sentry brand pheromone collar with my cat Charlie for 3 months. The hopes of this helping were slim since he's an older cat (over 10 years old) and has suffered from anxiety issues since before he was adopted.
He would show this with excessive meowing and spraying in certain areas of the house. But we were really wishing a calming collar would help fix this behavior, even if just a little bit.
Initially, there was a noticeable change in his mood. He really did seem more at ease and relaxed – he even let me pet his belly and purred for a solid half hour. (He would NEVER have acted that way before).
I could tell the collar was having at least some effect on him, which surprised me because I was a bit skeptical about it.
Unfortunately, I realized that the effects from the collar weren't nearly enough to change his habits (spraying, excessive meowing, urinating on carpet) as the product claims. These were just too deeply ingrained in an older cat who suffered a lifetime of anxiety.
And another thing I noticed, was that any effects the collar did have seemed to lessen over time, even after it was replaced with a new one (each collar is designed to last 30 days).
However, witnessing the initial effects it had on Charlie makes me believe this would be very helpful to many other cats, especially younger ones who might react more strongly to the pheromones or others whose cases aren't quite as severe.
Alternatives to calming cat collars
One of the downsides of the calming collar was Charlie definitely did NOT like it. He always acted like it was bothering him, and he even managed to wiggle it off himself a handful of times.
Fortunately, there are alternative calming products that use the same type of synthetic pheromones in other forms that don't require your feline to wear anything. If the collar had ended up working out better for Charlie, we would have switched to a different type of product.
Sprays – sprays such as Feliway let you apply to any areas your cat likes to mark, like windows, doors, walls, carpet, or even furniture (you have to re-apply frequently). You also could use it by spraying in their carrier on stressful trips to the vet. Feliway spray mimics the facial pheromones cats rub off on objects to mark their territory.
Diffusers – Like sprays and collars, diffusers work by releasing pheromones designed to be just like the ones cats give off naturally. These can be a good option because your cat doesn't have to be stuck wearing an uncomfortable collar, and you don't have to constantly re-apply the spray. They're designed to last up to 4 weeks and can cover 700 sq ft.
Anxiety medication – If nothing else works, you can always take a trip to your vet and talk about putting your kitty on anti-anxiety pills. It may not be ideal, but it does really work for some cats.
The Bottom Line – are calming collars really worth it?
If you're struggling with an anxious or stressed feline, it's definitely worth giving a shot. There's really no way to know for sure unless you try it out, but I do recommend you try a pheromone collar such as Sentry as they are more likely to be effective.
If you're hesitant to put a collar on your cat, consider alternatives like diffusers, sprays, or possibly even anxiety meds.
Learn more about calming collars and other calming products for cats here on Amazon