This post may contain affiliate links. This means I may receive a small commission if products are purchased through them. All opinions are honest and remain my own.
Cat Litter: Up and Up Clumping (Multi-Cat)
Litter Type: Clay (clumping)
Price Range: $ (cheapest price range for clumping clay litter)
Rating: 4.6/5
Summary: I actually found this litter to be one of the best kinds I've used, despite its low price point. It clumps well, is fairly low-dust (although not 100%), and controls odors. With daily cleaning, the box remained free of debri and smells. For a clumping litter, it's just about the lowest price you'll find. You can find it here at Target.
Overview
If you shop at Target for cat supplies, perhaps you've noticed they carry their own brand (Up and UP) of clumping cat litter which is noticeably cheaper than some more recognized name brands such as Tidy Cat, Scoop Away, or Fresh Step.
I've used plenty of other Up and Up brand products before and they're generally pretty decent, so I decided to give this litter a chance. (Their diapers were my favorite and most affordable off-brand!)
I wasn't excepting it to be the best, but I actually found it to be at the top of the list of cat litters I've used. Therefore, I wanted to give a more thorough review of the Up and Up clumping litter for those who may be researching the best cat litter to purchase.
This cat litter also comes in an unscented and lightweight version, neither of which I have tried yet.
What is Up and Up clumping litter made from?
Up and Up brand litter is clay-based, which is one of the most popular types used. While it's not the most environmentally-friendly option, it's so popular because it works very well and most cats will use clay litter without issue over alternative types such as wood pellets or paper.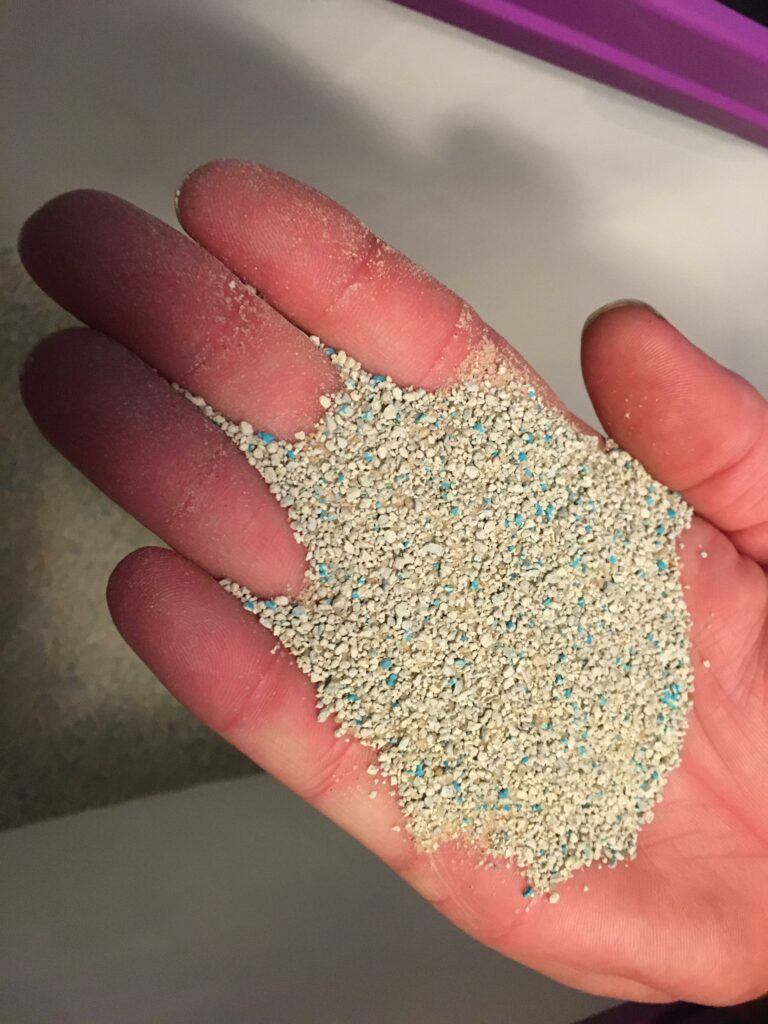 They have a broad range of different litter types on the market today, which you can read our more thorough guide here if you want to know more about them.
Odor Control
This litter has pretty decent odor control. It doesn't instantaneously hide smells, but after a minute or two, any smells will disappear (assuming my cats cover their poop). I've also never smelled any urine odor from the box at all, even after several weeks.
I keep the boxes cleaned daily and add fresh litter on top when it gets low, but I don't completely switch out litter unless it starts getting really dirty (like full of tiny debris too small for the scoop to take out) or smelly.
With certain litters that happens quickly, but with this Up and Up clumping kind, it actually takes a really long time to reach that point.
Clumping ability
One of the most important features of a clumping litter is how strong it clumps. If it doesn't hold urine together tightly enough, it can easily break apart into tiny little bits when you attempt to clean the box. This makes for messy litter that's hard to keep clean even after frequent scooping.
While having a heavy-duty, metal litter scoop can help with this problem, the actual litter itself can make it worse.
I was very surprised by just how well Up and Up's Multi-Cat litter was able to clump. They held tight, barely fell apart and did not even stick to the sides of the pan. I have to give some credit for the litter not sticking to this massive "litter box" from Home Depot (it's actually a generic mixing tub).
Is Up and Up cat litter dust free?
If you're looking for a 100% dust-free litter, this is not it. However, I would rate the dust level pretty low for clay litter. Compared to other brands like Scoop Away, it's significantly less dusty.
As long as you are careful when you pour it, you won't get that classic dust cloud that appears with other types. If you've ever inhaled cat litter into your lungs as you tried to pour it in (or even worse, when you're scooping dirty litter) you know it's not fun and can be downright scary.
Remember that your cat comes in very close contact with their litter on a regular basis, so you don't want them to inhale dust every time they dig into it. If you (or your cat) have asthma or any lung issues, you might want to opt for a completely dust-free litter.
Does it track?
Yes, one of the downsides is this litter is not low tracking. I still find the little clay particles all around the vicinity of the litter box areas. But to be fair, I have not really found a litter that my cats have not tracked.
Getting a tracking matt can help cut it down, but I'd be curious to know of a litter that is virtually trackless!
Price
Another great aspect of this litter is that when it comes to clumping cat litter, this is one of the most affordable options. This is especially true considering it has better longevity than even some of the more expensive options.
You can pick up a 35 lb pail of this stuff for just under $10. In comparison, most nationally recognized brands are between 1.5 – 3x that cost!
It's also packaged in smaller, 20 lb jugs which makes handling it much easier.
Pros vs. Cons
Pros
Super affordable for clumping cat litter
Clumps well
Controls odor
Lasts a long time
It doesn't have an overwhelming scent (and there's also a scent-free version)
Lower dust than other types
Cons
Not 100% dust-free
Can only find at Target (can't get auto-shipped like with Chewy or Amazon, etc)
Not low-tracking
Not environmentally-friendly
Read also: Ultimate Guide to Cat Litter Types
The Bottom Line
If I had to directly compare this litter to a more recognized name-brand, I would say it reminds me the most of Scoop Away multi-cat, except with larger granules so it's MUCH LESS dusty. In terms of its ability to clump and control odors, it's pretty much on par.
If you're looking for a clumping clay litter that works well but is still budget-friendly, this is a gre1ly worth it.
Unfortunately, you can't get this conveniently auto-shipped to your home, but nevertheless still worth considering if you shop at Target!
If you're looking for a convenient pet supplies delivery service, check out our review of Chewy.com to see why we highly recommend it! And if you just got a new feline, don't forget to read up on our list of 10 essential products for new cat owners.