This post may contain affiliate links. This means I may receive a small commission if products are purchased through them. All opinions are honest and remain my own.
Thinking of adopting a kitty or just welcomed one into your home? Within this post, I'd like to share my top 10 recommendations for essential items for your cat. Obviously you know the feline needs food, water, and a litter box, but beyond that, there may be things you hadn't even considered. Knowing what to expect can help reduce stress after a new cat arrives, both financially and mentally.
New cat owner? Here's your checklist!
---
1 – Litter Boxes (multiple), Litter, Scooper
A litter box is a pretty obvious essential for a cat. It's a good idea to have multiple litter boxes, even for just one cat. This can help give your cat options and help prevent unwanted accidents. In the case of multiple cats, it can help with territory issues.
A general rule of thumb for the number of litter boxes you'll want is n +1, with n being the number of cats.
| | |
| --- | --- |
| # Cats | #Litter Boxes |
| 1 | 2 |
| 2 | 3 |
| 3 | 4 |
There's a lot of different types of litter boxes – covered, top-entry, automatic, traditional, large, small, etc. Some cats don't like covered or top-entry boxes, so you might have to experiment to find what works best. You can't go wrong with a traditional, uncovered litter box as the majority of cats will take to them well.
Another consideration is the size of the litter box. According to petfinder.com, a litter box should be one and a half times the length of your cat. This way your cat will be more comfortable and it can help prevent them from accidentally eliminating outside the box.
If you're just looking for something basic, you can't really go wrong with this jumbo cat pan. Most cats probably won't object. I also really like this high sided litter pan by Nature's Miracle. The extra high sides keep the litter from going all over the place and the lower area in front makes it easy for cats to get in and out, as well as convenient for cleaning.
Litter Scoop
You'll need a good scooper to clean out the box, a metal scoop like this one will be durable enough to make your task of cleaning out the litter box much easier.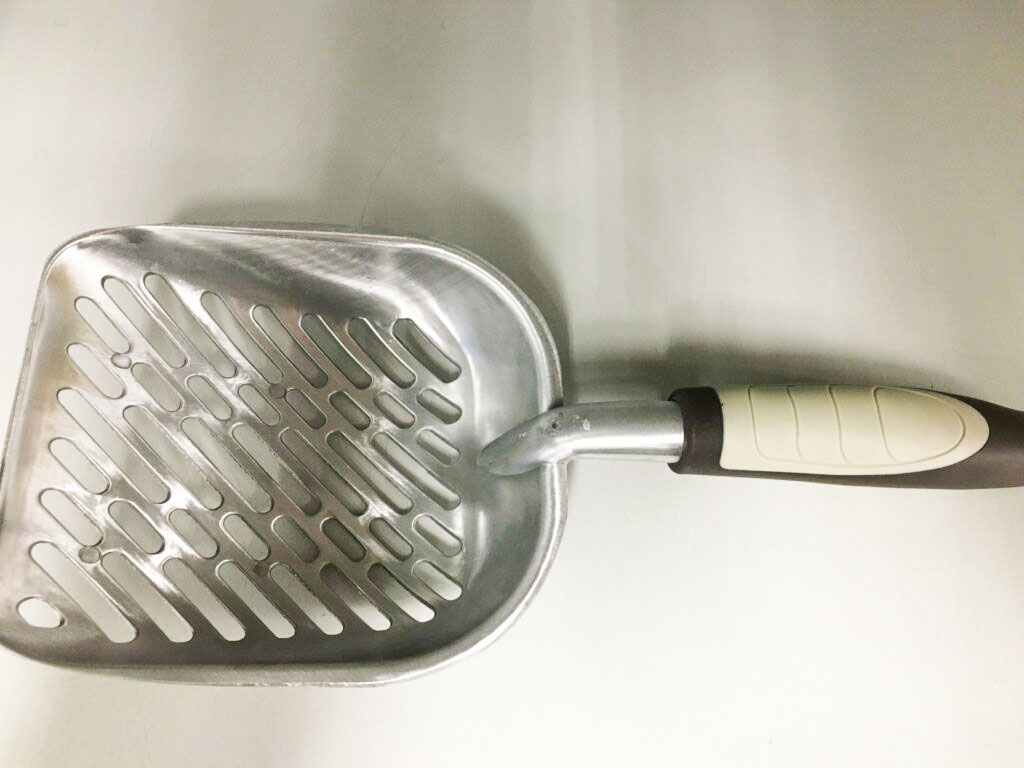 Trust me, there's nothing worse than cleaning out the litter box with a flimsy scooper!
Litter
There are a lot of options for cat litter, you can read this guide to cat litter here if you want to learn more about the different types.
2 – Cat Carrier
Another thing you're going to want to make sure you have is a cat carrier. This is a necessity for traveling with your cat, especially to the vet. While some shelters will provide cardboard type cat carriers for you to transport your cats back home, having one before you even bring a cat home can make it much easier.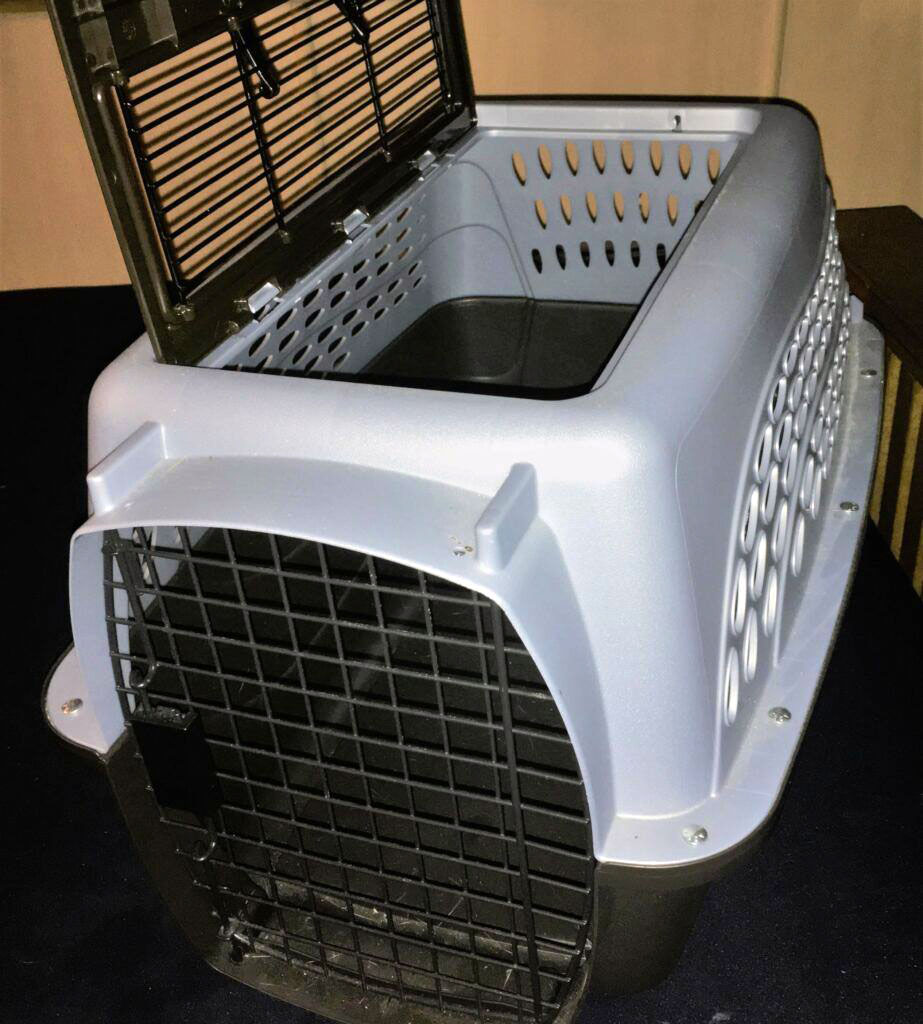 Consider the size of your cat when purchasing one; Larger cats will appreciate a bigger carrier. I also highly recommend you get one that has top-entry access as it makes it a lot easier to get your cat inside.
I have 2 of these carriers (meant for small dogs) but I find they work really well for my cats. They're very sturdy and give my cats plenty of room so they're not too cramped. I also really like having a top-entry feature.
3 – Food and Water Bowls
This doesn't need to be anything fancy, but try to avoid plastic bowls. Plastic bowls can trap bacteria and cause acne in some cats. Stainless steel bowls are very durable and dishwasher safe, so you can easily keep them clean.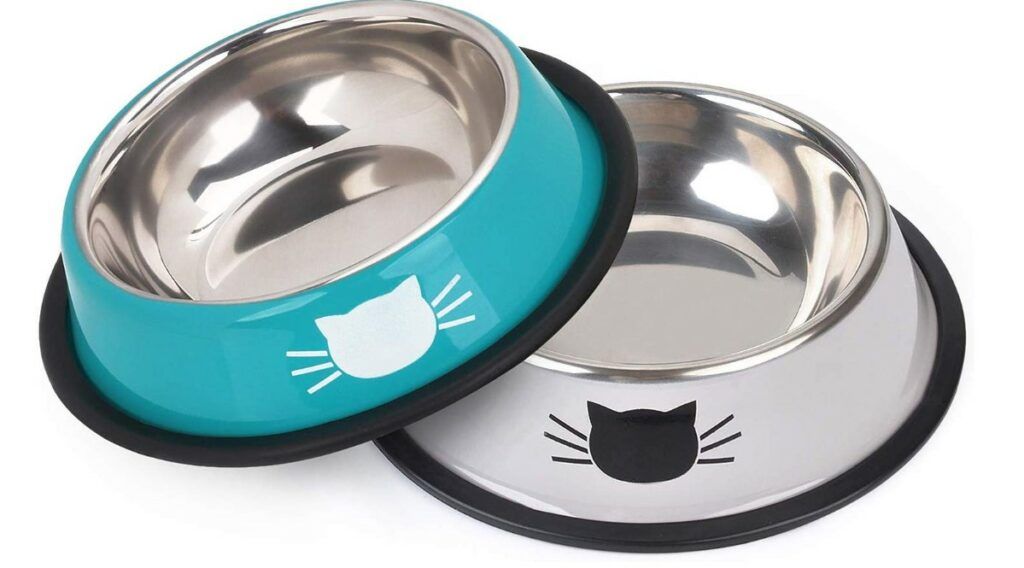 4 – Cat Food
Another obvious one, you'll need proper food to feed your kitty. I've found that my cats enjoy a combination of healthy, grain-free wet and dry food. Kittens will need specially formulated kitten food. The type of food that is best for your cat may depend on his or her individual needs so ask your veterinarian for recommendations when deciding which cat food to buy.
5 – Cat Nail Scissors
This may not be something you immediately think of, but you're going to need to keep your cat's nails trimmed every few weeks. Check this guide on how to trim your cat's nails if you've never done it before.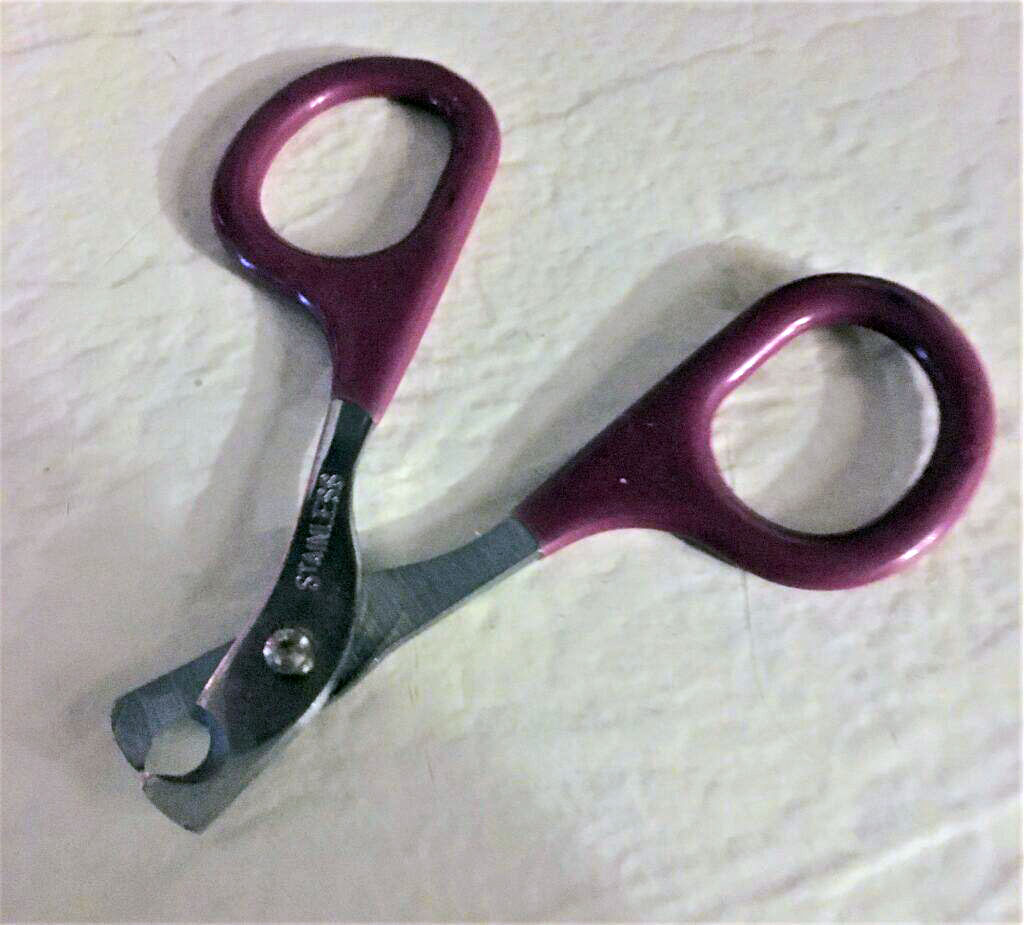 Some people can do this with regular nail clippers for humans, but I find using cat nail clippers a lot easier. You can find them on Amazon (like these ones) or at your local pet store.
6 – Grooming Brush
Cats may spend a lot of time grooming themselves, but there are many reasons why you should also brush them regularly. In particular, it helps prevent matted hair clumps on your cat, reduce hairballs, and can also lower the amount of cat hair that ends up around your home!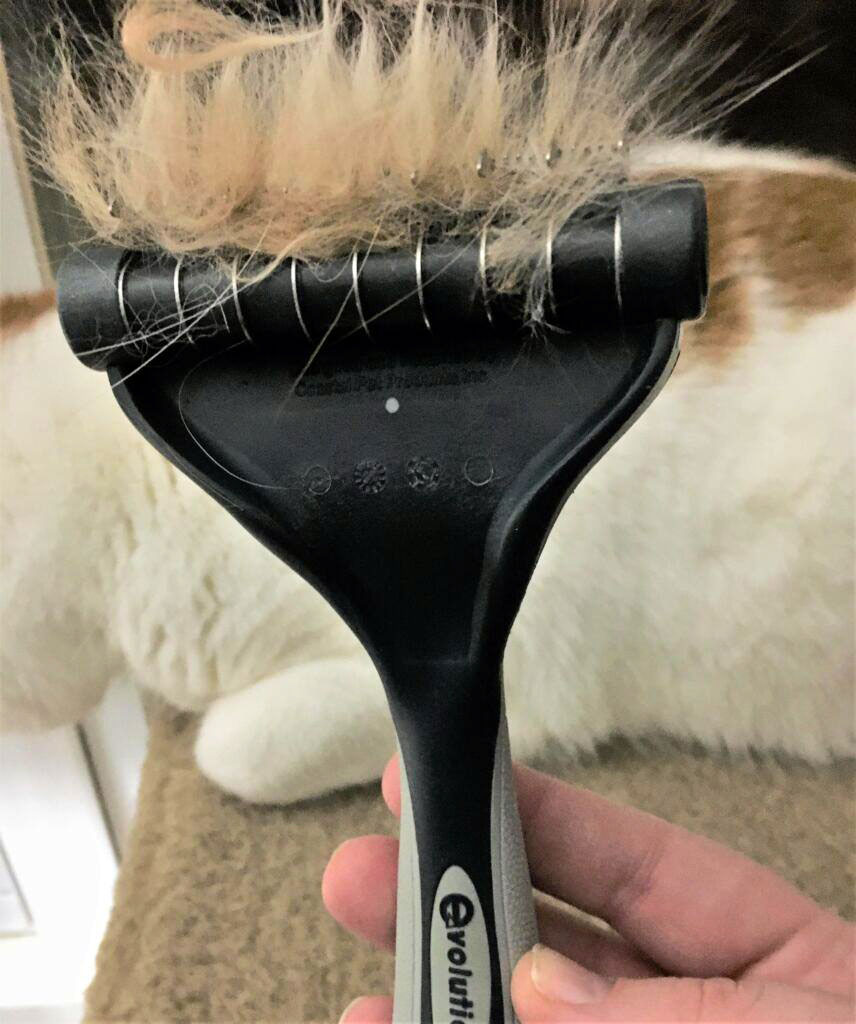 For most short-haired cats, once per week is sufficient. If you have a long-haired breed (or a heavy shedder) you might find yourself needing to do this more frequently.
There are all different types of brushes for your cat. You can use a basic grooming brush, a de-shedding tool like this, or even a grooming glove.
7 – Cat (Tree) Tower/Bed
You don't need to immediately purchase these things when you get a cat. Spend some time observing your cat and their habits. If you find them trying to jump on top of bookshelves, countertops, or even the refrigerator, you may want to consider a cat tower as a comfortable escape for them (and to keep them off your furniture).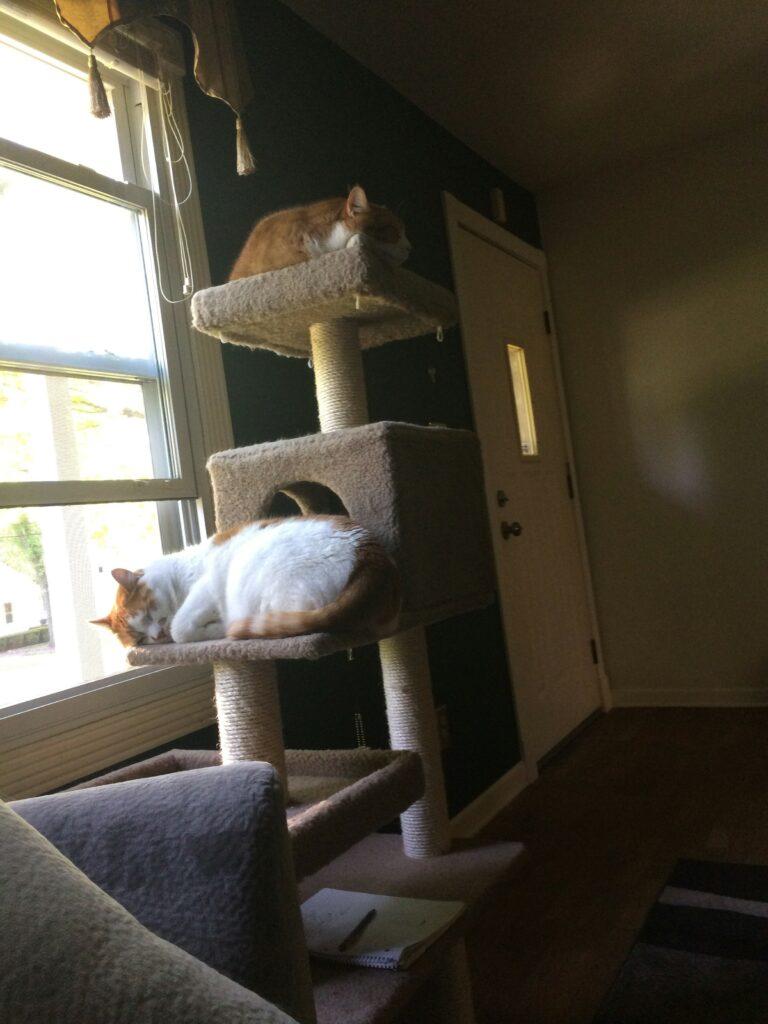 My cats really like their cat tree if I put it in front of the window. Although, there are definitely some territorial issues happening with it.
If you don't have space for a cat tree, or if you don't really like them, a great alternative is a cat wall shelf! They won't take up much space and it provides your cat with a nice up high getaway spot.
A cat bed can be a nice addition, especially if you want to encourage them to sleep somewhere that's not your furniture. However ultimately cats tend to sleep where they want. My cats will make a bed out of any blanket they see fit, so I don't personally feel a cat bed is a necessity, but I know my sister's cats love theirs.
*Tip – Cat's love it when you put their bed next to a heating vent!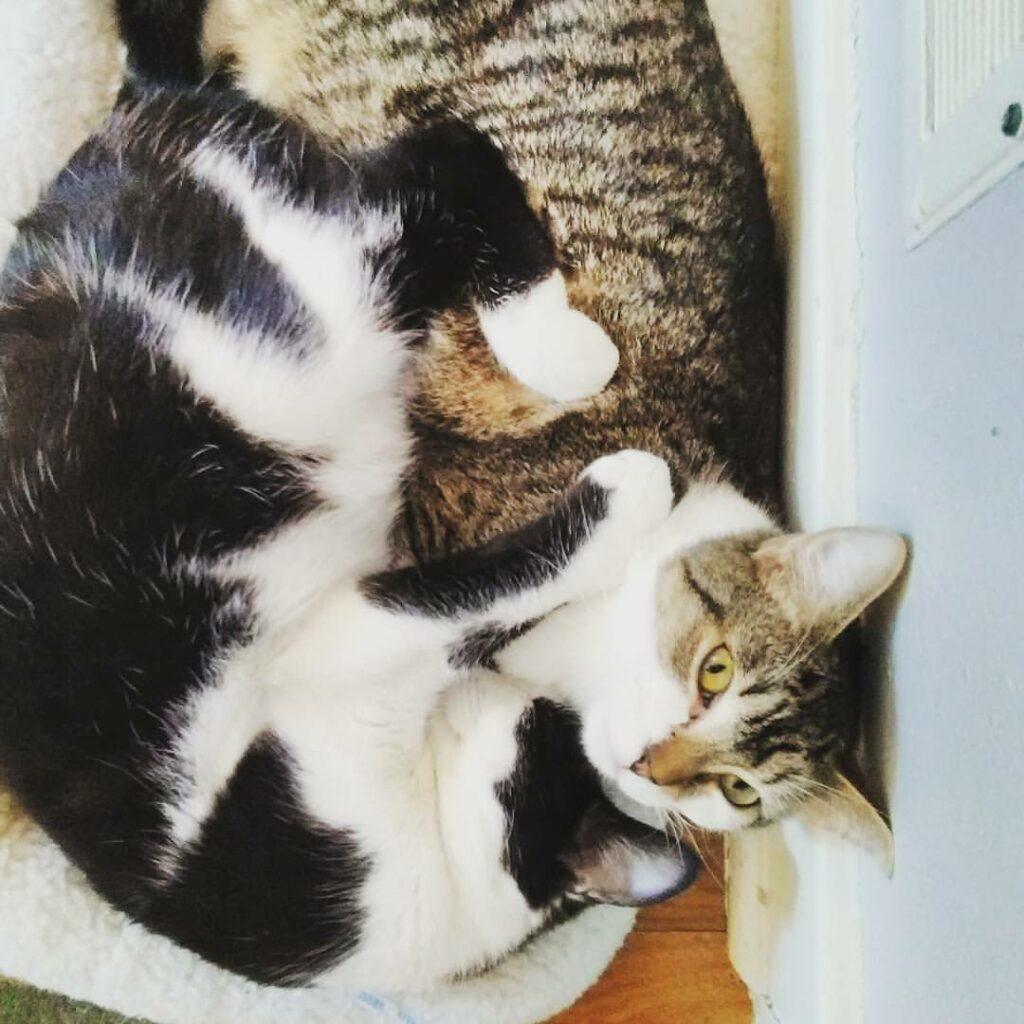 8 – Stimulating Cat Toys
Cat toys can be great for your cat to encourage activity and prevent boredom. They don't need anything fancy, but having things around can help. Just like you, cats get bored sitting around all day and can get into mischief if they aren't properly stimulated.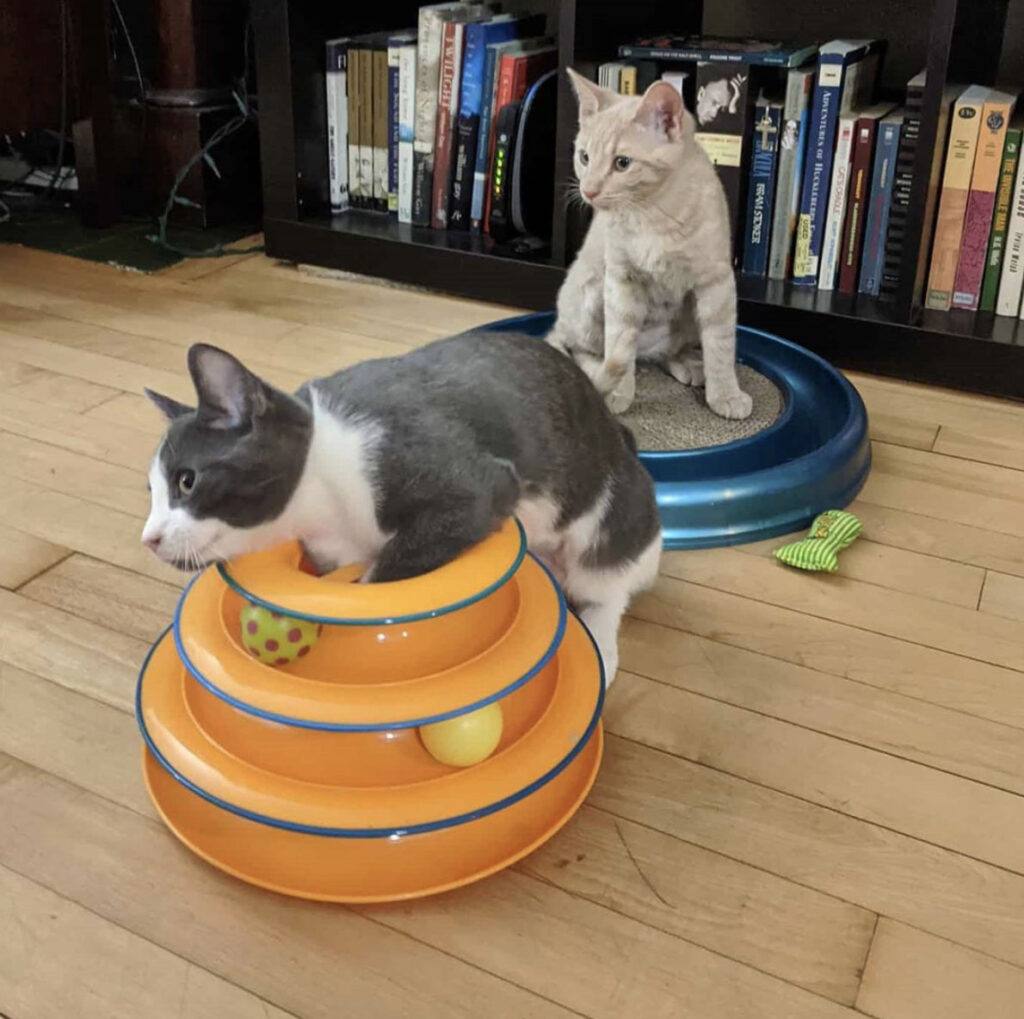 My sister's cat Chickadee plays with this scratching pad/ball toy combo EVERY day. The ball lights up so she can even play with it in the dark. The center scratching pad can be replaced when it gets too worn out and it's also a great place to sprinkle some cat nip.
My cats also love those toys on a stick that you dangle in front of them. They're perfect for getting in daily exercise.
Read our top picks for cat toys here.
9 – A Scratching Post/Pad
A scratching post can help encourage your cat to scratch somewhere other than your furniture or carpet. Most cat trees have scratching posts built into them as part of the design, but you can never have too many "designated scratching areas" for your cat!
There are lots of options here – posts, pads, cardboard disposables – anything to encourage your cat to claw AWAY from the carpet and furniture. They even have cat toys that have scratching pads included which are pretty cool.
10 – Vacuum and Lint Rollers
The never-ending shedding is something you'll need to come to terms with as a cat owner. Granted, some cats shed way more than others. My cats, Louie and Charlie, shed more than any cat I've ever come across! You need to be prepared to keep up with the hair, and having a good vacuum can help. Vacuums that are designed for pets, with special pet hair attachments work better in my opinion.
I've had this Shark Navigator for a few years and I find it works really well for cleaning up cat hair, and the pet hair attachment is pretty good for getting off furniture.
I also own this Bissell Pet Hair Eraser hand-held vacuum and I recommend it as well. If you're only needing something to get cat hair off your furniture, this is the ticket (and it's really affordable).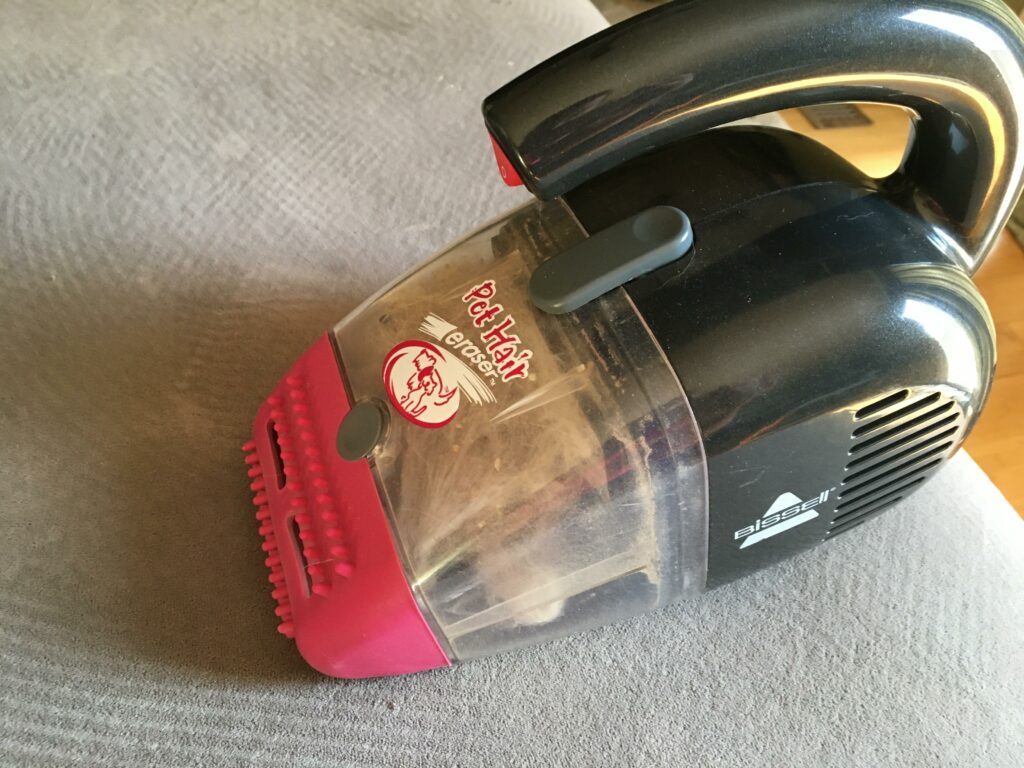 You'll also find that having lint rollers will come in VERY handy for those times you need to leave your house but realize you're covered in mounds of cat hair! You can pick them up at most stores or buy them online, I find these Evercare Extra Sticky ones work really well.
One more thing to consider…
If you own a cat, a great service I highly recommend is Chewy. They deliver pet products right to your door (you know, like the cat food and litter you never really feel like hauling home from the store) and have a huge selection at prices that are cheaper than most stores. Another great part about the service is you can opt to have your items delivered as frequently (or infrequently) as you like.
Their customer service is pretty great too. One time, I ordered 2 boxes of cat litter and they only sent me one. I contacted their online chat support, told them what happened, and they sent me a new box of litter right away, no questions even asked.
If you sign up and check it out here, you can get 30% off your first auto-ship order. If you don't like the service, you can easily cancel it anytime.