This post may contain affiliate links. This means I may receive a small commission if products are purchased through them. All opinions are honest and remain my own.
Alternative litters are catching on in popularity as people are seeking out more environmentally and budget-friendly options. Since I tried this with my cats, I want to discuss the pros and cons of pine pellet cat litter. It might seem like a great solution, but the reality is it may not work for everyone.
At a Glance: Pine Pellet Cat Litter, Pro vs. Cons
Pros
Cons
Cheap
(Check current prices here)
Cats won't be drawn to it (naturally)
Environmentally Friendly
Not all cats will use it
Hides cat pee smell
Does not hide poo smell
Less dusty
Much more work to clean/manage
As you can see, for every advantage to using wood pellets as cat litter, there is also a disadvantage. You'll need to weigh the pros and cons before deciding if it's right for you and your cat.
How does pine pellet cat litter work?
Pine pellets work by turning back into their original state – sawdust – when exposed to moisture. So when your cat urinates on the pellets, they'll simply turn to sawdust and won't stay wet.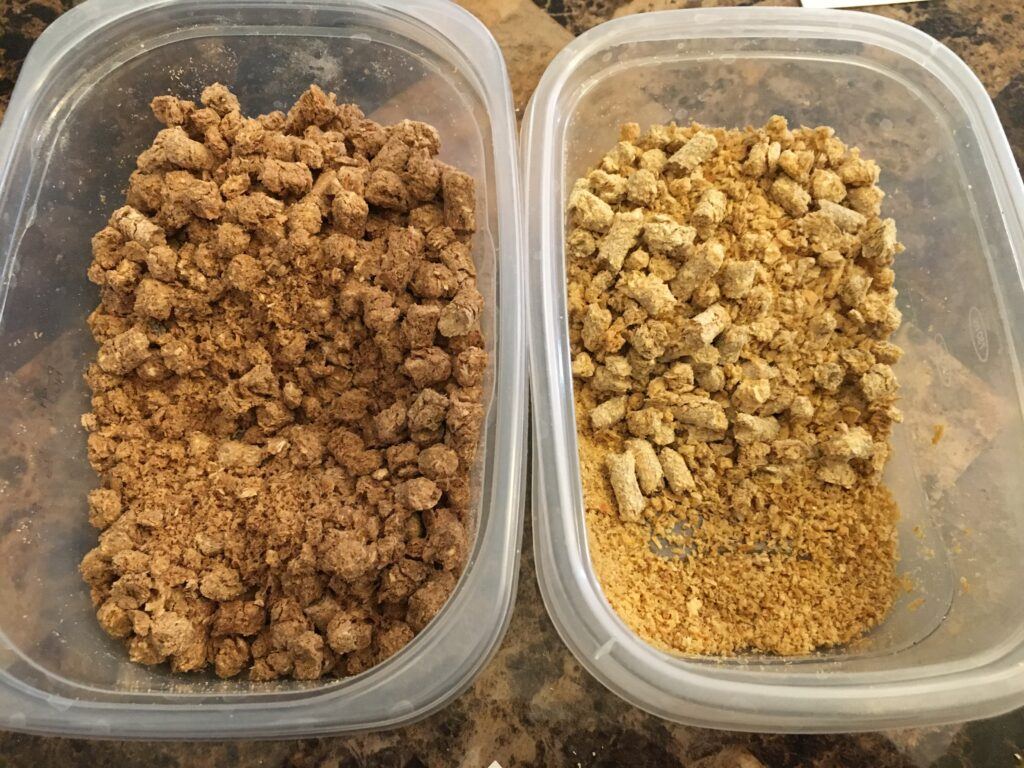 The wood naturally absorbs the odor as it turns to dust, so you won't get that foul cat pee smell left in the box.
However, you still need to keep the box cleaned regularly and either sift out the sawdust or dump the contents altogether because it will eventually get oversaturated and stinky.
Cleaning wood pellet litter boxes
There are different methods people use to clean out litter boxes with wood (pine) pelleted litter. It's important to know, however, that cleaning this litter is a bit more work than a traditional clay clumping litter.
Cats won't bury their poop in pine pellets, and they also don't absorb the smell. So you need to keep the poop picked out daily from the box.
To clean out the sawdust, you can either use one of these methods:
Method #1: Sifting box
The easiest way to clean them is to use a sifting litter box (or make one yourself). This way, you can pick up the top box and shake, and the sawdust will fall into the bottom and you can easily dispose of it.
In the video below, this guy shows you how he made his own sifting litter box system using plastic tubs.
You can also just buy a sifting litter box though, like this Arm and Hammer one.
See also: Litter Boxes for Pine Pellets: 5 Picks
Method #2: Reverse scoop
If you don't want to buy new litter boxes or make your own, you can do it with your regular ones too. This girl shows you how she "reverse scoops" her pine pellet litter…
Method #3: Dump out contents with each cleaning
The third option would be to simply dump out the entire box each time you clean it, just like you would with any other non-clumping litter. However, if you throw it outside make sure you properly dispose of the poop first.
You'll go through the pellets a lot faster this way, but it also makes cleaning the box a lot easier.
How to transition cats to wood pellet litter
One of the important things to realize if you're thinking of trying this litter out is that cats aren't naturally going to want to use it. The smell may not be appealing to them, and the texture is unlike what they're used to.
In order to transition, put 2 litter boxes next to each other — one with regular litter, and the other mostly with regular litter and pine on top. Each day, gradually add more pine pellets while reducing their normal litter.
You could also just fill one box full of pine, and the other their normal litter to give them the option.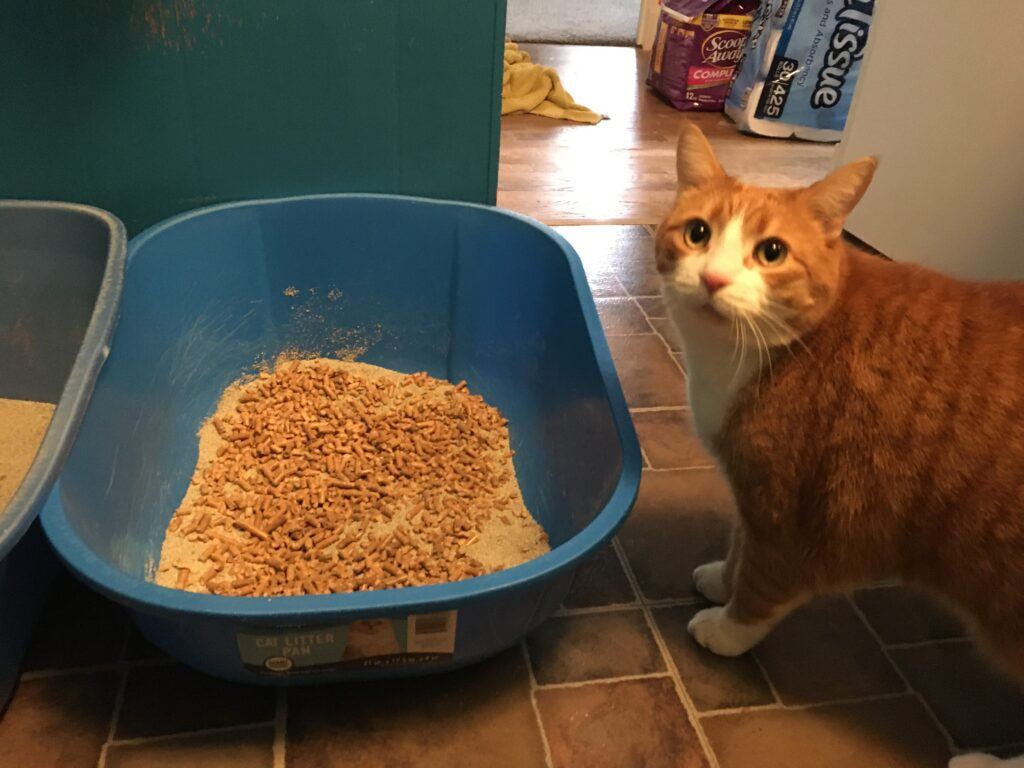 You can read about my attempted transition here. My cats are old and stubborn, so it didn't work for them. If you're doing this with a kitten, it will most likely be an easier transition. The older the cat, the more they may resist. It may have a lot to do with the personality of the cat as well.
Is pine litter safe for cats?
Some say pine pellet litter is dangerous for cats due to the pine oils contained in the wood which may cause respiratory and liver problems. However, the pine oils are destroyed in the manufacturing process, leaving the pellets safe. It also may be better for cats with allergies, as the pellets aren't dusty like clay.
But note that people are using a variety of different products for wood pellet litters, which may or may not be produced the same.
Pine Pelleted Litter vs Horse Bedding vs Wood Stove Pellets
There are different wood pellets available that work as cat litter. Some people use cat-specific brands of pine pellets such as Feline Pine, others use horse bedding, and yet others say they simply use wood stove pellets.
Feline Pine and other brands of pine pelleted cat litter – This is specifically manufactured and marketed to be used as cat litter and you'll find it in the pet section at your local box stores or pet stores (and online, too). The dangerous oils are eliminated in the manufacturing process through kiln drying.
The advantage to just purchasing actual pine pelleted cat litter is that it's made specifically for cats, so you know it's absolutely safe. Another plus is that it's really easy to find, unlike other options such as horse bedding, which can only be purchased in very large quantities at stores like Tractor Supply.
So if you don't have that option or can't go out and get it, you can find lots of options for pine pellets available here at Chewy for the best price.
Horse bedding – pelleted bedding for horses, also called equine bedding, can also work for cat litter even though it is not specifically marketed as such. However, it is made of 100% pine, just like the cat litter brands and it's much less expensive. You can find this stuff sold at places like Tractor Supply. These are either kiln or rotary dried.
Woodstove pellets – these may be more widely available than horse bedding as you can find them at most hardware type stores, like Lowes or Home Depot (and even Walmart).
However, they're not pine pellets – they're actually a mix of different wood types which could vary depending on the region in which it's produced. In general, woodstove pellets are made from hardwoods (pine is a softwood). Some brands also may contain chemical additives like accelerants, since they're meant to burn in wood stoves and not specifically be used around animals. While they work pretty much the same as pine pellets, you should check to make sure they don't have additives.
Equine and woodstove pellets work but aren't specifically marketed as "safe" for cats
All 3 of these work the same, but if it makes you feel safer to be using a product that's actually made for cats specifically, you can go with a specific litter type (like Feline Pine, or any other brand).
However, the horse bedding is 100% pine and made to be safe around horses, so I don't see why it wouldn't be safe for your felines as well. The manufacturing process also greatly eliminates the pine oils.
The woodstove pellets, on the other hand, aren't typically made of pine wood at all. They're probably OK to use, too, but just make sure they're not coated in chemical accelerants.
Cost of using pine pellet cat litter
The cost of pine pellets varies a lot depending on what you're buying.
The plus side of going with the horse bedding option is it's much cheaper than branded cat litter pellets. Feline Pine and other pine litters cost over 3x as much as alternatives like horse bedding. A 20 lb bag of Feline Pine costs around $10, depending on where you purchase it. A 40 lb sack of horse bedding only costs $6.
However, I've only seen horse pellets and woodstove fuel sold in 40 lb sacks, while the Feline Pine comes in 7 and 20 lb options. If you don't need to keep so much on hand, or can't physically handle 40 lbs, it may be better to opt for the branded cat litter.
Bottom Line: All in all, considering how long pine pelleted litter can last, it's overall a cheaper option than most clumping clay types even if you buy the branded pine pelleted litter.
Pros vs cons of using pine litter
While there are plenty of reasons why you should use this type of litter for your cats, there are also equally as many reasons why you may opt not to.
Pros
Cheap – one of the major advantages of using this type of litter is cost. You can buy a 40 lb bag that some owners say lasts between 3-4 months, for only about $6 if you purchase the equine, or horse bedding pellets from Tractor Supply. Even if you use cat litter specific brands, it's still a cheaper alternative.
Environmentally friendly – wood pellets are biodegradable and you can dump the dust into your garden
Eliminates cat pee smell – the pine actually neutralizes and holds on to that strong ammonia odor of cat pee as it turns into sawdust, and it mostly just smells like wood
Less dusty
Cons
Cats aren't naturally drawn to it, they may not like the smell or the way it feels on their paws -you need to train them
Not all cats will adapt to using it, even with training – you can read here about my cats (failed) transition
More work to clean – if you want to make the pellets last as long as possible, it takes a little more effort to keep the sawdust cleaned out
Different types of wood litter – are they all pellets?
Wood pellets are a very popular option, especially considering you can get them for so cheap. Wood pelleted litter comes in many brands like Feline Pine, Frisco, and Simply Pine (among others).
But the pellets aren't the only options for wood litter. They also sell grounded (non-pelleted) wood litter that's meant to clump. The clumps aren't as strong as traditional clay clumps, but they still can make the box easier to clean.
Some of the grounded litter is 100% pine, but other types have mixtures of wood and corn (like Tidy Cats Pure Nature).
Pine Pellet Litter Recommendations
If you don't want to use horse pellets, or you can't easily track them down… we recommend a few different brands that are specifically produced to be used as cat litter. These are all made of 100% pine with no additives or chemicals.
The Bottom Line
Some people find that pine pellets work great for their cats and don't mind dealing with them. They can be a great alternative to clay litters and will cost you less too. Just keep in mind that not ALL cats will take to this type of litter.
---
Do you find yourself constantly running out of cat supplies? Or are you looking for an easier way to stay stocked on your pet's staples during the Covid-19 pandemic? We recommend checking out Chewy!
Chewy makes online shopping easy and their delivery is as fast as Amazon Prime. With amazing prices, selection, and customer service, they're the KING of the pet supply niche.
Grab 30% off your first Chewy order here, and be sure to check out our in-depth review for more information and ideas.