This post may contain affiliate links. This means I may receive a small commission if products are purchased through them. All opinions are honest and remain my own.
Have you ever been standing in the cat aisle in total sticker shock, wondering if there are any cheap alternatives to cat litter? I have 2 cats and spend around $15 per month on cat litter, but depending on the type you use (and how many cats you own) it could easily end up costing you much more.
While traditional clay litter dominates the market, there are less expensive options you can use for your cats. Wood pellets, corn, sand, sawdust, and even torn up newspaper can work well and are all considerably cheaper than regular litter made for cats. Pine pellets made for horse bedding, for example, cost between $5 – $6 for a 40 lb sack and last, on average, 3 months for a multiple cat home.
5 Alternative Things You Can Use Instead of Cat Litter
If you're looking for something to use that'll actually save you money, you may have to look outside the box and use products that aren't marketed as "cat litter".
#1. Wood Pellets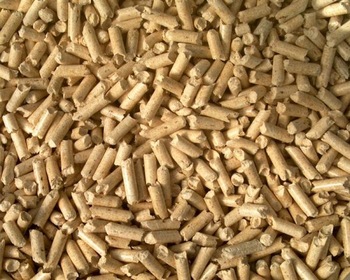 Wood pellets made out of 100% pine can easily be used as a cat litter. It's a little bit different from traditional cat litter because instead of clumping, the pellets turn to sawdust when exposed to cat urine. The good thing about using this, is people say the litter box never smells like cat pee, only wood!
You'd need to get a sifter-type system (like using a sifter box, or a DIY version) if you want to make the pellets last as long as possible.
However, if you are interested in using wood pellets for cat litter, you should understand the different types available for purchase.
Pine pellets specifically made to use as cat litter
If you look within products actually marketed as cat litter, you can find pine pellet cat litters that are specifically manufactured to be used as such. Products such as "Feline Pine" are manufactured and sold as being cat litter but will cost around $17 for a 40 lb bag.
Pellets made for horse bedding
They also sell extremely similar 100% pine pellets that are sold as horse/livestock bedding, also called "equine pellets".
These can be purchased from stores like Tractor Supply for around $6 for a 40 lb bag, significantly cheaper than Feline Pine brand cat litter.
Pellets made for burning in wood stoves
A more easily accessible option for some may be to purchase wood pellets manufactured to be used in wood-burning stoves. They can be purchased from any home improvement store (like Lowes, Home Depot, Menards or even Walmart). These cost between $4 – $6 for a 40 lb sack.
However, purchase these with caution. These may not be as ideal for cat litter due to the fact that since they're often made of hardwoods (not softwood like Pine) so they don't exactly turn to sawdust as easily when wet.
Also, many manufacturers don't list their ingredients so you don't know the type of wood that was used to in them. They also could be coated in accelerants to maximize burning time. Some of these woods are not safe to use around cats.
Advantages:
Very affordable
Eliminates urine odor
Disadvantages
Messier and a bit more work to clean up
Cats may not take to it right away (or at all)
#2. Sand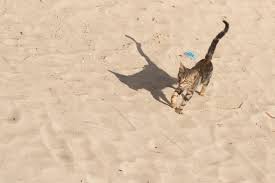 Cats naturally are attracted to sand and will use it as litter without issue. If you have a sandbox and an outdoor cat (or stray cats) you may already know this to be very true.
The good thing is you can purchase this for dirt cheap – around $4 for a 50 lb bag.
However, I think sand is less than ideal to use inside for several reasons. It doesn't control smell at all, so you'll want to mix in an odor-controlling agent such as baking soda.
It also may be scoopable if the clump is small enough, but sand doesn't clump nicely like regular clumping litter. Have you ever played in wet sand? You know what a giant mess it is, so imagine that in your litter box!
Advantages:
Dirt cheap
Cats will want to use it
Disadvantages:
MESSY – tracks everywhere
Doesn't clump tightly, if you don't scoop frequently it's going to turn into one giant wet blob and you'll have to dump the entire thing often.
No odor control – will need to add baking soda
#3. Wood Shavings
If you or someone you know does woodworking, this may be a great option to use up the leftover sawdust and would be FREE!
Watch this guy make his own cat litter using sawdust!
This is only a good option if you already have a ton of sawdust laying around that you don't know what to do with. Otherwise, it's way too much work and easier solutions.
Advantages:
Free if you have access to wood shavings or sawdust
Smells nice and covers up odors
Disadvantages
Super messy!
A lot of work to assemble
Cats with asthma/allergies shouldn't use it
#4. Corn-based like layer crumble chicken feed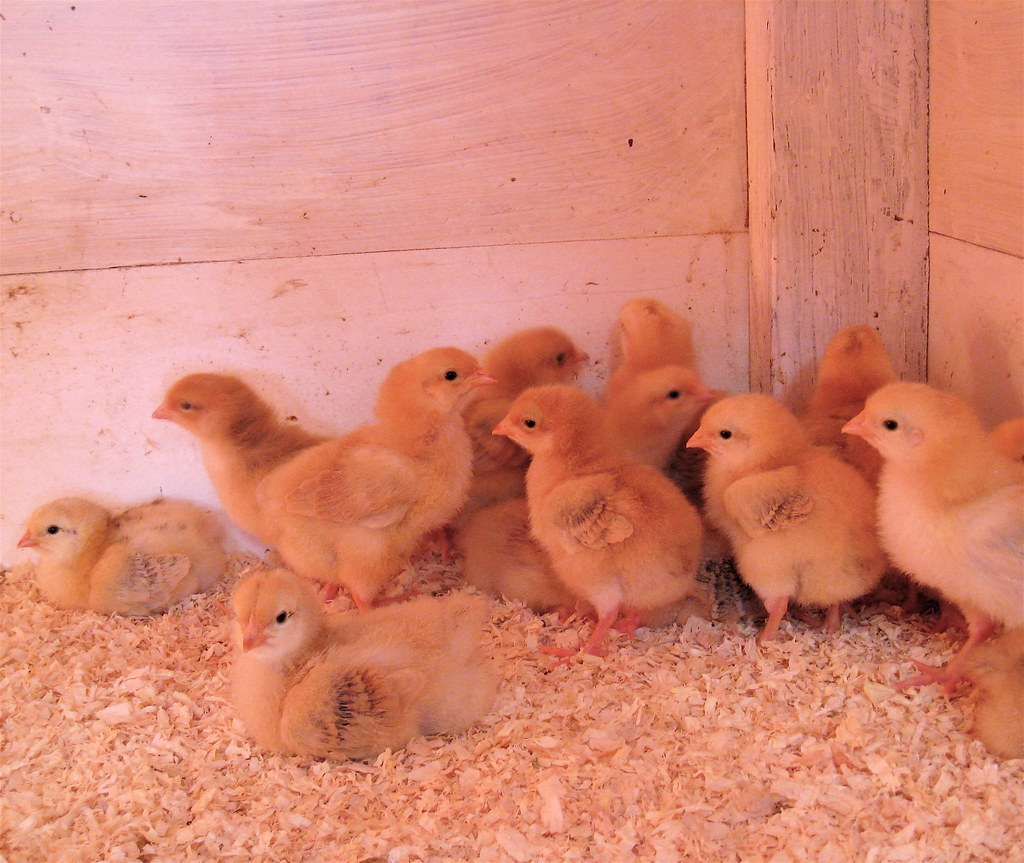 An all-natural, biodegradable option is to use a corn base for your litter. Chicken feed "layer crumbles" are mostly corn-based, mixed with other grains. Some people say the starter crumbles meant for baby chicks work best.
Using the "layer crumbles" type for chicken feed (no antibiotics) is a relatively inexpensive alternative for traditional litter. You can buy a 50 lb bag for around $12.
While they do make specific, corn-based litter that's marketed for cats (like World's Best Cat Litter) it isn't exactly cheap. It sells for around $30 for a 28 lb bag. The g
If you want to use a corn-based litter and save money, using the layer crumbles type of chicken feed works as an alternative.
Advantages
Biodegradable, all-natural
Affordable
Disadvantages of using a corn litter
May not clump well
Smell
Prone to mold, must change out frequently
Cats may track this all over
Attracts bugs and mice
#5. Newspaper Shreddings
An interesting alternative to cat litter that's extremely cheap would be to use newspaper or paper shreddings. If you have access to a lot of paper scraps and a paper shredder, it's a pretty affordable and a really simple solution. (Newspaper works best but you can use a mix)
However, as with any option, this has its pros and cons.
It's not going to hide smells, so you'll need to make sure to add in baking soda with the paper scraps and ideally, empty it out entirely at least once per day.
It's also going to be messier to clean up vs a typical clumping litter, so you'll also want to make sure you either line the litter box with something like a litter box liner or cardboard. Otherwise, you're going to be cleaning out cat urine from the bottom of the litter box all the time.

Advantages:
Free (if you have access to lots of newspaper)
Disadvantages
Doesn't control smells
Messy to clean up
Have to change it out very frequently
Price Breakdown
| | |
| --- | --- |
| Litter Type | Cost |
| Wood Pellets | .15 cents per lb |
| Sand | .08 cents per lb |
| Corn Base | .24 cents per lb |
| Newspaper | Free (if access) |
| Sawdust | Free (if access) |
Be mindful when switching your cat's litter type, it might take time (or they may just reject it altogether)
Cats can be weird about the type of litter they use, so unless you're introducing this to a new kitten, make sure you slowly change over the litter vs. trying to do it all at once.
You can do this by keeping an extra litter box with the new litter type right next to their old one. If they use it straight away, great. If not, try slowly adding in the new litter type to the old kind over a period of about 2 weeks. Each day, gradually add more of the new type in so your cat can slowly warm up to it.
Your cat might reject an alternative litter
Despite your best efforts, your cat may altogether refuse to use any alternative cat litter you try to throw at them. If this happens, it's best to admit defeat since the last thing you want is for them to use your carpet or furniture in protest.
You may need to experiment with a few different types of alternatives before you find one that works for your cat.
The Bottom Line
Not all these options are great solutions for everyone, so you'll need to find the best method that will work best for you and your cat. While each option has clear disadvantages, you may find one to be well worth it if it ends up saving a ton of money in the end!