This post may contain affiliate links. This means I may receive a small commission if products are purchased through them. All opinions are honest and remain my own.
Are you curious about the best clay clumping cat litter brands? Within this article, I want to share my personal favs. I've owned cats for many years, so I've tried several different brands and I'd like to talk about what ones are best (in my opinion).
What is clay clumping litter?
There are so many different litters available on the market today, but the kind I personally prefer to use is clumping litter made of bentonite clay. This clay is super absorbant, good at controlling odors, and can clump well.
While they have clumping litter made of more natural materials (like corn or wood) the clay-based ones are the most well-known litter types you'll find in the cat section. These are the huge brands like Scoop Away, Fresh Step, Tidy Cats, etc – the ones you see in every major store.
While there are disadvantages to using clay litter (especially environmental concerns) there is a reason it's so popular – it works very well and most cats will use it naturally (without any issues or litter training).
You can read more about all the cat litter types here if you wanted to look for an alternative.
What makes for a good clumping cat litter
In my opinion, good clumping cat litter clumps hard, meaning the urine clumps tight and doesn't fall apart when you scoop it out. Clumps that fall apart make for a messy box and that means you'll have to do complete litter change-outs more frequently since they crumble into tiny pieces that are pretty much impossible to remove.
The next thing is odor control and scent. I like litters that don't have a scent that is too overpowering but still do a good job of keeping smells down.
The last thing is tracking – are your cats taking this litter with them around your house? I find nearly all litter will track to a certain extent, but some much more so than others.
When it comes to clumping cat litter, Arm and Hammer does a great job. This brand has a pretty big line of litter types and a range of prices.
My favorite type of Arm and Hammer litters are their "Clump and Seal" line. These do an excellent job at just about everything – controlling odor, dust, tracking, and they clump well. With this litter, the urine clumps don't stick to the box at all either which is a huge plus for keeping it clean.
They now have a range of types of this with varying prices, but I really like the Clump and Seal Slide for Multi-Cat.
Negatives: It's slightly pricier than the other brands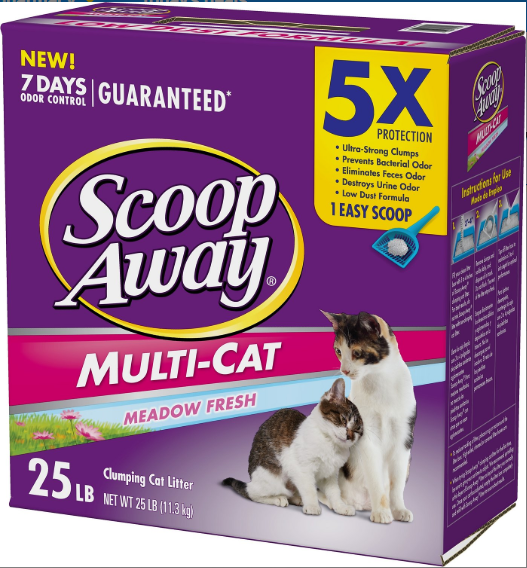 Scoop Away is another classic brand my mother always used with our cats growing up, so I started using it with my cats when I became a cat mom. This litter is one of my favorites to use – it clumps hard, leaves the box relatively clean, and controls odors. Actually, I find the cat urine (and poop) smell almost non-existent as long as I clean the box regularly.
While the cats track it outside the box (like with any litter) it's mostly just around the litter box area, not the entire house.
My cats love this litter and so do I.
If you are a Costco member, you can buy 42 lb packages of this for around $15 or less. I find the price varies and they also put it on sale frequently. If you aren't, you can also find decent deals on Chewy!
Negatives: It's a bit dustier than the other brands
Lastly, I want to talk about a new discovery. I was at Target and found giant pails of Up and Up brand clumping litter, next to the Tidy Cat. I'm assuming it's supposed to be like Tidy Cat, but I've actually never used it (now I feel I should give it a try?) But this stuff was so cheap ($9.99 for 35 lbs) I figured I had to at least try it.
I've used Up and Up brand products before and usually, they don't disappoint. However, considering the price, I still wasn't expecting it to be as good as the other brands.
I was pleasantly surprised, to say the least. While I've never used Tidy Cats so I can't give a direct comparison, I can say that this stuff is almost as good as the Scoop Away brand! It clumps well, controls smell, and has minimal tracking. It is slightly dusty, but I only really notice this if I'm filling up the entire litter box, not so much with daily scooping.
Another thing I really like about this brand is that it comes in a pail. This makes it really easy to open up and throw in a scooper cup for pouring new litter on top, as needed, without having to pick up the entire container as you do with boxes of litter. The bonus is you can also re-use the container – I like to use it to make a little trash can next to the litter boxes that I can dump cat waste throughout the week without having to use plastic bags on a daily basis. It's sealed, so it hides the odor!
Negatives: Slightly dusty, the container may be too heavy to pick up for some
Related: Do you really need to dump out all your clumping cat litter?
Best Clumpable Cat Litters, Quick Guide Comparison
Brand
Pros
Cons
Price
Arm and Hammer
Hard Clumping
Odor Control
Minimal Tracking
Doesn't stick to box
Slightly more
expensive
$$
Find on Chewy
Scoop Away
Hard Clumping
Odor Control
Minimal Tracking
Slightly Dusty
$$
Find on Chewy
Up and Up
Comparable to Scoop
Away brand, Hard Clumping
Slightly Dusty
$
Find at Target
The Bottom Line
I've used many different types of cat litters, and these are by far the best (in my opinion) if you're looking to use the clumping clay type. When it comes to this type of litter, I'm looking to stretch it as long as possible and get the most use. I don't want to dump out the cat litter and re-fill it every week – not only is it super expensive, it's wasteful. These litters will allow you to do that while still keeping the litter clean and free of smells. (Just make sure you clean it out once per day, at least)