This post may contain affiliate links. This means I may receive a small commission if products are purchased through them. All opinions are honest and remain my own.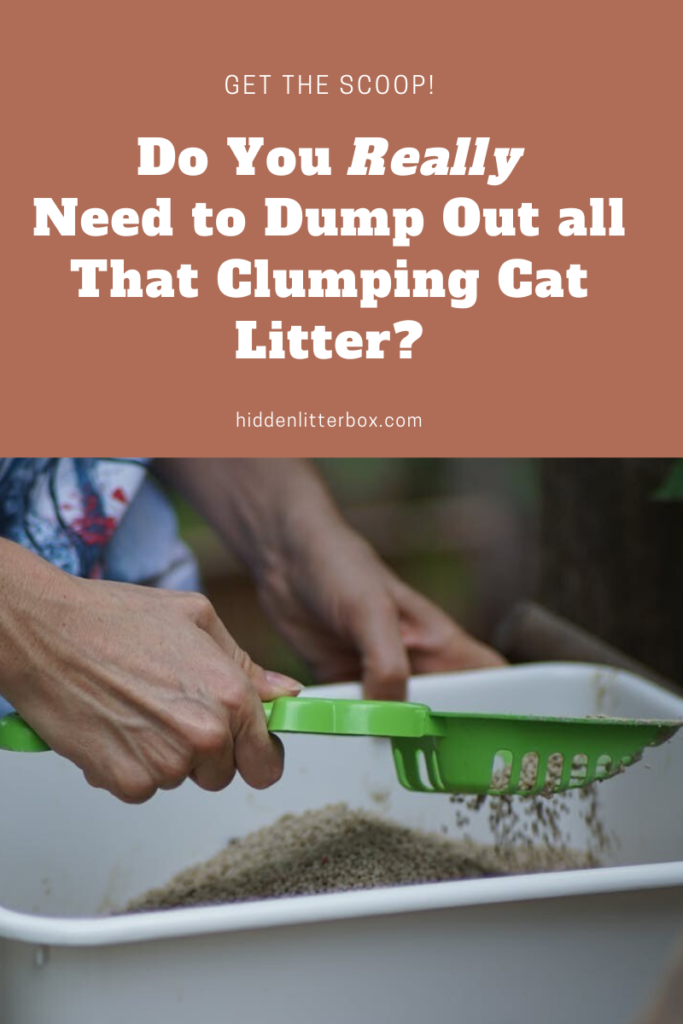 Who knew there was so much to taking care of a cat? Well, they may not be as high-maintenance as dogs but you still have to worry about the darn litter box. If you've been researching litter box maintenance, you may be left wondering do you really need to dump out clumping cat litter to clean the box?
Summary: According to humanesociety.org, clumping litter should be completely changed out at least once every three weeks. This is for optimal hygiene. However, the brand and type of clumping litter used will also vary greatly in its ability to clump well and keep the litter cleaner. As long as your litter stays looking clean, you can get away with switching it out much less often (a few times per year).
Keep in mind we're referring to scoopable litters here, as regular non-scooping litters they will need to be entirely dumped out frequently (at least twice per week, if not more often)!
Why the brand/type of litter you use can matter
I've read a lot of advice online (and from cat owners within forums) saying that they dump out and replace clumping cat litter every week or two!
But in my experience, as long as you use a good quality clumping litter and scoop daily, you won't need to do this nearly as often.
Certain brands or litter types have a tendency to let little urine clumps break apart as you scoop, which will mix into the fresh litter and are almost impossible to scoop out. If that's the case, you'll find yourself doing complete litter switch-outs more often.
But as long as your litter stays clean and free of debris from clumps that break apart (and anything else) you don't have to switch it out entirely every few weeks. In my opinion, that's the entire point of clumping cat litter – so you don't have to keep dumping it out.
What type of litter to use to prevent clumps from breaking up
Litters with larger crystals don't do as good a job holding the urine together in my experience. These are meant to be lower tracking and lower dust, but it seems to lessen their ability to clump well despite what the companies may claim.
Litters that have finer crystals work well, such as:
Arm and Hammer Clump and Seal: This is my personal favorite but it's on the expensive side
Fresh Step (original) any fresh step scoopable litter is great, but their "clean paws" line has larger crystals and doesn't clump as tightly
Scoop Away: a budget-friendly option that works pretty well. You can get great deals at Chewy or Costco
The litter scooper can also matter!
Using a higher quality, sturdier scoop is also going to make a big difference in keeping the box clean. Not only will it make your scooping job quicker and easier, but it's going to be able to keep hold of the clumps better than a flimsy one.
Try switching out your cheap scooper for a better one and you will notice the difference.
Your cat might be picky about their litter type
Now, some cats might have a very specific preference for the type of litter they use, and if that's the case you might just need to experiment with what works.
However, I've owned several cats and never had one that was picky about litter-type, so most cats will do well with regular scoopable litters.
The Bottom Line
Cleaning out your cat litter box shouldn't involve dumping out all the litter each time when you are using a good clumping litter. It's pretty wasteful and super expensive.
Each time you clean the litter box, just make sure you add some fresh litter on top.
You're still going to need to wash, sanitize, and switch out the litter once every so often, but it doesn't need to be part of your regular routine.