This post may contain affiliate links. This means I may receive a small commission if products are purchased through them. All opinions are honest and remain my own.
Whether you're trying to cut down on your plastic, or you simply don't have any laying around the house (maybe your city has gone plastic bag free?)- there are easy ways how you can clean out the litter box without using plastic bags.
Cleaning out the litter box without using plastic bags isn't as difficult as it may seem. Instead of scooping the waste into individual shopping bags (or any type of small plastic bag), keep a covered, airtight container such as an empty litter pail or gallon ice cream tub next to the litter boxes. Simply scoop out the waste into the container, keep the lid shut and empty out once per week. Alternatively, you could just use a covered wastebasket but it may not contain the smell as well.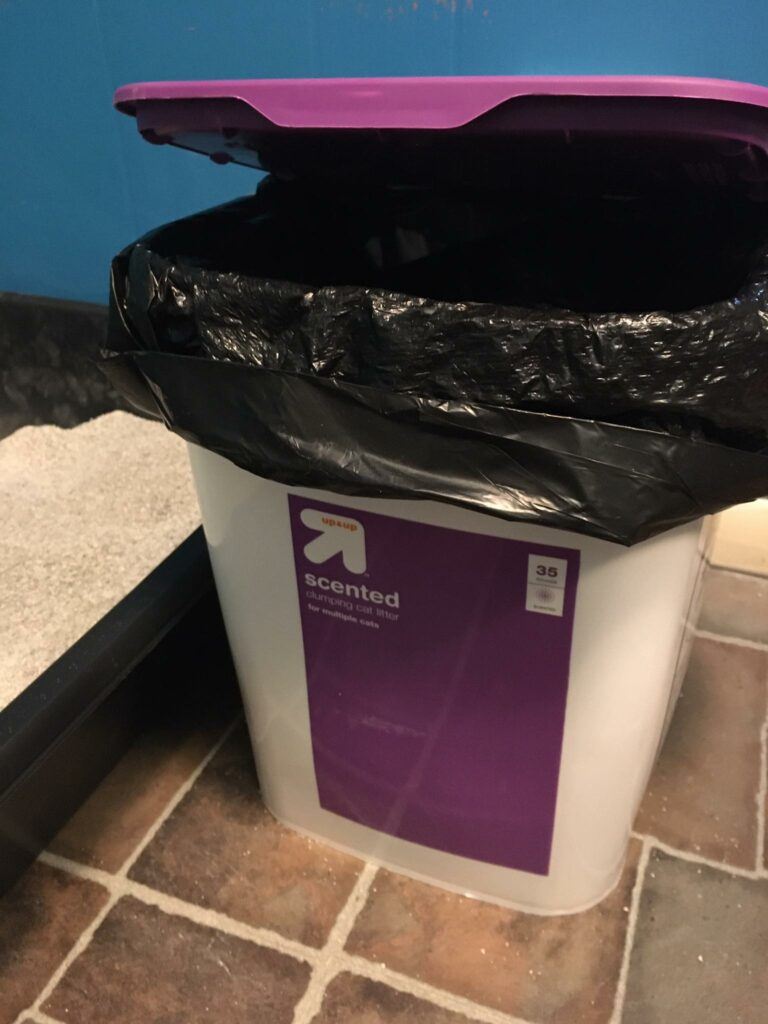 Keep in mind, due to environmental/health hazards you're still going to need to dump cat waste in the garbage so you will still need to use trash bags. But you can reduce the plastic use by using one large bag instead of tons of little ones on a daily basis.
Use an alternative to store the cat waste through the week
There are plenty of options you can use to store the cat waste in throughout the week, and then simply dump it with your regular trash when you take it out.
Airtight plastic containers
Any airtight plastic container can work, as long as it's big enough for at least a few days worth of scoopings. You know those gallon ice cream pails they sell at the grocery store? This was one my mother always used growing up (after it was all eaten, of course!!). She knows how to re-use ANYTHING. She simply dumped the waste into the regular trash when it was taken out, so there wasn't even an extra bag used for it.
Depending on how many cats you have and how often you plan to dump it, you may want something larger. A larger 2-gallon tub, like the heavy-duty plastic-type many cat litters come packaged in – also work well. You could line it with a regular trash bag, keep it throughout the week, and then just dump it come trash day.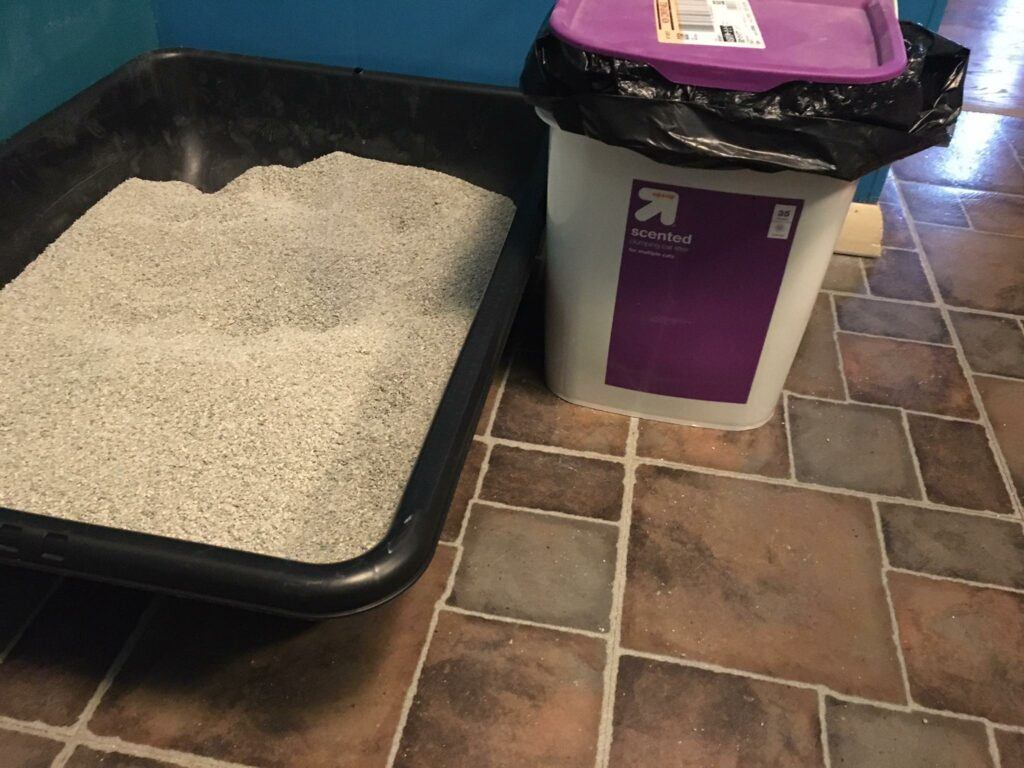 Obviously, you could always just buy a container if you don't have anything you can re-use or you wanted something a little nicer and sturdier. But if you're into it, it's a great way to get another use out of those plastic containers you otherwise might feel bad tossing out with the recyclables or garbage.
Either keep your container lined with a trash bag or make sure it wash it out (or swap it for a new one) every month or so.
Odor sealing trash can
If you want something a little nicer looking, you could always just use a trash can with a lid, keep it next to the litter box, and have it be the dedicated litter pan wastebasket. Some covered trash cans are nicer than others (unfortunately that means more expensive) but they have odor sealing technology that is going to be much more effective than a trash can with a cheap top on it.
Tips to keep trash from smelling, you can try placing these items at the bottom of your trash can:
Baking Soda
Lemon Peels
Coffee Grounds
This method will only use 1 large garbage bag vs a dozen or so small shopping bags each week (depending on how often you clean out the cat box). You could even dump the waste into your regular trash when you take it out, if there's enough extra room, and it'd save you from wasting any extra bags at all.
Note: While they do have products like the Litter Genie (basically a diaper genie designed for cat litter) that does cover up smells well, it's not really a great option if you're trying to use less plastic. They use a lot of plastic and the bag refills are very expensive!
Solutions for when you have many litter boxes all around the house
Do you have multiple cats? Even if you only have 1 or 2, you probably have at least 2 or 3 litter boxes that may be scattered throughout the house. The easiest way to handle this is to keep a plastic container next to each litter box station and have a centralized place to dump them all out when full.
For example, you could dump the waste from each container into a large garage trash bin or a smaller covered bin that you place discreetly, out of the way to minimize any smells.
Use heavy-duty trash bags
If you're dumping out lots of litter waste or disposing of all the litter if you use non-clumping (or it's just time to change the clumping kind) it's going to be a heck of a lot easier if you use a heavy-duty trash bag.
Unless you're specifically using a light-weight litter, it can get super heavy and tear regular trash bags when you are pouring a mass amount of it (like dumping out multiple litter boxes).
You might want to keep a large trash bin out in the garage lined with a heavier-duty bag, and dump your litter out there and dispose of it in the trash altogether. This way you can avoid worrying about a giant mess if the trash bag tears.
Don't flush cat litter/poop down the toilet!
However tempting and logical it may sound to you, it's strongly not recommended to flush cat waste down the toilet for a variety of reasons.
Most cat litter is designed to expand significantly once it's wet. It will be extremely hard on the plumbing and septic system, and you don't want to end up paying several thousands of dollars down the line for someone to come out and fix issues it may cause.
When cat poop is flushed down city plumbing, you could introduce nasty parasites, like Toxoplasma Gondii, into the water supply. The problem is, wastewater treatment systems won't be able to remove it before it re-enters the water supply so you can subsequently infect humans and wildlife. This is why you should not flush cat litter down the toilet even if the box says it's "safe to flush"!
The Bottom Line
Unfortunately due to health risks, cat waste really needs to be disposed of properly in landfills. This means throwing it out in bags with your regular trash, which may add to the number of trash bags you need to use on a weekly basis. However, you'll still be able to eliminate the use of smaller plastic bags for daily litter cleaning tasks.
Read Also: