This post may contain affiliate links. This means I may receive a small commission if products are purchased through them. All opinions are honest and remain my own.
Whether you're shopping for a one-of-a-kind gift or looking for the perfect pieces to accent your kitchen, cat dinnerware could be just the ticket. There are so many gorgeous pieces to choose from out there that narrowing your selection down can be overwhelming. We scoured through hundreds of cat themed plates, mugs, glasses, serving dishes, (even cutting boards!) to present you with a beautifully curated collection of dinnerware and kitchen items.
---
From Amazon…
1. This Ceramic Collection by Bico
We love the artistic design and asymmetrical shapes of this collection by Bico. These funky ceramic cats are available in a set of four appetizer plates, and four precious mugs. These would make a gorgeous gift, or a fun addition to your own kitchen!
2. Leadex Hand-Drawn Soup Bowl and Salad Plate Set
This collection by Leadex is another one that's so cute you might buy as a gift but end up having to keep for yourself! The cats staring down your food from all around the plate is just too funny. These dishes are made out of porcelain and come shipped in a nice, heavyweight box. The bowl and plate sets are sold separately and each includes four pieces. You can find them here, on Amazon.
3. BigNoseDeer Assorted Cat Tableware Sets
We were able to find quite an assortment of really cute cat dinnerware from a company called BigNoseDeer. Their line of cat-themed dishes features 6 different cat characters on pretty white porcelain. The items available in this black and white cat pattern include:
*Keep in mind that BigNoseDeer is one of those Amazon sellers that lists all of their items together on the same product page. These different dinnerware pieces are grouped together in the "color" section.
Also from BigNoseDeer are these amazing little ceramic cat bowls. They feature a cute fish pattern around the edge and a black cat silhouette in the center. The tail of the cat loops down creating a nice little handle – definitely a speciality item. This set comes with three small microwave and dishwasher safe bowls, which would be perfect for dipping sauces. Find them here.
4. Loving Cats by Corelle
As one of the most trusted names in dinnerware, you can be sure of the quality of this set of eight appetizer plates by Corelle. The benefits of Corelle dishes are many. They're made out of triple-layer strong glass, are chip-resistant, non-porous, lightweight, and super stackable. Both Wendy and I grew up with and still have Corelle dishes in our homes and it's true what they say – they really never break!
5. Vanenjoy Large Capacity Ceramic Bowl with Lid
This ceramic bowl holds 24 oz and would be absolutely perfect for warm dishes such as noodles, soups, chilis, or stews. It features side handles and an adorable fitted cat lid available in four different colors. This special bowl is microwave and dishwasher safe. Choose your favorite here.
6. Clinf Cat Ramekins/Soufflé Cups
What's the only thing better than eating a delicious soufflé? Finding a cute cat looking up at your from the bottom of your dish! This set of four ramekins features a different kitty cat design on the bottom of each one. In addition to little baked soufflés, this classic design is perfect for salsa, bruschetta, olives, or dips. The white porcelain material is microwave, oven, dishwasher, and freezer safe. Check them out here, on Amazon.
7. Kikura Cat Porcelain Bowl (various sizes)
This lovely porcelain bowl comes in pink or blue and is available in several different sizes ranging from 4.5″ to 8.5″. The smiling lucky cat pattern would make a charming addition to your kitchen collection or would be an amazing gift item. Choose your perfect size here.
Available in the same pattern are these beautiful glazed plates, 7.75″ in diameter.
8. Now Designs Cat Shaped Pinch Bowls
We love the adorable facial expressions on this set of 6 little bowls. At just 3″ in diameter, these petite bowls are very multi-purpose but would be perfect for keeping nuts, spices, or herbs on hand. These would also be great for a party to set out for candy or little finger foods. They're made out of durable stoneware and feature a beautiful modern color palette.
9. Totally Bamboo Kitty Paw Cutting Board
This bamboo cutting board would be purrfect for parties! The different sections make it ideal for setting up a crudité platter, with different kind of olives, veggies, and cheeses. It measures 11″ x 10″. It's easy to hand wash or wipe clean with a damp cloth, but the bamboo board should not be put in the dishwasher. Find this fun piece here.
10. Bosilin Hello Kitty Ceramic Soup Mug and Bowl Set
This two-piece ceramic bowl set is so cute and unique! Safe to use in the microwave, oven, dishwasher, or freezer, these Hello Kitty bowls are versatile and fun. Perfect for yourself or as a gift for a special friend. Available here, on Amazon.
11. Tri Coastal Design 11 oz Cat Mug
Tri Coastal Design offers an assortment of cat themed coffee mugs, each style more adorable than the last. Made out of porcelain, they are microwave and dishwasher safe. At 11 oz this mug is a great size – not too big or too small. The little paw prints on the inside are the perfect finishing touch. Find your favorite style here.
12. BingGoGO Stainless Steel Spoons
This set of four stainless steel cat spoons is corrosion resistant and extremely durable. The shape and size make them perfect for stirring coffee and tea, but could also be used as dessert spoons. Available in silver or rainbow.
13. HIC Harold Import Co. Cat Sugar Bowl
This fine white porcelain sugar bowl would make an amazing addition to your kitchen countertop. The simple white design would go well with many different kinds of kitchen decor. It's also dishwasher safe for easy cleaning.
14. Supreme Housewares Gourmet Art Black Cat Enamel-on-Steel Whistling Kettle
We were so excited to find this tea kettle! The enamel on steel finish is fade-resistant and easy to clean. It's recommended to hand wash this 2.1 quart kettle. The handle design looks like the cat's tail, and also allows for easy pouring. The lid is tight-fitting to seal in heat. This cat kettle would make a charming accent piece for your stovetop.
15. Cats and Paws Everyday Drinking Glasses
This set of two tumbler glasses are screen printed in small batches to ensure quality and are 100% made in the USA. The silhouette and paw print design is perfect for clear and light-colored liquids. These glasses are 8″ tall and hold 16 oz. Find the set of two glasses here, or the full set of all four designs here.
16. Vinovita Silicone Wine Glasses
Finally! Unbreakable wine glasses! And, bonus, this set of four each feature a cute cat design and comes with a handy carrying bag. These glasses are perfect for picnics, camping, pool parties, beach days, or your own backyard. Made from BPA-free silicone, they are totally unbreakable, durable, and dishwasher safe.
From Etsy…
Apart from Amazon, Etsy is one of our favorite online marketplaces to find special and unique items. The pieces on Etsy are handmade by individual artists, so be sure to check the shipping and return policies before you purchase. That being said, you won't find pieces like on Etsy ANYWHERE else. We combed through it to find our favorite cat-themed dinnerware pieces.
1. Large Cat Dinner Plate by Hannah Turner
This plate is really special. At about 10.5″ wide, it's a nice large size to accommodate a wide variety of foods. The hand-painted design and classic color palette gives this piece a very stylish mid-century feel. It's part of a larger collection of cat dinnerware including mugs, pitchers, bowls, butter dishes, and storage jars. All available at Hannah Turner Shop.
---
2. Cat and Butterflies Dinner Plate from All Cats Shop
Another stylish cat dinnerware collection from Etsy is this Cat and Butterflies line from All Cats Shop. These porcelain pieces are very generous in size, with the dinner plate measuring 12″ in diameter, the mug holds 12 oz of liquid, and the soup bowl measuring 6″ in diameter. All Cats Shop is based in New Hampshire. Find the three-piece dinner set here.
3. Cat Hand Burned Wooden Spoons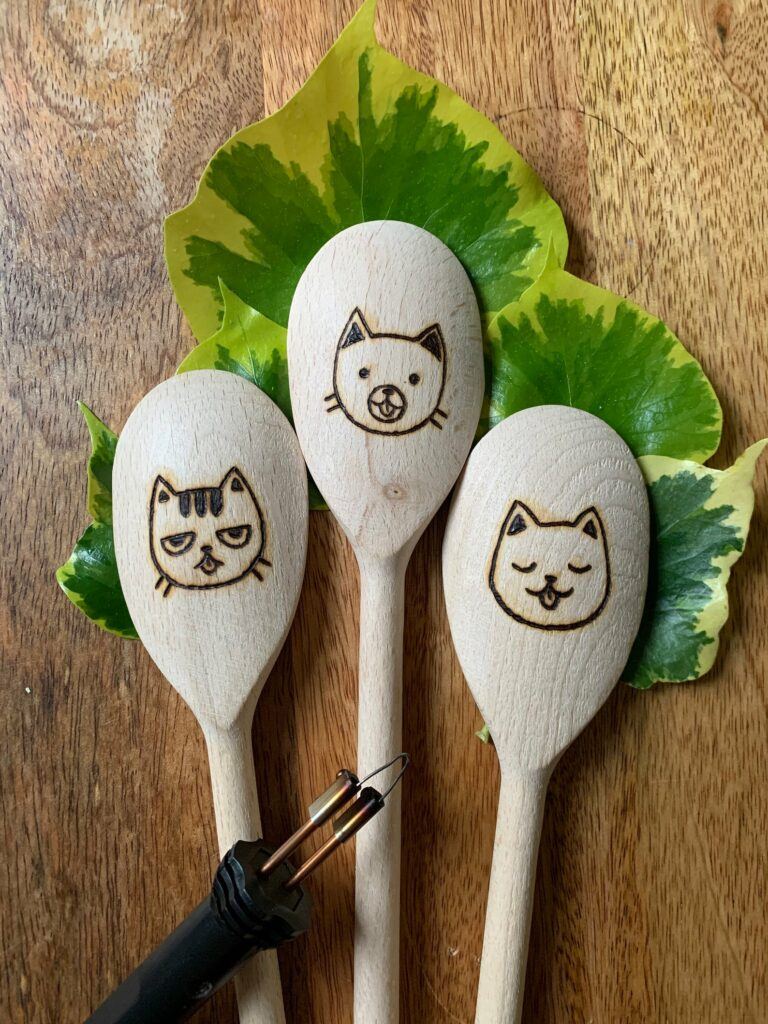 Available from RavensHollowHandmade, these cute wooden spoons are hand burned in the pyrography technique. They are 100% food safe, and would make a lovely gift. Ships from the UK.
4. Little Sisters Crafts Wooden Cat Spoons
We also love this set of hand burned wooden cat spoons from Etsy. This item is sold as a complete set of four spoons, each with a different intricately wood burned in the USA. They are safe to use with food and just require the occasional oiling. Find them here.
From Wayfair…
1. Kimsey Tabby Kitty Cat Melamine Salad Plate (Set of 4)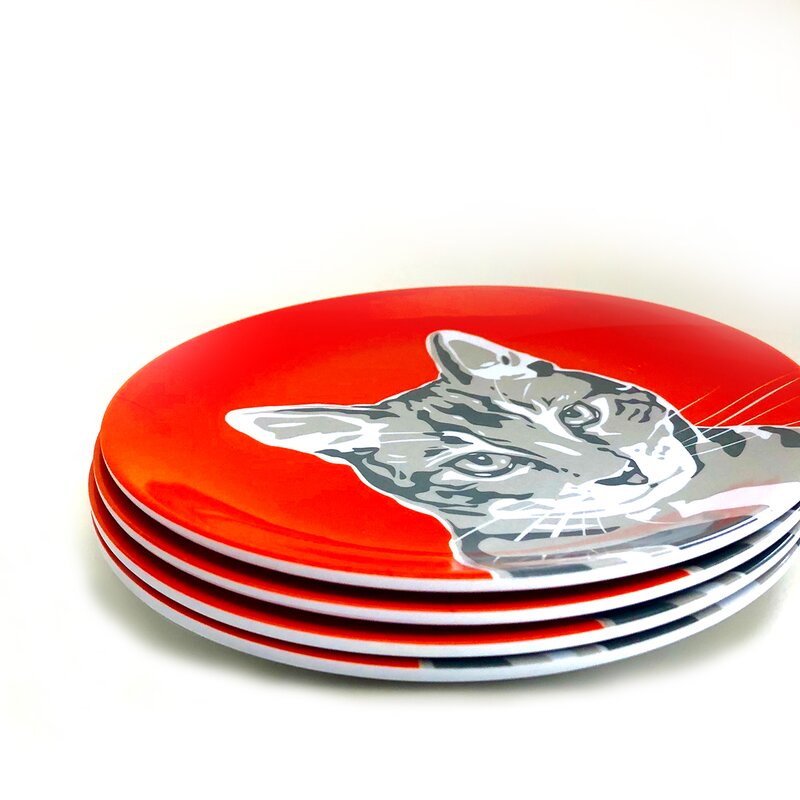 These chic, mod plates are striking in their bright red color and silkscreen style cat design. They're 8″ in diameter and chip resistant. They're made out of a special kind of plastic called melamine, which is safe for the dishwasher but not for the microwave. This set of four plates is available on Wayfair.
2. Cat Cheese Board and Platter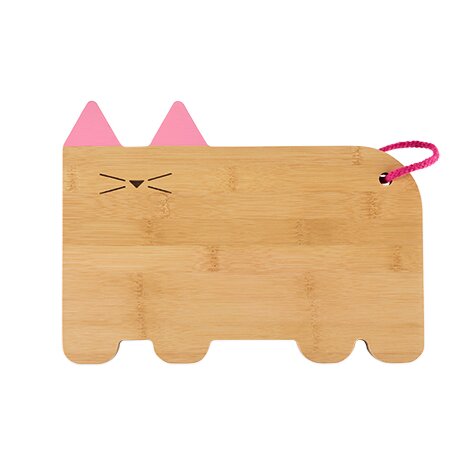 This adorable cat shaped cheese board would make a nice addition to any cat lover's kitchen. It comes with a loop so you can easily hang it for display. It's made out of bamboo wood and is antimicrobial. At 11″ x 8″, it's a nice size for a selection of fancy cheeses. Pick one up here.
3. Cat 4-Piece 7″ Appetizer Plate Set (Set of 4)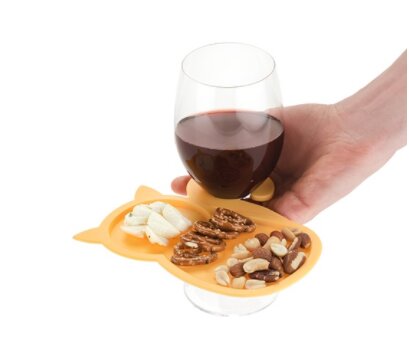 These little plates are genius! They're the perfect size for party snacking, and the curly tail design allows you to carry the plate around next to your wine glass! Made out of durable, dishwasher safe plastic, this set of four appetizer plates is a must-have. Find them here, on Wayfair.
4. Scaredy Cat 14 oz. Whiskey Glass
We are crazy about this unique set of four Halloween themed cat whiskey glasses. Each glass is etched with a different funny cat design, so everyone will know whose glass belongs to whom. They would be such a hit at a Halloween party, or really any time of year! Each glass is 14 oz and BPA free.
5. House Home Cat 21 oz. Stemless Wine Glass (Set of 4)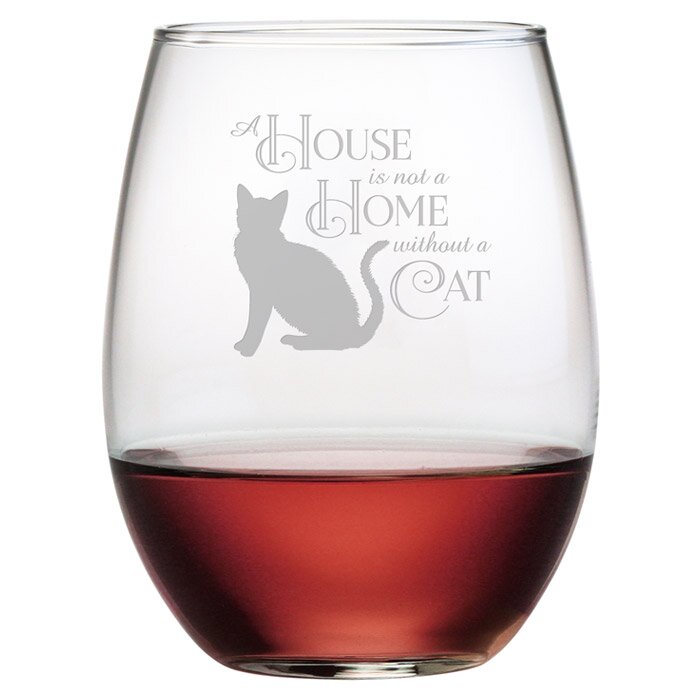 Finally, end your day with a glass of wine in one of these sweet stemless wine glasses. This set of four glasses is available on Wayfair at a very reasonable price, but the best part about these is the sentiment – "A House is not a Home without a Cat" – truer words were never spoken!
Read also
Stone and Crystal Cat Jewelry – Etsy's Best
35 Unique Gifts for Cat Lovers