This post may contain affiliate links. This means I may receive a small commission if products are purchased through them. All opinions are honest and remain my own.
Have you been wanting to get a customized painting of your cat but are confused and overwhelmed by the options online? You aren't alone! Between the multitude of sites offering pet portrait services, and all of the different art terminology, it can be hard to know where to begin.
Luckily one of us here at Happy Cat Corner is also artist, so I'm going to try to break it down and make the process of commissioning custom cat portrait paintings what it should be – fun and exciting!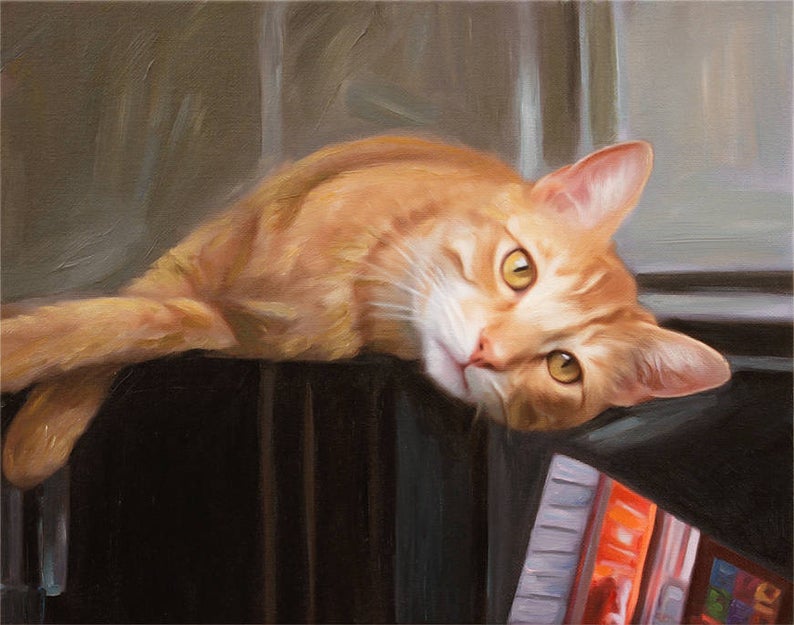 What kind of portrait do I want?
First things first – it's important to understand that in the world of custom pet portrait websites, there are generally TWO kind of products:
Traditional painting
Digital painting
Traditional painting
Traditional painting refers to a painting that an artist makes directly onto a canvas, paper, or other matrix. The artist most commonly uses some type of paint, ink, or other consumable product to create the image.
The "traditional" category of artwork may include things like:
Oil, acrylic, or watercolor paintings
Charcoal or graphite drawings
Pastel drawings
Wood-cuts
Mixed media
The list goes on and on. But the idea is that traditional artwork is made using consumable products, is one of a kind, and not created using a computer as the main tool.
These days, artists have the ability to scan their original artwork with high quality scanners to create a digital file. Many offer a less expensive, digital download option rather than sending the original piece of artwork through the mail. Thus, in this way, the worlds of traditional and digital art merge!
Digital painting
Digital painting is now more prevalent and important than ever. Just as valid as traditional painting, digital painting is created by an artist using computer software, a graphics tablet, a stylus, etc. A digital artist may use technology to achieve effects similar to traditional artwork, and also to achieve new techniques that can only be created digitally.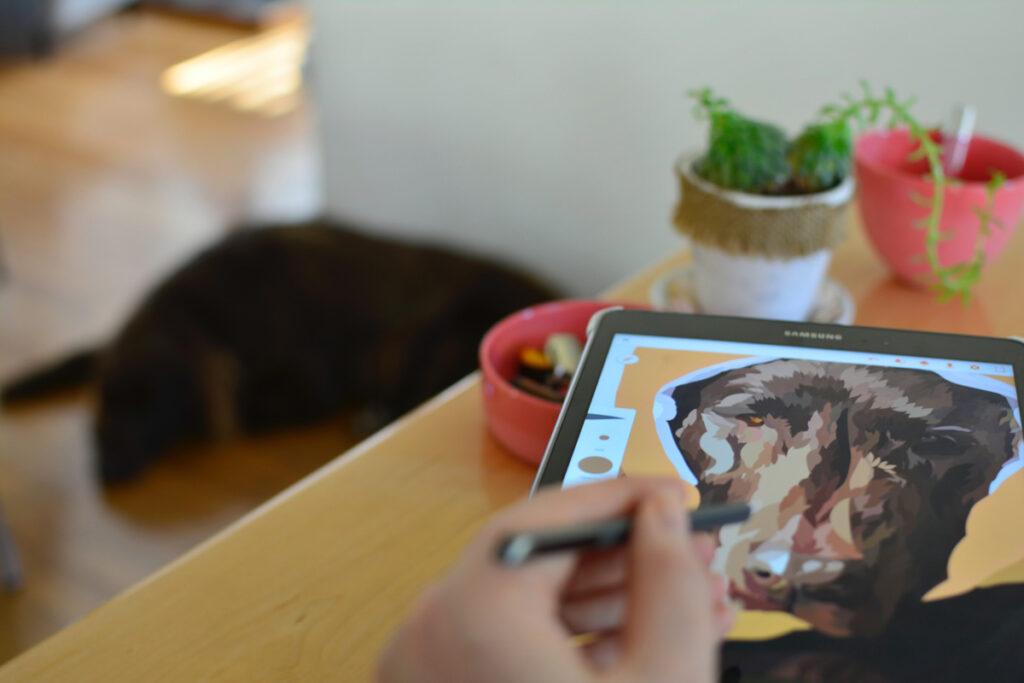 Like traditional art, there are many different kinds of digital art techniques and categories. The genre of digital art is vast and complex, far too much so to get into too much detail here. But it does require many of the same skills used by traditional artists. There is no magic button to click and create an amazing digital portrait.
However, in many ways, digital painting can be more manageable than traditional painting. It is a lot less messy certainly. And it can be done from anywhere – the artist just needs their graphics tablet and/or computer with the painting software of choice.
Digital vs Traditional Painting – Things to Consider
There are a few important questions to ask yourself when deciding whether to commission a traditional or a digital pet portrait.
How do you envision your pet portrait to look? Are you imagining a painting on canvas, with actual, textured brushstrokes? Probably best to go the traditional route. Or have you seen those portraits of pets dressed up in 18th century fancy clothing and want to snag one of those for yourself? These days those are typically done by digital artists using photo collage or a combination of other digital techniques.
How big of an issue is price? Traditional painting is almost always more costly than digital painting, especially if you want a larger scale portrait.
What is your time frame? Digital portraits can typically be produced more quickly if you need the job done in a hurry.
Do you want to order a physical product, or a digital file so you can do the printing locally? These are options for both traditional and digital, but much more common to the digital genre.
Have you seen a pet portrait or style online that you particularly like? Try reading further about the artist or the product to find out what kind of painting it is.
Places to Find Custom Pet Portraits
Now that you've been thinking about what style of painting you might like, we have to figure out where to look!
Etsy
For original artist work, there is no better or easier place to look online than Etsy. What I love about it is that you can find a cornucopia of different artists and styles, with customer reviews, all in one place.
The best part? No dealing with "customer service" or help centers. If you have a question or a problem, you can talk directly the the artist, who usually responds astonishingly quickly. Over the last decade I've made probably several dozen purchases from Etsy and have never once had a negative experience. For reliability and selection, they can't be beat!
To start, I would suggest browsing over the selection of custom cat portraits and seeing if anything catches your eye.
We also have for you some suggestions based on the quality of work, number of sales, and overall customer review scores.
Type of Artwork: Traditional, Watercolor on paper
Funny Pet Portrait is owned and operated by artist Rachel Murray and specializes in traditional watercolor pet portraits.
In addition to the quality of the paintings and great customer reviews, we also like that Rachel notes in her directions that the customer may send her one photo, OR multiple photos and she can choose which one to use. This is nice because the artist has the ability to tell which photos will turn out the best in painted form.
She offers sizes from 5″ x 7″ to 16″ x 20″, with prices starting at $62. You can communicate directly with her through the Etsy messaging system, and she will begin work as soon as payment is submitted. Visit Rachel's shop here, to see more examples of her work.
Type of Artwork: Traditional, Oil on canvas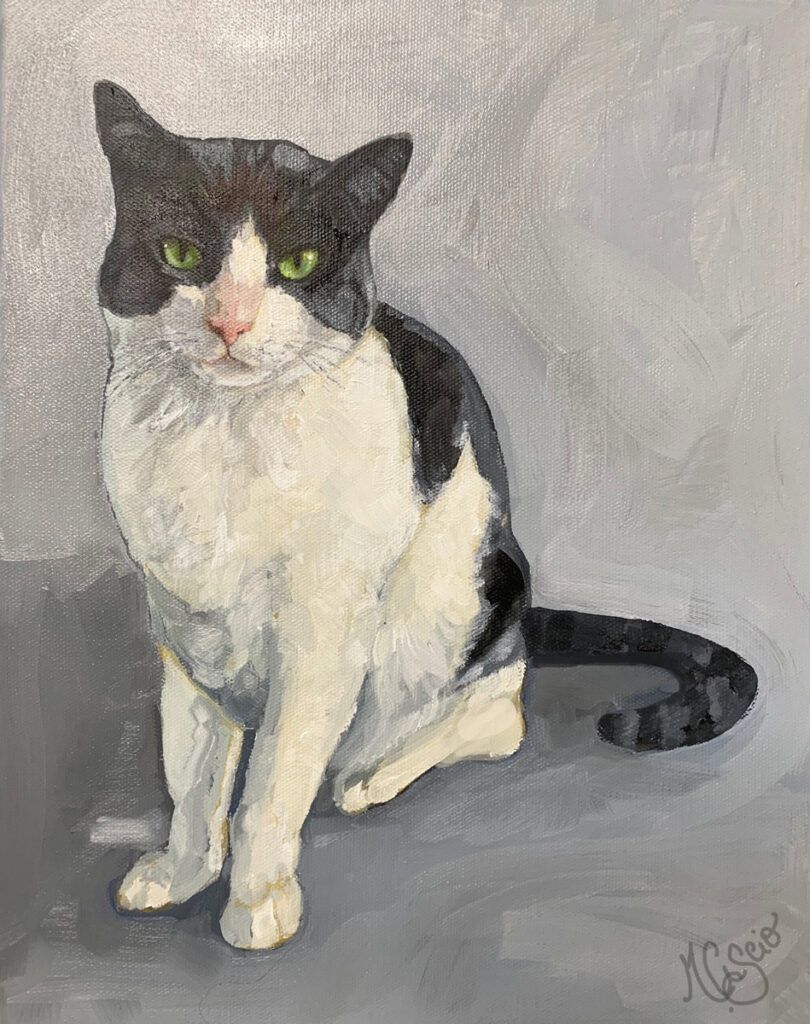 Monica Cascio specializes in traditional oil painting and is a remarkable talent! Her pieces have a lovely painterly quality that shows off the luxuriousness of oil paint.
She offers pieces starting at $115 for a 5″ x 7″ and on up to a 20″ x 24″ size. She paints the sides of the 1 1/2″ gallery wrapped canvas so you do not need to worry about framing.
Check out the second thumbnail down in this listing for a time lapse video of her actually painting a cat portrait!
Type of Artwork: Digital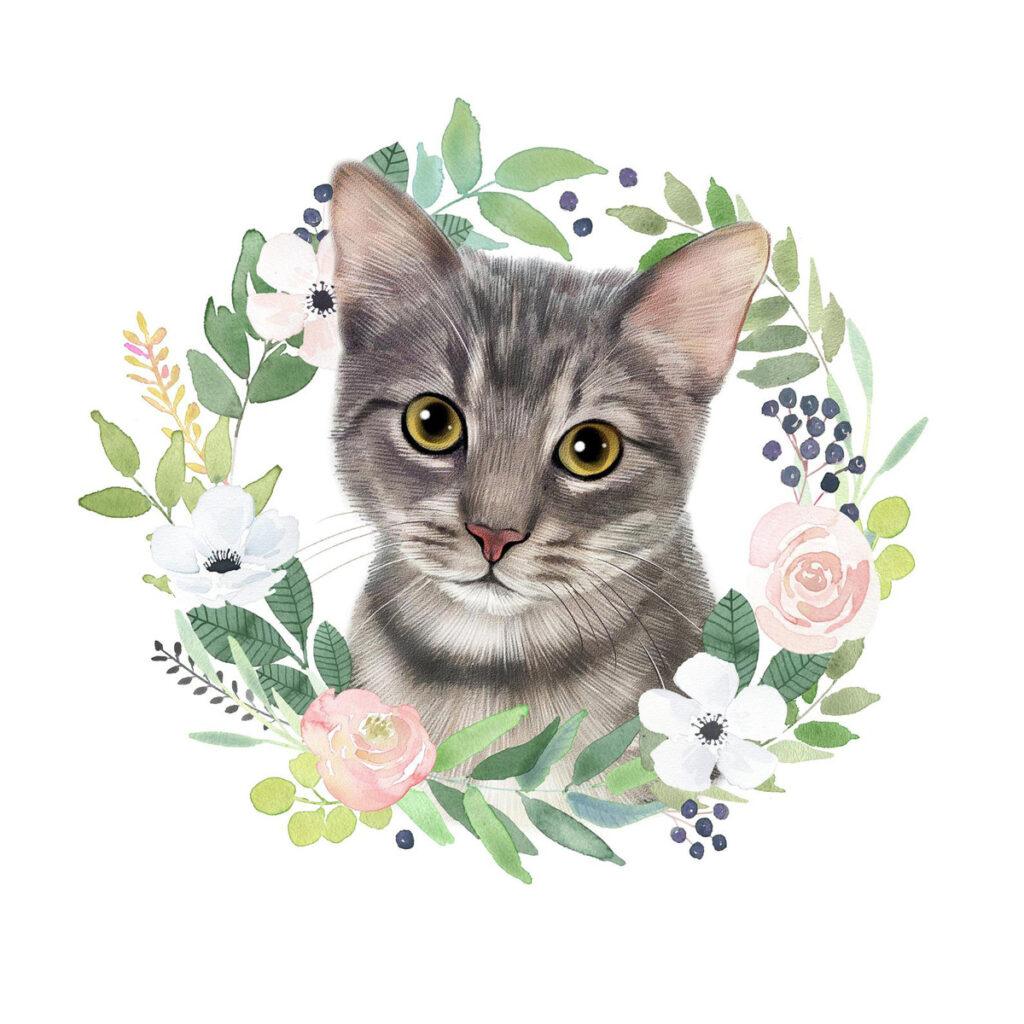 LeFlore Studio, self-described as "custom pet portrait and more" is a great option for digital artwork, especially if you're looking for something a little bit different.
Using a photograph of your pet, the artists on this team offer portraits in several different styles:
Black and white outline style
Watercolor style
Crayon style
Comic style
Colored pencil style
Cartoon style
LeFlore also offers a variety of fun add-ons such as floral wreath borders, crests, and pet names to compliment the portrait. They have quite a range of options which you can explore here. Be sure to send LeFlore Studio a message with any questions you might have!
Type of Artwork: Digital
Now, if you're looking for something really different, head on over to ZK Portraits Workshop for more examples of what can be done with creative digital art.
Owned by Ivan Kozak, the ZK Portraits Workshop is a team of artists working together to create unique and funny pet portraits.
The featured image of this lovely cat queen, found on this listing here, comes as either a digital file or a print on canvas.
The artwork that comes out of this shop is of exceptional caliber and customers have certainly noticed. One recent reviewer said, "Highly, highly recommend this shop. Ivan did a fantastic job capturing the essence and personality of my sisters two cats. You can tell that he puts a lot of time and effort into every little detail. Ivan was also very helpful and kind while working with me with any changes that I wanted to make. On top of that, Ivan also was very quick to respond to messages and quick to make any requested changes."
Type of Artwork: Digital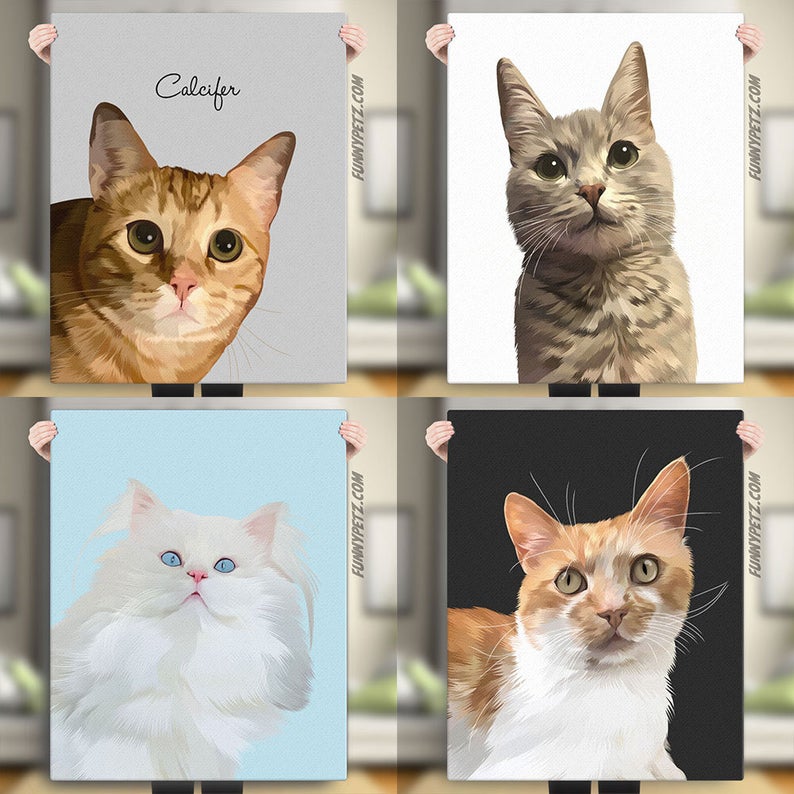 Another amazingly talented digital painter is Tim O'Sullivan from the Funny Petz Etsy shop.
Tim's digital paintings are completely original – in his own words, "My portraits are painted digitally, using some of the same tools and techniques artists at the studios use (including Disney). No photoshop filters – not an enlarged photo."
What's nice about Funny Petz is that the listings offer several size and background choices that are laid out clearly for you to choose from. You can also change your mind on the background during the approval stage of the commission.
Tim presents his work on a stretched gallery canvas that comes with a finished back, ready to hang in your home as soon as you receive it.
Browse Tim's pet portrait work here, or send him a message to get started on your custom artwork!
Type of Artwork: Traditional, Acrylic on canvas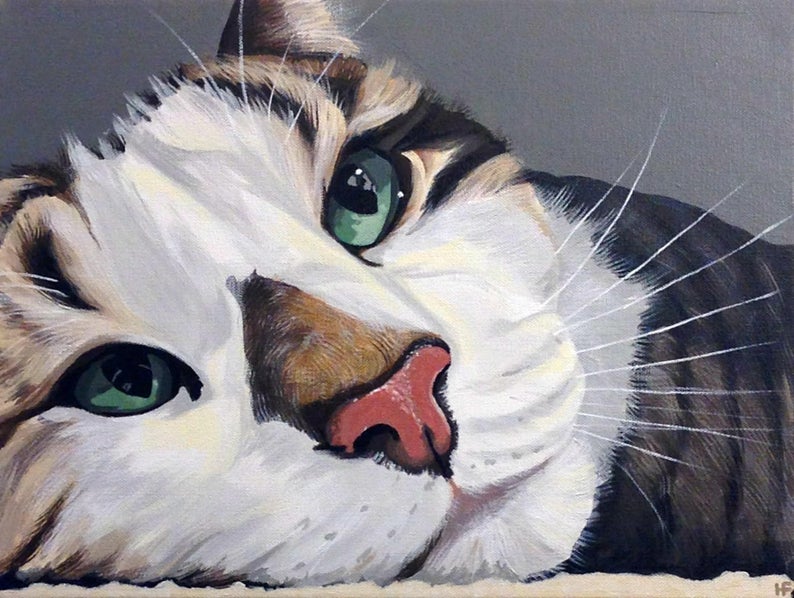 Back to the traditional realm, we have acrylic painter Holly Friedman, hailing from Austin, Texas.
What we like about Holly's shop, apart from the beautiful work, is that she clearly communicates her design process with the customer.
Notes Holly in each listing description, "Email me 2-4 photographs of your pet. Send the highest pixel count you can. You may request a background color. Once payment is received I will begin painting. It is currently 4-6 weeks for delivery including drying time."
Holly's price guide starts at $100 for an 8″ x 8″ painting, and sizes go up to 24″ x 36″. Take a peek at her other unique pet paintings here.
Type of Artwork: Digital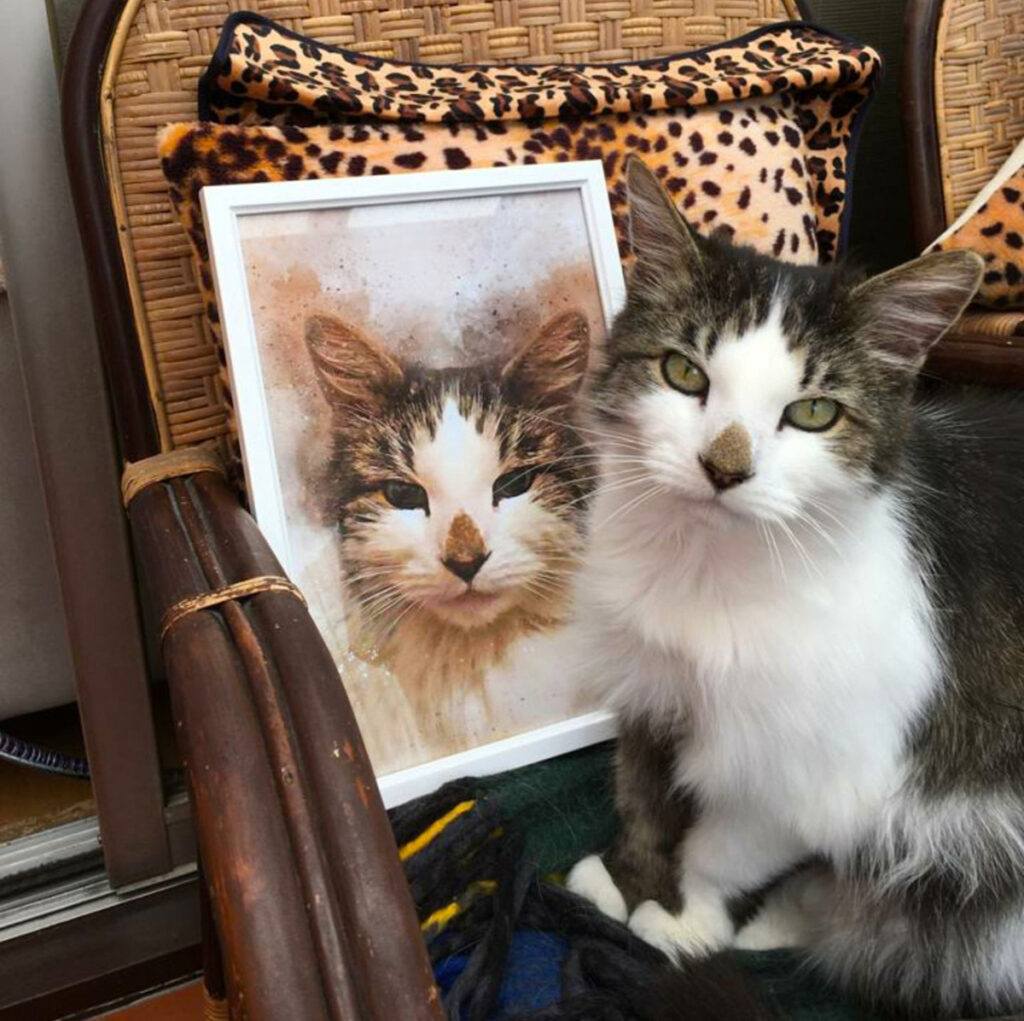 Out of the UK, we have Precious Pet Art, which states, "We are a small pet loving business and are proud to be in the top 1% of trusted Etsy sellers so you can rest assured that your portrait will be made with care and love."
Precious Pet Art works in digital design, and offers a variety of styles to choose from including watercolor or sketch style, rainbow cartoon, and floral splash. They even have regal pet portraits for you eccentrics out there!
This London team of artists has many finishing options –
digital files only
prints on paper
framed prints
stretched canvas prints
custom phone cases
See what's possible here.
Type of Artwork: Traditional, Oil on canvas
The beautiful soft quality of this artist's painting style caught our eye as we scanned the many, many portrait options on Etsy.
From Toronto, Canada, this team of artists works in the proud tradition of oil on canvas. Because these materials are more expensive, original paintings like these are pricier than some of the digital art routes. But to hold that painting in your hand, run your fingers over the brushstrokes and smell the varnish…there's nothing else quite like it.
This studio offers more than just pet portraits, so here is a direct link to that section of the shop.
Etsy Custom Pet Artwork Summary
So as you can see, Etsy offers an enormous range of styles and products, from thousands of artists across the globe. Because it is so vast, it can sometimes be a little confusing to find exactly what you are looking for.
For this reason we've hand-selected this grouping of artists specializing in pet portraiture to show you some of the best of what is out there.
We hope you've enjoyed seeing the artwork, and for more ideas on cat-related products and decor, check out the "Stuff for Humans" category here at Happy Cat Corner.