This post may contain affiliate links. This means I may receive a small commission if products are purchased through them. All opinions are honest and remain my own.
Some of the links within this article are affiliate links, which means we get a small commission if you purchase anything through them (at no additional cost to you).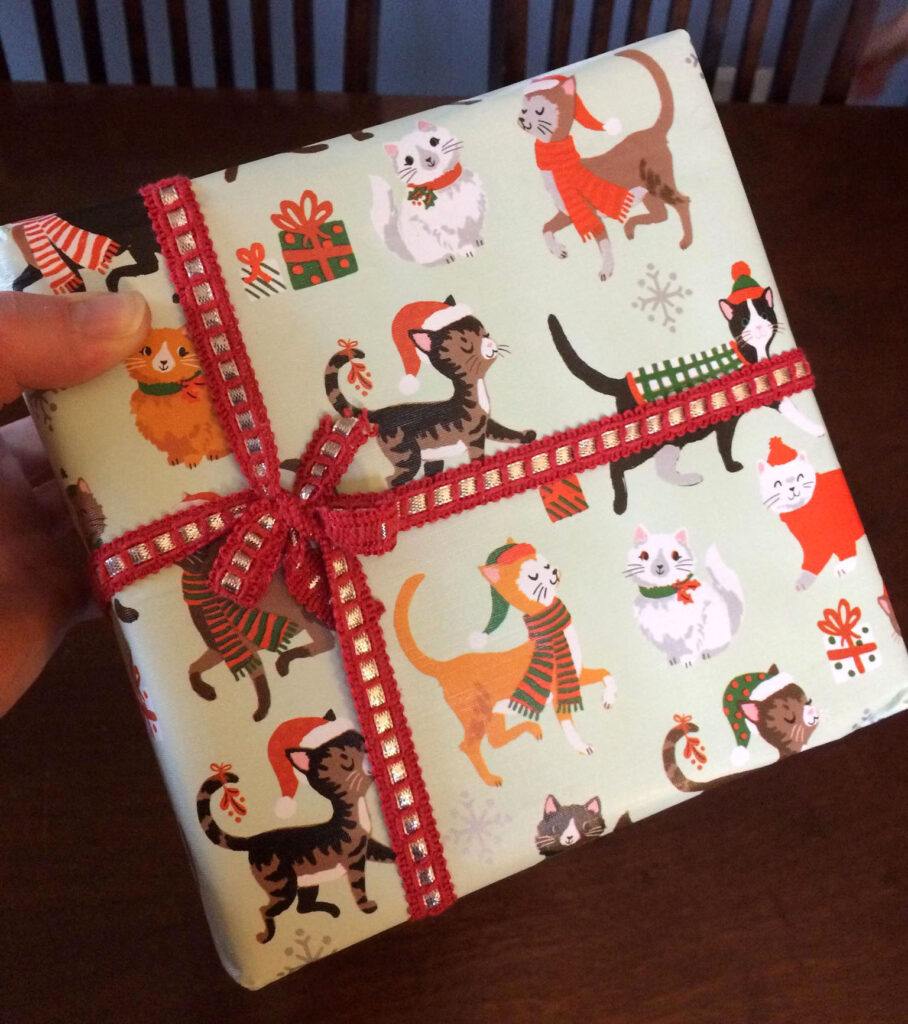 If you're like me, you've made the wise decision of having a lot of cat lovers in your life. People who love cats so much that they've probably been given a lot of "cat" presents during their lifetimes. And when birthday or holiday time comes around, you want to get them something special that they haven't seen before. I've searched the web far and wide to find the best and most unique gifts for cat lovers that your feline-crazed friends are sure to love.
The items on this list are from my three favorite go-to websites for gift buying – Etsy, Society6, and Amazon. I hope you enjoy these ideas as much as I do!
1. Women Reading With Cats – An Adult Coloring Book
Adult coloring books have been trendy for a few years now, and with good reason! They're super relaxing and a nice way to unwind at the end of a busy work day. I specifically love this one that will appeal to cat and book lovers.
2. An Amazing Cat Beach Towel
I don't know why, but it seems like I never have enough beach towels when summertime rolls around. I would literally FLIP out if someone gave me a cat-themed one like this.
3. Gorgeous, Handcrafted Cat Magnets
These beautiful magnets are available on Etsy by seller Gliniana Koniczynka. I purchased a set of these for my best friend last Christmas and could not have been happier with the quality. The magnets are super strong and the craftsmanship is perfection. Ships from Poland.
4. Catan Cat Themed Replacement Pieces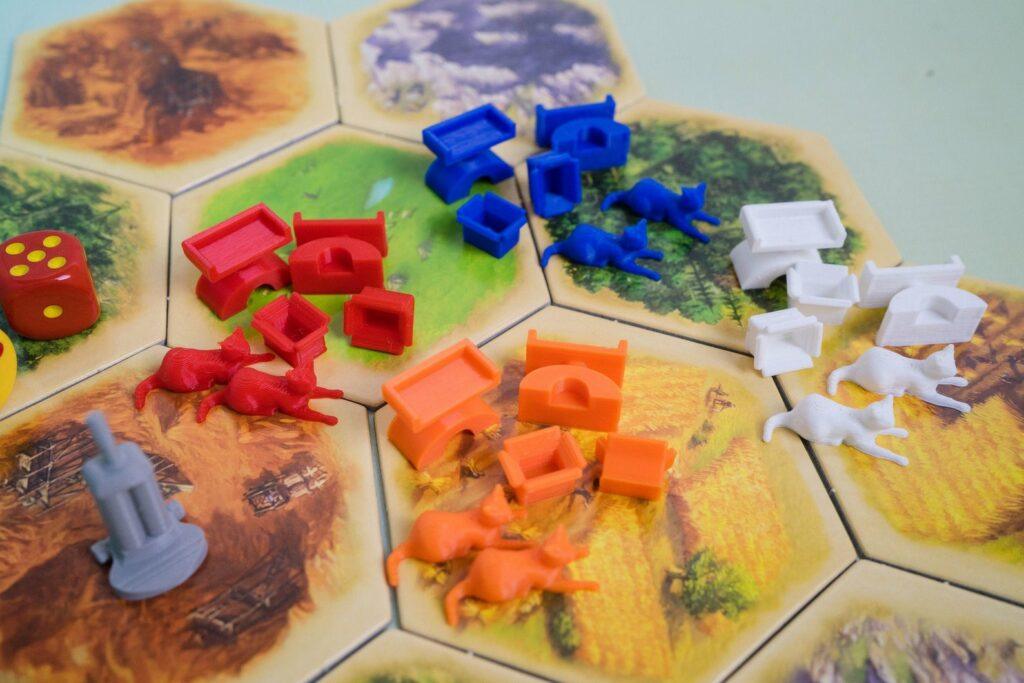 Chances are, if you know someone who is into board games, they probably like Settlers of Catan. These cat-themed replacement pieces for the popular game would be such a unique and surprising gift for a board game/cat lover friend. These pieces are available on Etsy from the CoordinatesCubed shop.
5. Cat Temporary Tattoos
I do not believe it is possible to ever be too old for hilarious temporary tattoos like these. My friends and I have always had fun goofing around with them at parties or get-togethers. It's not something I ever think of to purchase for myself, thus, a perfect gift!
6. Cat STAX
Cat STAX is an inexpensive and unique brainteaser game. Each card has a different puzzle on it that you have to solve by filling in the area with differently shaped cat pieces. As the difficulty level goes up, the higher you have to stack the cats on top of each other to complete the puzzle. Perfect for creative older children or adults.
7. Merino Wool Cat Cave
There are about one million different types of cat beds and cat caves, but I think something like this one in particular makes an excellent gift. Because of its attractive nature and high quality merino wool, it's a little on the pricy side, but cats love them and they look beautiful in your home. I think it would be a lovely present for a special cat person in your life.
8. A Personalized Cat Mug
I love this one. From Nicole Gray Designs on Etsy, these are made to order. There are many different designs to choose from, and you can select from a huge chart to find the hair style, skin tone, and cat coloring that matches what you are looking for.
9. Handmade Cat Coffee Cup Cozy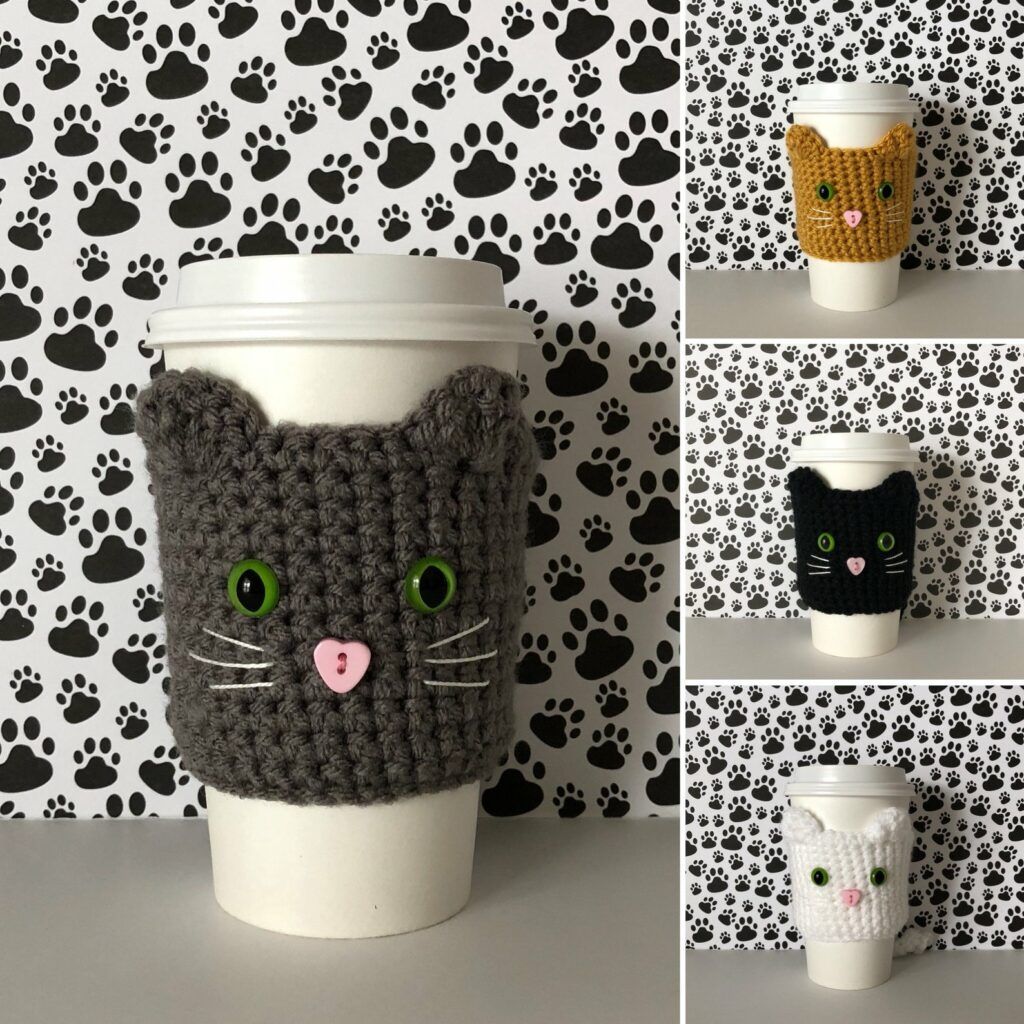 Speaking of coffee, how cute are these?! For a cat and coffee loving friend on the go. Find them at the Etsy shop HookedbyAngel.
10. Old Possum's Book of Practical Cats
The iconic collection of whimsical poems was first published by T.S. Eliot in 1939. It served as the inspiration for Andrew Lloyd Webber's musical Cats. This is a beautiful updated version with illustrations by Edward Gorey. Forget presents – I want this book for myself right meow!
11. A Decorative Table Fountain
Though not specifically designed for a cat, decorative table fountains are a gorgeous accent to any table in your house and cats happen to love them! It's also a good way for them to get extra water into their systems if they are fussy about stagnant water bowls. I think this one on Amazon is particularly nice looking.
12. Cat Chair Socks
Help a friend protect their hardwood floors in the cutest way possible with these cat chair socks.
13. Cat Dishwasher Magnet
This adorable and funny, double sided magnet would be great for any cat person with a dishwasher.
14. Woman Yelling at Cat Art Print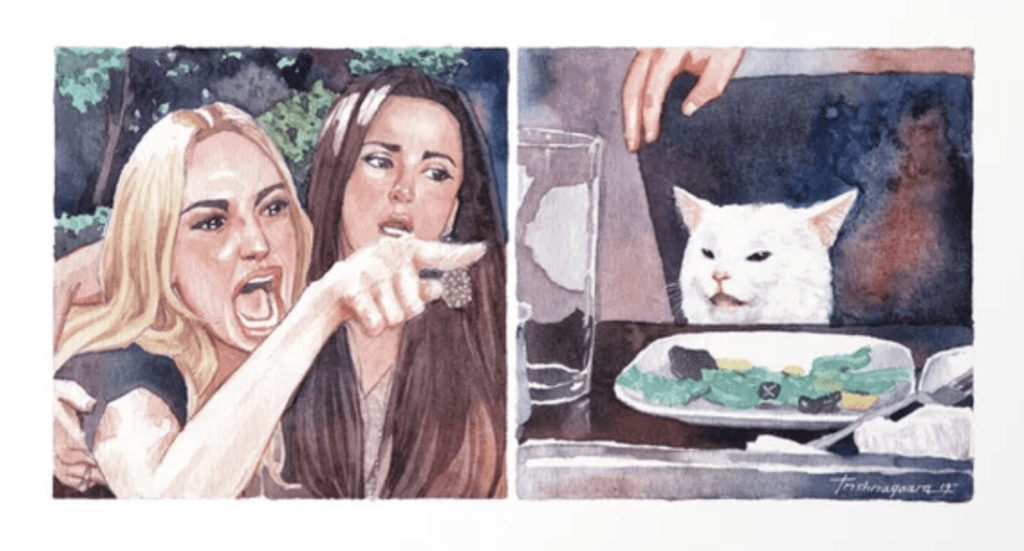 Welcome to 2020. Make a Real Housewives fan's dreams come true with a fine art print of the insanely popular meme. I can think of one friend right now whom this would be perfect for. The artist responsible for this masterpiece is Trishnagaara and you can find her work on Society6, which is a website that offers original artist designs printed onto a wide variety of materials. Scroll all the way down to the bottom of Trishnagaara's page to find the complete selection of Woman Yelling at Cat products.
15. Downton Tabby
By author Chris Kelly, we have available to us a parody book of the British television series phenomenon Downton Abbey. With great reviews of its humor, this book is sure to bring a smile to the face of any cat-loving Downton Abbey fan.
16. UFO Cat Shirt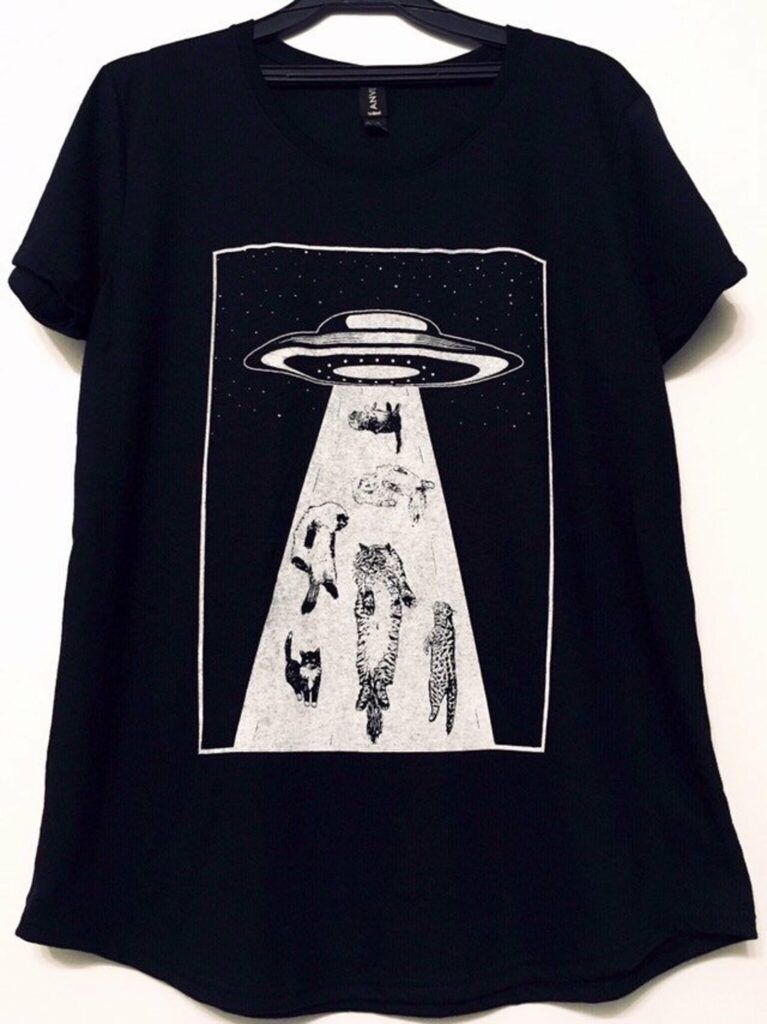 Another amazing artist design available on Etsy. This sweet tee shirt is available at the shop, MindingMyDesigns, and is currently a best seller. Obviously. If I were an alien I would only want to take the cats as well.
17. A Cat Car Decal
A delightfully creepy accent to any cat lover's car. Also available in cute designs, but personally I would go for this one. It says to the tailgater behind you, "Back off, I'm watching you.."
18. An Incredible Custom Pet Sequin-Changing Pillow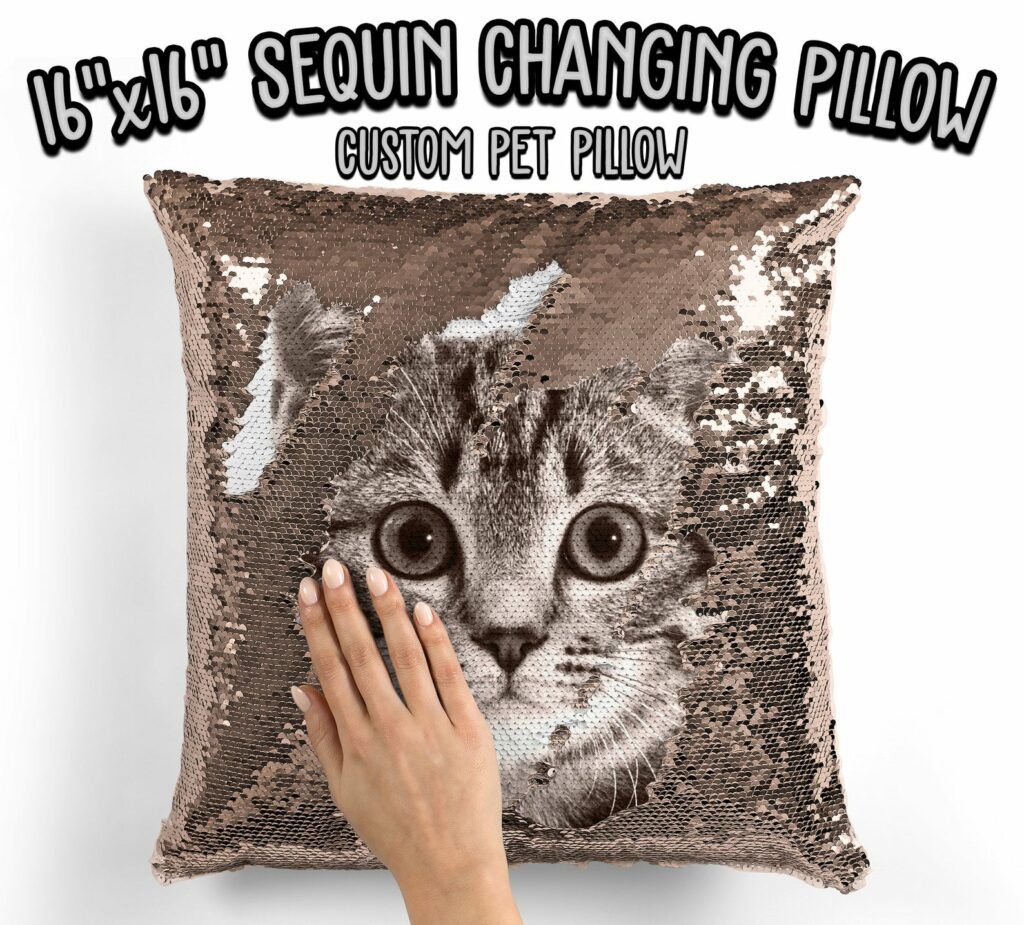 What will they think of next? This amazing product is available on Etsy from the shop OliverandOliviaApp. You can email a custom photo to the shop and for less than twenty dollars receive a one of a kind pillow that changes from sequins to your pet's adorable face!
19. A Super Soft Cat Sherpa Blanket
Cozy blankets ALWAYS make nice gifts. This one on Amazon has really high reviews for its softness and the best part is that it's available in 15 different cat patterns. I'm a fan of this multi colored patterned look, but there are lots of good designs to choose from.
20. A Cute Cat Bed Cube
Cats love having lots of different beds and nooks around the house, and it's just an added bonus that they can make cute accent pieces as well! This one on Amazon is really cool because it's stackable, so you could buy multiple pieces and switch up the placement every once in a while to stoke up cats' interest.
21. One of a Kind Sherpa Moccasin Cat Bed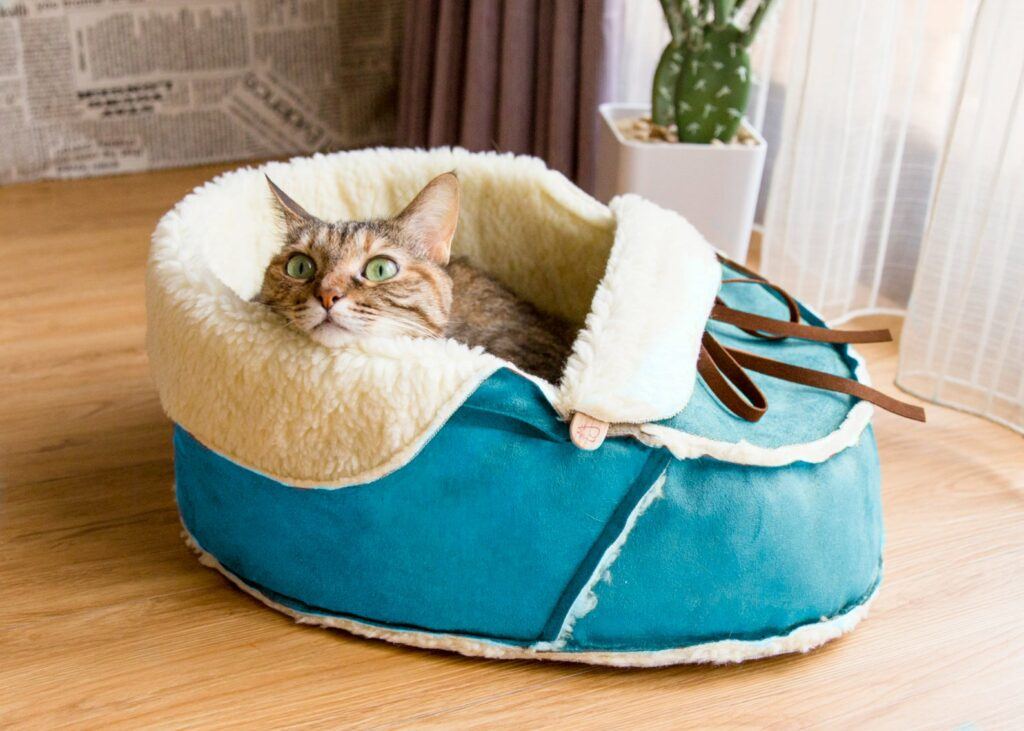 Holy crap, speaking of cute cat bed accent pieces, check this one out! A splurge, for sure, but could be just the ticket for a hard to shop for friend. These are handmade and available on Etsy by seller NappingJoJo.
24. Cats Ice Cream Art Print (available in many other products!)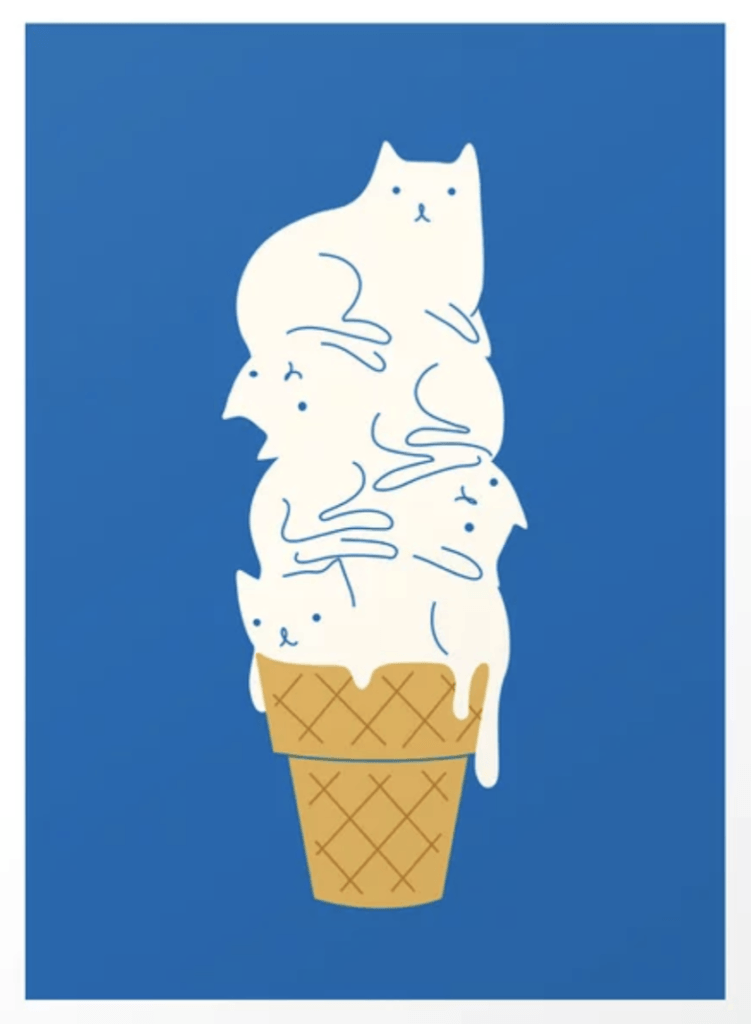 I love this design by Society6 shop ilovedoodle. Remember, on the Society6 seller platform, scrolling ALL the way down to the bottom is one way to find all the available products for the design you like. You could get this ice cream cat design on a tee shirt, a phone case, a tote bag, a shower curtain, and in MANY other formats. It's a really cool website for artists (I have a shop on there myself!)
25. A Cat Woven Rope Storage Basket
My favorite kinds of gifts are ones that are practical as well as fabulous. Daily use of a functional storage basket like this will remind your cat-loving friend or relative how much you love them.
26. Fat Cat Art: Famous Masterpieces Improved by a Ginger Cat with Attitude
Svetlana Petrova is an artist who paints her very large orange cat into famous works of art. Her amazing pieces became an internet sensation and are now available in book form!
27. Cat Lover Magnetic Poetry
Always a hit, magnetic poetry is now offered in many different themes like this Cat Lover one. Grouchy Cat, Lucky Cat, Psycho Kitty, and LOLCat Poetreez are also options.
28. Cute Cat Ceramic Succulent Planters
This gift combines two of my great loves – cats and plants. I think it would be such a sweet gift idea to give someone these planters filled with lovely succulents.
29. Cat Measuring Spoons
These adorable etched wooden measuring spoons would make a nice gift for anyone fond of baking. More of a specialty item, they would be better for dry ingredients and should be hand washed, but would be perfect for a little display hook in the kitchen.
30. A Cat Himalayan Salt Lamp
This is a must have! I have wanted a Himalayan salt lamp for a long time and if someone gave me this awesome cat shaped one I would absolutely die of happiness. Himalayan salt lamps add a beautiful soft ambience to the room and are supposed to have various health benefits as well.
31. A Unique Artist-designed Cat Shower Curtain
This Cats in the Interior patterned shower curtain is super cute, and for sale on Society6 by seller Anyuka.
32. Mysterious Purr Pad
These unique pads for cats have incredible review on Amazon, and for good reason. The material traps cat hair and dander, while simultaneously holding in warmth so that cats are drawn to them like magnets. This would be a really great gift for anyone with cats.
33. A Cat Cross Stitch Pattern Kit
Whether you know someone who likes to cross stitch, or are a cross stitcher yourself, something like this makes a perfect gift idea. This particular product on Amazon comes with aida fabric and all the floss colors needed to complete the pattern.
34. Cast Iron Cat Door Stop
One of my favorite kinds of presents – both cute and practical! This item is also heavy duty and well made, and will become a staple in the home of anyone it is gifted to.
35. Cat Wrapping Paper
Whatever gift you choose for your special cat-loving someone, don't forget to wrap it in an appropriately themed wrapping paper like this. Happy shopping!