This post may contain affiliate links. This means I may receive a small commission if products are purchased through them. All opinions are honest and remain my own.
Cat Litter: Scoop Away Complete
Litter Type: Clay (clumping)
Price: Varies (mid-range)
Rating: 3.6/5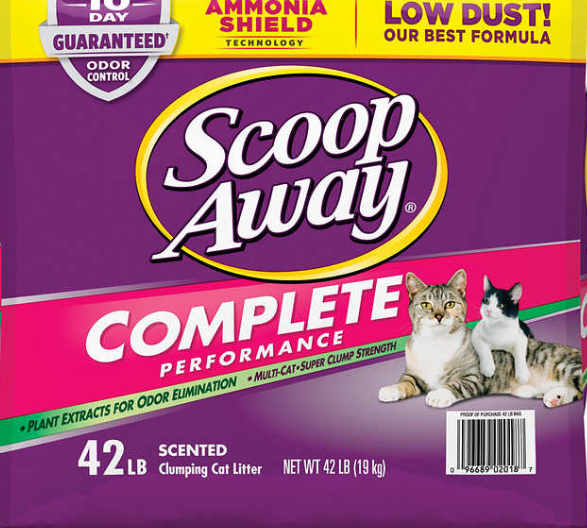 Summary: This litter does a great job forming solid clumps, keeping the pan free of crumbly debris, and eliminating smells. However, the new formula is extremely dusty (even though it's advertised as being "low-dust") and will coat everything around it, including walls, floors, and cabinets, even your lungs! If you (or your cat) are sensitive to dust, you may want to opt for an alternative.
Overview
Scoop Away used to be one of my favorite litters to use for my cats. I've even highly recommended it on this blog in the past. However, I had taken a hiatus from using it for awhile because it wasn't convenient for me to buy anymore (I used to get it at Costco for a really good price, but I got rid of my membership) so I started going back and forth between the Up and Up litter and Fresh Step Unscented.
After resubscribing to Costco and purchasing the Scoop Away Complete again (in January 2020), I realized it was MUCH dustier than it used to be, despite the fact the packaging now reads low dust our best formula! (Is that a joke?!)
This litter still works really well, but the high dust is a real turn-off. I decided to do an updated review for the newer formula because it definitely is not the same as it used to be.
What is Scoop Away litter made from?
Scoop Away is a clay-based litter, which is one of the most popular types on the market. Because it's a clumping litter, it's made specifically with bentonite clay.
Clay litter is not the most environmentally-friendly option, but it's preferred by most cats and is very absorbent, generally good at hiding odors and clumps well.
You can read in more detail a more thorough overview of the different types of cat litters here.
Odor Control
One of the things Scoop Away does an amazing job at is masking smells. I've never once smelled that nasty ammonia smell coming from the litter box, even after a few weeks (with daily cleaning). It also does a good job of hiding poop smells too, assuming the cats cover it up well.
That being said, no litter is going to cover up smells forever – it still needs to be scooped out every day.
However, just a tip – if you do notice a sudden, particularly foul and unusual urine odor coming out of the box, it might not just be the litter, it may be a sign your cat might have a medical issue (like a UTI). This happened with my cat Louie, but isn't a commonly listed symptom. When in doubt, it's always best to call your vet.
Clumping Ability
And yet another thing I love Scoop Away for is its ability to form solid clumps. The clay granules are very fine, hold tight and do not crumble into a million pieces when you try and scoop them out. This leaves the litter cleaner when you scoop it and makes it last much longer than other types.
However, it does have a tendency to stick to the sides of the litter box if your cat likes to pee around the edge (I know my cats sure do!) I like to use this giant mixing tub from Home Depot as a litter box, not only because it's cheap and so large, but the litter does not stick to it as it will to other litter boxes.
Another thing you could do is spray your litter box with non-stick cooking spray, or use a litter box liner.
Read also: What is the best litter box for cats?
Is it dust-free?
Despite the package saying "low dust" this is probably the dustiest version of cat litter I've used in my entire life. Scoop Away must have been reformulated because I never had a real issue with it until I recently went back and repurchased after not using it for awhile.
When I poured this into the litter boxes, a cloud of dust formed that was so thick it looked like smoke. Not only did it coat the walls, floor, and everything around it – it also went straight into my lungs causing me to cough for days.
This dust continued to form every time I scooped it out, and I had to cover up my face with a bandana to avoid inhaling it.
While my cats did not seem to have any problems using this litter, I noticed my cat Louie sneezing more frequently with this type. I also could smell it strongly on my cats, long after they used the box.
I've used this litter for years and never experienced this issue before, so this new formula is not the best.
Does it track?
Yes, my cats do track this litter around. I've never really used a litter that hasn't been 100% trackless. The good thing is, the litter seems to stay within the vicinity of the litter box area (bathroom floor, hallway) and I never notice it in other rooms or on furniture.
Getting a litter track matt can help cut it down a little bit.
Price
The price of Scoop Away varies depending on where you purchase it. You can definitely find the best deal for this at Costco (in-store), but Chewy also carries it for a pretty good price as well.
In general, for clumping cat litter, it's one of the less expensive options.
You can check the current price at Chewy here.
Pros vs Cons

Pros
Clumps well
Doesn't crumble apart
Hides smells
Affordable

Cons
Incredibly dusty (new formula)
Strongly scented (litter smell stayed on my cats for hours) although Scoop Away does have an unscented version
The largest bag (42 lb) is inconveniently packaged – it's hard to carry and awkward to try and get the litter out of. It would be better if it came in a large plastic tub like other brands.
The Bottom Line
This litter is definitely one of the more affordable options on the market and does a really great job at clumping and hiding smells. However, the newer version of this is so dusty that I can't use it at all anymore. I'm not particularly sensitive to dust (most clumping litters have some level of dust) but this formula was over the top.
If you're looking for an alternative, try out Target's brand (Up and Up) (much less dusty) or Arm and Hammer's Clump and Seal Slide (100% dust-free).
Interested in the convenience of cat litter delivery, straight to your door at intervals you choose? Check out our review of Chewy.com!