This post may contain affiliate links. This means I may receive a small commission if products are purchased through them. All opinions are honest and remain my own.
Getting a litter box is one of those things most people just do when they get a cat without thinking that much about it. But doing some research into the best litter box for your cat can help make him much more comfortable. It can also help to minimize any potential issues such as missing the box or refusing to use it altogether.
Now to be clear, there's not actually a "best" litter box for every cat. All of them are different and what works well for one may not for another. The box you prefer might not be the right one for your cat. It actually might take some experimenting on your part to figure out a good fit. We want to give you some general guidelines to follow as well as things to consider before you make the purchase.
General guidelines to consider when trying to find a good litter box for your cat
---
#1. Make sure your cat has enough room – the bigger, the better
The size of the litter box is a really important thing to take into consideration. It's recommended to use litter boxes that are 1.5 times the length of your cat to give him optimal space and comfort. At a minimum, the box should be at least the length of your cat.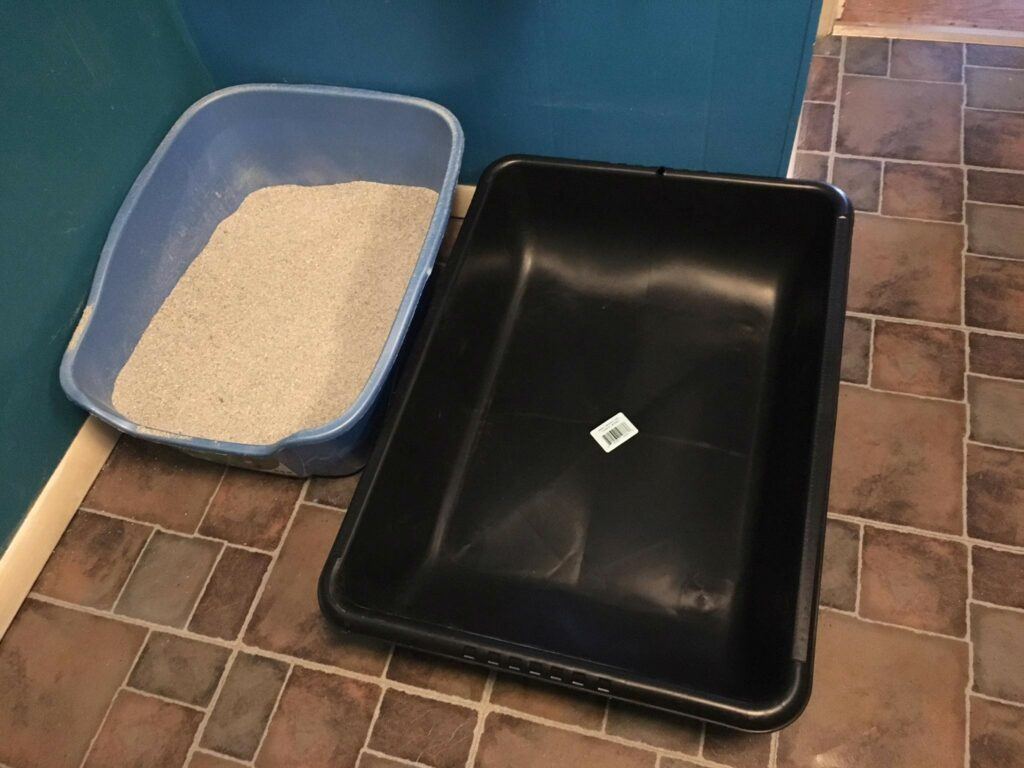 Considering the average cat is 18 inches in length, we wouldn't recommend using one any shorter than that.
For an average cat, this would mean using a litter box that's anywhere from 18 – 27+ inches long. A standard sized cat box is typically only 16 inches long, so pay close attention to the measurements when you're buying it (especially when making the purchase online).
If you're unsure of what size to get, you can't go wrong with the larger option. You can see the comparison picture above between a normal "giant" sized litter box which is usually around 20" in length, vs. a box that is closer to the recommended size of 1.5x your cat's length (around 27").
#2. Most cats will use a normal, uncovered, rectangular box
They have a lot of options for litter boxes these days – but if you're unsure, your best bet is to go with a classic, old-fashioned rectangular box that's uncovered. A box with higher sides can be good for cats who tend to miss the box, but make sure it has a lowered edge for your cat to easily step in.
Some litter boxes have covered tops with an entry-door, which many cats will use without a problem. Others are a top-entry style which your cat has to enter by jumping down inside.
Now there's nothing wrong with using litter boxes like this if your cats don't mind. The problem is, not ALL cats will use them. My cats, for example, refuse to use top-entry or hooded litter boxes. I've tried both because I thought they'd look better, but they were epic fails.
If you have a cat that uses these types of litter boxes without issue, that's fine. But if you want to go with the least expensive, least risk option – pick a normal box.
#3. Special bells and whistles like automatic litter boxes might turn off some cats
Automatic boxes that scoop the litter for you can cost anywhere from over $100 – $500+, but it might be a risky investment if your cat refuses to use it. The loud sound of the machine can scare some cats and cause them to be afraid of the box.
That being said, many people have them and swear by them and have cats that will use them with no problem. If you're willing to make the investment in the name of not scooping poop, that's totally legit.
Just know before you make the purchase that some cats are skittish of the self-scooping boxes. However, some companies, like Litter-Robot, do offer a refund if you aren't satisfied.
#4. Make sure your cat can easily enter the litter box
Now this tip is more for cats who have a difficult time jumping or getting around.
If you're opting for a high-sided litter box, make sure your cat has an easy entry point. Many options that have higher sides will also have a lowered point for the cat to climb into the box more easily, and that is ideal. If you're using a top-entry box, your cat will have to leap a substantial distance to get inside. If they refuse to use it, they probably would rather not (or can't) make the jump.
The "perfect" litter box might not be sold as a litter box at all…
You do not have to buy an actual "litter box" for your cat. Actually, some of the best options aren't sold in the pet section at all.
So what would we recommend using? A mixing container sold at home improvement stores is actually a great litter box. Some people call these "concrete mixing tubs" but they can have a ton of uses.
They're plenty large enough for cats (larger than most litter boxes)
Great for multi-cat households
The perfect shape
Heavy duty and non-stick
BUDGET FRIENDLY!! (Only $6!)
This 10-gallon tub from Home Depot is less than $6 and larger than most litter boxes – you can check it out here. It even says in the description it's multi-purpose and that it can be used as a litter box.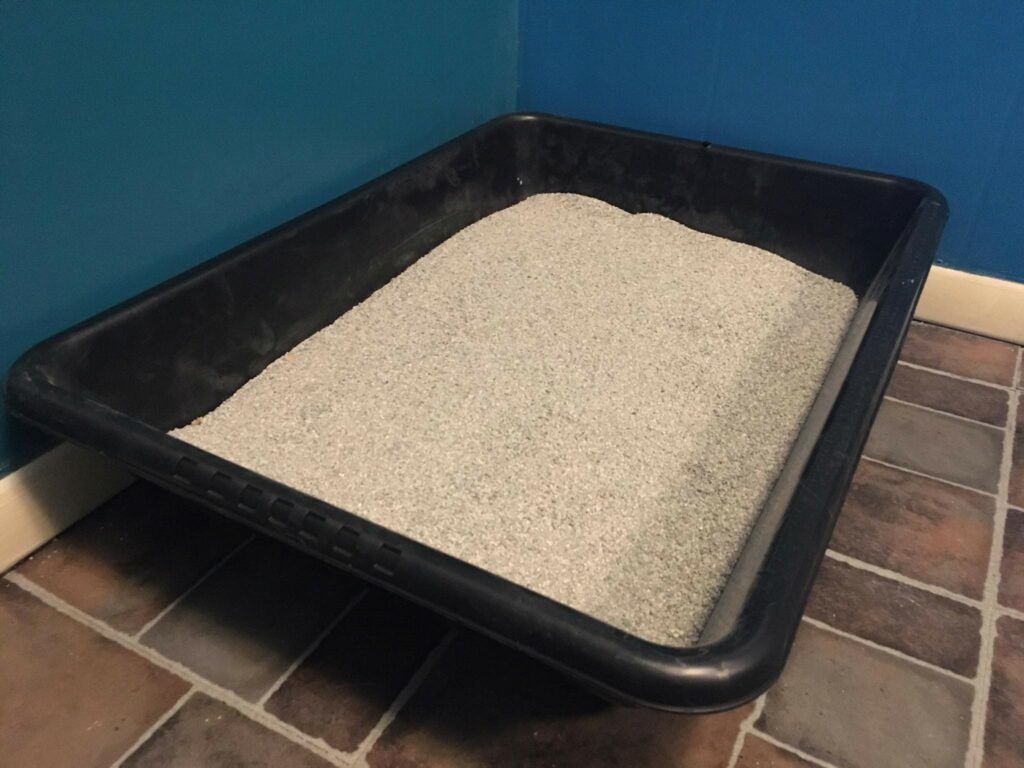 The dimensions are 28"x 20" x 6", which is plenty large enough. Some people say it might be too large, but your cat will probably appreciate it. For less than $6, you really can't beat the price either. Most litter boxes that are on the larger side are pretty expensive.
I switched to using this box when I realized my large litter boxes weren't actually long enough for my very big cats. Before, they would never cover their poop. I always wondered why but then I realized it was because the box was too small (and they were not even "small" litter boxes)!
They would instinctively dig, however they would do it outside the box because I guess they felt like they didn't have sufficient space. After I made the switch, they actually started digging in the litter again. Poop now covered!
Another thing I noticed is the urine does not stick to the edge like other litter boxes, it just slides right off. Totally amazing.
For those with multiple cats and larger cats, this is a great, totally affordable option.
Other recommendations
If you don't have access to a home improvement store, or you're just looking for something different, you can still find great, practical options for litter boxes in the cat section too. The downside is all these options are a bit more expensive than the plain old mixing tub, however, they're still very reasonable.
This Petmate litter pan is GIANT, and I mean it. The image doesn't make it look big, but I saw it at Pet Supplies Plus the other day and it's very spacious. It's actually even larger than the mixing tub at 34" in length, however, a chunk of it is taken up by the storage slots.
The only thing about this choice is the sides are quite tall (10") and it does not have a lowered entry access point. So while it can be great for cats who tend to miss the box, this would not be such a good option for an arthritic or older cat who has trouble getting around.
This Nature's Miracle high sided litter box (11" tall) would be a great solution for cats who need the higher sided box, but can't get into a taller box.
This box is also not quite as large as the other options (23.4" in length) so if you're looking for something a bit smaller while still being big enough for most cats, this fits the bill.
And one last thing. I also really like this Nature's Miracle corner litter box. While it's not the classic rectangular shape, it's still plenty large, has higher sides with a lower access point, and is uncovered. What I like about this option is the shape can help make your kitty's box a bit less obtrusive.
The Bottom Line
Plenty of cats will have no qualms about using specialized boxes with hoods or robotic features. But for some cats, they would much prefer a more open and easily accessible space to do their business. If you want to purchase a litter box that gives you the best chance of your cat actually using it without issue, or if you're experiencing issues with your cat using a non-traditional type of box, these recommendations are pretty solid.