This post may contain affiliate links. This means I may receive a small commission if products are purchased through them. All opinions are honest and remain my own.
If you're researching cat litter delivery services, you may have seen advertisements for these up and coming companies within the cat litter niche. But which is better – Pretty Litter vs. Kitty Poo Club?
These two services can bring cat litter to your door when you need it, so you don't have to run out to the store last minute or worry about lugging heavy bags or boxes around.
However, neither one of these companies is just another cat litter subscription program – they're both entirely unique.
But being unique is where the similarities between these two companies end, because Kitty Poo Club and Pretty Litter are completely different. Knowing the difference between the two can help you decide which one (if any) would be a good fit.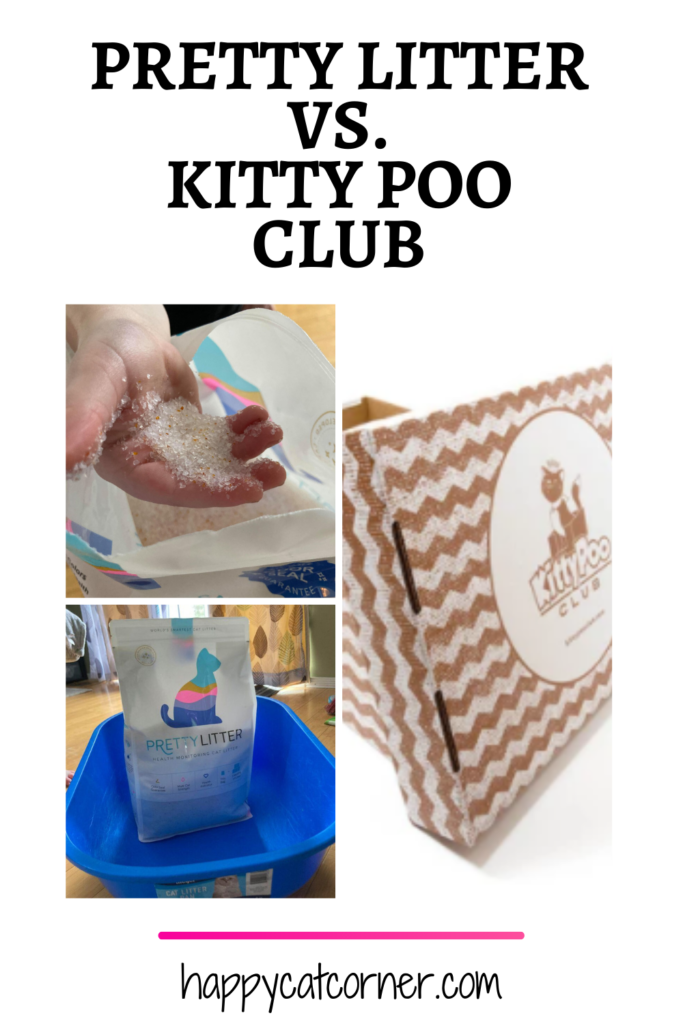 ---
Pretty Litter vs. Kitty Poo Club, Quick Guide
Pretty Litter
Kitty Poo Club
Litter Type
Silica Crystals
(no choice)
Silica Crystals
Clumping Clay
Organic Soy
Cost
$22 per bag
$21.99 per box
Multiple cat
options
Yes
Yes
Money-Back
Guarantee
Yes
Yes
Main benefit
Early health detection
Disposable litter box
Learn more
Visit PrettyLitter.com
Visit KittyPooClub.com
What is Pretty Litter?
Pretty Litter is not just another litter subscription service, it's actually a specialty cat litter that's designed to detect early signs of illness and infection in cats. It does this by changing color based on the pH of your cat's urine.
Because cats are notorious at masking their pain, you may not realize there's a problem until they're really sick.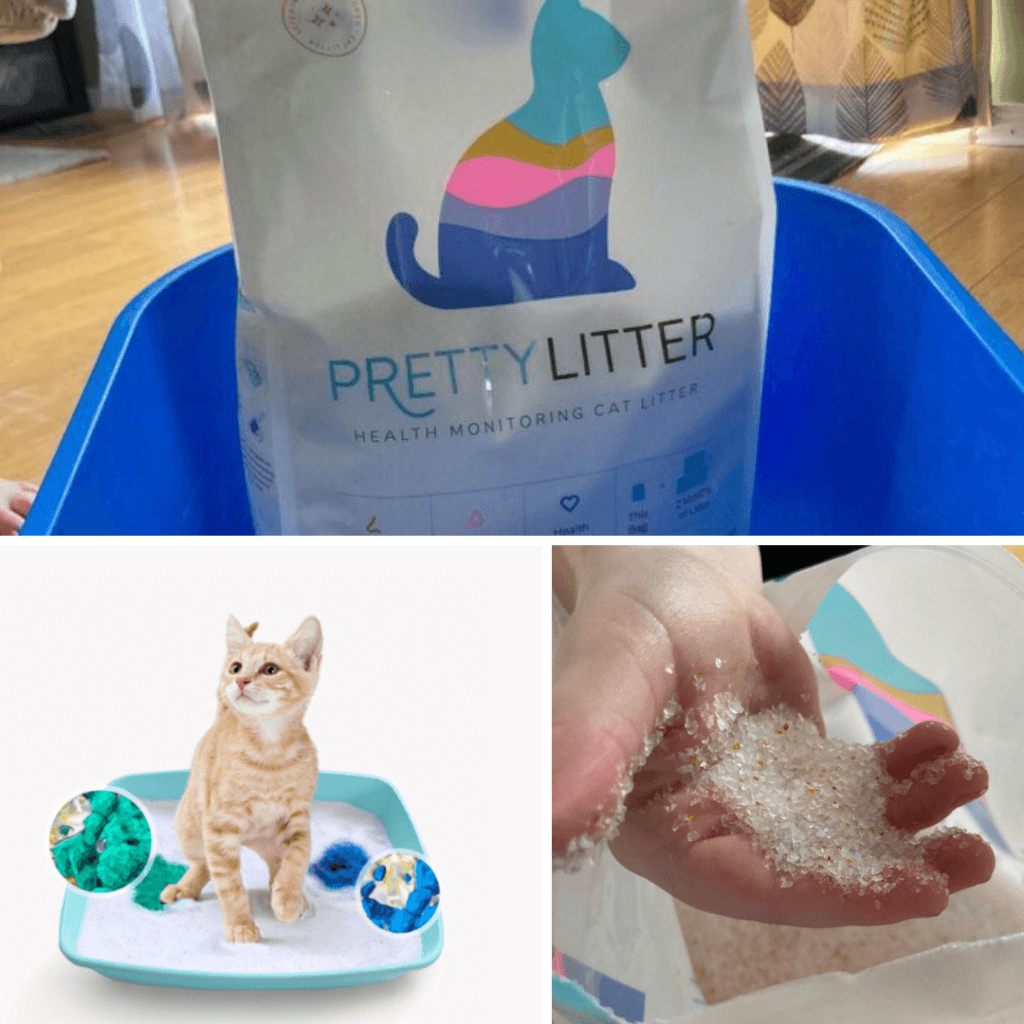 Pretty Litter is able to detect early signs of urinary tract infections, bladder stones and crystals, kidney diseases, and even sometimes cancer. Your cats urine turning blue, red, or orange can indicate it's time to call your vet. This is the main selling point and what makes it an entirely unique cat litter.
What type of litter does Pretty Litter use?
If you're looking for a service that lets you choose litter options, this is not it. There's only one type of litter to choose and it's made of silica crystals.
Silica crystals are a lot different from clay litters because they don't clump – the litter crystals absorb the liquid, then are able to evaporate as you stir them around. They're also able to seal in odors, so the litter doesn't stink (until it stops working).
How long does it last?
They say that Pretty Litter lasts 1 month for 1 cat, but in my experience it lasted more like 2-3 weeks. I was impressed with how well it worked (and how well it hid smells) while it worked, but once it stopped working it was pretty gross. Considering how expensive it is, that is its biggest downfall.
Read about my entire experience with Pretty Litter here
---
What is Kitty Poo Club?
Kitty Poo Club is another unique subscription cat litter program because it's an all-in-one deal. You get a disposable cat litter box plus a month supply of litter delivered to your door.
The cat litter boxes are made of recycled material, and are also recyclable. So at the end of the month, you can dump out the litter and recycle the box and have a fresh one ready to use.
But the boxes are lined with waterproof material and don't leak, and they're sturdy to hold up to a month of frequent cat traffic, even digging and scratching.
This would be a really great service for people who hate scrubbing and maintaining litter boxes, because you literally would never have to. The whole idea behind it might seem silly to some, but it's a total convenience thing.
The boxes also have fun designs that change from time to time. However you unfortunately can't pick the size of the litter box, so if you need a larger than average one Kitty Poo Club may not work for you.
What kind of litter does Kitty Poo Club have?
Unlike Pretty Litter which is just a single type of litter, Kitty Poo Club lets you choose which kind of litter you'd like in your box. You can choose between Silica (both large and fine grain), clumping clay, and organic soy.
How long does it last?
How long the litter actually lasts may depend on which litter you choose from Kitty Poo Club. In my experience, clumping clay litters last much longer than silica crystals, but silica crystals do a really great job while they're working.
I find if you keep a good quality clumping clay litter regularly cleaned, it can last for months. So the clumping clay is the best choice if you want the litter to last the full month. Silica litters are designed to last a month (with 1 cat) but they don't last that long in my experience, so you may need to change the box more frequently with the silica option.
Also check out: 6 Cat Litter Delivery Services for 2021
How expensive are they?
Kitty Poo Club costs $21.99 per box, but if you get 3 or more boxes you'll receive a slight discount.
Pretty Litter costs the same – $22 per bag. You also receive a discount when you order multiple bags.
You will probably end up paying more for these services than you would for a more traditional cat litter subscription, such as through somewhere like Chewy, where you can just get your regular type of cat litter delivered when you need it.
For Kitty Poo Club, you're paying for the ultimate convenience of never having to clean out a dirty litter box, and always having a fresh one each month. Plus, they look cuter than a regular litter box.
With Pretty Litter, you're paying for the piece of mind that you'll be alerted to early signs of infections in your cat.
But how much money you spend totally depends on how many cats you have, and how heavily your cat uses the litter box.
A good idea to spend less with Pretty Litter is to just keep 1 litter box in the home as their "health detecting" box, and keep the rest of the boxes with their regular litter.
Can you use them if you have multiple cats?
Both Pretty Litter and Kitty Poo Club let you purchase additional bags/boxes each month if you need them for multi-cat homes. They also offer discounts if you purchase more.
Pretty Litter has a much better multi-bag discount than Kitty Poo Club though. With Pretty Litter, you get a nearly 10% discount if you order 2 or more bags each month. Kitty Poo Club only offers a .50 cent per bag discount if you order 3 or more.
Check out Pretty Litter here, or Kitty Poo Club here.
---
Alternative cat litter subscription programs
If you are interested in the idea of subscribing to a cat litter service, but don't feel like you need anything special or want to spend a ton more money – you can get any type of litter you want delivered through programs like Chewy.
Chewy has a wide range of litter types available with recognizable brands like Scoop Away, Tidy Cats, Arm and Hammer, and Fresh Step. They also have their own brand – Frisco – that's very reasonably priced.
They don't just have clay litters either – they include an extensive selection of alternatives like crystals, wood, soy, and paper.
In addition, they offer a wide range of supplies for just about ANY pet – including food, prescriptions, toys, treats, and accessories.
Get 30% off your first auto-ship order of cat supplies here!