This post may contain affiliate links. This means I may receive a small commission if products are purchased through them. All opinions are honest and remain my own.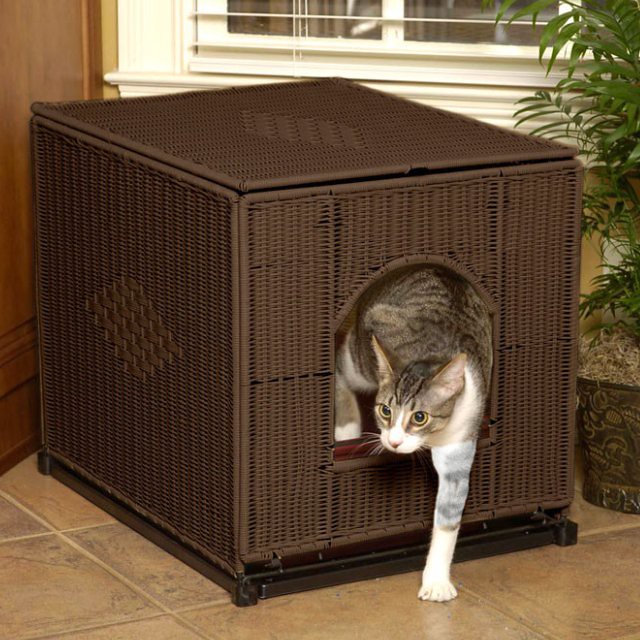 When I first heard about hidden cat litter box furniture I thought it was genius. It's not always easy to figure out somewhere for your litter box, especially in small houses or apartments without lots of closet space, hidden nooks, spare bathrooms, or even a basement.
And did you know that the general rule of thumb for litter boxes is n + 1, n being the number of cats you own? That means even if you only have 1 cat, it's best to have at least 2 boxes.
But what if you don't have great hiding spots for multiple litter boxes to fit well in your home? And if your cat is picky about where the boxes are, that can make it even more difficult. My cats, for example, absolutely hated when I put their litter boxes in the basement.
It sucked for me because that was the best place in my entire house to keep them fully out of sight, but having them actually use their boxes was much more important. We ended up compromising on the spare bathroom since they're mostly out of the way and the cats prefer them there. But an even better solution would be to invest in some furniture to help disguise the boxes.
Another positive element of hiding the litter box is that the covered design helps minimize smells, dust, and litter tracking.
My #1 complaint – most of this pre-built stuff is just too small!
Unfortunately, one of the things I noticed about a lot of the ready-made furniture to hide litter boxes is that they are built pretty small. Not only do they lack the roominess for most cats to be comfortable, but the litter boxes that would fit into them need to be pretty tiny. I think even average sized cats could benefit from a larger space and litter box, so these picks would be great for any cats no matter their size.
Of course, if you like projects and have the tools (or a helper) you can go DIY style with this stuff, and there are plenty of tutorials around the internet. However, if you're the type of person (like me) that just wants something easy to assemble, these are great options.
I've looked through tons of hidden litter box furniture and I've selected these 9 as my favorites. They allow plenty of space for any cat, even larger ones!
Read also: 6 Ways to Hide Litter Boxes When You're Not a Crafty, Woodworking Genious
Top 9 picks for hidden litter box furniture in 2020
---
#1 – ecoFlex Litter Loo (Jumbo)
Length 30"
Width 24"
Height 28.9"
The best part about this ecoFlex Litter Loo cabinet is it has sealed flooring to protect it from moisture, so if your feline tends to have accidents outside the box they can simply be wiped clean.
The measurements here are actually for the jumbo size which would work great if you have a bigger big cat that needs a larger box and space. They also have a standard version that's a bit smaller. This litter box house even accommodates automatic/self-cleaning litter boxes and has a covered cord opening in the back.
This would fit well anywhere in the home and comes in a variety of shades to fit in with any decor.
#2 – Best Choice Products Large Enclosure Cabinet
Length: 34"
Width: 21"
Height: 20.75"
This litter box enclosure has a built-in magazine rack on the side, and the top could even double as a cat bed. This would work great in a bathroom, hallway, living room, or really just anywhere! I like this option because it's spacious enough inside even for larger cats and would fit an extra-large/giant litter box. You can find it here.
#3 – Good Pet Stuff Plant Hidden Litter Box
While the looks of this fake potted plant may not be incredibly stunning, a little DIY can take it from mediocre to awesome. First, the plant on top can easily be switched out for another, and many reviewers have spray painted the basin to better match their personal taste/decor. You can check it out here on Amazon.
It's not as roomy as some of the other options here, but the large opening and circular shape allow most cats to have enough space to do their business. To optimize the space, just make sure to get a circular basin litter pan to fit inside, just like this one.
#4 – Best Choice Products Wooden Log Cabin (Dog House)
Length 25"
Width 34"
Height 22.25″
Who cares if it's marketed as an outdoor dog house? It would work perfectly as a way to disguise a litter box indoors! The opening is more than large enough for your cat to access, and the top opens up and locks in place for easy cleaning. It's also roomy enough inside to fit even the largest of litter boxes (but of course you always want to double-check the measurements to make sure). For large cats, this would be great.
It's definitely much more attractive and appealing than looking at an open litter box! You can check it out here.
#5 – Merry Pet Cat Washroom Bench
Length 37.4"
Width 21.3"
Height 22.6"
This bench is one of the larger cat box furniture pieces available and would fit even a large litter pan with room to spare. It would look great in a lot of places in your home, and most cats would be more than comfortable with the additional room inside. It comes in different colors – black, white, and walnut – which you can view here.
#6 – Unipaws Designer Cat Washroom Storage Bench
Width 21.3"
Length 29.6"
Height 20.2"
While this Unipaws brand bench is quite similar to the Merry Pet design, note that it's a bit smaller. Nevertheless, it's plenty spacious enough for nearly any litter box and comes in really cute color options. Check it out here.
#7 – Cat House Side Table (with adorable cat-shaped door)
Width 19"
Depth 20"
Height 20"
The best part about this side table is the adorable cat head shaped door for your kitty! The door opening is 7" x 7.5", which is large enough for most cats to easily access. However, keep in mind the interior dimensions are only 18" (length) x 18"(width) x 18" (height) which is not big enough for a jumbo or giant litter box but would fit a small litter pan perfectly. (For reference, my cats have the jumbo pans which are about 22" in length)
#8 – Petsfit House
Length 45.6"
Width 30.9"
Height 32.1"
Okay, so it's another dog house… but this would make such a cute piece to hide a cat box! This is meant for outdoors so it'll hold up better than some of the indoor models. I can totally see this in a garage or basement, but really you could fit it anywhere.
It also comes in several color options you can check it out here.
#9 – Penn-Plax Cat Walk Furniture Hidden Litter Box Enclosure
Height: 37.7"
Width: 20"
Depth: 18.15"
This one is on the smaller side for sure, so not the best option if you have a particularly large cat/litter pan that needs to fit inside. But it would still work well for many cats. Note this is another model with an adorable cat head shaped entryway! Find it on Amazon.
Follow these steps to help protect your cat box enclosure:
The area around your cat's litter box tends to get a little yucky, so it makes sense to be worried the furniture will get ruined pretty quickly. But there are some things you can do to help prevent and minimize any damage and make your enclosure last for as long as possible.
Use a large litter box with higher sides. Many of these options will house even the largest litter pans with room to spare. The general rule is your litter box should be at least 1.5 x the length of your cat, this can help prevent your cat from missing the box.
Line the inside of the cabinet with some type of plastic to protect it, even a large trash bag would work. If your cats do have accidents, the enclosure unit will be protected and you can simply change out the covering.
Use a mat for collecting litter – you can simply take out the mat and empty it periodically
Scoop frequently – at least once per day. It may be out of sight, but a dirty box can tempt a cat to relieve themselves elsewhere.