This post may contain affiliate links. This means I may receive a small commission if products are purchased through them. All opinions are honest and remain my own.
If you are tired of bagging up and disposing of your cat litter waste, you might be looking at alternative solutions such as flushable cat litter. Looking online you'll be bombarded with lots of advertisements for the best litter that's flush safe… but is it really safe to flush cat litter down your toilet?!
Some cat litter may say it's safe to flush on the package, but the best advice is simply not to do it. If you were to ask a plumber, they'd tell you flushing any type of litter could cause clogs and is even worse for septic tanks. Flushing cat waste can also introduce harmful parasites into the water system.
What type of cat litters are actually "flushable"? Clay vs. Natural
Certain litters these days are advertised as being safe to flush. This would lead one to believe that you could safely dispose of it with your cat's waste down the toilet instead of having to throw it in the trash.
It's important to realize any litter advertised as such would NOT be clay-based (which are still by far, the most popular type, most litters you find at the store are made of clay).
Clay litter – clumping or otherwise – definitely should never, ever be flushed down the toilet.
Not only does it not break down, but it expands when it's wet so it'd most likely cause some major blockages within your plumping.
Natural litters – wood, corn, paper are more likely to say they're flushable
Cat litters that are made out of these natural materials that break down are going to be the types that are "flush safe".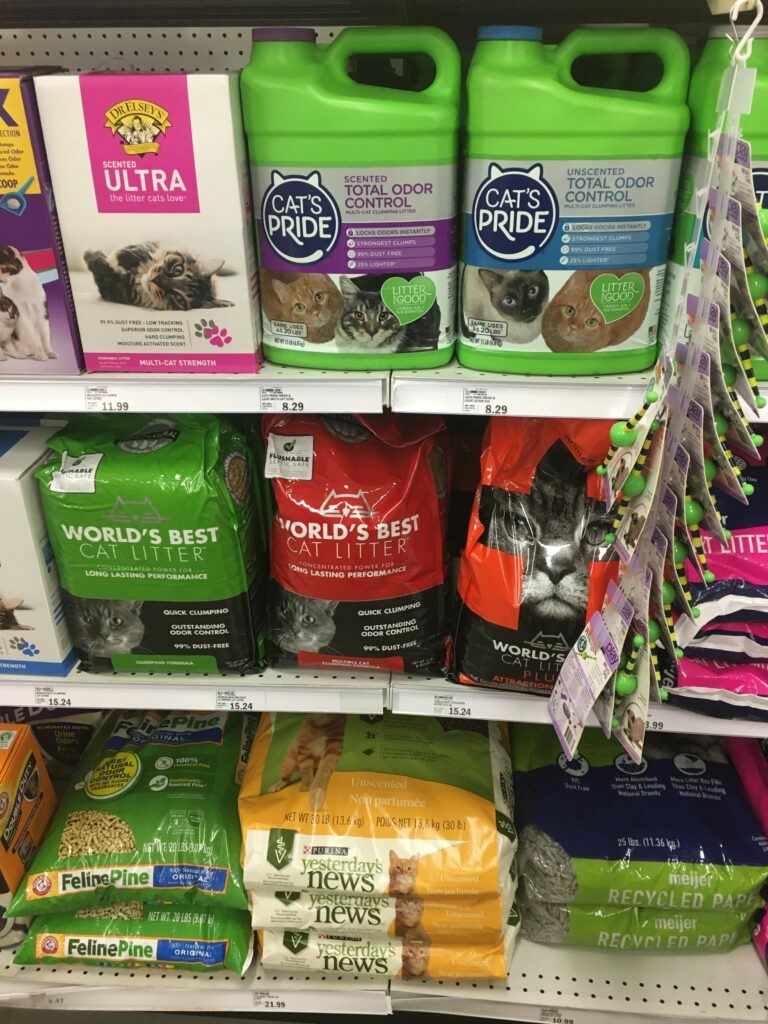 World's Best Cat Litter, which is made of corn, is one of the most widely used brands that is supposedly flushable.
That being said, not all of these types of litters are even marketed as being safe to flush. Feline Pine, a popular pine pelleted cat litter, says on the label it should be discarded in the trash.
Read also: The Ultimate Guide to Cat Litter Types
Reasons why you shouldn't flush cat litter down the toilet (not even flushable)
I've been reading a lot about flushable cat litter and what I've seen on countless plumbing websites, like this one, is that people actually should not flush these litters at all.
Just because something is physically able to be flushed down the toilet doesn't mean it should be or that it's safe. The consequences of flushing foreign stuff down your toilet can reach far beyond your property.
#1. Clogs
Flushing these litters along with cat waste, even if they claim to break down, can still cause clogs within the plumping system either in your home or further down within the sewer system.
Flushing too much at once, or not letting it soak with water in the toilet bowl for a minute before you flush it down, could cause it to swell within the pipes enough to create a blockage.
Another reason this may happen is that plumping systems are not meant to deal with hardened waste. Since cat poop is usually dry and hard by the time you scoop it out, it's very different from the stuff that goes directly in the toilet and down the bowl and can cause clogging.
#2. Damages septic systems
Flushing cat litter is especially harmful to those with septic tanks. Doing so can damage the system because they just can't break down cat litter, not even natural types like wood, corn, wheat, or paper. Septic systems are only designed to break down human poo!
It also causes an imbalance of bacteria within your septic system, which makes it harder to break down the waste.
If you flush anything different down a toilet that's connected to a septic system (this includes common things like flushable wipes, the wrong kind of toilet paper, and tampons) it's going to cause blockages and can be expensive to fix.
#3. Introduces potentially harmful parasites into the water system
Cat excrement can contain harmful parasites known as Toxoplasma, which can be harmful to some humans.
Cats pick up this parasite when they eat small animals, like birds, mice, or squirrels, that are infected. It's most commonly carried by outdoor cats, but indoor cats could carry Toxoplasma well if they are known to catch mice.
The problem is that septic systems and water treatment centers aren't really equipped to handle this type of pathogen, so it can end up back out in the water supply. That is definitely not something you want in your drinking water. It also can spread into open bodies of water, killing marine life such as sea otters.
Proper ways to dispose of cat litter without flushing
Flushing your cat litter just poses too many potential risks, you're better off using one of these safer methods.
Scoop and dump
When using any type of clumping litter, typically the easiest method is to use plastic bags and then dispose of those within your trash. Plastic bags help to contain the waste as well as prevent smells.
However there are ways to prevent having to use a plastic bag every single time you empty the box…
Purchase (or DIY) in a cat litter disposal system
You can purchase these contraptions, which much like diaper genies, but they're for cat litter. You empty the cat waste into the bin each time, and you don't have to worry about the smell since it's contained within the bin.
This makes the process of cleaning your cat's litter box a lot simpler because you don't have to get a new bag and empty it into the trash with each cleaning.
You can more simply just opt to DIY and use some type of container with a lid (such as a gallon ice cream pail, or an empty plastic cat litter container). You just dump the stuff inside, keep the lid closed, and dispose of it when it's full.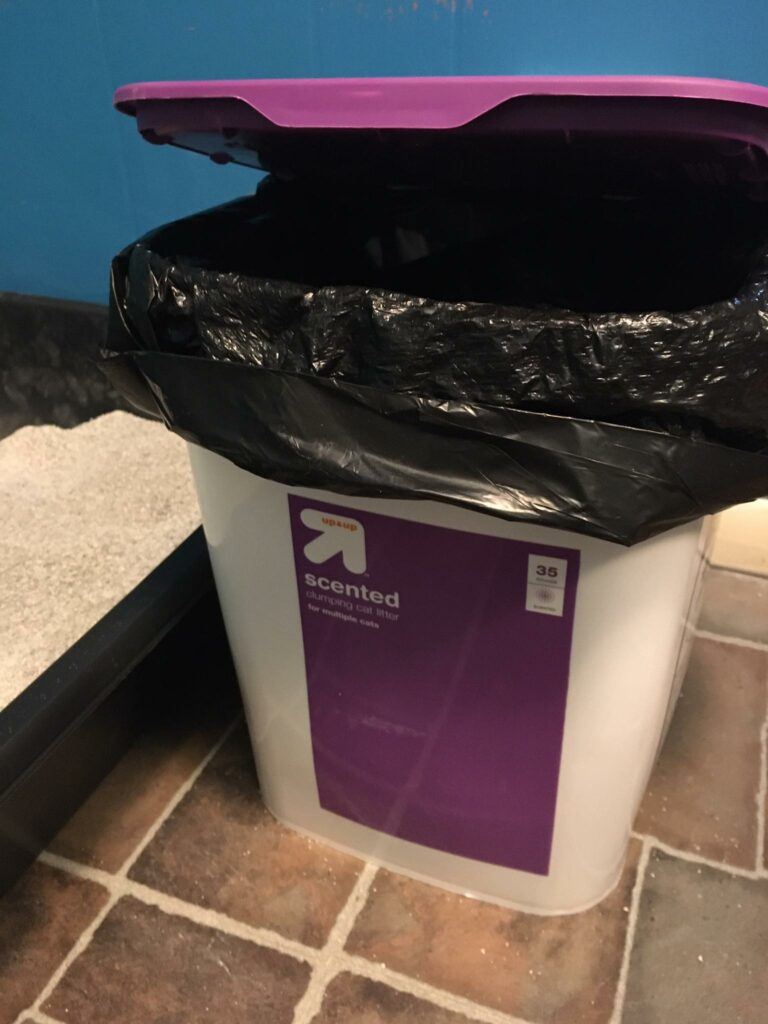 It still helps contain smells and eliminates a lot of extra plastic, but doesn't look nearly as sleek…
Compost natural litters
Natural litters that break down, such as wood, wheat, and corn, can be composted. This eliminates the need to use plastic bags, cuts down on landfill waste, and doesn't harm the environment. However to be safe you should only be composting the actual leftover litter, not the cat waste – so make sure you dispose of it properly beforehand.
The Bottom Line
If you want to prevent clogs, potential contamination, or ruining your septic system – just don't flush any cat litter, even if it says you can. There are other easy and environmentally friendly ways to dispose of your cat litter without doing so.