This post may contain affiliate links. This means I may receive a small commission if products are purchased through them. All opinions are honest and remain my own.
Pet food and supply delivery is growing really popular, and there are more and more services that offer it. If you're trying to research Chewy vs. Petco to see which service would be best, we've reviewed the two to provide an in-depth comparison to help with your decision.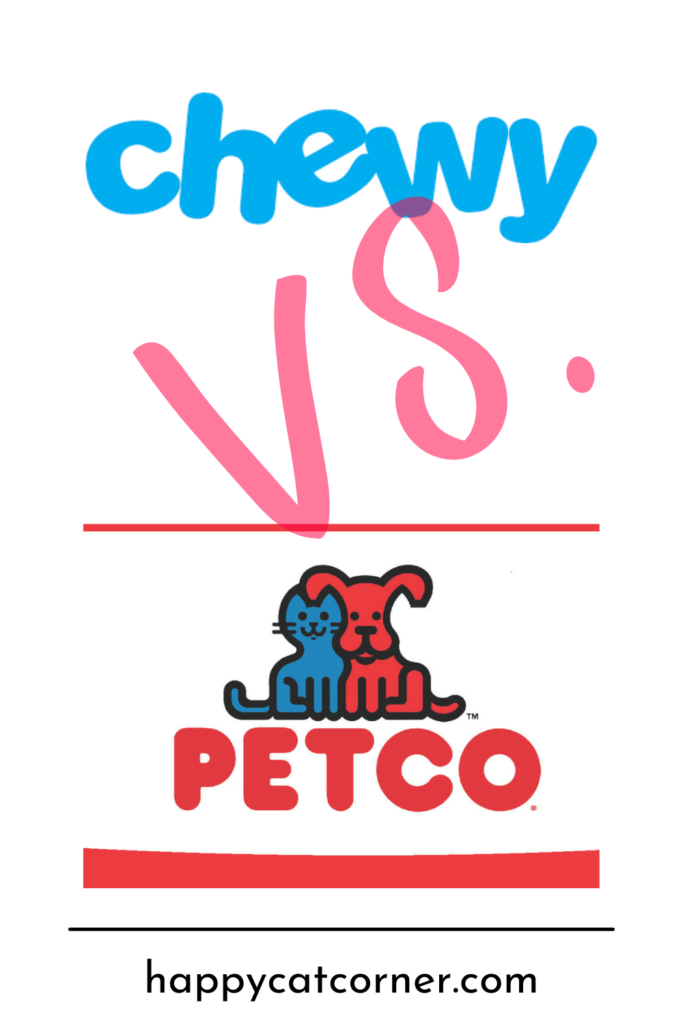 If you're looking for the best prices, product selection, and customer support, Chewy wins this round. Petco has a very similar service, but it doesn't quite stand up to Chewy in my opinion.
Petco and Chewy, Quick Comparison Table
Petco
Chewy
Carries supplies
for…
Cats, dogs, and most
small/caged house pets
Cats, dogs, and
most small/caged house pets,
also farm animals and horses
Prices
Similar to Chewy, some products
more expensive
Usually has the best deals
Customer
service
Mostly by phone, live chat
feature but limited hours
Live chat, phone, email – 24/7
Variety/
Selection
Decent but limited, no food/treats
with artificial ingredients
(don't sell the "cheap" stuff)
Carries over 1,600 brands,
you can find the largest variety
Fills
Prescriptions
Yes
Yes
Shipping
Offers same or next day delivery
if you live near a Petco
Standard delivery 2-5 days
No same-day deliveries,
but most 1-3 days
Auto-Ship
Yes, called "repeat delivery"
Yes
Shop
Check out Petco here
(and get 35% off)
Check out Chewy here
(and get 30% off)
Introduction: The benefits of pet delivery services
Pet supply delivery services are extremely popular these days. Companies such as Petco and Chewy (among others) allow you to get all your pet supplies like food, cat litter, treats, and much more delivered right to your door.
Ability to sign up for auto-shipments so you'll never run out of supplies like food and cat litter
One of the factors that make these services extra convenient is they allow you to sign up for automatic deliveries at intervals you choose, so you won't ever forget to order or run to the store to pick up supplies for your pet.
No matter whether it takes you a week or a few months to run out of stuff for your animals, you can set it to be at your doorstep right when you need it.
These services are free to use, offer discounted products, and you can edit, cancel or change them at any time.
Reduce trips to the store and help to minimize exposure to the public
If you seem to constantly be running to the store just for pet food or supplies, this can help cut down on your trips out. Especially in the days of COVID, it really can help minimize your exposure to public places.
Great prices
These types of services offer pretty great prices, much better than you'll find in-store at your local pet supply shop or supermarket. If you want to save money on pet supplies, using these delivery services can save you substantial amounts of money over the course of your pets life. (Which you can save for those pesky vet bills!)
Chewy vs. Petco Pricing
One of the top priorities for many when trying to figure out which service to use it price. When you're on a budget, it truly can be the biggest deciding factor. An examination into Chewy and Petco prices for products like cat food and cat litter show they're trying to compete, but Chewy definitely has the edge.
Let's take a look into different varieties of cat food…
Quick Price Comparison – Chewy and Petco (Cat Food)
Chewy
Petco
Iams Dry Cat Food
(16 lbs)
✔$21.59
$24.00
Science Diet Dry Cat Food
(15 lbs)
$38.94
$38.94
Blue Buffalo Dry Cat Food
(15 lbs)
$34.18
$34.18
Purina One Dry Cat Food
(15 lbs)
✔$23.99
$28.49
Quick Price Comparison – Chewy and Petco (Cat Litter)
Chewy
Petco
Scoop Away Multi-Cat
(25 lbs)
$11.49
$11.49
Arm and Hammer Clump and Seal
(28 lbs)
✔$14.87
$19.99
Tidy Cats Clumping 24/7
(35 lbs)
✔$14.64
$17.49
World's Best Cat Litter – Multi-Cat
(28 lbs)
$26.95
$26.95
After looking through many products on their website, oftentimes Chewy and Petco prices will exactly match. However, with certain products, Chewy is a bit cheaper than Petco. The items within the tables are just a few examples, but it's notable across many different items.
Another thing to note is that Petco doesn't carry the cheapest food options due to them not stocking products with artificial ingredients (which is discussed more below) so if you are on a budget and need cheap pet food, Chewy is where you can find it.
Check out current deals and prices at Chewy here
Chewy vs. Petco – Shipping
Speed and cost of shipping is another thing to into consideration. You want it to affordable, and come when you need it!
How much does shipping cost with Chewy and Petco delivery?
With Chewy, there's a $4.99 delivery fee on orders under $49. Any order that's $49 and up ships free. There are no exclusions to this – anything you order will ship free if you spend over $49.
With Petco, there's a $5.99 delivery fee on orders under $35. Any order that's $35 and up ships free. However, according to the fine print, Petco has exclusions for free delivery that includes products like cat litter, JustFoodForDogs products, wild bird food, live fish, live crickets and other live food, and a few others.
How long does Petco take to ship?
Petco has a pretty big advantage over Chewy when it comes to the speed of delivery. Even though Chewy is pretty fast, Petco has the ability to offer same-day shipping on certain products (with exceptions, of course). This is because they're a brick and mortar store, so if you live by a Petco location, your order can bypass standard shipping methods and be delivered from the store to your doorstep by third-party delivery services.
If you order items that can't be same (or next day) delivered, or if you don't live by a Petco store, the standard shipping time is 2-5 business days.
How long does Chewy take to ship?
According to Chewy's website, orders are delivered within 1-3 days. In our experience, the deliveries are more like 1-2 days (never had anything take longer) however it may just depend on your location.
Since they're online-only and don't have physical locations, they are unable to offer same-day or curbside pick up.
Petco Pick-up
Alternatively, Petco lets you place your order online and drive to the store yourself to pick it up curbside. You'll be notified when your order is ready to pick up, and the service is completely free of charge. This is not an option with Chewy since they are online only.
Chewy vs. Petco auto-ship/repeat delivery
Both Petco and Chewy let you get your animal supplies delivered at regular intervals. With Chewy, this is referred to as "auto-ship" but with Petco it's "repeat delivery". However it's essentially the same thing – you can select from a certain variety of products to be delivered at regular intervals you choose.
Petco
Chewy
Known as…
Repeat delivery

Auto-ship

Discounts
35% off first order, +
5% off future orders
30% off first order, +
5% off future orders
Delivery intervals
Every week, 2 weeks, 3 weeks,
1 month, 2 months, etc…
through every 12 months
Every week, 2 weeks, 3 weeks,
1 month, etc.. through every
8 months
Both companies allow you to get your orders as often or little as you like, anywhere between 1 week all the way up to 12 months! You aren't signing up with any type of contract for these services so you have the freedom to cancel it or change it on their websites whenever you want.
You can also create multiple auto-ship orders if you need certain products delivered at different times. For example, if you run out of cat food quicker than litter, you can get the food shipped every 2 weeks and get the litter once a month. (Or at whatever intervals you want)
Chewy vs. Petco – selection/variety of products
Chewy has a much larger variety than Petco when it comes to most anything. Not only does this include specific brands and types of supplies for pets, but also the types of pets they stock for. While Petco carries stuff for just about every home pet you can think of, they do not supply for farm animals or horses, whereas Chewy does. That is, in part, what makes it stand apart from the competition.
Chewy has a much larger variety of food for cats, while Petco does not sell the cheap brands with artificial ingredients
Take for example cat food (since we're all about cats here at happycatcorner.com!) Chewy currently supplies over 160 brands, while Petco is much more selective. At the time of writing this article, Petco has less than 50 brands cat food available.
Part of the reason for this is that as of 2018, Petco no longer carries products with artificial colors, preservatives, or flavors. So much of the cheap food and treats you can buy at Chewy and other pet retailers, you won't be able to find at Petco.
So Petco takes the quality over quantity approach, while Chewy carries basically anything and everything.
Now that isn't to say Chewy doesn't carry quality brands, they absolutely do… but they also include just about every cheap brand you can think of. If your budget only allows for inexpensive food and treats, Chewy is the place to stock up.
Petco has less variety of cat litter options than Chewy
Now let's take a look into their selection for cat litter. Below is the selection of varieties of litter each company carries.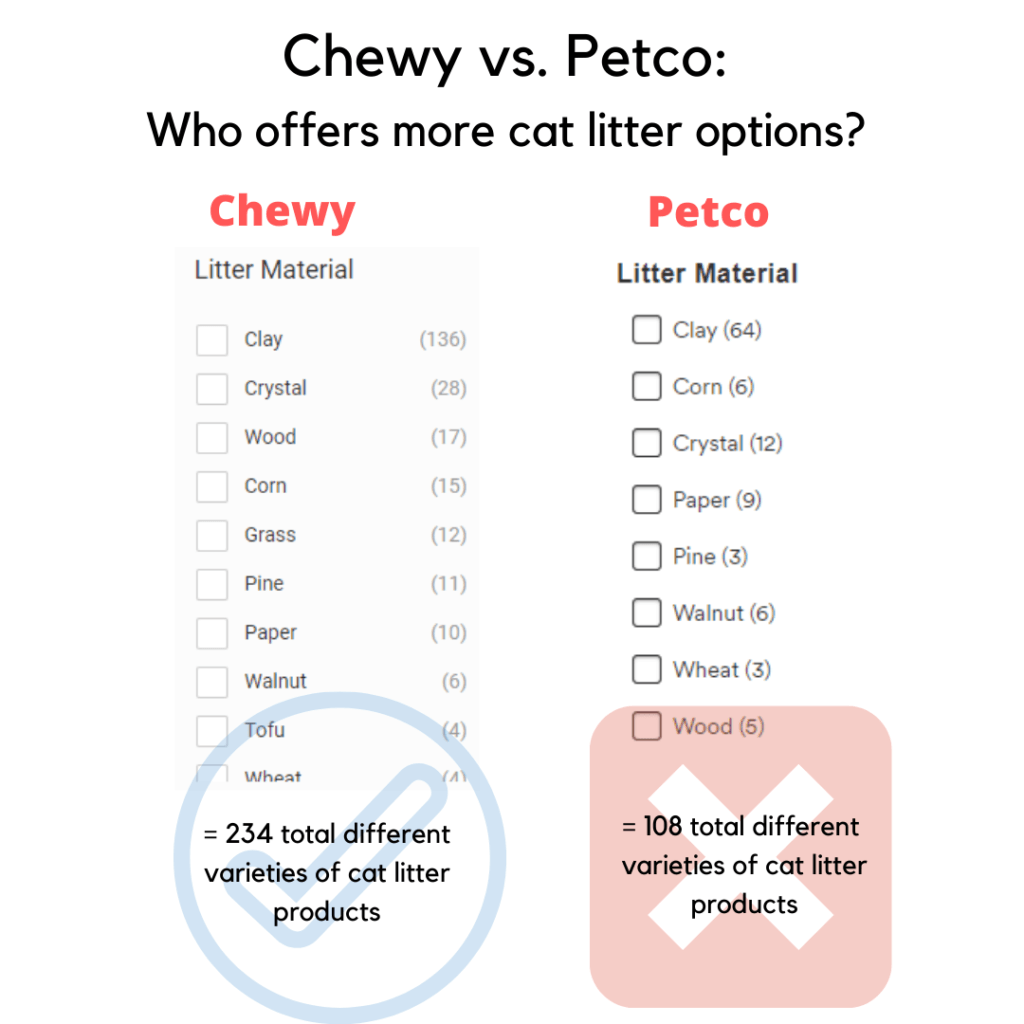 As you can see, they both have a pretty extensive selection of different types of litter – clay, wood, paper, corn, crystal, pine, etc… and both have way more selection than your average pet store or grocery supermarket.
However, Chewy has way more kinds within each category than Petco, totaling over 230 types. Petco carries less than half the amount of cat litter products than Chewy does.
Now more doesn't always mean better but looking deeper into Petco's cat litter selection, they don't even carry the types of litter I like to use personally. The variety just isn't there, and I can find a better deal elsewhere.
Even though Chewy carries more types of brands and products than Petco does, they still do not have entirely the same stuff as Petco. Petco carries things that Chewy does not, and vice versa. If you're looking for specific products, you will just need to check each to see which carries the products you need at the best price.
Also compare:
Chewy vs. Petco – customer service
Customer service is a very important (yet underlooked) aspect to take into consideration when deciding between which pet delivery service to use. If you end up having any type of issue with your order, you don't want dealing with it to be a total nightmare.
Chewy
Chewy's support team is super easy to get in touch with. They provide 3 options that are clearly shown within their website – a toll-free number, live chat, and an email message.

They have hands down, amazing customer service. It's really some of the best we've ever encountered. Not only are they incredibly easy to get in touch with 24/7, they're also very friendly and always put the customer first.
Live chat is the quickest way to get in touch, and the one I always use. They will connect you to someone within a minute or two.
I've had them send out the wrong item in my order and after I got in touch with them, they shipped the correct product out overnight and it was on my doorstep the next day. One time I had a cat toy arrive broken and they sent out a replacement, no questions asked.
If you're fed up with crappy customer service that treats you poorly, you'll find dealing with Chewy a breath of fresh air. They just make it so much less of a total headache.
Petco
The first impression I have of Petco's customer service is that they don't display all their contact information as obviously as Chewy does. They're also more difficult to get in touch with.
On Petco's website, the main option they give for contact is to call their toll free number. It's restricted hours, between 5AM – 9PM Pacific time.

I was also able to find a contact email for them, provided by their twitter account – customerrelations@petco.com
This was not provided on their website though, they really emphasis calling their toll free number to get in touch.
They also feature a live help option (in tiny print) that took me a while to even notice. I was unable to find hours of operation for live chat so it's unclear if whether this is offered 24/7 or only between certain business hours.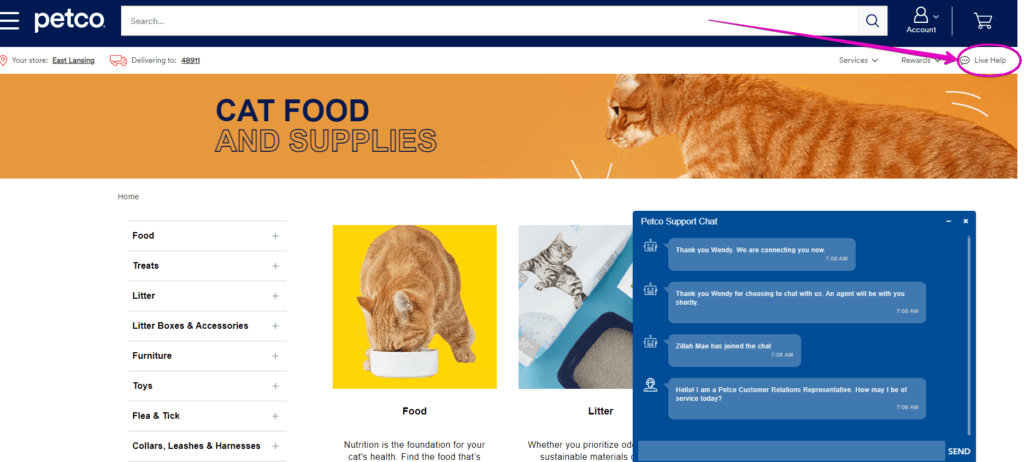 The first time I tried connecting with chat (9 pm, EST) a message popped up saying I'd be connected. After waiting 30 minutes, I never was. It may have been closed for the night, but there was definitely no message telling me it was and they lead me to believe I would be getting help.
However the next morning (7 am, EST) I was pretty much instantly connected to a chat representative.
There are also a lot of negative reviews about their customer service on the internet, so it seems like they can be a bit more of a headache to deal with than Chewy's team. The main complaints are that they're on hold for hours with customer support or they refuse to refund money.
The Bottom Line
When it comes to Chewy vs. Petco, Chewy wins in our opinion. More affordable products, excellent customer service, large selection, and fast and reliable shipping make them a great pick. However, if you need something immediately, Petco does have same-day delivery which Chewy can't beat.
Check out Chewy and save 30% on your first auto-ship order (or feel free to first read my full review and experience here)
Check out Petco and save 35% off your first repeat delivery