This post may contain affiliate links. This means I may receive a small commission if products are purchased through them. All opinions are honest and remain my own.
Amazon has definitely taken over the e-commerce scene, but when it comes to your pet supplies, is it really better than Chewy? Let's compare Chewy vs. Amazon pet delivery and see which one is really better.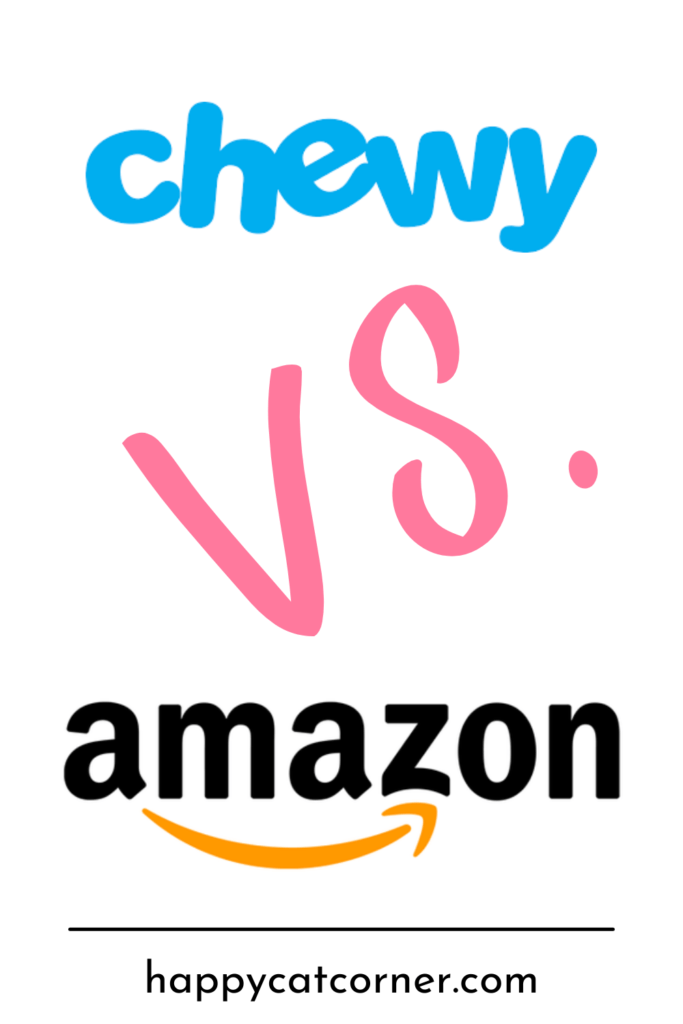 Chewy vs Amazon Comparison
I love Amazon. I've been a prime member for years and order frequently. I also love their streaming service. Honestly, I subscribe for the streaming and consider the 2-day shipping a bonus.
I've also ordered from Chewy multiple times and I think their service is great, especially for food and litter for my cats.
Amazon vs. Chewy, Quick Comparison Guide
Chewy
Amazon
Price
Best prices
Certain products are more expensive
Selection
Carries over
1,600 brands
Much less selection than
Chewy
Delivery
Frequency
Weekly or Monthly
Weekly or monthly
Discounts
30% off first auto-ship,
5% off recurring orders

5% discount for recurring orders,
up to 10 – 15% discount with
certain products (with larger orders)
Delivery
1-3 day shipping,
free over $49

Only prime members
get fast shipping

Customer
Service
Super fast, friendly,
helpful – 24/7
Mostly robotic in nature
(you don't typically need to
contact a live representative)
Who is it for?
All pet owners!
Best for Amazon
prime members
Shop
Save 30% at Chewy
Check current Amazon
deals for pet supplies
Amazon vs. Chewy delivery
Chewy's auto-ship orders come with 1-3 day delivery and free shipping over $49. I've had orders ship in one 1 day, but most often they take about 2 days which is still super fast. You can set the frequency of delivery by weeks, so you could get every week, every other week, every month, every 2 months, etc.
Amazon also has 2-day delivery and free shipping, but only if you're a prime member.
If you use the Subscribe and Save Service for pet food/supply deliveries, you might not get shipping as fast as Chewy if you're not a paying prime member. Amazon also has weekly or monthly delivery options.
This could be great for prime members though, because not only do you get 2-day shipping, but you don't have to spend $49 to get free delivery.
Amazon vs. Chewy Pricing – Which is less expensive?
I'm not going to discuss exact prices within this comparison because they change too often for me to update it constantly. However, I will say that Amazon seems to be trying to compete hard with Chewy, as many of their prices are literally an exact match (even down to save 5% on auto shipped orders).
Many popular brands of cat and dog food, as well as cat litter, are exactly the same prices at Chewy as they are at Amazon. This is true across most brands I found like Iams, Blue Buffalo, Science Diet, etc. The same is true for cat litter.
Amazon's pricing is WAY more inconsistent, so you need to be careful
However, it's not true for everything and it's definitely worth cross-checking prices before you make a commitment.
If there's one thing I learned about shopping on Amazon the past several years, it's that their prices are totally inconsistent. I've had prices of stuff in my shopping list fluctuate from $7 to $17 to $22, and then back down (multiple times, happens often).
There's also the issue of random items being incredibly expensive. Right now, their Scoop Away cat litter is $15 more expensive for a 42 lb pack than from Chewy. Even though the bulk of items like cat and dog food are priced competitively, some things just aren't.
Amazon can also be confusing with pricing because there's just so many different sellers offering the same products with different pricing, you'll need to make sure you specifically shop Amazon's subscribe and save pet products to make sure you're getting that service with the right price.
Bottom Line: Even though many times prices are an exact match between two, Chewy has consistently better prices that don't fluctuate like Amazon's.
Check out Chewy's current deals here
Amazon vs. Chewy: Savings/special offers
Both Amazon and Chewy offer special deals for members who are signed up with their auto-ship or subscribe and save services.
Chewy's auto-ship discounts
Chewy has an on-going offer to save 30% on your first auto-ship order, and they sometimes will send out $15 off coupons for first-time customers. You also get 5% off all regular auto-ship orders.
So you can get a 16 lb bag of Iams cat food for $20.51 with an auto-ship order, which is quite a bit cheaper than any stores near me.
Amazon's subscribe and save discounts
Amazon offers varying discounts for first-time orders depending on the products. I've seen coupons for 40% off a first-time subscription order, and others for $7 or $8 off.
They also offer 5% on subscribe and save items (which are basically the same thing as Chewy's auto-ship orders). The perk for Amazon is they have an additional option to save between 10 -15% on Subscribe and Save orders with 5 or more items. And these items aren't exclusive to pet supplies either – you can choose from a range of things like cleaning supplies, toiletries, food, and even baby diapers.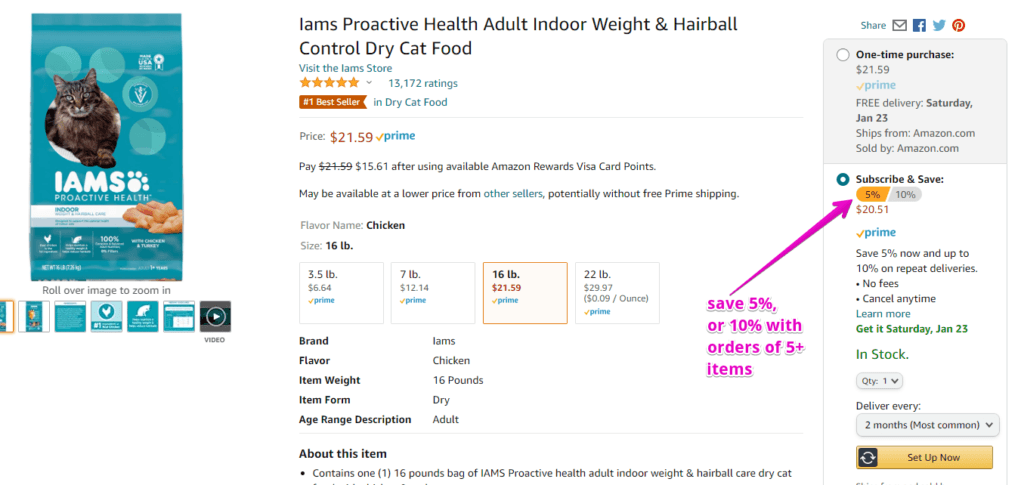 Iams dry cat food is exactly the same price with Amazon auto-ship – with a 5% discount making it $20.51 for a 16 lb bag as well.
However, keep in mind with Amazon you need to be a prime member to get the 2 day free shipping benefit. Chewy does not require any type of paid subscription to sign up for their auto-ship orders.
Bottom Line: Both Chewy and Amazon offer comparable customer discounts for subscribed members
Amazon and Chewy, Selection/Variety of products
Chewy has Amazon beat with the selection of their cat and dog supplies (along with other small house pets) available with 1-3 day shipping. Amazon may have the items, but many of them are not available to Subscribe and Save 5% (to match Chewy's auto-ship), or, they're just much more expensive in certain cases.
Unlike Amazon, Chewy specializes in pet supplies so they carry a larger variety. As an example, the Scoop Away litter I like to order from Chewy is available on Amazon, but it's not a Subscribe and Save product (so no potential discount) and it's $6 more expensive!
Let's look at this example for the selection of cat food brands offered for subscribe and save from Amazon, vs. Chewy: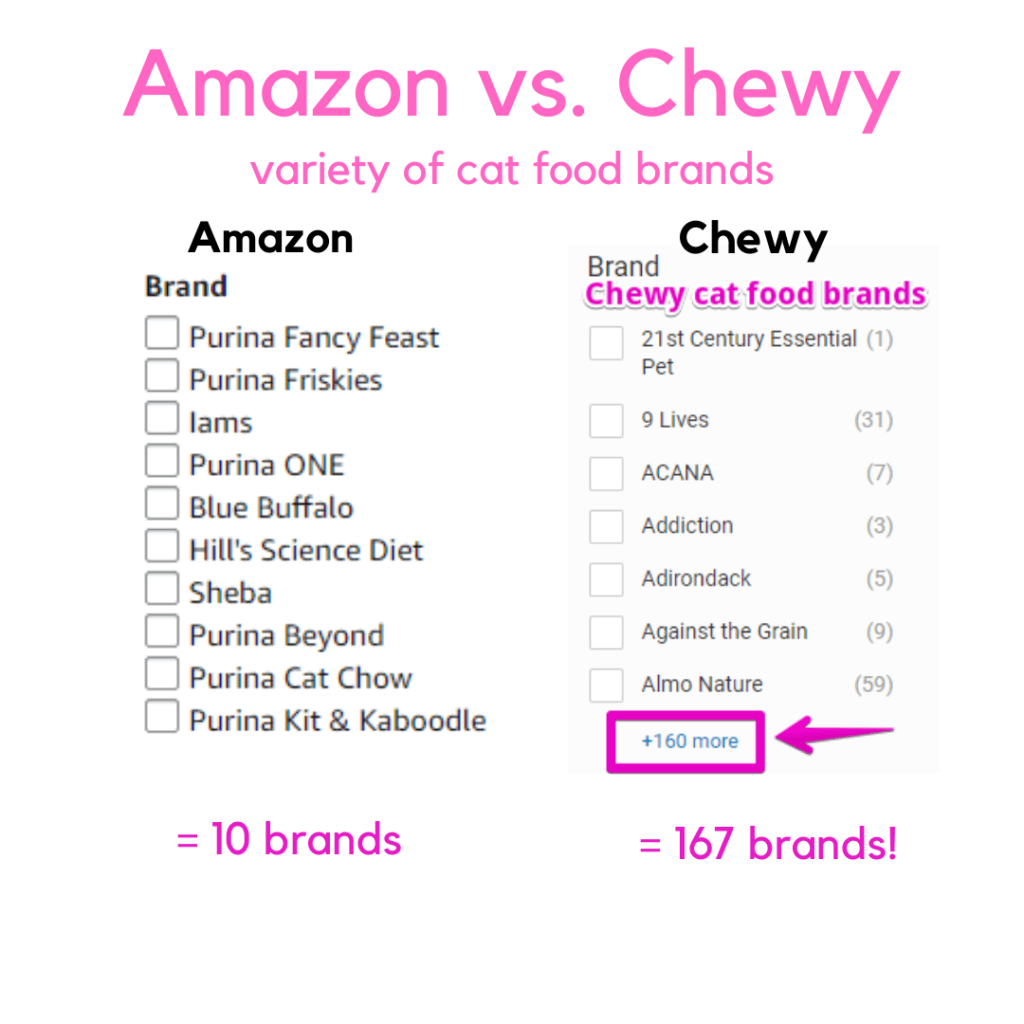 Keep in mind that Amazon does have more cat food brands available to purchase on their website, but they're not specifically Amazon subscribe and save items. You will definitely find the most variety from Chewy with their auto-ship service.
Bottom Line: Amazon's subscribe and save service is actually very limited with the type and variety of products it has available, while Chewy specializes in pet supplies and just has overall much more variety and selection.
Also compare:
What types of pets do they carry supplies for?
Both Chewy and Amazon carry supplies for…
cats
dogs
fish and aquatic pets
birds
horses
reptiles and amphibians
small pets including ferrets, gerbils, guinea pigs, hamsters, mice, rats, rabbits, chinchillas
However, Chewy additionally carries supplies these pets that Amazon does not…
degus
hedgehogs
sugar gliders
farm animals including chickens, cows, goats, pigs, sheep, llamas, and alpacas
Chewy vs Amazon Customer Service
Customer service is a really important aspect to take into consideration. If anything ever goes wrong with your order, you'll want to be sure you can get in touch with someone easily and that your issue will be resolved. Nobody likes wasting their afternoon on the phone with customer support!
Chewy
Chewy's customer support is really great – they offer 24/7 live chat, phone support, as well as email help. They make it very clear on their website how you can get in touch with them, so you're not spending time searching around for their contact information that's hidden somewhere (which many companies make you do!)
Any issues I've had with Chewy were resolved immediately. They are very friendly and always put their customers first.
I've never had to wait any length of time to get in touch with them either, it's always been pretty instantaneous. If you ever have any issues with your orders at all, Chewy's customer service will not cause you a headache.
Amazon
Amazon also has decent support, but they don't make their live chat and phone support number super accessible (I had to Google it to even find it). How Amazon operates is they have self-help tools available if you have a problem, and 95% of the time it can be resolved without ever contacting a real human.
While their customer support is fine, and certainly way easier than trying to contact someone by phone – it's a little bit more difficult to find out how to contact their support. It's not as clear as Chewy's.
Bottom Line: Chewy's support is easier to use, friendlier and more "family" like, while Amazon's is robotic in nature. Amazon typically resolves issues but it can be more difficult.
Is Chewy really better than Amazon?
While Amazon is great, I think overall Chewy is a better service when it comes to pet food and supplies home delivery. This is because Chewy actually specializes in pet supply delivery, whereas Amazon is just focusing a small part of their business trying to compete.
Chewy's focus on pet-supplies means they have a much wider selection, more consistent pricing, great and knowledgable customer service, plus just an overall more user-friendly website experience. Another perk to using Chewy is that you do not have to have a paying membership to get fast and free shipping.
Check out: My Honest Review of Chewy.com
That being said, for the most part, you're going to find very similar deals on pet supplies when it comes to Amazon and Chewy's home delivery services. If you're an Amazon Prime member, you may find their delivery more convenient, especially if you're interested in getting any other of their subscription delivery items as you can potentially get even bigger discounts.
However, Amazon can be hit or miss with available products and pricing.
You can check out Amazon's selection of subscribe and save items, along with current deals, here.