This post may contain affiliate links. This means I may receive a small commission if products are purchased through them. All opinions are honest and remain my own.
Pet supply delivery services are no doubt growing increasingly popular, but with so many choices how do you know which one is best? We're here to help! We've reviewed these services to provide an in-depth comparison to help you with your decision of PetFlow vs. Chewy!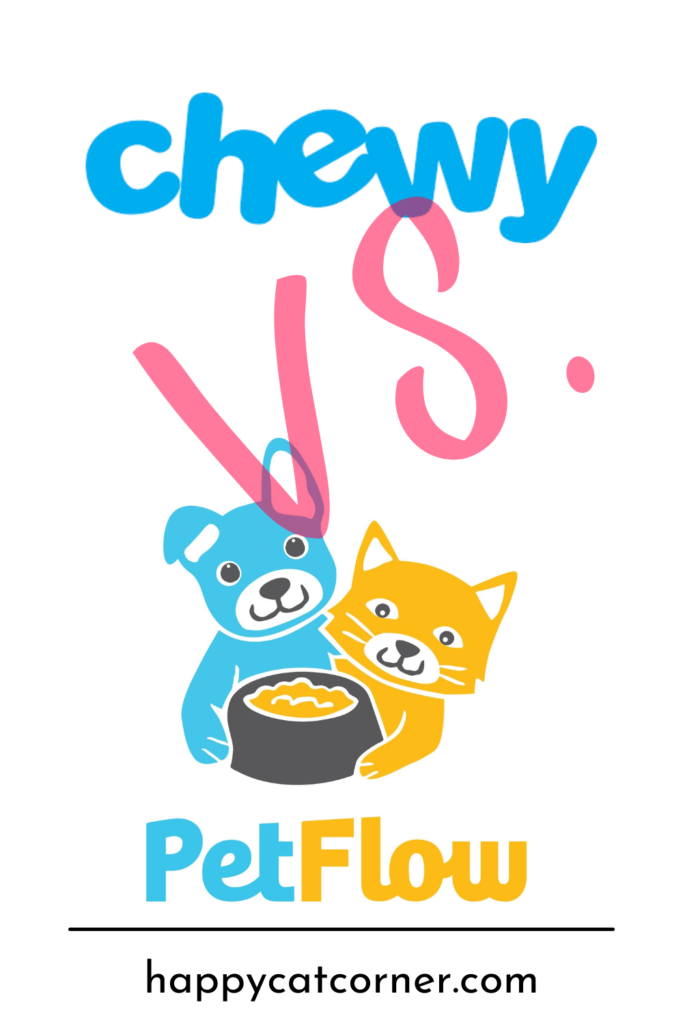 If you're looking for the best prices, selection, shipping, and customer service – Chewy is no doubt the winner between the two. Petflow may offer a similar service, but you'll pay higher prices with slower shipping and have less variety.
Chewy and PetFlow, Quick Comparison Table
PetFlow
Chewy
Carries
Supplies
For
Cats and dogs
Cats, dogs, small caged pets,
fish, horses, farm animals
Prices
Average
Offers the best deals
Customer
Service
Phone, chat,
& email
(limited hours)
Phone, chat,
& email – 24/7
Variety/
Selection
Limited brands
and sizes
Carries over 1,600 brands for
cats, dogs, fish, reptiles, horses,
hamsters, and many more
Shipping
2-3 days
1-3 days
Auto-ship
Yes
Yes
Get $10 off with
this link
Take 30% off your
first order here
Introduction: The benefits of using pet delivery services
Pet food and supply delivery programs have grown increasingly popular in the last couple of years. Services such as Chewy and PetFlow (among others) allow you to get your pet supplies, such as cat and dog food, litter, treats, and much more, delivered to your door.
Auto-shipments keep you from running out of food, litter, and other critical supplies!
What makes these types of services so convenient is that they allow you to set up auto-shipments of certain products like cat food and litter at intervals you choose.
This means you don't have to worry about constantly going back and ordering more food or litter (or other supplies) – no matter whether it takes you 2 weeks or 2 months to run out of supplies, you can be assured a new shipment will arrive in time.
Reduce your trips to the store and help minimize your contact with the public
The COVID-19 pandemic has only increased a need for such services – so if you're looking for ways to minimize your contact with the public or if you're quarantined, these companies offer a super convenient way to get the supplies you need for your pets without leaving the house.
We're going to take a look at these 2 services and compare ratings, prices, delivery, customer service, selection, and variety. This will hopefully help you decide which service to choose for your pets.
PetFlow vs Chewy: Prices
If you're looking for the best prices for your pet food and supplies, Chewy has lower prices on nearly every single product we've researched. In many cases, this isn't just a few cents different – it's actually quite significant.
We've done some research into pricing and provided some quick comparison tables so you can get an idea. Since we're all about cats here at Happy Cat Corner, we looked at cat food and litter for our fellow feline owners out there. But both these services provide supplies for dogs and other pets, too!
Just keep in mind that prices are always changing, so the prices you see here won't necessarily be the same as when you check them out. However, time after time we've checked, Chewy does consistently beat PetFlow's prices.
Quick Guide Price Comparison – Cat Food
| | | |
| --- | --- | --- |
| | Chewy | Pet Flow |
| Iams Dry Cat Food – 22 lbs | $26.99 | $29.97 |
| Science Diet Dry Cat Food – 15 lbs | $38.94 | $44.99 |
| Blue Buffalo Dry Cat Food – 15 lbs | $34.18 | $35.98 |
| Friskies Wet Cat Food – case of 32 | $16.69 | $21.99 |
*pricing is subject to change and does not include promotional offers, for comparison purposes only
Quick Guide Price Comparison – Cat Litter
| | | |
| --- | --- | --- |
| | Petflow | Chewy |
| Scoop Away Multi-Cat | $19.99 /25 lbs | $10.87 / 25 lbs |
| Arm and Hammer Clump & Seal | $27.99 /28 lbs | $14.87 /28 lbs |
| Tidy Cats Clumping 24/7 | $29.99 /40 lbs | $19.99 /40 lbs |
| World's Best Cat Litter Multi-Cat | $34.9 /28 lbs | $27.99 /28 lbs |
*pricing is subject to change and does not include promotional offers, for comparison purposes only
While cat food is notably cheaper at Chewy, cat litter especially seems to be a much, much better deal. Overall, I find Chewy has some of the best deals I've ever seen on cat litter anywhere!
Both these services do offer promotions and while that might lower the cost initially, you will still be paying more with PetFlow.
Check out great deals at Chewy here
PetFlow vs. Chewy: Shipping
When it comes to getting your pet supplies shipped to your house, the price, speed, and ease of shipping really do matter. Obviously, you want to make sure if you need that cat food, you're going to get it before you run out! Also, no one wants to spend a fortune just to have something delivered.
How much does shipping cost with Chewy and PetFlow?
Both PetFlow and Chewy offer free shipping on orders over $49. If your order is below that amount, you'll need to pay a flat-rate shipping charge that is somewhere around $5 at both companies. (Currently, $4.95 charge at Chewy compared to a flat-rate $5.96 at PetFlow)
Unfortunately, both of these companies only ship within the contiguous United States – so Alaska and Hawaii residents are excluded, along with the rest of the world!
How long does Chewy take to ship?
According to Chewy's website, items take anywhere from 1-3 days to ship. If you use their online pharmacy to fill a prescription for your pet, it could take longer. In my experience, I've had items ship overnight or within 2 days.
Delivery has always been smooth and I've never had an issue with anything being delayed or taking longer to arrive. I've even had them ship the wrong item, and after contacting their customer service I had the correct item at my doorstep literally the next day.
How long does PetFlow take to ship?
According to PetFlow's website, items can take anywhere from 2-3 days to ship. But they also note that non-food items may take 5-10 business days to be delivered which is much longer than Chewy's 1-3 day window.
If you read into customer reviews, shipping is a common complaint with PetFlow. The items either take much longer to arrive than advertised, or their system glitches or has some technical issues and won't ship items out.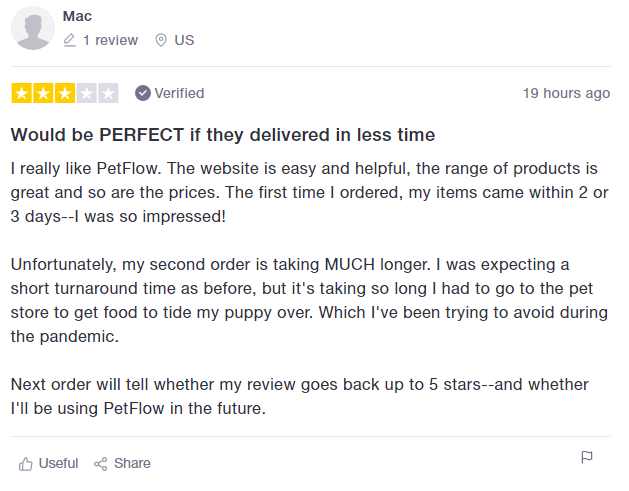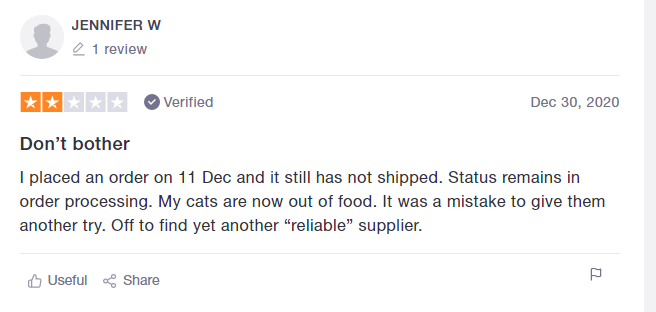 In all fairness, COVID has caused some shipping delays and issues, but the problems seem to be much more prevalent for PetFlow, indicating it's more an issue with their company than the shipment company (FedEx).
PetFlow vs. Chewy auto-ship subscription
Both these companies offer auto-ship services, which let you receive certain items (for example, cat food and litter) at regular intervals like every 2 weeks, once a month, every 2 months, etc.
This service with Chewy is fantastic – you can go in and update, change the frequency interval, or cancel your auto-ship orders on their website any time, super easily.
With PetFlow, you are also able to change and update your auto-ship order on their website. However, some customers complain that they were only able to cancel their orders by contacting a customer service representative.
I don't think PetFlow's website is as advanced or user-friendly as Chewy's, so certain things are a bit more complicated.
Sign up for Chewy auto-ship and get 30% off
Petflow vs. Chewy: Variety and Availability of items
Hands down, Chewy has a much more extensive selection of products for cats, dogs, and many other types of animals. Chewy currently carries 1,600 brands on their site, so if you're looking for something a bit more obscure, chances are you can find it at Chewy.
In addition to the variety of brands you can find at Chewy, they also carry a larger variety of product sizes as well.
Take for example Iams Indoor Cat Weight and Hairball control – this type is only sold in 7 and 22 lb bags at PetFlow, whereas I can find it in more sizes from Chewy.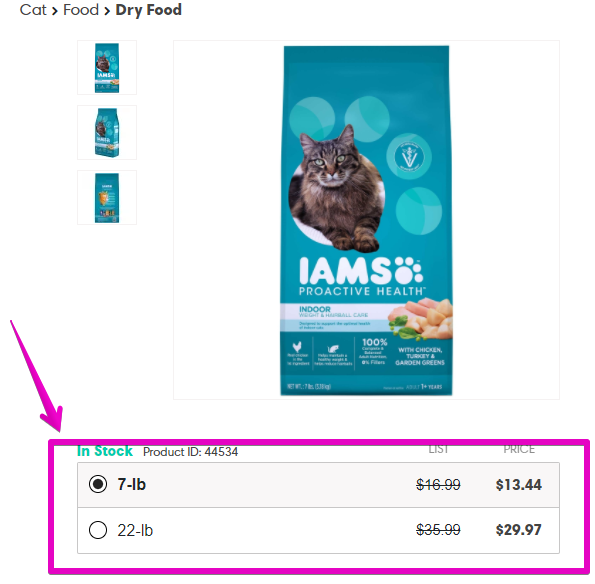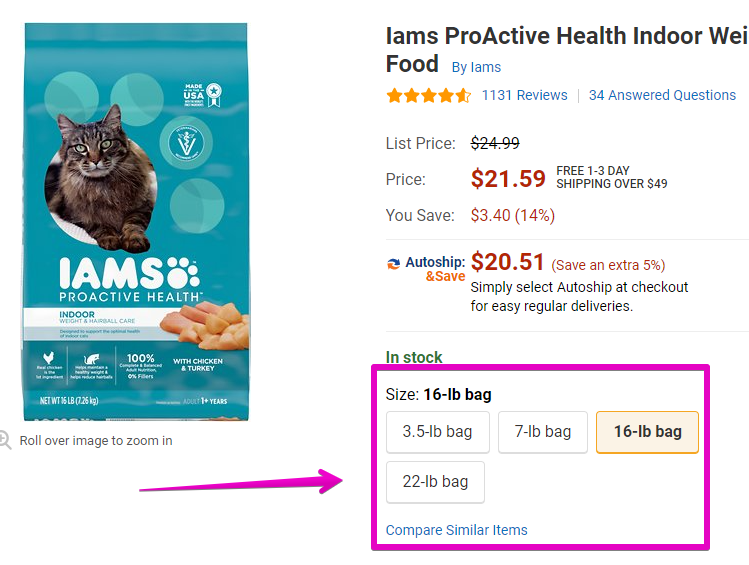 This is also true for many brands of food and cat litter as well – you just can't find the same sizing selection that you can with Chewy.
Another important thing to note is that PetFlow is limited to only cat and dog supplies, whereas with Chewy you can find stuff for fish, birds, reptiles, farm animals, horses, rabbits, hamsters… and probably most other small types of house pets.
Availability of items
While there are supply issues everywhere right now, PetFlow seems to have more of an issue keeping things in stock. Just looking around the site for a few minutes, tons of products were out of stock or unavailable.
Petflow's website also seems to have a problem where it'll show items available and let customers pay for them, but not actually have them in stock. Even worse, in some cases the customers are never informed the product was out of stock until they contact customer service.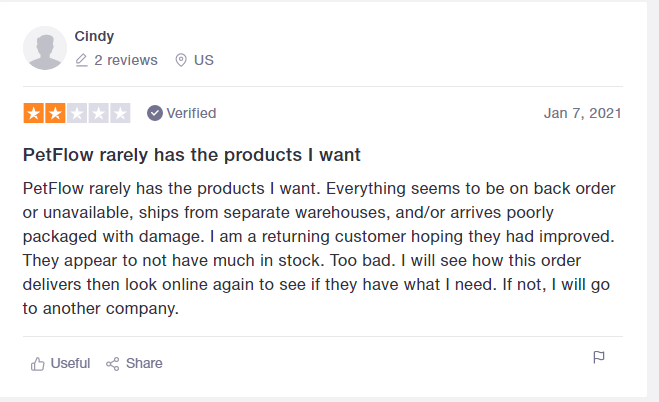 Chewy does have issues with certain things being out of stock as well, as do tons of suppliers at the moment, but their website is able to better reflect that so you don't order and pay for things they don't have.
PetFlow vs. Chewy: Customer Service
Both Chewy and PetFlow offer online chat, email, and phone support if you need to get in touch with their customer service department.
Chewy offers help 24/7, while PetFlow's help is limited to the hours of 9 AM – 10 PM.
I've experienced amazing customer service from Chewy's team – they are extremely helpful, friendly, and will quickly correct any issues you may have. They've sent me wrong items in my order, and I've even had a cat toy arrive broken. They did not hesitate to fix the problems and I received new ones within a day or two. They did not make me ship the wrong or broken items back either, so that made it even easier.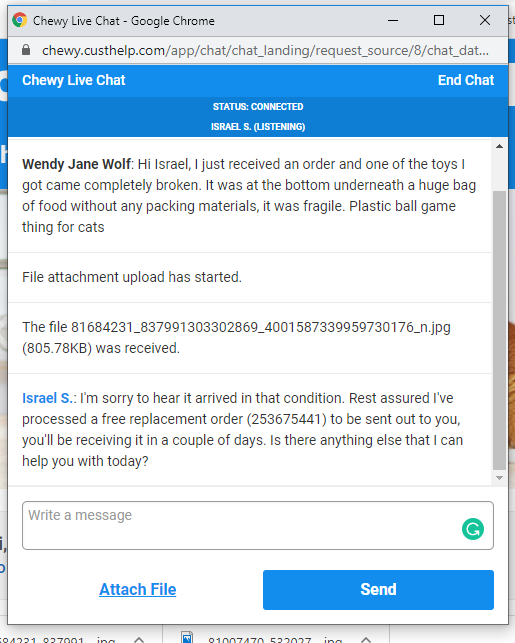 Many PetFlow customers say they have great customer service as well, and they're always friendly and courteous.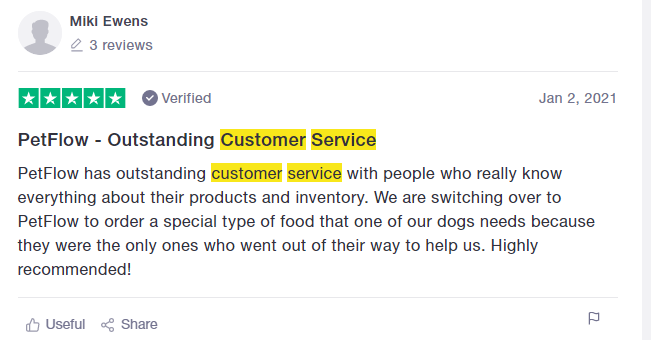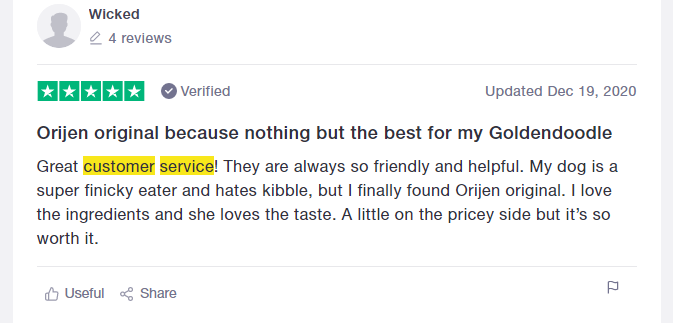 The Bottom Line
If you're looking for the best prices, variety, and great customer service, Chewy really has it down. While PetFlow does offer a similar service the limited variety, customer complaints, and higher prices make it less reliable. However if you do want to give PetFlow a chance, you can get an additional $10 off through this link.
You can read my in-depth review of Chewy here if you want to learn more, or just go ahead and sign up for Chewy and save 30% on your first auto-ship order!