This post may contain affiliate links. This means I may receive a small commission if products are purchased through them. All opinions are honest and remain my own.
If you've never owned a cat before, something you may not think about is the fact that one of the most popular and widely used types of cat litter (clumping clay) has the tendency to be very dusty. This can be extremely irritating and even aggravating to people with asthma or other respiratory conditions.
While many alternative litter types exist that aren't of the clay variety and aren't as dusty such as walnut, corn, and paper-based litters, they don't work for every household. If you're specifically looking for a clumping clay litter that's still dust-free, you have options.
But is dust from clay cat litter actually dangerous?
I spent some time doing research into this, and there is actually no proof that this is true. Many websites out there claim it is, but when you try and look further into the research done, it's not really there (or inconclusive). While there are broader studies done on the risk of silica dust, there are no specific studies that prove cat litter is harmful to you or your cats.
That being said, even if it may not cause serious harm, it's still incredibly obnoxious. If you've ever accidentally inhaled too much cat litter while you poured it from the bag, you know what I'm talking about. It's an awful experience.
One time, I breathed in so much dust I coughed for DAYS.
And that's just me – no lung issues or asthma. Ask my husband. He has asthma and practically has to wear a mask to scoop our cat litter if it's a dusty brand.
So there's no question in my mind that inhaling dust is irritating, even if the dangers are unproven.
And looking beyond that, dusty litters are so messy! They coat everything around them – the walls, floor, and everything in between (including your cat!) It makes for a lot to clean up.
Don't trust "low-dust" advertising – look for 99.9% dust-free
I've tried a lot of clay litters, even ones that claim to be "low-dust" – but sometimes, that claim is a lie. If you're looking for a true dust-free litter, you should find one that's labeled as such (or at least 99.9% dust-free).
I'm not sure there are any standards the litter has to meet before they slap the lower dust label on the package, but the claim of 99.9% dust-free has proven, in my experience, to be much more trustworthy.
And if you can find a litter that's actually labeled as "dust-free" on the package, you can be sure it really it.
Don't always trust reviews
If you do any research into cat litter, you may be bombarded with lists of products that are claimed to be "the best" kinds. I've seen these for dust-free litter and having used several litters, I know which ones are actually dustless and which ones aren't.
Another thing to keep in mind is just because a litter might be free of dust, does not mean it's any good! Plus, cat litter is a pretty personal preference – both for you and your cat(s).
However, I wanted to share my experience with what litters I've found actually work well for me and my cats, so you can make a better decision about which would be right for you.
These are the best dust-free clay litters I've come across:
Arm and Hammer Clump and Seal Slide
Arm and Hammers "Clump and Seal" line has several varieties, but I've found the best version is the kind that says "SLIDE" on the box (there are a couple of different variations of the SLIDE kind, but they're very similar).
This is probably the best version of clay litter I've used that's actually 100% dust-free.
It eliminates smells, doesn't stick to the litter box, clumps REALLY well, and lasts a long time.
The regular clump and seal, while it also contains no dust, did not clump nearly as well. And stay away from Arm and Hammer's regular clay litter line if a dustless litter is a priority. While it works well and is fairly inexpensive, it's very dusty!
The downside to this litter is it's more expensive than other options, which is why I don't typically purchase it. However, it is one of the only clay clumping litters that is both free of dust particles AND works well.
In-store, it's more difficult to find large containers of this to make buying it a good value. However, Chewy has 38 lb boxes for the best price I've seen, so it's definitely a great place to order it.
Tidy Cats Clumping
While technically Tidy Cats clumping litter is advertised as being "99.9% dust-free" it's virtually dustless in my experience.
The clay granules are much larger than most of the standard clumping litters, which eliminates most of the dust. There may be some trace amounts, but I personally didn't notice it at all.
I didn't see any dust cloud as I poured it into the boxes, nor did any dust kick up as I scooped the litter. I found that I wasn't inhaling those obnoxious litter particles, and the area around the litter boxes didn't have that fine dust coating.
This litter is not quite as good as Clump and Seal Slide, but it's much easier to find for a good price in large containers (it's carried at basically any store that sells cat litter).
The downside of this litter is it didn't clump quite as well. The clumps tended to be softer and break apart more easily, although I would say it worked fairly well. Using a good metal scoop like this one can definitely help with that problem though.
It's also quite a bit cheaper if you purchase it here from Chewy.
Boxiecat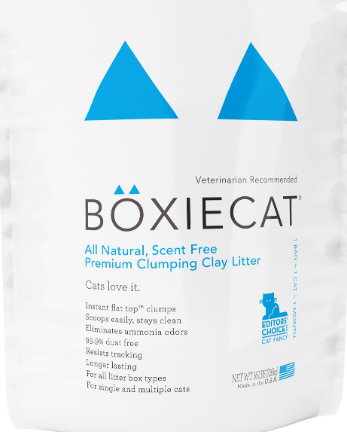 Unlike Arm and Hammer and Tidy Cat brands that have been around forever, Boxiecat is a relatively new company that was launched in 2009. They started as their own subscription cat litter delivery service, but have since started selling their product on other big-box sites like Chewy and Amazon.
And also unlike the other litters, I have not personally tried it (yet). But people swear by it and say it's the best cat litter they've ever used.
It's 99.9% dust free and is another option that's great for asthma or allergy sufferers, or just those who hate inhaling cat litter every time they scoop the box. They also offer an unscented version which is nice if you hate the strong perfume scent of most cat litters.
What's much different about this brand is the clay granules remain very fine while still being mostly free of dust. Most of the other dust-free options have much larger particles, which, unfortunately (usually) makes them not clump as well.
You can check the current price here
The Bottom Line
While any dangers of dust from cat litter may not be completely proven, using a litter that's virtually dust-free can make all the difference when it comes to people who suffer from respiratory conditions, or just for those who are annoying by the constant dust.
Looking for the convenience of cat litter (and cat food) delivery? Check out our review of Chewy.com and see why we totally recommend it. Also, if you're a new cat owner don't forget to read up on our 10 most essential items!