This post may contain affiliate links. This means I may receive a small commission if products are purchased through them. All opinions are honest and remain my own.
To make your life easier as a pet owner, it's a good idea to invest in a bedding that repels cat (and dog) hair. If your current sheets and blankets are coated in fur that doesn't seem to come off, it may seem hard to believe, but some materials are actually less prone to that stuck on pet fur.
However, bedding is a highly personal thing. Some fabrics that work well for pets might not be good for your skin, or your general comfort. This guide will hopefully help make shopping for your next pair of sheets or blankets a little bit easier when you have pet hair to take into consideration!
Read also: Best Furniture Fabrics for Pet Owners (and Which Ones to Avoid)!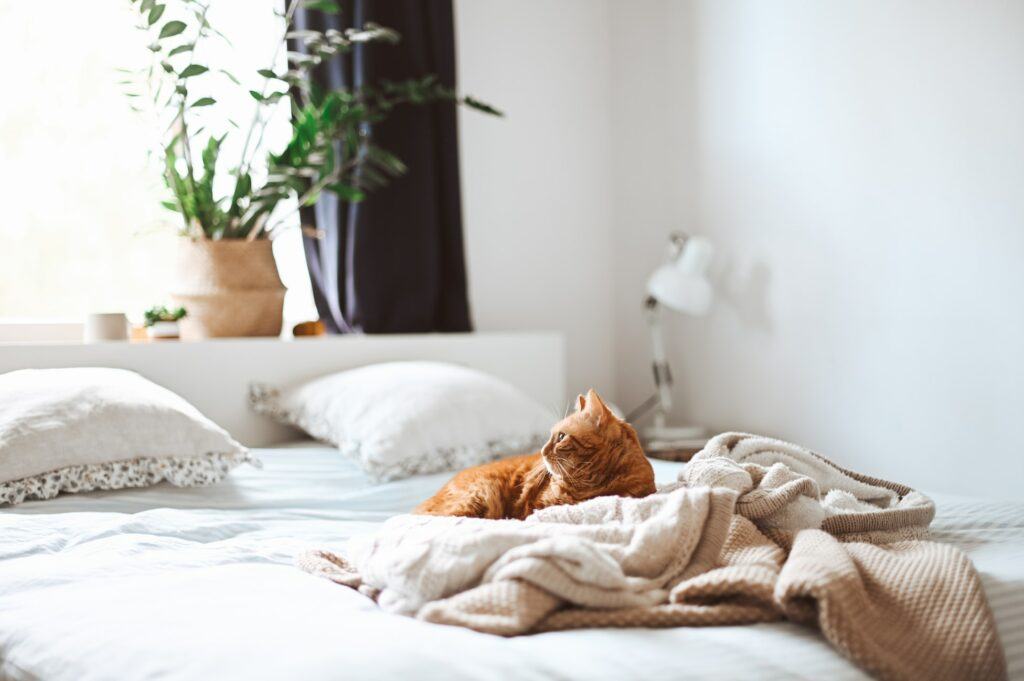 So what type of bedding won't attract cat hair?
The truth is, this is a pretty complex question. There are so many different fabrics, blends, and weaves and not all bedding made out of common materials like cotton or polyester will react the same to pet hair.
Another variable in this equation is static electricity. This can be the worst and will make fur stick like glue! Some fabrics are much more static-y than others, but the dryness of the climate will absolutely affect it as well.
In general, these are the things you should look for when purchasing bedding as a cat (or dog) owner:
Tight weaving – the less space between the fibers, the smoother it feels, and the more the fabric can "repel" hair (at least it won't get stuck as easily)
Low static – some fabrics are prone to static and make them magnets for hair
Easy washing – you want the fabric to be machine washable!
Strength: if your pet has claws, you want a strong material that won't snag
AVOID: High pile, loose weaves, shaggy, or heavy textures as hair will get stuck in fabric very easily and they're much harder to keep clean. You want the fabric to feel smooth.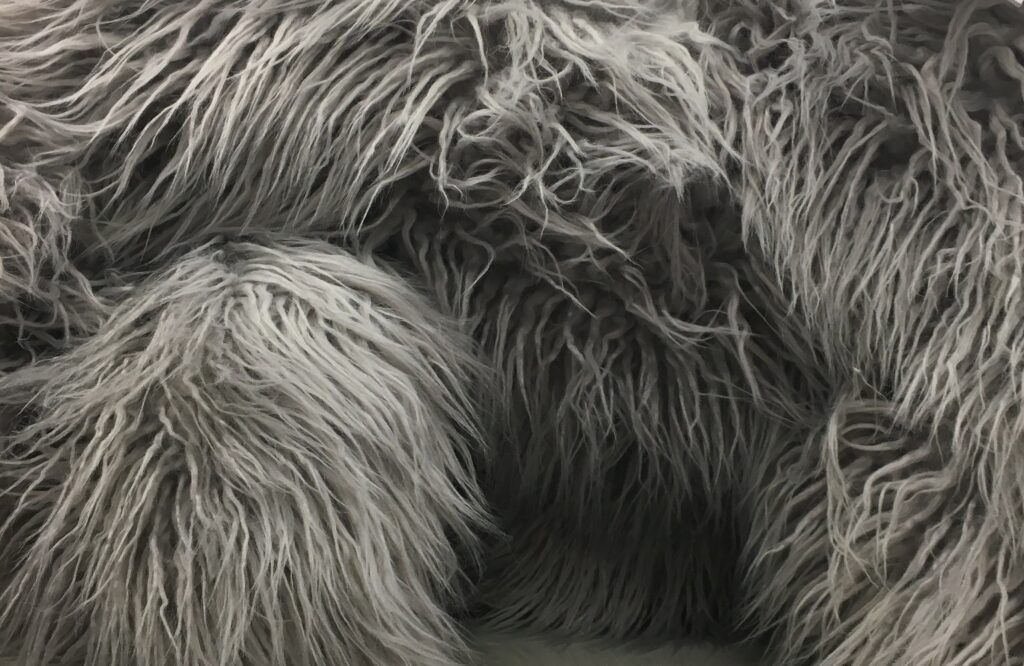 100% Cotton bedding
Verdict: Can be good at repelling pet hair, but avoid thread counts that are too low. Opt for percale, sateen, or combed cotton.
Cotton is a very versatile material and can be made into many different fabrics. 
With cotton sheets, something to take into consideration is the thread count. This refers to how tightly woven the material is. The tighter the weave, the higher the thread count, and the smoother the fabric. This means that cat and dog fur is less likely to "stick" in the fabric, and will be much easier to clean off.
A common piece of advice is that the higher the thread count, the better. However, this isn't always the case. Manufacturers have tricks they use to inflate thread count.
The quality of cotton can play a huge role. For example, you can find combed cotton sheets with 200 thread counts that may be better quality and smoother than 800+ count sheets made from a cheaper material. These combed cotton sheets would be a great choice.
Cheap cotton sheets that are low quality and low thread count should be avoided because pet hair will be attracted to the fabric and stick much easier.
The downside of nice cotton sheets is they tend to wrinkle easier than others, and they can take some time to "break-in" and get soft.
Fabric Weaving
Percale – this is actually in reference to the weaving of the fabric, not the material. Percale sheets are woven tightly and have a very smooth, "crisp" feel. Because of its tight weave and strength, it's a good choice for pet owners.
Sateen – another reference to weaving, not fabric. Sateen weaving produces a very soft feeling sheet that may not be as durable as percale weaves but is still tightly woven and pet-hair resistant.
Linen
Verdict: A good choice for pet owners due to anti-static properties and its strength. 
Linen is actually not made from cotton at all, it is an entirely different natural fiber produced from flax plants. Linen is stronger than cotton, but also lightweight and breathable. It's antimicrobial and anti-static, meaning hair won't cling to the sheets as easily and can be washed or wiped away.
Because the material is strong, it doesn't pill as easily and would be durable enough to withstand pets. 
The bad thing about linen is it wrinkles VERY easily.  It also doesn't have the smooth, soft feel like cotton or other types of sheets, some may even describe it as rough. However, it does get softer after a lot of washes and use. Another possible downside is it comes with a higher price point due to a pretty extensive manufacturing process.
Flannel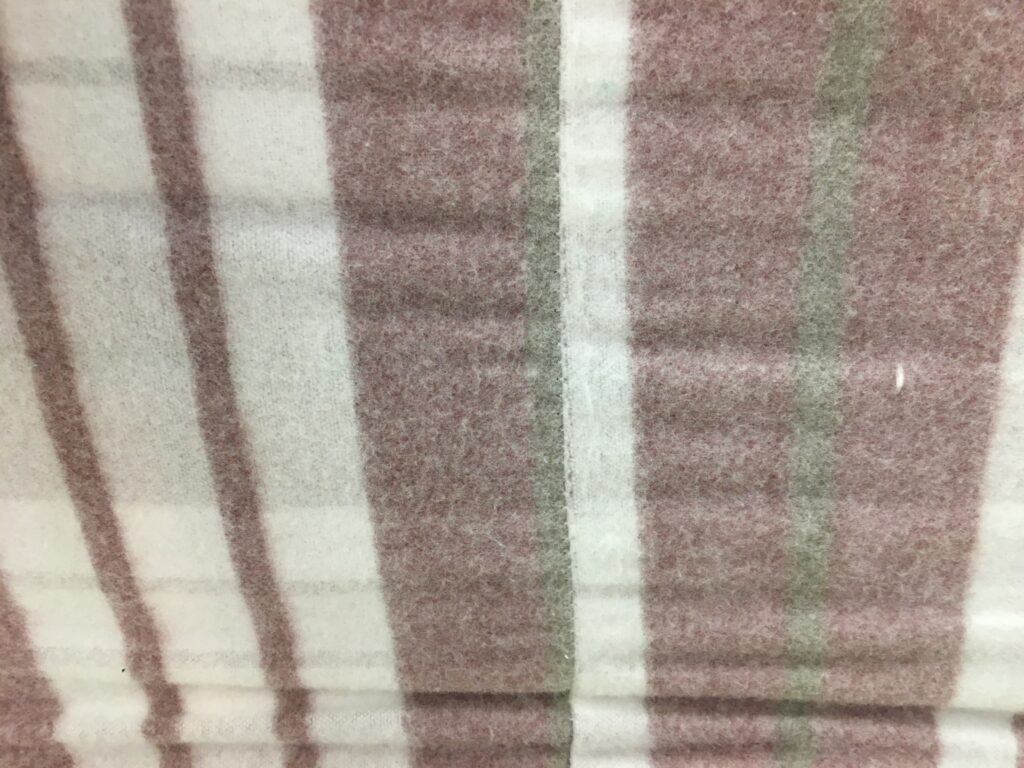 Verdict: Avoid due to loose-knit of fabric. Cat and dog hair tends to stick.
Flannel sheets are classified by their weight, not the weave or fabric they're made from. And contrary to popular belief, it's actually a material, not a design. They're known for being cozy and warm and great for winter bedding. They can be made of cotton, wool, or synthetics like polyester. 
Unfortunately, flannel has a loose-knit weave which makes it less than ideal for pet hair.
Jersey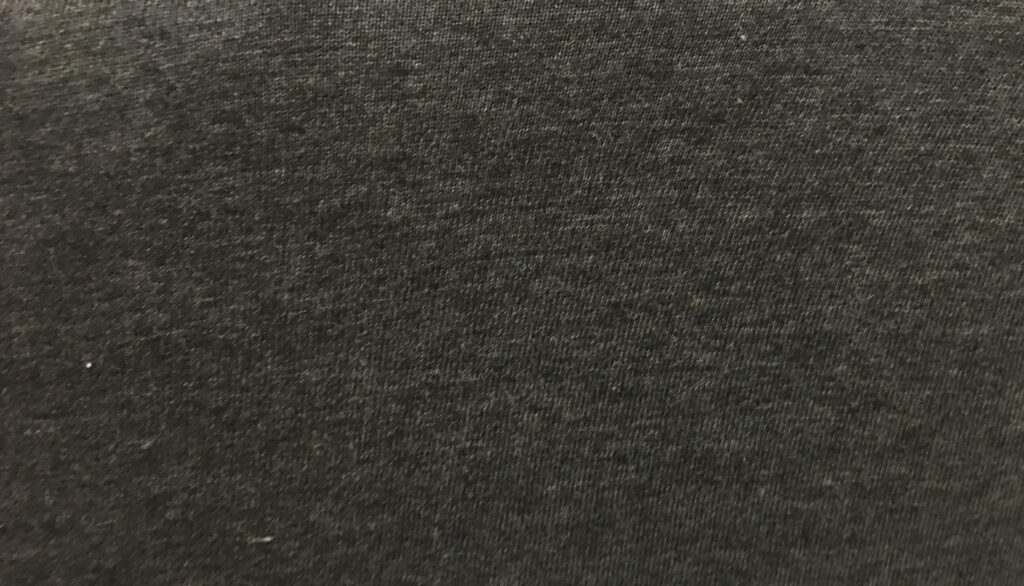 Verdict: Jersey may or may not repel animal fur depending on the material it's made from, but it's best to avoid this fabric as it's not strong and super prone to pilling. If your cat has claws, it can tear up the fabric easily.
Jersey bedding feels like a super soft t-shirt. It's typically made from 100% cotton or a cotton/polyester blend. Some jersey sheets might be OK for pet hair or at least easily wash away hair, but it depends on the specific jersey fabric. It may be prone to static cling, attracting pet hair and making it hard to clean off.
The good thing about jersey is it doesn't wrinkle and it's super easy to care for and wash.
The downside is that it's prone to pilling and doesn't last as long as decent quality cotton sheets. 
Microfiber
Verdict: Pet-hair resistant, great for cat owners. The slippery fabric lets hair slide off and not stick.
Microfiber is made from synthetic material, typically polyester but also nylon or wood-pulp. They're lightweight and set apart by a specific thickness – 1 denier in diameter. (A human hair is 20 denier, by comparison.)
The confusing thing about this is that in general, I feel like polyester is NOT a good material for pet hair. My fleece jackets are made from polyester and they attract cat hair LIKE A MAGNET!
But one thing I've learned after doing research is that not all materials made from polyester are the same, and slippery microfiber sheets are pretty good at repelling animal hair. Fleece and microfiber may both be created from polyesters, but they feel nothing alike.
Most of the sheet sets I own are actually microfiber, like these ones. They really do repel cat hair and make it easier to wash off. I also like that the colors are very vibrant and don't fade like other fabrics.
Microfiber is also pretty affordable, stain-resistant, and antimicrobial – all of which makes it even better for pet owners. However, it's not as breathable as cotton and the feel of them may not be ideal for everyone.
Silk
Verdict: Repels cat and dog hair, but snags very easily. Not great for claws and harder to clean.
Silk may feel luxurious and repel hair, but if you have animals with claws this material won't last long. It's very prone to snagging! 
100% silk sheets are also quite expensive. Many sheets are advertised as silk due to the texture, but oftentimes they are made of polyester/microfiber. True silk sheets may be harder to wash and some may not be machine washable at all.
Velvet, Velour, and Wool
Verdict: Avoid these fabrics as they're heavily textured and pet hairs get trapped in the material very easily. They can also be more difficult to clean.
Better choice: Sherpa fleece blankets made from polyester microfiber (like this one) mimic velvety and wool-like textures but are easier to clean and a better choice for people with heavy shedding pets.
While these blankets don't actually repel animal hair, you can wipe them clean or throw them in the wash. My daughter owns this blanket in the throw size and it's been her faithful "blankie" since she was a baby. It gets dragged ALL OVER our house and while it obviously gets dirty, it is miraculously not coated in the cats' hair. Plus, it washes well.
Polyester/Rayon 
Verdict: Avoid these materials (in general) as they're very vulnerable to static, making hair cling to them like crazy. (Exception: Microfiber can be made from polyester, but its almost silk-like feel makes it slippery and easy to clean off hair)
Cat and Dog Hair Resistant Bedding Chart
Material
Pet-Friendly
100% Natural Cotton
Yes, the higher thread count the better
percale, sateen, combed cotton OK
Microfiber
Yes, pet hair slides off
(sherpa bedding made of polyester
microfiber is OK)
Linen
Yes, anti-static and strong
Jersey
In general, not the best choice
Flannel
No, pet hair gets stuck
Silk
Hair slides off, but fragile
and prone to snagging
Velvet, Velour, and Wool
No, avoid. Too much texture, hair gets stuck
Polyester/Rayon
No, avoid. Material is prone to static cling
(exception: microfiber)
Read also:
The Bottom Line
There are so many different types of fabrics and blends out there it can be difficult to know the right choice. Just keep in mind the general rules, and opt for materials that feel smooth, have a low pile, are durable, and not prone to static cling.
No fabric will be truly 100% pet hair resistant, but some are definitely better choices than others. When making a decision, you should keep your personal comfort in mind too. With all this new information in mind, check out some cat-hair resistant bedding here!