This post may contain affiliate links. This means I may receive a small commission if products are purchased through them. All opinions are honest and remain my own.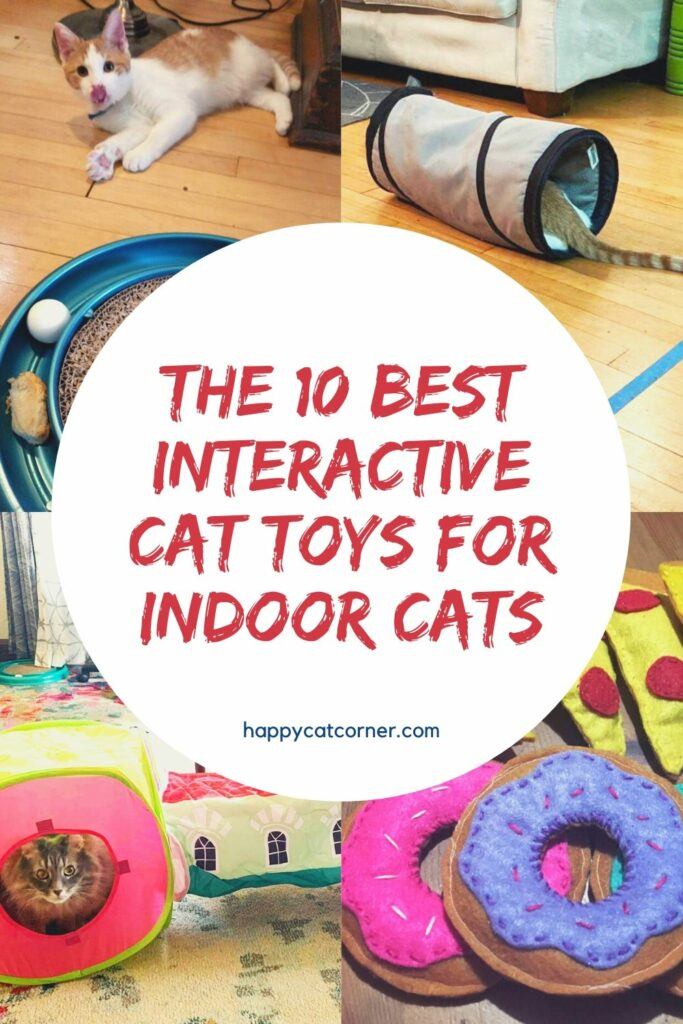 Cat parents know that it's important for their babies to stay stimulated and to get regular exercise throughout the day. This is especially true for indoor cats who have a more restricted play area and aren't exposed to the many natural stimulants that the great outdoors provides. My two cats at least have each other to play with, but a single cat would be even more in need of a little help with playtime. This is why I created a list of what I feel are the 10 best interactive cat toys for indoor cats.
1. The Bergan Turboscratcher Cat Toy
Number one on the list has to be the Bergan Turboscratcher. I call this the perfect storm of cat toys (except in a good context.) Cats absolutely love this toy. The center has a cardboard scratching pad that can be filled with catnip. The pads can be easily replaced and are sold in multipacks at a reasonable price. The outer perimeter is a track with a ball that your cat can chase to her heart's delight. This toy provides mental stimulation, physical exercise, and it deters them from scratching on other surfaces like furniture and carpet. It really has it all, and for less than ten dollars!
You could also choose to jazz it up a bit if your cat starts to lose interest after a while. Bergan offers a line of accessories designed to fit inside the Turboscratcher. They include:
The light-up Twinkle Ball (which I have, and definitely recommend)
A Grooming Arch which cats can walk beneath and rub their backs on
Cat Grass that you can grow in the center by adding water
A Teaser Toy that can be placed in the middle to provide an additional type of "prey" for kitties to bat at
A Treat Ball that dispenses treats when your cat plays with it
You can find them all here on Amazon
2. Toy Wands
Toy wands are perhaps the most classic of cat toys. A toy attached to a string attached to a stick. Wave it around and you're in business. Great cat toys don't have to be fancy or expensive. Cats know what they like and what they like is chasing small, flittering creatures. If you take the time to play with a toy wand with your cat, he will get in some quality exercise during the day to burn up all that energy and subsequently rest better at NIGHT, when you are sleeping. This can help if you're having problems with your cat waking you up at inappropriate hours.
My cats especially enjoy the kind with the feathers, like these from EcoCity Cat Toys. This style is great because there is a clip at the end of the string for you to attach and detach different toys. You can buy refill packs for when the feathers eventually get torn to shreds (which they will.)
You can check out the full selection of cat toy wands here on Amazon.
3. Catnip Toys
When I say catnip toys, I'm referring to any small, rodent size soft toy with catnip sewn into the inside. Like toy wands, this is a broad category of simple toys that you can buy online or at a pet store, or even make yourself at home. A cat-loving friend of mine once brought me a couple of felt catnip toys that she had sewn herself, one to look like a little piece of pizza and the other one a pink doughnut. The cats loved them! Catnip toys are simple but because of their size, texture, and scent, cats go crazy for them and can get in a lot of quality exercise during a play session.
If buying online, I'd recommend these adorable mice from SmartyKat.
4. Collapsible Cat Tunnels
Collapsible tunnels are essentially a wonderland for cats. Since they love being in enclosed spaces, but also love being able to quickly escape, the tunnel format is the perfect interactive toy for cats to play in. They are made out of lightweight polyester material and designed so that the whole thing can easily fold up like an accordion for when guests come over or you just need more space. They usually come with dangling toys attached to the ends to engage and stimulate the cat even more.
Try this collapsible cat tunnel from Amazon.
5. Snugglycat the Ripple Rug
The reviews are amazing for this product and I can see why. Like the Turboscratcher, the Ripple Rug is a multifunctional cat toy and provides a place for cats to scratch their nails while they play. This feature is ideal for indoor cats who are trying to learn the places in the house that are okay to scratch and those that are not. And like a cat tunnel, it provides an environment that appeals to their natural feline instincts.
The Ripple Rug is perfect for multiple cats. I know what Bear and Chickadee are getting for Christmas this year!
6. Petstages Cat Tracks Cat Toy
Similar to the Turboscratcher (why does it always come back to the Turboscratcher?) in ball chasing technology, Petstages takes it to the next level. And then to a third level. That's right. Three levels of balls in circular tracks. Seemingly simple but genius. This is perfect for the cats who outgrow the single ball track and need even more excitement to stay engaged. This toy has fantastic reviews on Amazon and is super inexpensive.
7. YOUTHINK Cat Scratcher
This is a unique product that has been very well received by cats and humans alike. The YOUTHINK Cat Scratcher serves three purposes: scratching, lounging, and playing. It unfolds and turns into cat lounger that is made out of 100% honeycomb paper cardboard that is high density, recyclable, and portable. In addition, it has a ball toy to encourage play. I'm pretty sure any cat alive would be into this gem.
8. A Cat Tree
Also known as cat towers, or sometimes cat condos, something like this is going to be more of an investment. But trust me, it is worth every penny. A good cat tree is where many cats spend the majority of their time, whether it's playing, looking out the windows, or getting in a good nap. My cats use the different levels to chase each other, they play with the ball toys attached to the sides, they keep watch over the neighborhood, they basically spend at least a third of their day there. That's why I'm including this in a cat toys for indoor cats list. I think it's SO important that indoor cats have this climbing space available to them. I think it helps them to feel in control of their surroundings.
The exact model I own is no longer available, but this Amarkat one is very similar and the same brand. It has held up really well under constant use (including my niece climbing on it) for about three years now. I highly recommend the Armarkat brand. They have tons of design options and really know their stuff.
9. Moody Pet Fling-AMA-String Cat Toy
This is the only toy on my list that is battery operated. In general, I have found that my cats don't like battery operated toys as much as more traditional toys. I think the ones I've had in the past have been weirdly too loud and my cats steered well clear of them. But this Fling-AMA-String cat toy is getting rave reviews and has tons of videos of cats playing with it. It attaches to a doorknob and when turned on, flicks a string up and down for a cat to try to catch. I think it would be worth a try, especially for people who aren't able to play with their cat as much. With this toy, the batteries do the work for you.
10. Cat Amazing Sliders – Interactive Treat Puzzle Cat Toy
One thing both my cats LOVE to do is stick their little furry paws into every nook and cranny they can find. Anything new that comes into the house, they immediately have to find out what's inside. This cat toy is perfect for curious kitties. They have to stick their paws into the holes of this adorable cube and slide the containers around inside until they figure out how to extract a treat. Genius! I will definitely be purchasing this interactive treat puzzle toy for Bear and Chickadee. It's another great way to keep them entertained and engaged throughout the day.