This post may contain affiliate links. This means I may receive a small commission if products are purchased through them. All opinions are honest and remain my own.
Do you want to transition your cat to pine pellet litter? I'm going to share my (failed) experiment in trying to make the switch with my cats.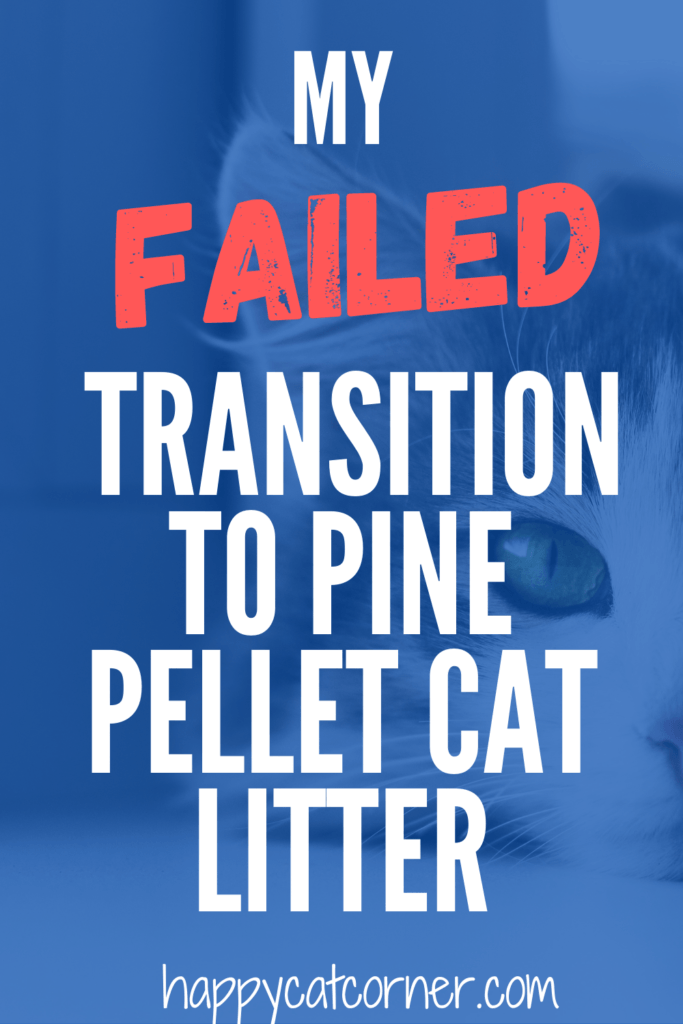 When I first saw the YouTube video "You're Doing Your Cat Litter Wrong" I was intrigued, to say the least.
The girl talks about how she uses litter made of wood pellets, that you can buy in a huge bag for only $6 that lasts MONTHS for multiple cats! The math worked out to be around $24 per year total, even if you had multiple cats.
But she also makes it seem like if you're using regular litter, you're a complete idiot and that there's "no reason" not to use pine pellets (well, my experience taught me otherwise).
I mean… this pine pellet litter stuff had to be too good to be true, right?
But then I started watching other videos of people using this stuff, and they showed the entire process of them scooping the litter on video. It didn't look so bad, and it even supposedly completely hides all cat pee smells (along with being super cheap). 
I mean… I just had to try it. You'll see things did not quite go as smoothly as I thought…
Also check out: Pine Pellet Litter Pros vs. Cons
Introduction: What is wood pellet cat litter, and why use it?
Wood pellets are basically sawdust that's been pressed and bound together through the manufacturing process. For cat litter, you probably want to use pellets made from pine. They have pine pelleted litters like Feline Pine and other brands that are specially formulated to use for cat litter, but you could alternatively purchase pine pellets made for horse bedding.
(Opting to use horse pellets will save money, but the downside is I've only seen those in 40 lb sacks and you must purchase at specialty stores like Tractor Supply)
When the wood pellets get wet, they turn back to their original state – sawdust. This makes a unique situation when used as cat litter because you aren't dealing with wet litter or scooping clumps – you just need to sift out the sawdust. You can do that either by using a sifting litter box system or "reverse scooping".
The pine pellets also do a pretty good job of covering up urine smells as long as you keep it cleaned regularly. It is a bit of extra work to clean the box out, but it could be worth it to save money and the environment.
Finding the wood pellets – look for PINE pellets
In the videos I watched, people were saying you can find these pellets at home improvement stores like Home Depot. I immediately ran out to find some and ended up with a giant bag of hardwood pellets meant for wood stoves. I purchased them from Lowes.
I didn't think much about it until after I got home and examined the bag, where it didn't list the specific type of wood that was used to make them.
I did a bit of further research and realized that people were actually using pine pellets, not hardwood (or wood stove) pellets, like the horse bedding kind sold at places like Tractor Supply. 
Wood pellets for burning in stoves vs pine pellets for horse bedding
I wasn't sure if the wood pellets for burning in stoves would be safe to use as a cat litter or not because they didn't list the type of wood used or any ingredients at all.
My main concern was if they had added chemicals like accelerants – I didn't really want my cats to be using it if it did. To be safe, I just went ahead and got the horse bedding pellets. At least that way, I know it's safe to use around my cats.
I also was worried it wouldn't react the same way when wet – would the hardwood pellets still turn to sawdust?
I ended up testing both the horse bedding pellets and the ones for wood stoves (using water) and it proved they would actually work the same (at least from my experiment).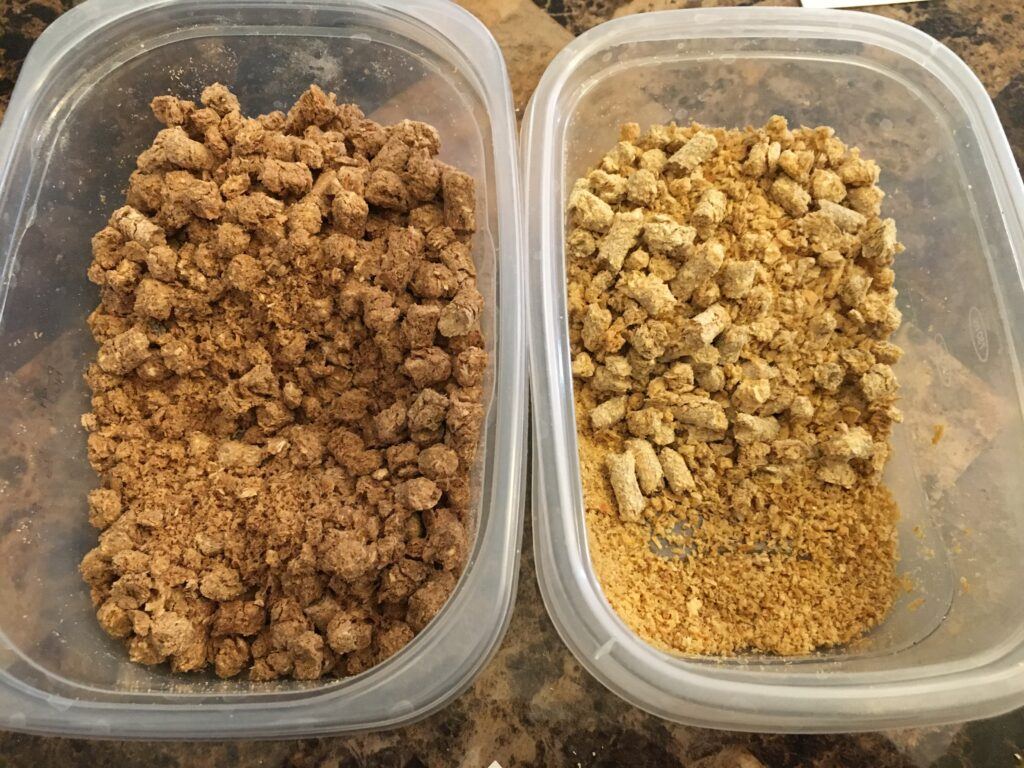 So I'd say the pellets for stoves could be used for cat litter if they did not contain any added chemicals.
You can find wood pellet cat litters available in the pet section, too
If you don't have a Tractor Supply or you don't want to buy a giant 40 lb bag of wood pellets, you can buy pine pellets sold AS cat litter too, from brands like Feline Pine. I've seen this sold in 7 and 20 lb bags so if you can't handle 40 lbs, it may be a better alternative.
It seems like they are pretty much identical to horse bedding pellets, except the Feline Pine pellets are about twice the cost. The advantage is they're much more accessible to most people, as you can find these in the pet section at pretty much any pet store, or pet departments of larger stores like Target and Walmart. Also, you could argue since these are marketed specifically for cats you can have peace of mind they're safe for your cats too.
Find the best deals on pine pelleted litters here at Chewy
The smell of pine pelleted litter was weird…
I was looking forward to smelling fresh wood instead of cat litter, but something about the smell of the pine pellets was a bit odd to me. It almost smelled musty or something, – definitely not like a fresh cut wood! And it made my entire house smell too!
Transitioning my cats to wood (pine) pellet litter
Ok, so here's what I failed to fully realize before I started this ordeal. Cats don't instinctually go potty in wood pellets. It doesn't feel as nice on their feet as clay litter, and the smell is pretty strong. It may smell nice to you, but cats aren't too crazy about it.
What's worse is my cats are no spring chickens, they're somewhere around 9 (I think). They're old boys set in their ways! They didn't want anything to do with these pellets.
Day 1
I put 2 litter boxes side by side – one with regular litter, and the other with mostly their normal litter but a few wood pellets on top. Another option is to just fill one of the boxes with pure pine pellets and the other pure litter, but I thought my cats would need more warming up than that.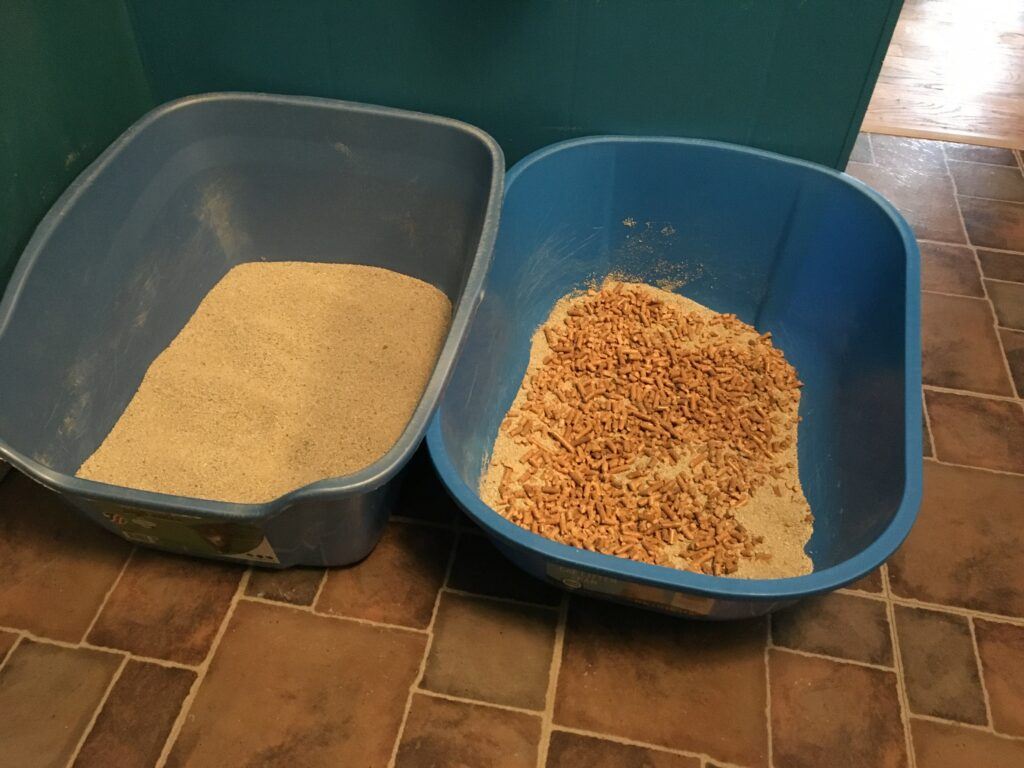 The cats were exclusively going in the box that was pure clay scooping litter and refused to use the one mixed with wood pellets. I just figured they needed some time, so I was patient.
Day 3
After 3 days, they still refused to use it. I even tried picking up my cat Louie and gently placing him in the box with pellets, but the normally docile cat almost freaked out! He definitely did NOT want to step in the box. Maybe it was the smell? Whatever the reason, he was not comfortable with it.
Despite this, I remained determined to encourage them to use wood litter, not force.
I was worried if I went all pellets 100% in both litter pans, they'd do their business elsewhere (like my carpet…).
At the end of day 3, I tried something a little different. I took out some of the wood pellets and mixed in the remaining ones with the litter (initially they were just sitting on top). I also sprayed some cat-nip spray around the box.
Success! Within a few hours, one of the cats peed in the pellet box!
Day 5
The excitement wore off. After 5 days, they peed in it a total of 2 times but only as a last resort, after their regular litter box was full. The litter box was still mostly clay litter at this point, with only some pine pellets on top.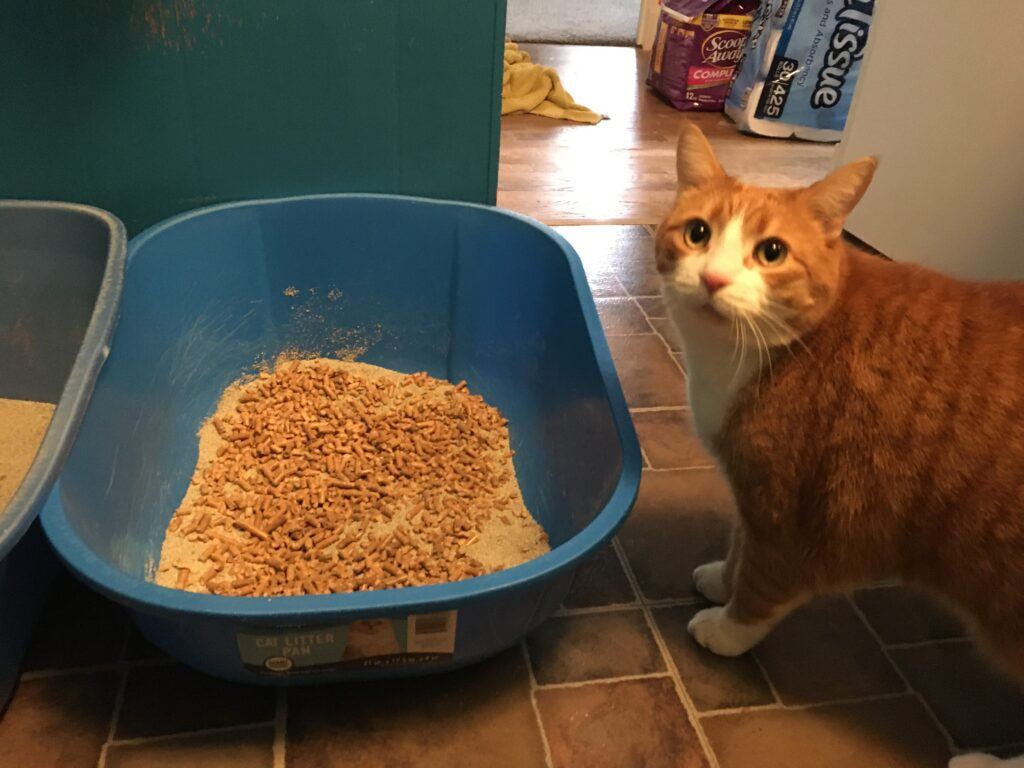 I continued to clean out the litter boxes daily while adding more pine pellets and reducing the clay litter in the test box. They still were hesitant to use it.
When it got to the point where all you could see was pine pellets in the box (still with clay underneath) my cat Charlie went crazy. In what I'm assuming was an attempt to get rid of the pellets, he stepped into the box and dug and dug until all the pine pellets were mixed into the clay and you could barely see them anymore.
The cats definitely only wanted to use their regular box. The only times they ever used the box with pine pellets was if I had forgotten to scoop the night before and the other box got too full for their liking.
Fast Forward… Day 25
At the very end of the ordeal, I finally switched to 100% pine pellets in one of the boxes. Even after using the pellets and clay mixture for weeks on end, this time the cats didn't want to use it at all, not even after their regular box was full.
I was patient. I really gave this a shot. I mean, if I really could save a lot of money on cat litter and use a product that was biodegradable, this process would be well worth it.
But after 25 days of slowly (very slowly) trying to transition these stubborn felines to wood pellet litter, I decided to give up.
I mean, I know I could have put the pine pellets in BOTH boxes and sort of "forced" them to use it. I could have tried harder for this to work.
But here's the deal – I've already had issues with these guys peeing in the basement and one of the bedrooms, so I'm not about to do anything that'll give them a reason not to use their litter boxes.
In only using the pellets as a LAST resort, (even with the regular litter still in the box) AND with Charlie trying to hide all the pellets in the litter (after nearly a month) I decided that was their way of telling me "F** you, mom. We like CLAY!"
Here's what I realized about pine pellet cat litter in my attempt to transition my cats'…
Mixing clumping cat litter and pine pellets is not ideal – the pine pellets turn to sawdust and mix in with the regular litter and are impossible to clean. You can't reverse scoop or sift like as if you were using pure pine pellets either, so you just have to dump it all out after a while.
The pellets don't turn to sawdust all at once. The ones that don't get completely saturated with urine stay half-formed but kind of mush-like and it's actually pretty gross looking.
It requires more work to clean pine pellet litter vs. regular clumping clay
People say it smells like a lumberyard or fresh wood, but to me, the smell is strange and off-putting (especially after it mixes with cat pee!) It doesn't exactly smell like cat pee but it has a musty scent.
Final thoughts on my (totally failed) attempt of transitioning cats to wood pellet litter
While it didn't work out for me, my cats are old and stubborn. I'm definitely not trying to tell you that you shouldn't try this for your cats, but rather it might be more difficult than you think. And sometimes, cats just refuse to use it altogether.
If your cats are younger (especially if they're kittens) this might work out much better for you. I'm currently trying to get my sister to try it out with her cats, Bear and Chickadee. They're much younger than my cats and might take to it better, but only time will tell. I'll update after she gives it a shot.
I really wanted to save a bunch of money on litter each month, but I want my cats to continue to use their litter box even more. I'd rather spend a bit more on litter than deal with cats who pee outside their litter box! Everyone knows how awful and hard to get rid of cat urine smell can be.
Don't let my failed experience hinder you from trying though if you are determined to make the switch. As I said, I didn't go "all in" with the switch because I was too scared they'd rebel and pee elsewhere in the house (like they have before).
They're inexpensive enough that I'd say it's worth a shot if you really want to give it a try.
Remember if you can't find horse bedding or you don't want to deal with a 40 lb sack, you can find pretty good deals on pine pelleted cat litters here that can be delivered right to your door!