This post may contain affiliate links. This means I may receive a small commission if products are purchased through them. All opinions are honest and remain my own.
Let's talk about stainless steel litter boxes for your cat. We all know traditional litter pans are not made out of this material, so it's natural to have some hesitation.
Are they safe? Will cats use them? Do they work well? Are litter boxes made out of stainless steel material actually better than traditional plastic types?
Are stainless steel litter boxes better than plastic?
Many people swear by stainless steel litter boxes. They have advantages that the cheap plastic ones do not – they last a very long time (if not forever), they clean easily, and they do not trap in that nasty cat pee odor. Another advantage here is that stainless steel is much more environmentally friendly than plastic.
In addition, stainless steel boxes tend to be on the large side, making them ideal for most cats.
Do cats like them?
The vast majority of cats have no problems using normal, uncovered, rectangular litter boxes – and that is exactly what these stainless steel pans are.
In our experience, cats are much pickier about the actual type of litter, cleanliness of the box, and the accessibility of the pan much more than the material it's made out of. Honestly, they probably don't care.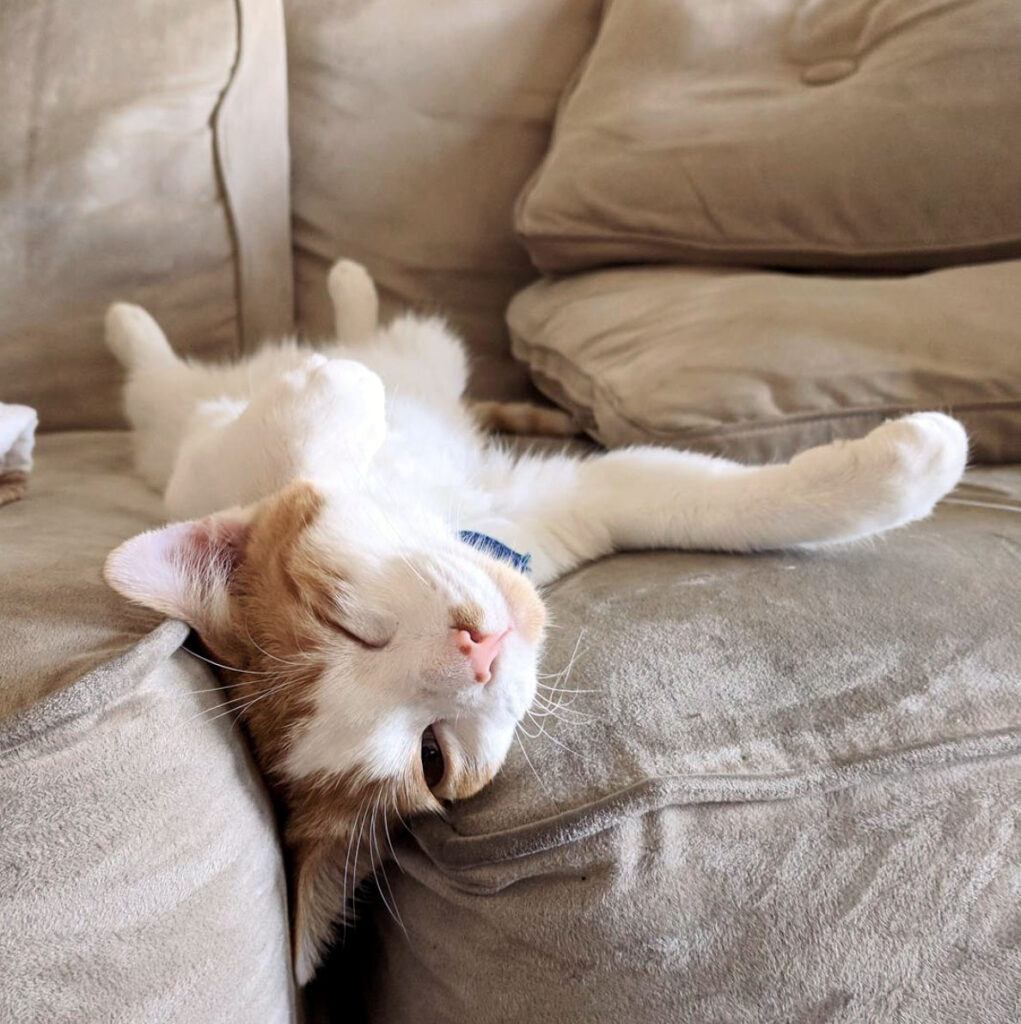 Just make sure the size is big enough for your cat. When in doubt, bigger is better when it comes to litter boxes (maybe not for you, but definitely for your cat).
Benefits of using a stainless steel litter box
Once you start using a litter box made from metal instead of plastic, you'll quickly realize how awesome it is.
Easy cleaning
Those nasty clumps of cat urine don't stick to the bottom and sides of these containers like they do with plastic, so you don't have to spend as much time scooping. It also makes it much easier each time you empty it to give the box a deep cleaning, as the litter contents literally just slide right out.
A quick spray and scrub, and it's disinfected and good as new.
Tip: Make sure you're using a stainless steel litter scooper as well to make it even easier!
Lasts forever
Metal (stainless steel) litter boxes are also incredibly durable. They are able to withstand high volumes of cat traffic, scratches, and any other wear and tear without cracking or getting gross.
They can last an incredibly long time if you take care of them.
Plastic cat boxes, on the other hand, are notorious for getting icky really fast, and typically you'll want to replace them every so often. This is especially true if the litter box gets a high volume of traffic from owners of multiple cats.
While you can scrub and wash them out, they still reach the point of no return. They easily can start to crack, stink, and can get all scratched up if your cats are rough on it.
Doesn't trap odors like plastic
Another positive of using cat pans made of stainless steel is they will not stink. (Well… the cat litter itself will definitely still stink between cleanings, but the actual litter box won't hold on to any smells)
Cat urine has an extremely strong, offensive odor that is hard to combat and plastic absorbs smells. Eventually, no matter what you do, plastic litter boxes will just start to stink.
You can scrub it and disinfect it all you want, but usually, the smell tends to linger around.
Affordable
Even though you may notice the price tag a bit higher than your average basic plastic litter box, consider the fact these should last a lifetime. Since you won't need to ever replace these, they're more than affordable comparatively.
More eco-friendly alternative
Items made of plastic materials are discarded at a much higher rate than stainless steel, and recent stats show that only 9% of these plastics end up recycled at the end of their life. Because stainless steel lasts indefinitely, it's not thrown out nearly as often, and over 80% of these materials are able to be recycled.
The production process of stainless steel is also far less dangerous to both the people working in the manufacturing process and to the environment. This is because there are no chemicals involved in the production of stainless steel.
Disadvantages of using a stainless steel litter box
While there are many reasons why you may want to use one of these for your cat, there are some disadvantages to consider.
Limited selection and variety – simple, plain
These boxes have no bells and whistles. They're not automatic, they don't come in sifting styles, varying shapes, nor do they have completely enclosed versions. They're just a standard rectangular box, and they all look basically the same.
While we don't find this to be a negative here at Happy cat Corner, we realize some cat owners might. If you are looking for a special type of litter box, you won't find one in stainless steel.
More difficult to find
These simply aren't mainstream.. yet. You won't find them at your local pet store, or even the big box shops.
Where to find stainless steel litter boxes for your cat
Unfortunately, cat litter boxes made of stainless steel are really hard to find. They're not even available at the vast majority of pet stores (not even online). The best place to purchase them is from Amazon.
If you think outside the box, however, you can use those giant steam table pans that are used within the food service industry. While you can also find those at Amazon, you can also pick them from restaurant supply stores, Sam's Club, and even Walmart (at least on their websites).
Best stainless steel litter boxes (with high sides): Our recommendations
The good thing about stainless steel litter boxes on the market is they're super practical. A basic, large rectangular box is what most cats prefer (although some are not picky), and that's exactly what these are.
No bells or whistles, just simple ergonomical designs that will work well for your cat's litter and withstand the test of time.
The recommended pans below are actually really good size (for most cats), so don't be scared of the "XL" labels. Most people are using litter boxes that are way too small for their cats, and many litter box issues can be eliminated simply by switching to a larger size box.
These ones we've come across also seem to be pretty high sided, which is great for holding extra litter and preventing it from getting knocked around outside the box.
The high sided, extra-large design of this litter box is perfect. At 23.5 x 15.5 x 6 inches, it's larger than even the average "jumbo" litter box. The 6 inch height is enough to contain most of the litter inside the box, but it also has an option that includes a side guard. This guard adds additional height to the box, to protect and to prevent your cat from missing and making a mess.
This pan also has rubber grippers on bottom to prevent the box from slipping around, so it won't slide all around on hard floors.
At 21 x 13 x 6 inches, it's slightly smaller than the iPrimio version. However if you have kittens or cats on the smaller side, it'd be just fine.
This model comes in 2 sizes – 20" x 14" 8", and 24" x 16" x 8" – so if you have extra large cats and are looking for a box that also has high sides, this is just the ticket.
Using steam table pans made of stainless steel as cat litter boxes
You don't have to purchase stainless steel container pans that are labeled as "cat litter boxes". Large steam pans that are used in the food service industry work just as well. Many cat rescue organizations use these and swear by them.
The advantage to a steam table pan vs using an actual stainless steel cat litter box, is that they're usually a bit less expensive, and you can get them with lower sides.
Many of these pans have options for the depth – anywhere from 1.5" – 6" – so if your cat is old or has arthritis and needs a lower entry point, you have the option. (1.5" is too low to actually hold and contain enough litter, but 4" would still work well).
This steam table pan works just as well, and you can always add your own non stick grips on the bottom if it ends up sliding around too much.
The good thing about this pan is not only is it less expensive, but it lets you choose the height, from 1.5" – 6". This gives you more options than the others, but keep in mind 1.5" (and even 2.5") is probably too low to work. 4" is probably a happy middle ground if you need something a bit lower sided for your cat. And 6" is good if you a need higher sided box.
Don't forget to use a stainless steel litter scoop!
While stainless steel boxes are great, using a litter scoop made out of stainless steel instead of plastic is a total game changer as well. They make scooping the litter box much easier since they're super sturdy, plus the litter doesn't clump and stick to the scooper.
The Bottom Line
When it comes to a litter box your cat will want to use, practical is best. Stainless steel boxes are just that – regular, normal rectangular boxes that may be relatively boring, but they sure work great.