This post may contain affiliate links. This means I may receive a small commission if products are purchased through them. All opinions are honest and remain my own.
Many cat owners have experienced a scenario that goes something like this: It's mid morning. You're relaxing with a cup on coffee and working on some things around the house. Suddenly, out of nowhere, you hear a small stampede as your cats tear across the room like a bolts of lightning, skidding and slamming into their water bowl, spilling its contents everywhere.
This has happened to me quite a few times, and I've finally decided it's time to upgrade to something that makes more sense. So today we're focusing on spill proof water bowls for cats – where to find them, and which ones work the best for crazed kitties.
For years I've simply used a glass Pyrex mixing bowl for my cat's water because it was just something I grabbed out of the cupboard one day and decided to use. I suppose I liked the size of it. But it has a small bottom and tips over easily – for some reason when my cats tear through the house they like to use the water area as a landing pad.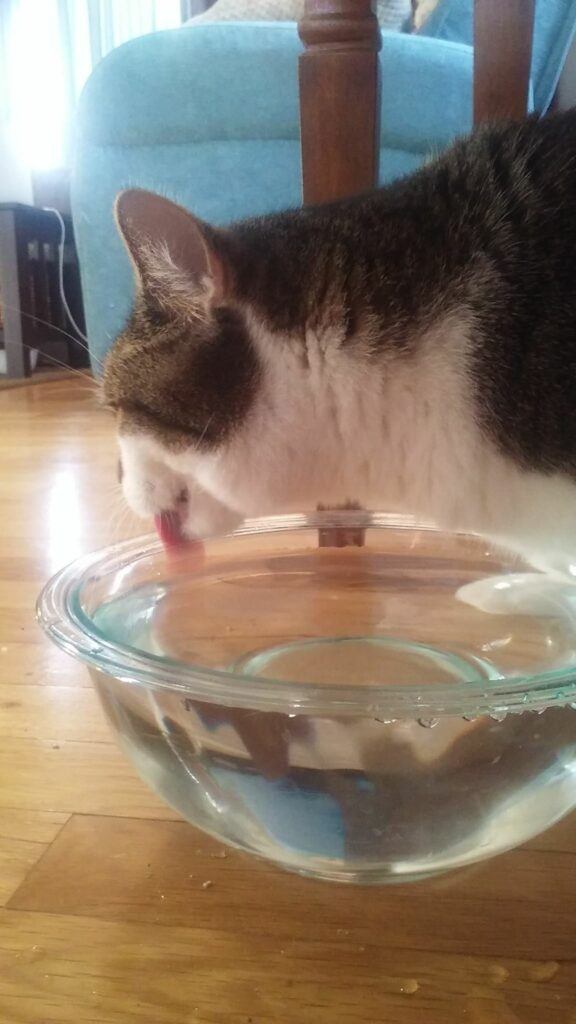 How to stop a cat from spilling his water bowl
Sometimes cats spill their water bowls on accident (which is what happens at my house) and sometimes they spill water out of the bowl by pawing it, pushing it around, or somehow messing with it. Your water bowl solution may depend on which type of behavior is causing the problem.
If the problem is that the bowl is prone to accidental tipping, replacing it with an improved model could be an easy solution. These are some qualities to look for when choosing a spill proof bowl:
Shape. A good anti-spill bowl should be wider at the base than at the top. It should also be shallow and wide, as opposed to narrow and deep.
Weight. Any bowl, regardless of its shape, could be a potential spill problem if it is too light. Good cat water bowls should have at least some weight to them. Glass, ceramic, and heavy duty stainless steel are all nice options.
Nonslip Bottom. Adding a rubber material to the bottom of a cat's water dish is a great way to keep it from toppling over. Some models extend the rubber base to become like a built in mat underneath the bowl. This helps keep the water area tidy as well as preventing the bowl from tipping over.
Why does my cat play with his water bowl?
Although cats do not typically like being in water, they often enjoy playing with it, on their terms. Some cats are drawn to dripping faucets or water glasses, and some graduate on to directly messing around with their water bowls.
There may be different reasons why a cat uses his water bowl for other purposes besides just drinking. One theory is that he may just find it fun. Cats tend to find odd play objects and the water bowl may be no exception. Try engaging your cat with a new toy and dedicate at least 10 minutes a day to interactive playtime.
Still waters…
Another explanation for strange water bowl behavior is that your cat might not like drinking still water. Cats in the wild evolved to avoid stagnant water sources (that might contain harmful bacteria) and to seek out fresher, moving water from rivers and streams.
If you suspect your cat isn't happy with his water bowl, an automatic fountain may be in order. These provide a steady flowing stream of water for your cat to enjoy. They are also equipped with replaceable filters to keep the water clean and fresh at all times.
Keep your cat's water in a separate area from his food
Some of the untippable cat bowls feature a side by side design. If you decide to purchase one like this, make sure you are using both sides for the same thing – either water or food, but not both. It's not recommended to keep your cat's food and water sources so close together.
This is for a couple of reasons. First, cats instinctively prefer their eating and drinking areas to be separated. In the wild, the smell of food near their water source is a warning sign of possible contamination.
Second, a lot of cats get pretty messy when they eat. A bunch of soggy kibble crumbs in the water side of their station might deter them from drinking as much water as they should. It's also just easier to clean the bowls if one is designated for food and one for water.
Tip: If using a water bowl, remember to change the water at least once daily! The fresher the water is, the better (especially for fussy kitties.)
The Best Spill Proof Cat Water Bowls
This stylish ceramic pet bowl certainly ticks the box for weight. The weight of the marbled bowl is further reinforced with a bamboo stand, making this one difficult dish to tip over! The bowl comes out of the holder and is dishwasher safe, but don't throw the bamboo holder in with it.
The bowl part of this set measures 6″ wide and 2.6″ deep – the perfect size for most cats.
---
If the ceramic bowl is not heavy enough for your cat, this hefty stoneware bowl should do the trick. Made out of solid stoneware clay, it's handcrafted right from the potter's wheel. The thick rounded shape of the bowl also helps keep the water from splashing out.
As advertised on Amazon, "the American-made white glaze is chip-resistant, scratch-resistant, lead-free, cadmium-free, food-safe, and safe for use in the microwave and dishwasher."
This bowl comes in two sizes. The 24 oz measures 6.75″ x 6.75″ x 2.5″ and weighs 2 lbs. The 48 oz measures 9″ x 9″ x 3″ and weighs 4 lbs. I should say that the smaller size is beyond sufficient for the average cat, but if your cat is really big the large size could work too!
As an added bonus to the weight and engineering, this bowl is gorgeous! It's really an artisanal product that would compliment just about any home decor.
---
Now remember, with a double bowl feature like this one from, it's recommended to use both sides for water (or both sides for food, but not both.). That being said, this is a very well thought out design and might be just the ticket for cats who like to try to slide their water bowls across the floor.
This elevated stand does need to be assembled, but there is a helpful video on Amazon's product page so you can get an idea of what it will entail. Definitely watch the video. It shows how you might need to adjust it a little to get it stable. Part of the design includes clear adhesive bumpers, which you can easily purchase separately if for some reason you need extra.
X-ZONE PET offers this is two adjustable height options of 4″ – 4.5″ and 4.7″ – 7″. If you're interested in this for your cat, go with the shorter size. The taller size is intended for dogs.
---
4. Home of Boutique Non Spill Silicone Mat with Bowls
This is style, mentioned before, where the pet bowl is enclosed in a silicone base that extends out to become an entire mat. It's a great solution both for preventing the water bowl from tipping over, and for keeping the area nice and tidy.
Again, we have a two bowl design, but if you put water in both sides, this could actually further help with your cat's irritating water bowl behavior because of the extra wide size. Who knows, maybe it also might please your cat to have the option of which side she wants to drink out of that day!
The bowls are made out of stainless steel and they can be popped out of their slots for easy cleaning. Check out the glowing reviews and read more about this popular option here.
---
Here's another great option if you like the silicone mat base idea. This one comes as a separate set of two, rather than the two in one design, which is nice for keeping the water bowl separate from the food (if you want to use the same style bowl for each.)
These bowl/mats are very reasonably priced and come in 8 color choices, which is always nice (and a sign of a successful product.)
Another possible solution to bad water bowl behavior is to try weighing the dish down in another way, such as from the top. This gravity water dispenser holds a gallon and a half of water, so not only will it provide fresh water daily, it's also heavy enough that your cat shouldn't be able to tip it over.
To maintain the heft, I'd recommend keeping the jug full at all times. The water is easy to refill, as one reviewer states, "For the water – pop off the bottle, unscrew the cap, fill, replace cap, then pop it into place. The water will drip into the dish and air bubbles will release inside, kinda like an office water cooler."
The Pawzone cat water dispenser comes with a free pet mat to further keep the bowl in place.
From Paw Stars comes another unique take to the non spill water bowl. This one is made out of polyresin, which is a synthetic material that has a good weight to it. It starts in liquid form and can be poured into a mold to create any shape. The makers of this bowl took advantage of the pourable property to add cute little figurines to this design. How cute would the goldfish style be for a cat water dish??
At 2.3 lbs, this dish is heavy enough that cat shouldn't be able to topple it over, and it comes with non slip feet to further stabilize it. The bowl measures 8.3″ x 8.3″ x 3.2″ – large enough to hold a good amount of water without having to fill to the brim. BPA free and dishwasher safe, find out what reviewers are saying about this polyresin pet bowl here.
In Summary
Cats tipping, pushing, or playing with their water bowls is very common so if it's happening to you don't feel bad. Take into consideration the size of your cat and the specific kind of behavior he is demonstrating around the water bowl. Make sure to note the size and specifications of the bowls before purchasing to ensure they're a good fit for your cat. Good luck and please don't hesitate to leave comments or questions below!
Do you think your cat isn't getting enough water? Read our article How to Get Your Cat to Drink More Water.