This post may contain affiliate links. This means I may receive a small commission if products are purchased through them. All opinions are honest and remain my own.
For some kitties, getting enough water into their systems can be a challenge. Cats are notoriously fussy about practically everything and their water is no exception. Fortunately, there are quite a few ways to prevent kitty dehydration. If you're curious about how to get your cat to drink more water, I'll go over the ways you can do so within this post.
Why is not drinking enough water a common problem for cats?
Instinct
One of the reasons why some cats tend to not consume much water is because they actually evolved that way. Domestic cats are descendants of desert felines who were able to get most of their water from their prey. House-dwelling cats today don't typically hunt and eat whole animals as their primary food source, but that ancient instinct still remains. Cats are biologically programmed to not be big water drinkers.
In the wild, when cats do drink water, they prefer a water source that is well clear of the area where they hunt and prey. The smell of food near their water can instinctually make them think that it is contaminated and they won't want to drink it. They prefer water that is fresh and running, such as a stream or river, as opposed to stagnant pools of water which may contain bacteria.
Health problems
Another possibility as to why a cat may not be drinking enough water is some kind of underlying health issue. Dental infections, inflammation in the mouth, or gastrointestinal diseases could cause a cat to stop drinking water because of the discomfort it causes him or her.
It's important for cats to stay hydrated
If you don't suspect an underlying health issue to be the reason behind your cat not hydrating properly, there are many easy steps you can take to try to get your cat to start drinking more water. Cats, like any mammals, must maintain adequate levels of water intake to stay healthy. Dehydration can lead to all sorts of health issues such as lower urinary tract infection, bladder disease, kidney damage, or constipation.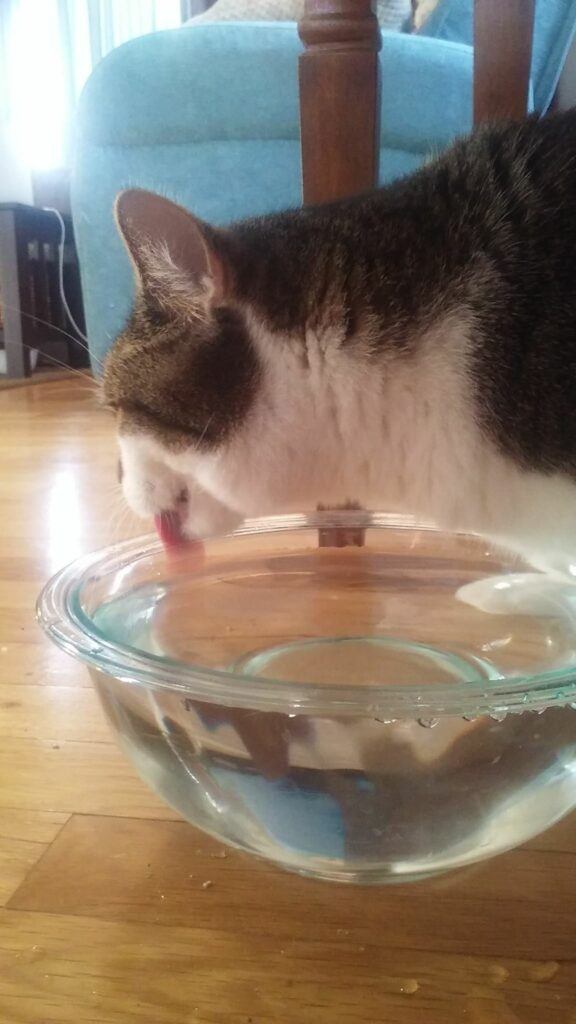 Try these 7 tips to increase your cat's water intake
1. Keep your cat's water dish in a separate area from the food dish
Many cat parents are not aware that a cat's water dish should be kept away from the food. I myself wasn't aware of it until a couple of years ago. I've since made the change and I think my cats (Bear and Chickadee) appreciate it. They each have their food and water routines and seem to like the separate designated areas. The smell of food intermingling with your cat's water is a big turn off, as cats in the wild never drink water near a food source to avoid possible contamination.
2. Have multiple sources of water
It's also a good idea to have more than one water bowl, especially if you have multiple cats. You might find your cat using one bowl more than another, for whatever reason. I think cats like to have options, just like people.
3. Change the water daily
Cats desire clean and fresh water. If I forget to change Bear and Chickadee's water, they let me know by dragging one of their toys into the bowl. For real. It's recommended to clean the bowl out every day and keep it filled up.
4. Use the right kind of bowl
Cat water bowls should be wide enough to accommodate their whiskers, which are highly sensitive. If your cat's water bowl is too narrow or small, their whiskers may rub against the side of the bowl and cause them pain. This is a phenomenon known as whisker fatigue. Choose a bowl that is wide enough for them to drink out of comfortably.
5. Try using a cat water fountain
Many cats don't want to drink out of a regular bowl because of their innate desire to find moving water. This is why a lot of cats like to lick out of the sink or bathtub. There are a lot of excellent cat water fountains on the market these days to solve this problem. They provide a continuous stream of moving water that cats will naturally be more attracted to.
6. Feed them wet food
Feeding your cat wet food instead of (or in addition to) dry food is a great way to increase her water intake. Wet food provides your cat with food and moisture at the same time and they won't need to drink quite as much water to stay hydrated. Cats who are fed exclusively dry food will need to drink significantly more water than cats who are able to get some of their fluids with their food.
7. Try filtered water
Since cats' senses are so keen, another possible explanation for them avoiding the water dish is that they may not like the smell of your tap water. Try using a Brita filter or even bottled water. Nothing is too good for your special fur baby!
How do I know if my cat is getting enough water?
If you feel like your cat my not be getting enough water in their system, here are some signs you can look for at home:
Signs of dehydration in cats
Decreased skin elasticity – One way to check to see if your cat is dehydrated is by pulling the skin on the back of their neck up into a "tent." The skin should immediately spring back to normal. If the skin slides back slowly, it is one of the major signs that your cat's body isn't getting enough water.
Dry mouth – Check your cat's gums. If they are dry and tacky, instead of moist like they should be, this could be another indicator.
Sunken eyes – Dehydrated cats may seem to have a dull, sunken look around their eyes.
Lethargy – If your cat has less energy than normal, or their behavior has changed, it could a dangerous warning sign.
Less urination – Litter boxes should be cleaned and monitored every day. If your cat ceases their normal urination, it would be advisable to take her into the vet, as this could be a sign of even more serious health issues.
Above all, monitor your cat's behavior
Good pet parents know their cat's behavior patterns inside and out. The best way to make sure your cat is in good health is to pay attention and observe her daily. This should be easy for cat lovers! Sometimes my husband and I will actually turn off a tv show we're watching because the Bear and Chickadee are doing something hilarious that is far more entertaining than the show. Prioritize your cat as part of your family and take them into the vet at the first signs of trouble.