This post may contain affiliate links. This means I may receive a small commission if products are purchased through them. All opinions are honest and remain my own.
Because clay litters are so heavy, an alternative line of "lightweight" clay litters have swept the market. But what are these litters made from exactly, is there any benefit, and are they safe?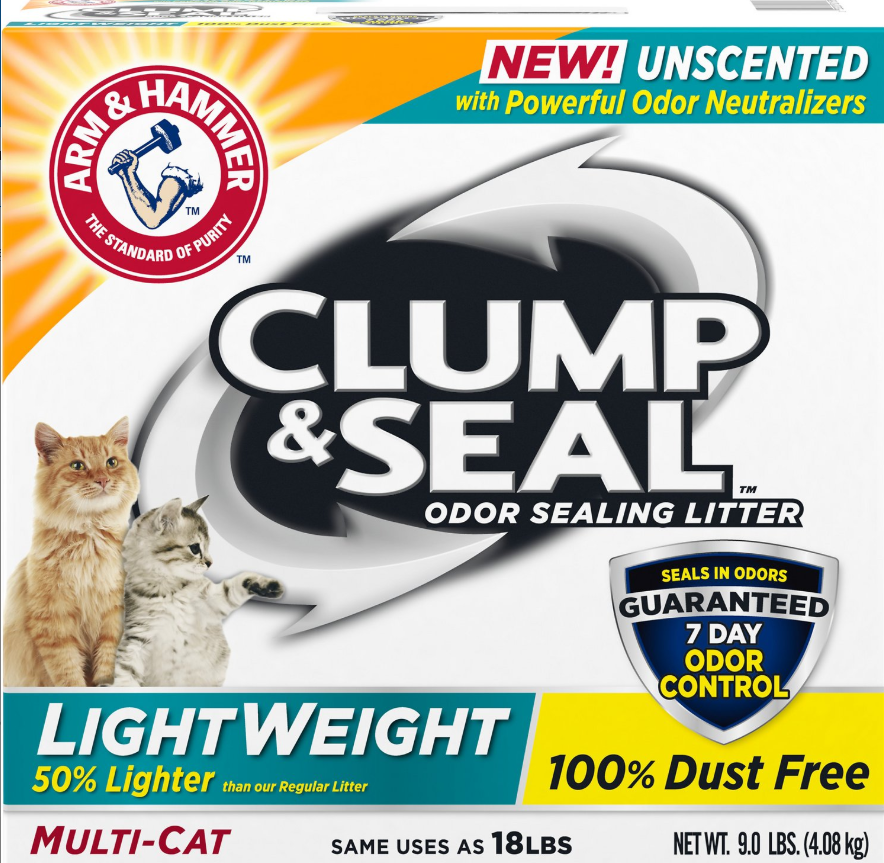 Here we'll explore the difference between lightweight cat litter vs regular clay, and take a more in-depth look at how they differ, as well as explore any safety concerns.
What is lightweight cat litter, and how is it different than normal types on the market?
Lightweight litter is typically clay-based litter that is infused with lightweight minerals (such as perlite) to make it up to 50% less weight than regular clay litters, by volume. You'll still get the same amount of litter, it just won't weigh as much.
This makes it much easier to use and dispose of than normal weighted clay litter. If you have any type of physical limitations, or have ever broken a trash bag trying to dispose of cat litter (which has happened to me on multiple occasions), you probably love the idea of using a litter that weighs much less.
I know I sure did, which is why I had to try it out. Unfortunately, my personal experience was not good. While I loved the fact it wasn't so heavy, I hated the fact it stuck to my cats and ended up ALL over my entire house.
I know all litters track, but I've never experienced anything that bad. It was like it just would not stay inside the box! I also felt like because my cats kept tracking it everywhere, I went through it much more quickly.
The good thing is, if you're used to regular clumping clay litter, it works much the same. It still controlled odors and clumped pretty well.
Lightweight cat litter ingredients
Most litters on the market advertised as "lightweight" are clay-based, but companies don't really publicly list their specific ingredients for cat litter as they deem them "proprietary". Most of the time they'll just say the litter is composed of a mix of clay and natural minerals.
However, during my research, I was able to find out that lightweight cat litter is sometimes made with a mix of bentonite clay, silica, and perlite (volcanic glass). Often times deodorizers like baking soda or perfumes are added in to reduce or cover up smells.
The perlite used in lightweight cat litter is manufactured to be expanded perlite, so it's much airier and lighter. This has been around for a long time and it's extremely popular in gardening. Perlite can help reduce the weight of the cat litter up to 50% while maintaining the same volume.
Perlite may not be in all lightweight litter brands, and it's hard to say for sure any other materials that may be used.
Is lightweight litter safe for cats?
There have been rumors circulating that lightweight litter, specifically Tidy Cats Lightweight, is unsafe and can cause respiratory issues and even death in some cats. According to Snopes, these rumors are unsubstantiated.
Perlite is considered to be non-toxic, and large companies like Purina have undergone product testing and have safety standards they must meet. By and large, lightweight cat litter is probably mostly harmless.
Still, as a consumer, you have the right to be cautious, especially when it comes to the health of both you and your pets.
It's worth noting that perlite is classified as a nuisance dust according to the MSDS. For those with pre-existing lung conditions, inhalation can make it worse. Chronic inhalation of large amounts should be avoided.
If your cat (or you) suffers from asthma or any other upper respiratory issues, this type of litter is best avoided if you want to play it safe. It's actually probably best to avoid any litter that contains dust (including regular clumping clay) to avoid potential inhalation.
If you don't have an issues and are still considering a lightweight litter, make sure it's dust-free like this Clump and Seal Lightweight.
Low-dust and dust-free lightweight cat litters: Our Recommendations
If you need a litter that weighs less but you're concerned with dust and any potential health hazards, a solution would be to just opt for a low-dust or virtually dust-free version. Because any potential health risks would be related to frequent inhalation, simply choosing one without dust would basically eliminate any issues.
This makes them better choices for cat owners (or cats) who have asthma or other respiratory issues.
Out of all the brands on the market, the best versions are:
This is 99.9% dust-free and formulated for multiple cats. I have used Tidy Cats clumping litters and they are virtually dust-free compared to many of the other litters on the market. The granules are much larger than average, so they produce much less dust. You won't get that classic "dust cloud" when you pour it in the litter box, nor when you're just trying to scoop out the box.
Another positive is they do a pretty good job controlling odors as long as the box is cleaned out daily.
They have different versions including Glade scented, 24/7 performance, and free and clean (no scents). All versions are 99.9% dust-free.
Arm and Hammer Clump and Seal Lightweight
Arm and Hammer Clump and Seal is another great litter on the market, and this lightweight version is actually 100% dust-free, just like it's normal weighted version. Just like Tidy Cat, you won't get the dust-cloud and it's a great option if you're concerned about either you or your cat inhaling any litter on accident.
What are the downsides to lightweight litters?
While the idea of lightweight litter seems pretty great, the reality is oftentimes not. Because it's so light and airy, it does not stay in the litter box well. Your cat can easily pick this up with her paws and fur, and track it around the rest of the house.
While all litter has a tendency to track, I've noticed the lightweight kind is a particularly bad offender.
This amounts to more mess around your home and more litter used, so the litter depletes much faster. Considering these are already considerably more expensive than their regular weight versions, you're going to be paying a hefty premium to use this stuff.
Quick Summary – Pros vs. Cons:
Pros
Much easier to transport, use, and dispose of
Great for people that physically can't handle normal weight clay litter
Works much the same as regular versions
Cons
High tracking – your cats will carry it around the house much more so than regular litter
Expensive – lightweight versions are more costly than their normal-weight counterparts
Potential concerns of respiratory issues, especially aggravation in people with pre-existing lung conditions
The Bottom Line
Lightweight clay litters are very similar to normal clay litter in terms of functionality, appearance, and benefits. They have the potential to do just as good of a job at clumping and controlling odors as their regular weighted versions with the benefit of weighing less, but typically have increased tracking. Unfortunately, you'll pay with a much higher price tag.
Don't forget to check out our complete guide on cat litter types here.
Do you find yourself constantly running out of cat supplies? Or are you looking for an easier way to stay stocked on your pet's staples during the Covid-19 pandemic? We recommend checking out Chewy!
Chewy makes online shopping easy and their delivery is as fast as Amazon Prime. With amazing prices, selection, and customer service, they're the KING of the pet supply niche.
Grab 30% off your first Chewy order here, and be sure to check out our in-depth review for more information and ideas.