This post may contain affiliate links. This means I may receive a small commission if products are purchased through them. All opinions are honest and remain my own.
There are a lot of products out there that seem great, but once you have it they don't quite live up to the hype. If you're reading through cat litter genie reviews and wondering if the litter genie is really worth it, let me share my experience.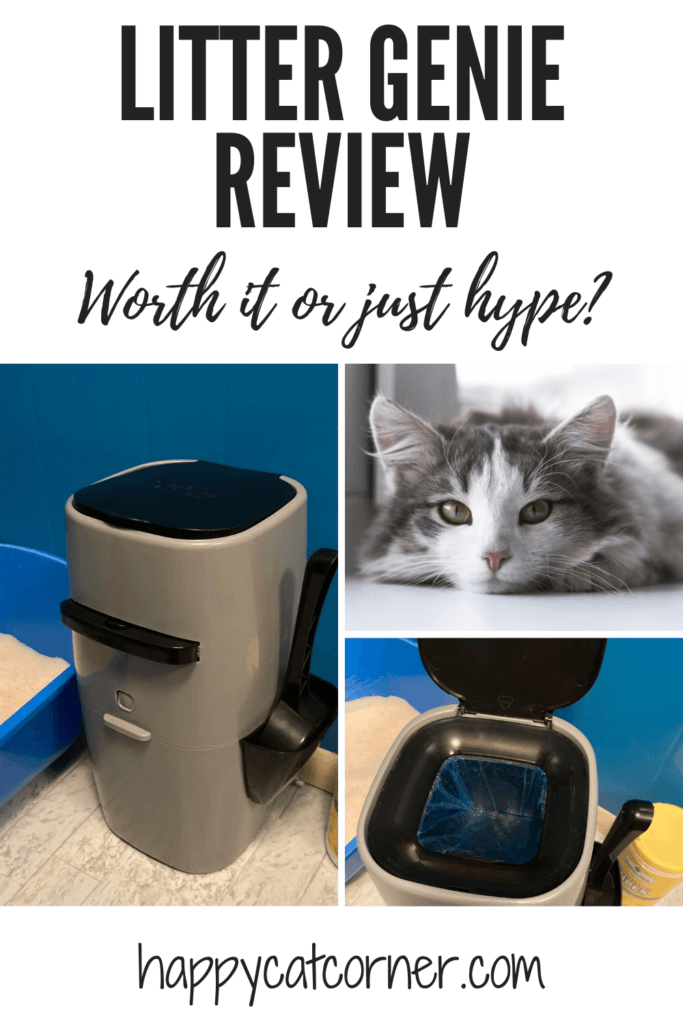 Personally, I find the Litter Genie totally worth it for my one cat household. The refills last quite a while and it does a great job containing smells, plus it makes cleaning the litter box a thousand times easier. Also for households with young children and dogs, it's a better way to contain the waste and germs than a regular trash can.
That being said, it's definitely not perfect and not everyone's cup of tea. I'll try my best to thoroughly discuss the pros and cons of having this type of disposal system for your cat litter, so you can make the most informed decision. I don't like getting sucked in by misleading reviews, so I'll be as honest and transparent as possible.
Litter Genie – Quick Guide Pros vs. Cons
Pros
✔ Makes scooping litter 10x faster
✔ Traps in bad odors and germs
✔No stinky smell when you open lid
✔ Baby-proof and dog-proof design
✔ Looks better than a trash can or make-shift litter container
Cons
✘ Refill bags can really add up in cost
✘ Latch door can be difficult to pull open
✘ Not practical for homes with many cats
✘ Not easy to pick up and carry around from one litter box to the next, needs a handle
Check current prices on Amazon
I wasn't too sure about the litter genie at first…
I had heard about the litter genie for quite some time, but I wasn't really sure about it. The fact it was supposed to be like a diaper genie for cat litter made me think it wouldn't work that well. I was gifted one of those contraptions when my daughter was a newborn, but honestly, I wasn't in love with it.
As my daughter moved into the larger sized diapers I ended up having to change the bag way too frequently, and the refills were expensive. And at some point, her wet diapers were too big to even fit in the hole! You had to really PUSH them down through this hole at the top, and I could not imagine doing that with cat poop and pee clumps…
I didn't really think the cat litter version would be much different.
However, I caved and just bought one. I had been hearing about these things so much recently, especially since I started working on Happy Cat Corner. I needed to see for myself if they lived up to the hype.
How does a litter genie work?
So basically a litter genie is a fancy disposal system for cat waste. Think of it like a designer trash can that looks sleek and contains smells and germs. It's one of those products that has almost a cult-like following. You don't need it, but it sure as heck makes cleaning the cat litter box a lot simpler.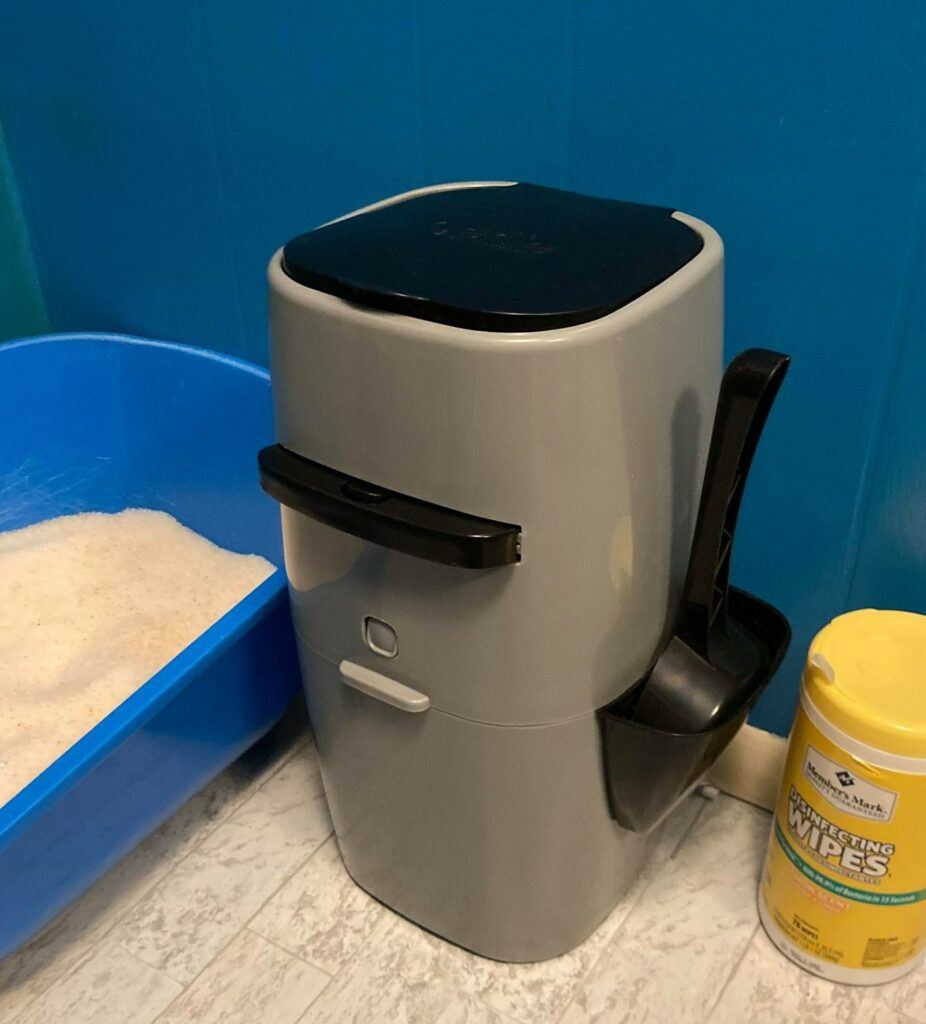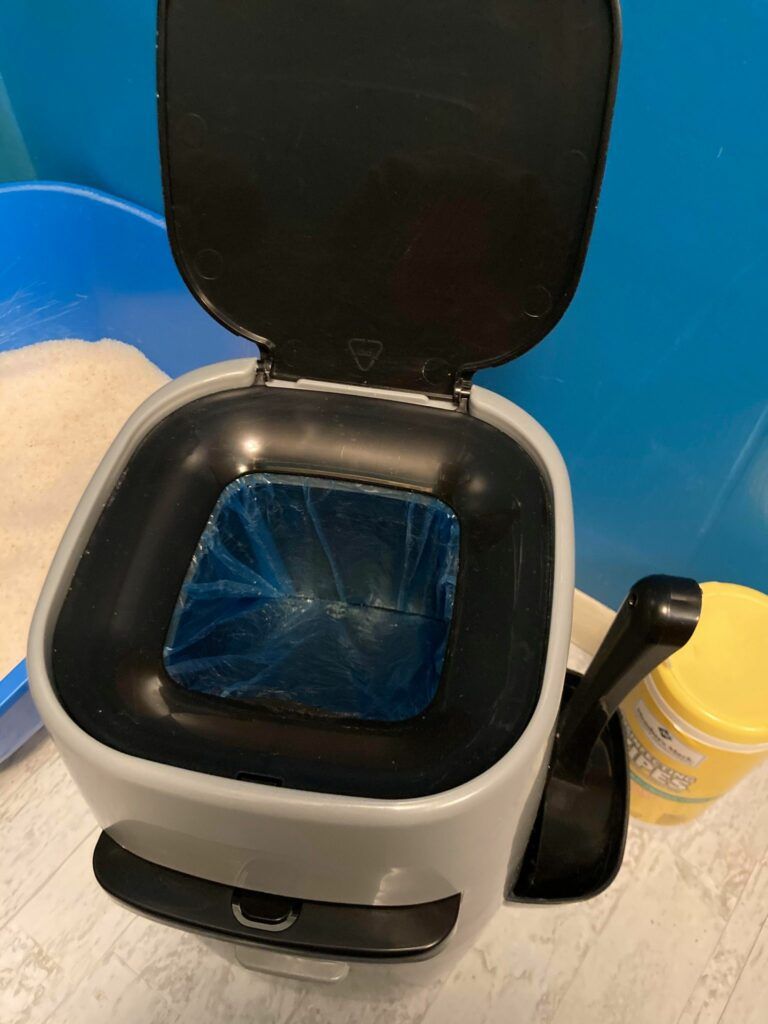 You place it next to your litter box, and can easily scoop the box without having to grab a plastic bag or make an extra trip to the trash can. When you've been doing that every day for years, having a little tool like the litter genie makes the totally no so fun chore of scooping cat poop a little easier.
Baby and dog proof! Similar to diaper pails
It's also especially useful for people with small children or dogs because it's relatively baby-proof (and dog-proof). If you have dogs that like to take "snacks" from the litter, this is a great way to easily keep it cleaned out and stored away so they're inaccessible.
As you scoop, you open up the lid and drop the waste into the top portion. As it gets full, you pull out the latch door and it drops down into the bottom compartment, where it will stay contained until it fills up and you change out the bag.
Perhaps you're familiar with the diaper genie which has been around for ages, it's much the same. However, after having used one for my daughter, the top disposal system of the diaper genie is quite a bit different and I think it would be difficult to use for cat waste without making a giant mess.(Some of them may be better suited for that purpose, but the one I had was not)
But considering it needs to be kept as close to a litter box as possible to really be truly convenient, you would want more than one if you had a lot of cats and litter boxes throughout your home. This may make it a bit impractical for some.
How to use a litter genie properly
Set up is relatively simple, but the most important part to remember is you must pull out and tie the bottom of the trash bag before you start scooping waste into the litter disposal system! Otherwise, anything you scoop into the bin will drop right through to the bottom.
Here's a great set up video provided by floppycats.com:
As you scoop the waste into the top portion, you'll need to pull out the latch door to release it down into the bottom. This part is a little cumbersome, but once the waste drops down into the bottom it's secured and you won't be able to smell it from the outside.
When the bag fills up, there's an easy place to cut the top portion off right within the system so you don't have to go get scissors or a knife. Then you'll simply pull more of the bag down, tie a knot on bottom, and you're good to go for another week or two.
How long do the litter genie refill bags last?
The standard 14 ft bags are supposed to last 2 months in a one cat household. For my 1 cat, I have to change the bag out about once every 10 days, but I can get about 4 – 5 full bags out of a refill cartridge. This makes each refill container last approximately a month and a half in my house, so a little bit shorter than as advertised.
Also, this is using a clumping litter. If you use a non-clumping type, you will get longer use out of the bags.
But this is going to be widely variable depending on so many factors:
The type of litter you use – clumping litter will form pretty large clumps that'll take up a lot of space in the bags. For non-clumping litter users, you'll only need to throw away the poop which will take up much less space and last much, much longer.
How much your cat goes potty – if your cat pees excessively (like cats with diabetes or other medical conditions) or if they just produce a high volume of urine, and you use a clumping litter, these bags won't last long.
How many cats you have – if you own several cats, these bags will go much faster.
How much of the bag you waste tying it up – because of the design of this bag, you need to tie it at the bottom first, then cut off the top portion when you empty it, pull down more bag, and tie again. The design makes it easy for some people to waste a lot of the bag simply trying it tie it up
(watching the above video will help you understand this more if you're confused and not familiar with this system).
How much does it cost?
The litter genie (and even the plus and XL versions, which are just bigger) are not expensive at all. They're the most affordable litter disposal systems on the market that I've seen, and even less costly than diaper pails like the diaper genie. I believe they're all less than $20 – and the basic one was only $14.99 at my local Target.
Check current prices here
The cost that really adds up with these things is the refill bags – which are about $15 for a 2-pack (the best deal is at Chewy). Theoretically, this is a 4 month supply, so if you only have one cat and it lasts that long for you, then it's not so bad. (It lasted about a month and a half with my one cat)
For owners of multiple cats who scoop out many litter boxes on a daily basis, these things would fill up so quickly it's probably not very practical. If that was the case, you could just rig these things up with regular trash bags and it'd still be a better way to hold in the smell.
Where can you buy litter genie refills?
Unfortunately, refills for the litter genie are a bit more difficult to find than others. While you can find diaper genie refills basically everywhere, and plenty of no-name brands to help keep the cost down, the litter genie ones aren't quite as widely available.
Chewy: This is one of the better places I've seen them, you can buy a 2-pack for $14.99 which seems like the going rate, and it's even less if you get it in an auto-ship order.
Walmart: They also have 2 packs for less than Chewy, but the refills are smaller – 10.5 ft each vs. the standard 14 ft – so you're only getting a 3 month supply instead of 4.
Amazon: While I typically buy stuff on Amazon, but I'm going to warn you that this is one of the items you should not buy there. The prices are all whacky and way more expensive through third-party sellers.
I've also seen 2 packs at Petco, Petsmart, Target, and Pet Supplies Plus.
Litter Genie alternatives + hacks
The Litter Genie is really popular but it's not the only litter pail or similar item out there. The Litter Champ is a popular alternative to the Litter Genie, although it's quite a bit more expensive and the refill bags are even more difficult to find.
Use a diaper genie for cat litter?
You can use a diaper genie for cat litter, just be aware that not all diaper genies (or other brands of diaper pails) are designed the same.
The one I used with my daughter required you to really push the diaper down through a rather small opening on top.
With a diaper, it was fine, but when it's cat waste straight from the litter box (especially those giant pee clumps), it'd make one heck of a mess trying to get down into the container unless you were to pre-bag it first. In my opinion that kind of defeats the purpose of the disposal system in the first place, but some people may find the method easier.
However a lot of diaper pails these days are designed with foot pedals, which opens up the top portion to drop the diaper down. If the top opening was large enough, there's no reason why it wouldn't work just the same.
This Dekor brand diaper pail is probably one of the best models I've seen that'd be compatible with cat litter waste. It's very similar to the Litter Champ.
However the litter genie's design makes the waste fall down a shoot, without you having to force it through, so it's really simple and relatively mess-free.
Use diaper genie refills instead
So, you can't really use diaper genie refills for the litter genie without a hack because the refill container for the litter genie is square, and the diaper genies are round. This was obviously a proprietary move to prevent people from buying diaper genie bags instead.
However, this tutorial shows how you can rig up an empty litter genie refill to fit with the round diaper version. It looks a bit complicated and I've never tested it out, but feel free to try it!
Save the plastic square when it runs out, and use regular drawstring kitchen trash bags instead
If you love the idea and design of the litter genie but don't like the idea of spending a lot of money on bag refills, it's possible to use the empty plastic container to hold a normal trash bag instead. You'll need to use kitchen trash bags with plastic drawstrings though, otherwise, it won't work properly.
You'll just pull the trash bag through the middle of the plastic square, cinch the top so it's roughly the size to fit around the square, and stuff it into the refill holder.
The downside to this is using a normal trash bag does not hold in the odor nearly as well, so you might notice it's a bit smelly. But it's definitely less expensive than buying refills.
Litter Genie Pros vs. Cons
So like I said, this thing isn't all sunshine and rainbows. I think the idea is great but it definitely has a few design flaws. However, first, let's consider the positives…
Pros
✔ Makes scooping easier
I mean, it really does… the fact that I don't have to grab a plastic bag and walk it out to the trash each time I scoop greatly increases the likelihood I'll scoop the box more often. I already try to scoop once per day, but with this thing, I'm much more likely to clean out the box each time I notice it was used. I'm sure my cat appreciates this!
✔ Traps in odors/germs
Not only can you not smell anything outside the bin, but you also can't when you open it up to pour the clumps inside. The waste is all contained in the bottom pretty well. This is what puts it above just using a regular trash can with a lid because no matter how nice the trash can is, you'll still get that nasty whiff when you open it up!
✔ Baby-proof/dog-proof
Another great aspect is curious babies, toddlers, and dogs will not be able to access the inside of this thing where the waste is kept. You have to push this tab on the bottom in pretty hard to open it up and I can't really see a small child being able to do it, let alone a baby or a dog.
✔ Sleek design
Well this is the least important, but it's just a little more aesthetically pleasing than the make-shift litter pail I was using before.
Cons
✘ Refills are expensive
So yeah, the little bags you're supposed to use with this thing aren't cheap! They're $15 for a 2-pack. If you can make it last a few months and can justify the cost, it's totally worth it. Plus, you can just use a regular kitchen trash bag with a drawstring instead once the refill packs run out if you need to save money.
✘ Latch door is awkward
So the way it's designed in order to make it hands-free is you need to pull out this little latch door so the litter stuff can fall through a shoot. While it's nice you don't need to push it down or touch it (like some diaper genies) it's also a bit awkward trying to pull it open. This really isn't that bad at all and I got used to it, but it was weird at first.
✘ Can't pick it up easily, no handle
The bin really needs to be as close to a litter box as possible to make it easy to use, so if you have many litter boxes in your house, especially if they're in different rooms/levels, you'd want multiple litter genies to keep next to each litter area. This could really add up in cost if you used the special bags.
✘ Not super practical for 3+ cats (unless you used non-clumping litter)
Just because of the amount of waste you'd be scooping out of the litter box on a daily basis, especially with clumping litters, you would go through so many of the refill bags it would cost so much money. If you use non-clumping litter it wouldn't be so bad, or if you used normal trash bags instead.
The Bottom Line
Since scooping litter is my least favorite part of owning a cat, anything to make the job easier is worth it. The Litter Genie definitely accomplishes that, so I really do recommend it despite the fact it comes with flaws.