This post may contain affiliate links. This means I may receive a small commission if products are purchased through them. All opinions are honest and remain my own.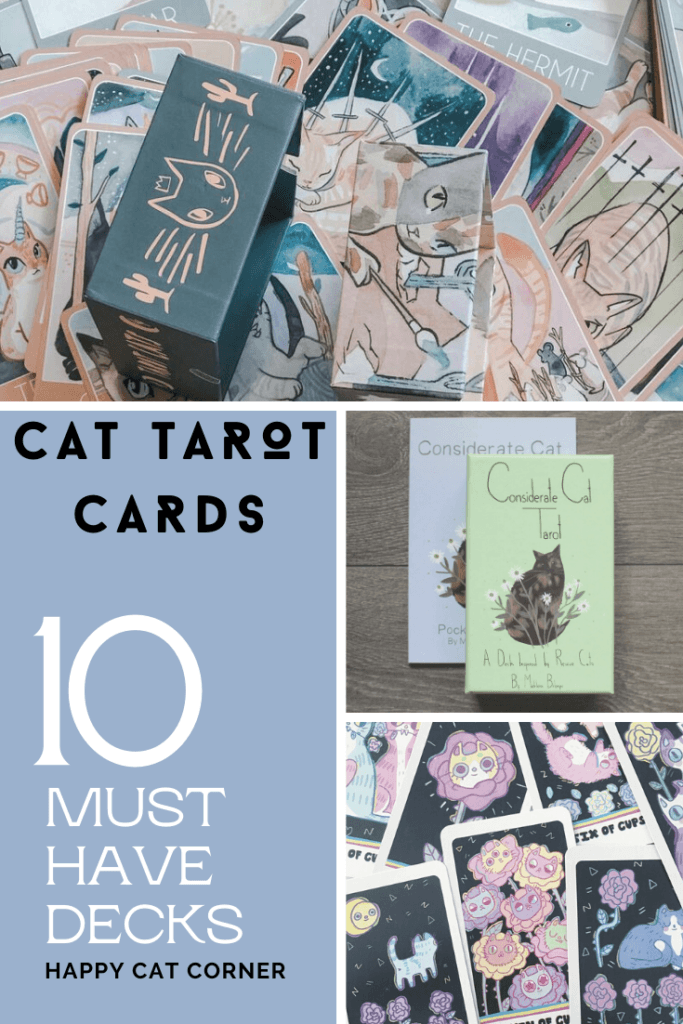 It isn't unusual for folks interested in tarot cards to also have a cat or two in their lives. The two often seem to go hand in hand. So it's not surprising that many cat tarot cards have begun to hit the market. The artwork we see in these cat-inspired decks is both beautiful and creative, and would make the perfect gift for the mystical cat lover in your life.
Cat tarot decks would make especially nice gestures of friendship because choosing your own tarot deck is considered by some to be bad luck. Not everyone holds on to this belief, however, and many people lately are deciding to choose their own cards based on the colors and designs that they feel the most connected to.
Tarot is making a comeback in a big way right now, as younger generations are making an overall move towards mindfulness and self care. This trend is resulting in a wave of crowdfunded tarot projects focused on creating a broader array of themed decks. The newer decks offer all sorts of alternative imagery (such as plants and animals) in addition to human figures. The crowdfunding platforms allow a broader representation of people to contribute their original artwork into the evolving world of tarot.
Cats as Spiritual Symbols
The metaphysical and spiritual realm has placed a heavy emphasis on cats for thousands of years, so it's no wonder they beloved creatures have shown up in tarot and so many other forms of art. They are symbols of mystery and magic, as well as healing, balance, and luck (both good and bad.)
Cats were so revered in ancient Egypt that the citizens portrayed several of their deities as cats or cat/human hybrids. The goddesses Mafdet, Bastet, and Sekhmet were all depicted as cats and represented justice, fertility, and power.
In ancient Celtic folklore there exists the cat síth, a creature said to resemble a black cat with a white spot on its chest. There are many interpretations and beliefs associated with the cat síth, some believing it to have provided blessings and others curses. One story goes that the the animal was a witch, able to transform back and forth from cat to human a maximum of nine times. Some believe this is where the idea of a cat having nine lives came from.
Cat Tarot Decks
With the history of cats in human legends dating as far back as it does, it's no wonder they have shown up so often in tarot artwork. Below are my ten picks for the best cat tarot decks available on the market today.
---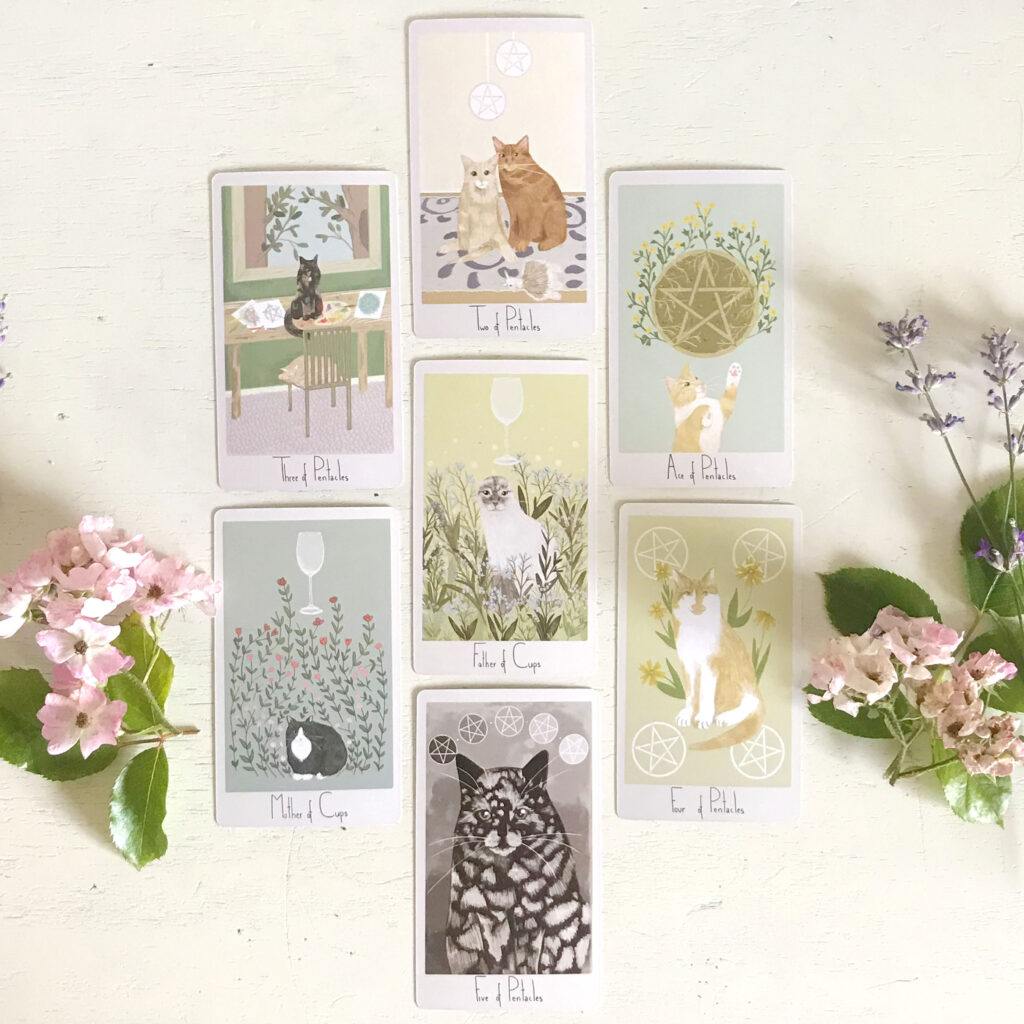 Considerate Cat Tarot was brought to life by way of the aforementioned crowdfunding project wave. It was created as a Kickstarter project by a Vancouver artist and cat foster coordinator. The entire deck is inspired by the stories of real life rescue cats from all over the world.
This deck contains 78 beautifully illustrated cards, a reader's guide, and comes in a rigid two piece box. You can order a Considerate Cat tarot deck directly from the artist's website, as well as related merchandise such as cards, prints, bags, etc.
---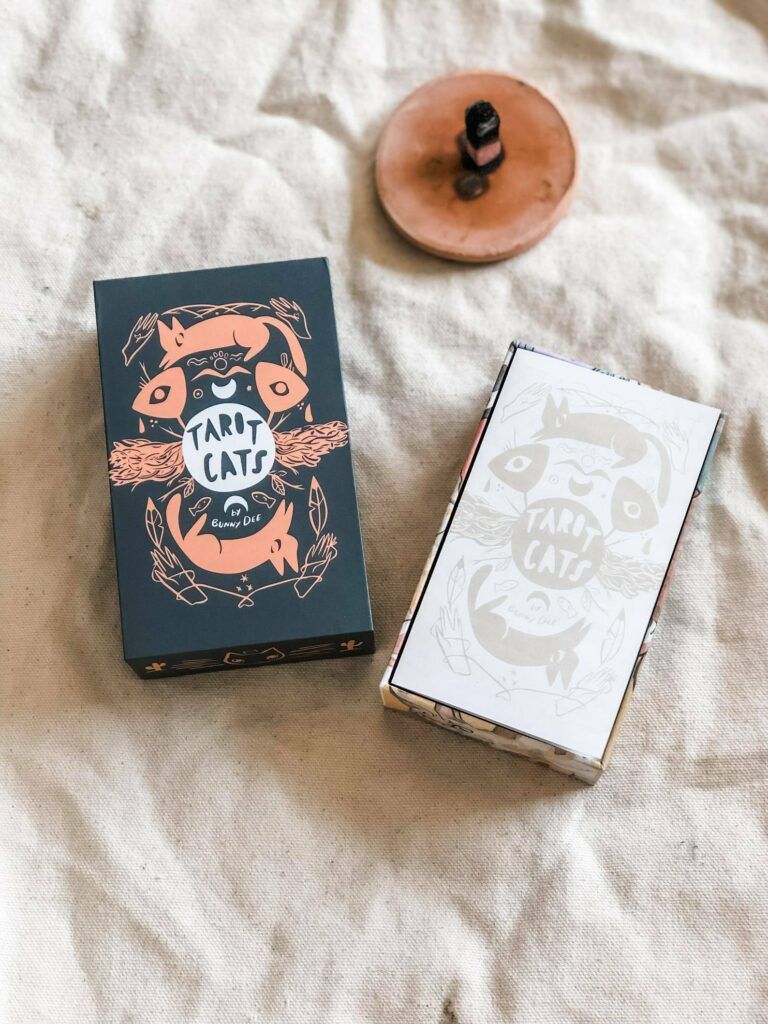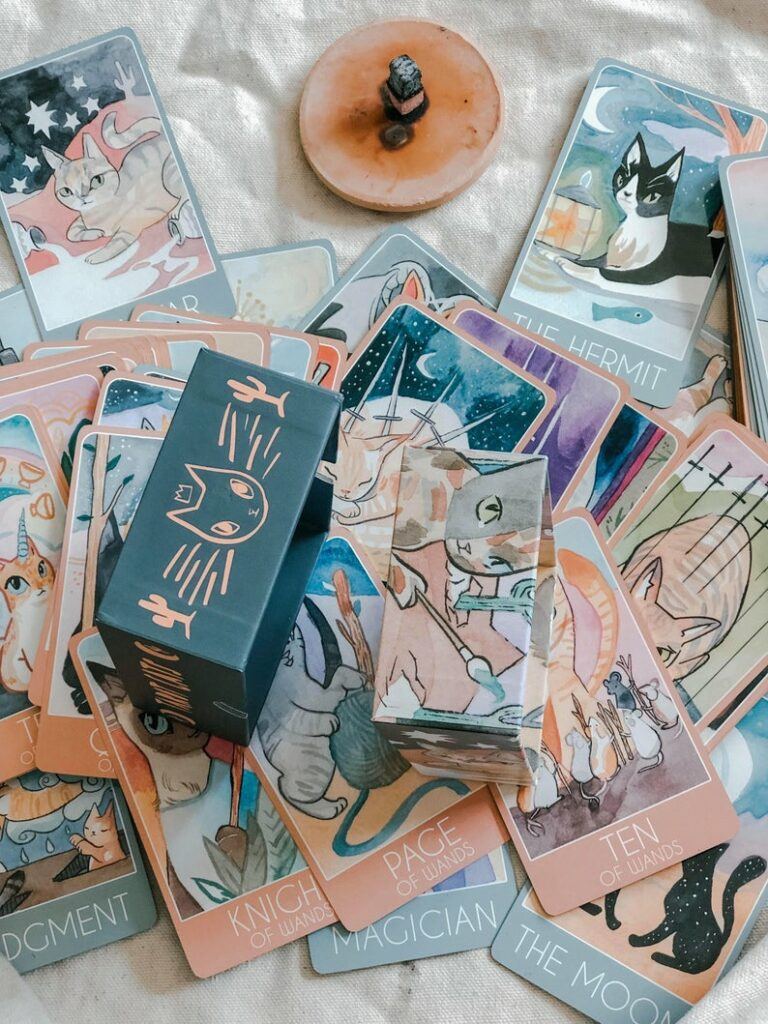 This deck features the artwork of Danielle Gundry-Monji. In the item description, the Bakersfield artist says she loves cats and that "they are unique and magical and I wanted to make a tarot deck celebrating the joy they bring to the world." Find the deck, along with more Bunny Dee prints on her Etsy shop.
Each card in this 78 card set was originally painted with watercolor and ink. The cards measure 2.75″ x 4.75″ and have a metallic gold edging. For a closer look and an unboxing video, check out Danielle's instagram.
---
---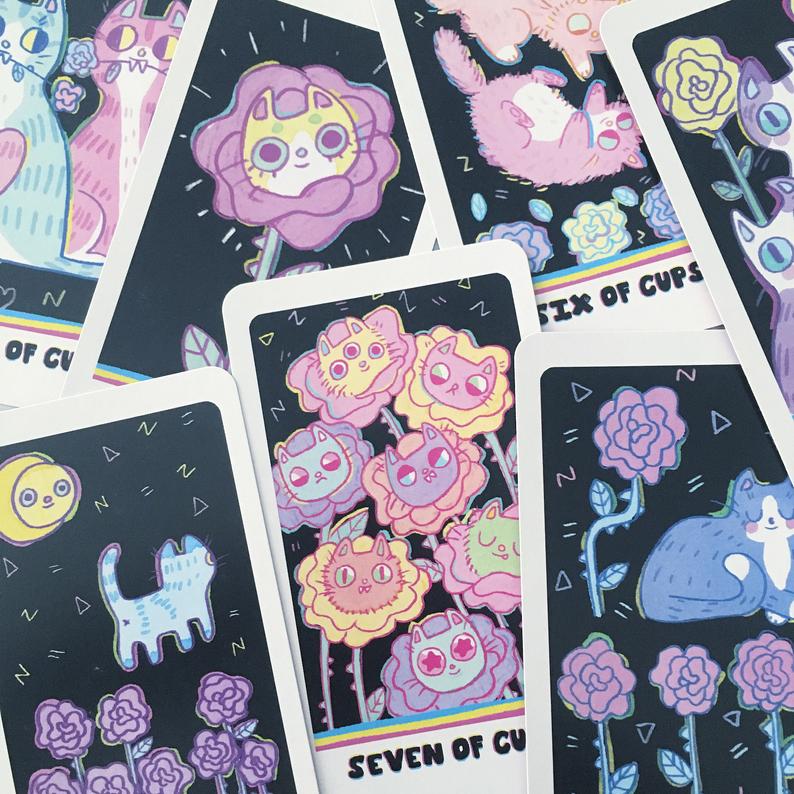 This quirky deck by Gabrielle Kash is so fun! The cards come in a colorful magnetic box and sport a hot pink metallic edging. This set includes a 4 x 6 full color guidebook with card meanings, spreads, the Weird Cat zodiac, and additional sketches. Find this adorable, one of a kind tarot set here.
---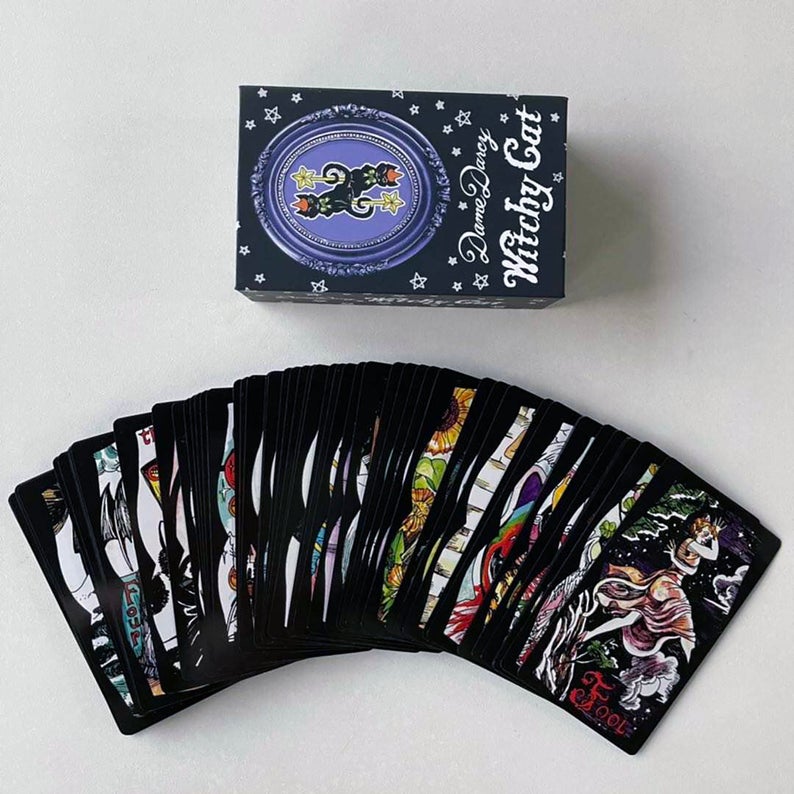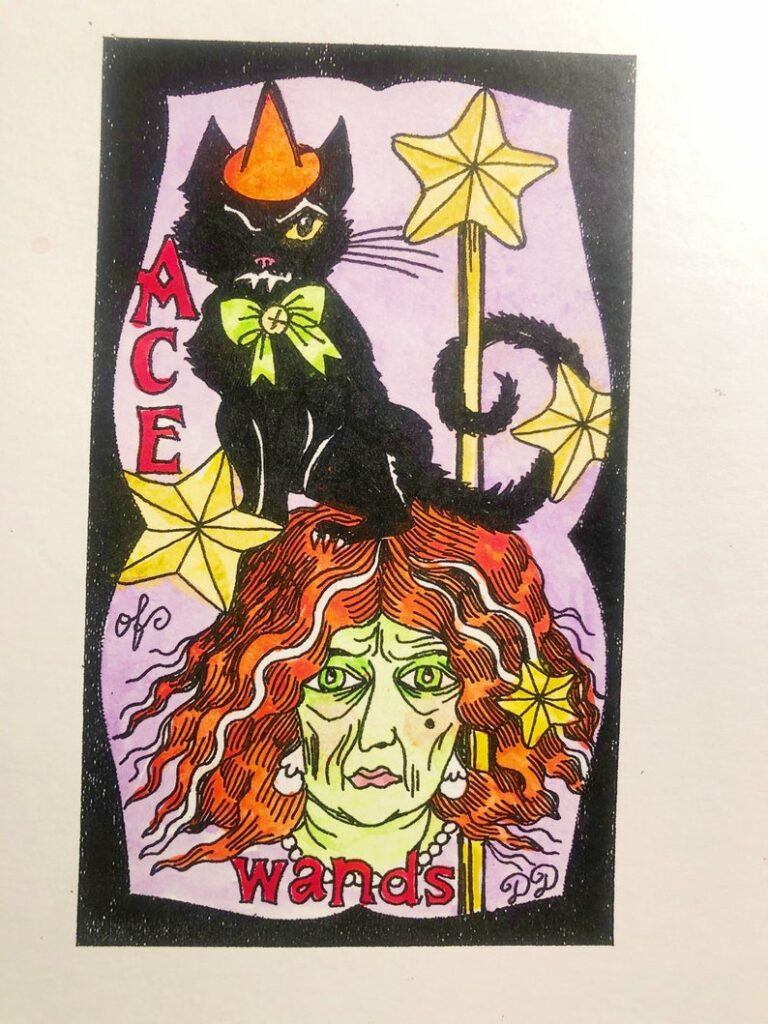 This highly original deck features bold, colorful artwork by Dame Darcy. Purchasing a set such as this is like having an entire collection of artist prints! Originally drawn with pen and ink and painted by hand, these cards have a distinctive style that is magical and exciting. Find this tarot deck here, on Dame Darcy's Etsy shop.
5. Tarot Cats (artwork by Ana Juan)
---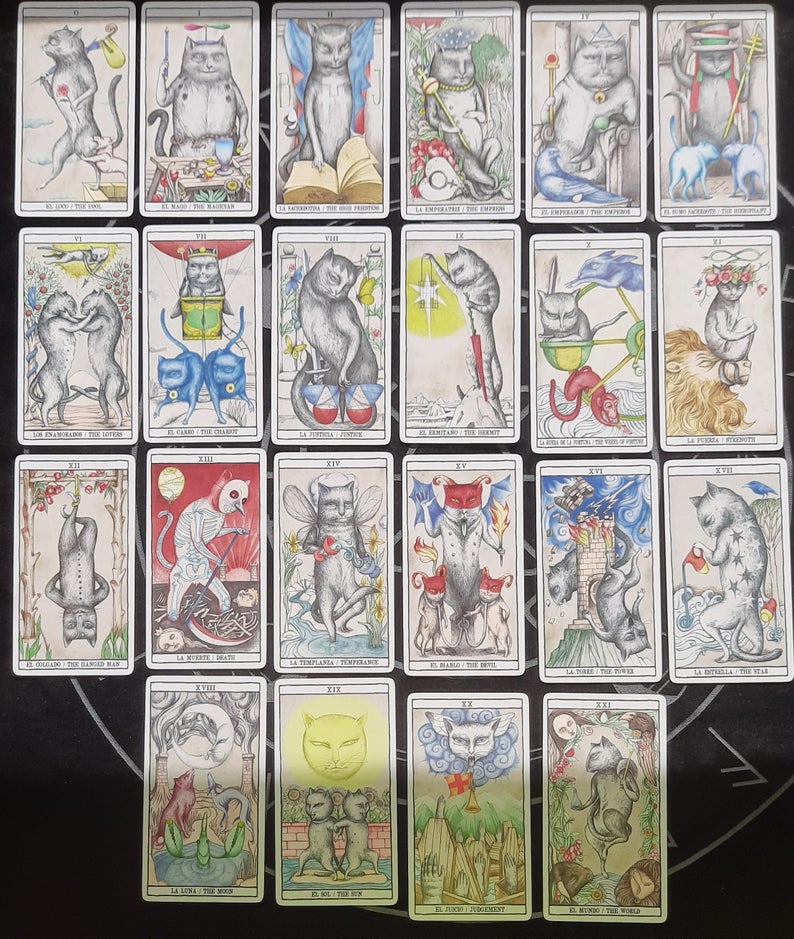 Next up is my personal favorite. This Cat Tarot deck is designed and made in Spain, and features gorgeous, intricate artwork that is both spooky and surreal. Ana Juan is an artist from Madrid, whose work has been features in many books, magazine covers, newspapers, posters, and more. Check out her mind blowing designs in this 78 card deck here, on the Full Moon Shadow Etsy shop.
---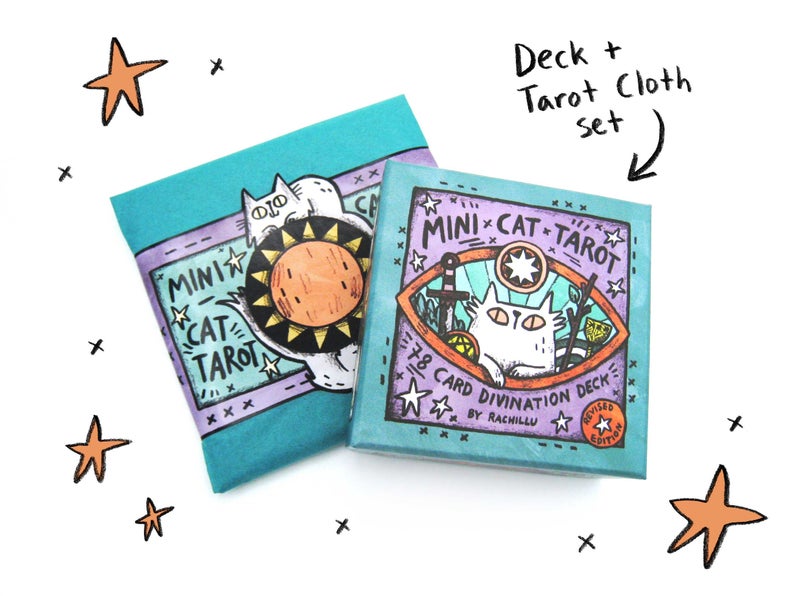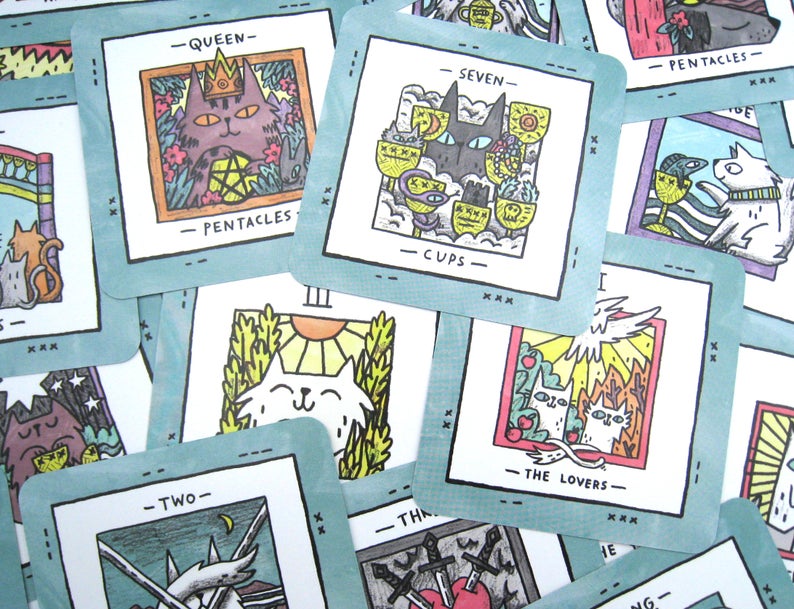 This super cute mini tarot deck is designed by Rachel Logan, out of Aberdeen, United Kingdom. The cards measure 3″ x 3″ square, which is a very nice size for traveling. It includes a companion guidebook, a rigid box, and there is an option to purchase it with a cloth for readings. Buyers are raving about this one! Find it here, under the shop name Rachillu.
---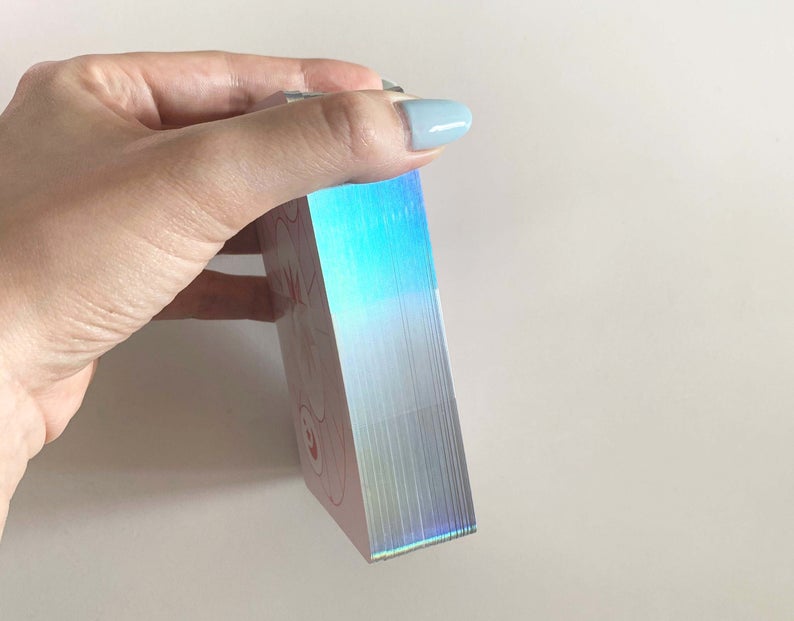 From The Cat Oracle (great shop name) we have the Cute Cat Tarot deck by an artist out of Minneapolis, Minnesota. This 79 card deck contains one bonus card. The cards measure 2.75″ x 4.75″ and come with a beautiful holographic foil-gilded edge. Check out more pictures, as well as an unboxing video, here.
---
In addition to Etsy, there are also some nice cat tarot sets available on Amazon. This popular deck by Megan Lynn Kott has 78 cat-themed illustrations that celebrate the kookiness of cats and are sure to make you laugh. Unlike some of the more elaborate decks available on Etsy, this set is highly affordable, and might be a good one to start out with if you're looking for cat tarot cards.
---
A collaboration between Lunaea Weatherstone and Mickie Mueller, this deck features whimsical artwork organized by the elemental suits – Earth, Wind, Fire, and Water – and cat-based court cards. Be sure to read through the reviews for this listing, as they offer quite a few more photos of this lovely deck.
---
Finally we have one more mini deck to complete the list. The Tarot of Pagan cats Mini Deck includes 78 cards at 2″ x 3 1/4″. The deck corresponds to the traditional Rider-Waite structure, so even though it's themed deck, the cards are still easy to follow and would be a great set for beginners or experienced tarot readers alike. See what others are saying about this magical deck.