This post may contain affiliate links. This means I may receive a small commission if products are purchased through them. All opinions are honest and remain my own.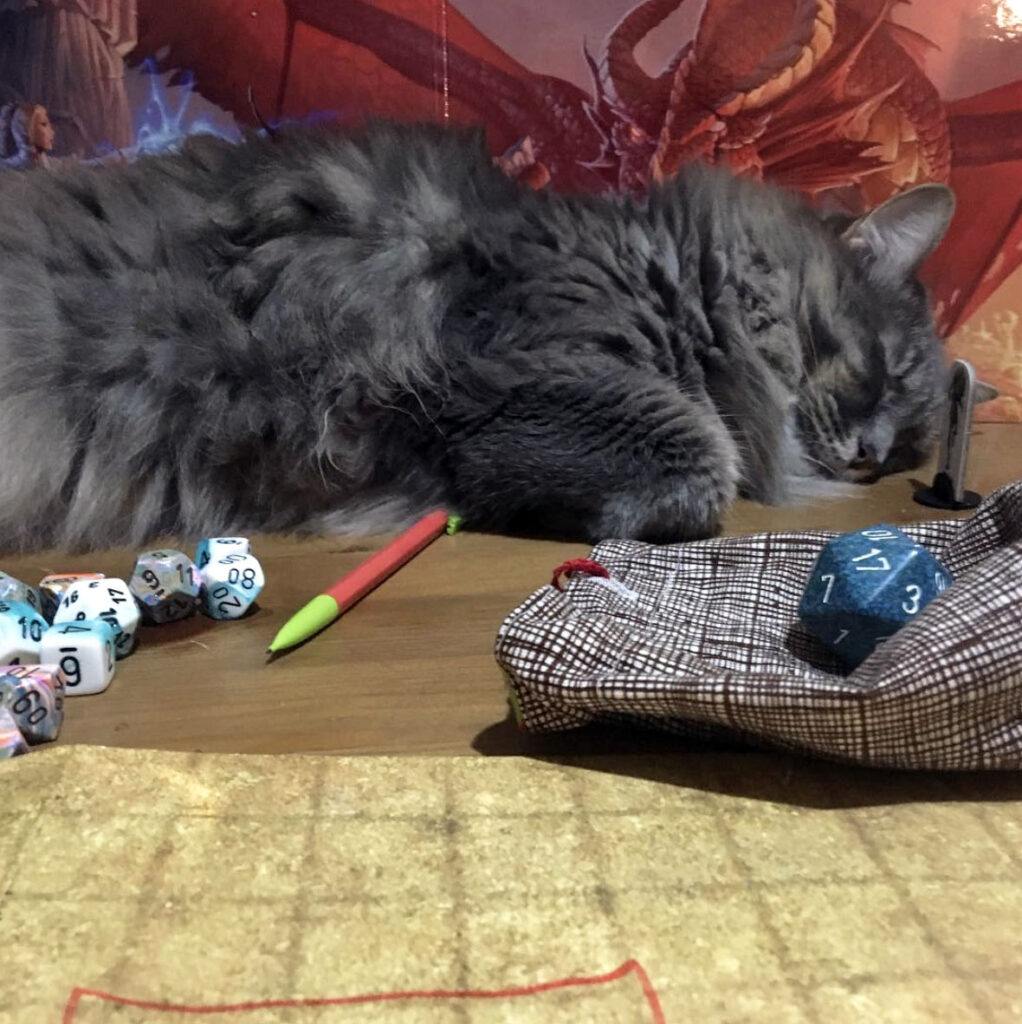 I am a huge fan of all kinds of games. My husband is a part of a Dungeons and Dragons group that plays once a week, so we've accumulated quite a large dice collection over the years. We also have a variety of other dice-rolling games, so I recently had the thought that it would be killer to incorporate some cat-themed dice into the mix!
There's one game in particular, called Liar's Dice, that I really enjoy playing when my friends come to visit. In the game, everyone starts out with six dice and a shaker cup. Everyone shakes their dice and then slams the cup facedown on the table. After peeking at your own dice (don't let anyone else see!) you make a guess as to how many of a certain number is out there in total. The next person either has to up the ante or call the last person out by saying "bullshit" or something to that effect. Once this happens, everyone reveals their dice. If the caller is correct, and there are indeed not that many of the number out there, the person who was called out loses a die. If the caller is wrong, and there WERE at least that many of the number out there, then the caller loses a die himself. The game continues on and the last person with dice is the winner.
I think cat-themed dice would be especially fun for a game like this, because you can use whatever dice you have on hand. The more options, the better and more fun the game will be! You can also use any type of cups you have as the shakers, although I recommend plastic and NOT glass. We tried using a glass once and the sound was deafening. They do make a packaged version of Liar's Dice, which comes with enough dice and shakers for 4 people to play. You can find it here on Amazon.
This would be a good base set, but if you want to play with more than four players, you could simply buy a couple sets of dice cups like these.
More from Amazon
Now for some dice! I've searched the internet for places to buy cat-themed dice to add to my collection. I first found some on Amazon, like this cute set that features a single cat instead of the number 1.
Also on Amazon I found this super cool cat dice bag that converts into a rolling tray. The exterior is a purple velvet and the interior is made of cotton and features a fun cat pattern. The cotton lining could also be used to polish metal or gemstone dice and remove finger oils.
Of course when I was searching for cat- themed dice, I stumbled across a different kind of cat dice. Dice for your cat to play with! This set by the Jackson Galaxy line of cat products, is a really innovative idea. The cat dice are irregularly shaped so that when your cat paws at them they bounce around in an unpredictable way. This helps her to stay extra engaged and entertained. I think it would be a good idea to keep them with your regular gaming dice so when kitty won't stop walking all over your game, you can throw down her very own dice to play with!
I'm also a big fan of this Dungeons and Dragons inspired cat tee shirt. This would make a great gift for any DnD playing cat lover.
From Etsy
I was able to find more interesting cat-themed dice on my other favorite website, Etsy. This adorable set, available from the seller DiceMakers is my favorite. It features an adorable kitten for the number 1 side, and paw prints for the rest of the numbered sides.
Another good find was this gorgeous Opalite set from CrystalMaggie. This is a DnD set of gaming dice. It comes in a wooden box and has great reviews attesting to the quality. I love the color and the cute cat and moon design.
NaevisOddities shop offers some individual cat-themed dice, like this cute pink one:
Another option if you are looking for something really special, is a set of custom-made dice. Etsy is a really great place for custom-made products because the sellers are real artists and real people who are trying to make a living at their craft and are hungry for your business. RainbowShopCN is one such seller. They offer DnD dice with your choice of custom initials or design like this one.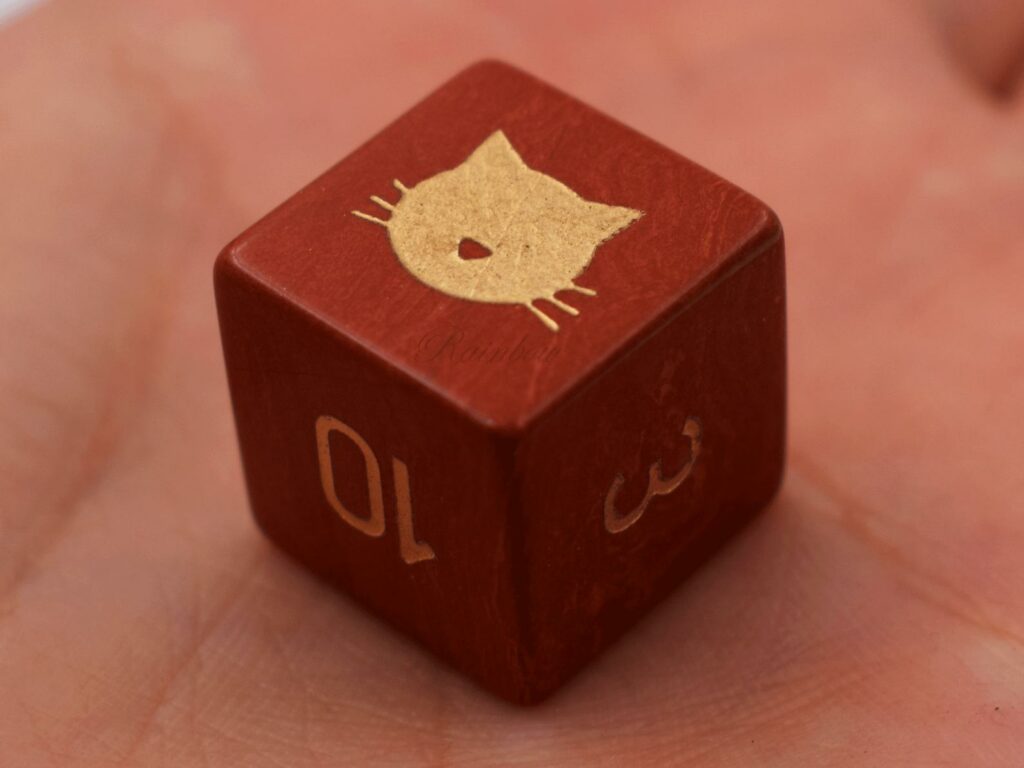 During my search, I also discovered some great cat-themed dice bags. My favorite one is this embroidered bag by SneakyGeekChic.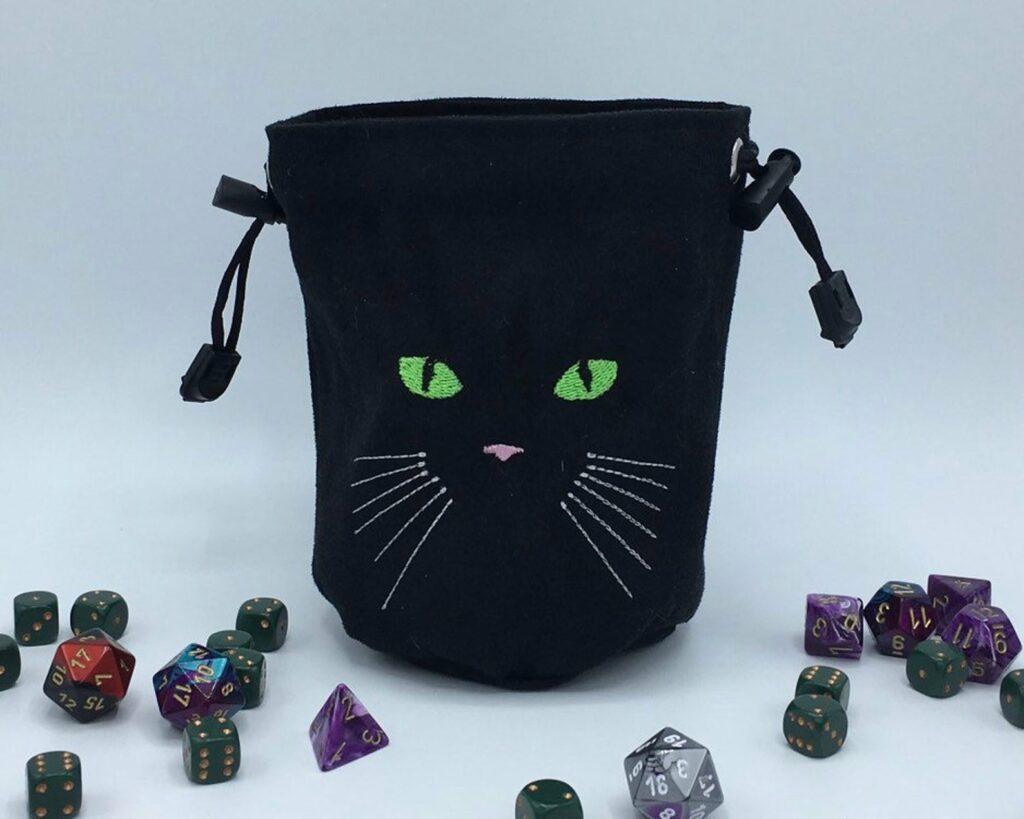 For something really unique I also like this cat leather dice box by TheFallenCrown.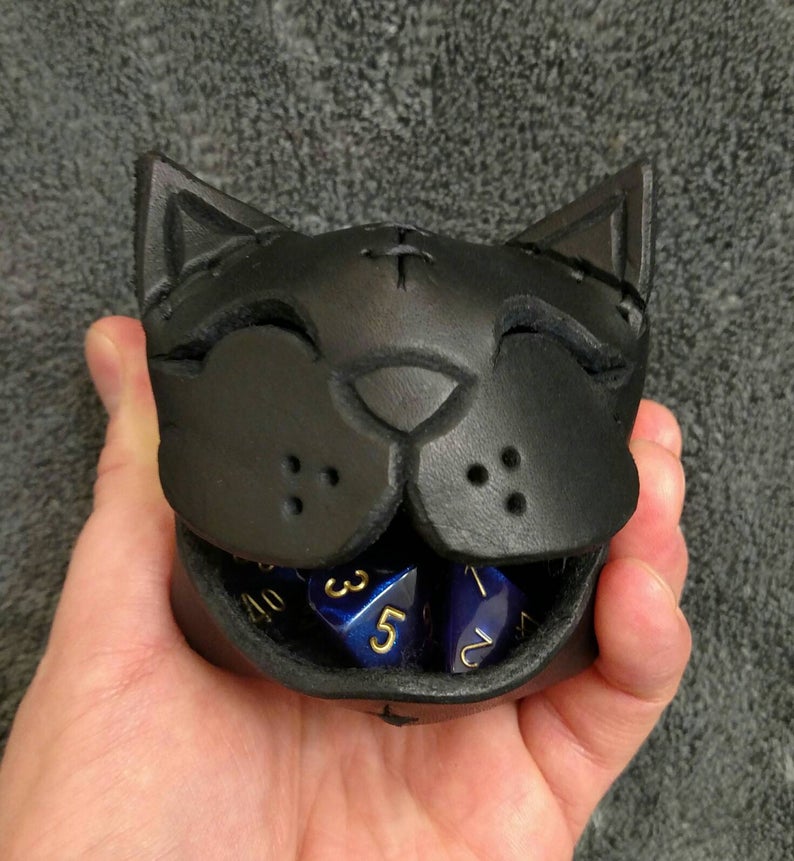 Something else I happened upon while searching for cat-themed dice was this DIY idea for a cardboard box die for your cat to play in! Another fun way to lure your cat away from the middle of your game table. Once I watched this video I realized he's actually designing this box to be a cat bed, with a top that opens. Either way, it's a cute idea.
Dice Game Depot
The last place that I was able to find cat-themed dice for sale was the Dice Game Depot website. Here you can buy individual cat dice for just 85 cents a piece, which is technically the best deal I found, but they don't offer free shipping like Amazon.
Conclusion
The three best places I was able to find cat-themed dice for sale was Amazon, Etsy, and Dice Game Depot.
Amazon – White cat dice sold in set of 6, plus other cat/dice related products
Etsy – The best place to buy a variety of beautiful and unique cat-themed dice
Dice Game Depot – Offers individual cat dice for 85 cents a piece, plus shipping