This post may contain affiliate links. This means I may receive a small commission if products are purchased through them. All opinions are honest and remain my own.
I am guilty of using ranch dressing as a dip for lots of foods, so on occasion, I'll have some extra that gets left out on a plate, where my cats can easily access. My cats are typically very disinterested in human food, but ranch is one of the exceptions.
After walking in on my cats chowing down on more than just a little bit of dressing (that I stupidly left out) it really got me thinking, can cats eat ranch dressing, or is it really bad for them? I decided to do some more research into this.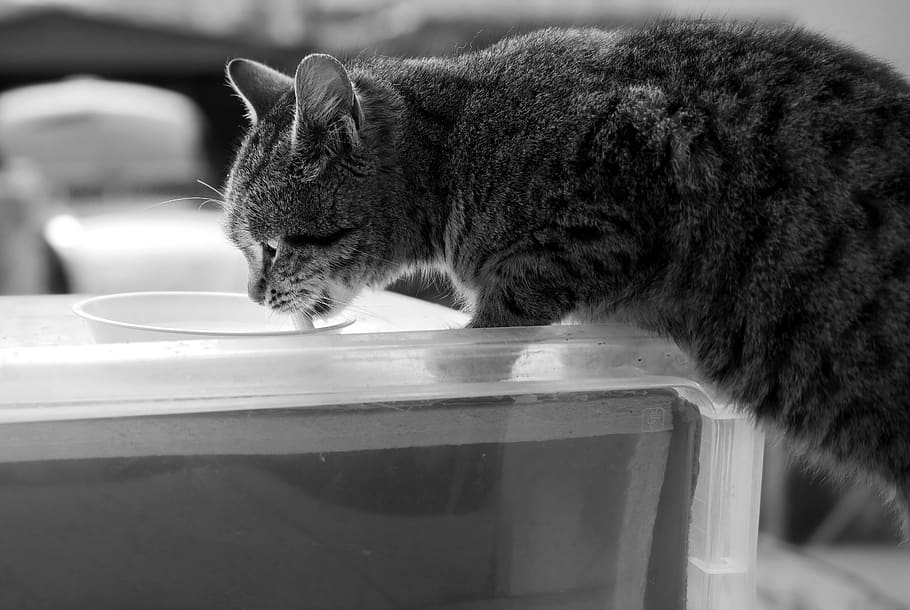 So, is ranch safe for cats?
While it won't kill your cat if they lap up a few licks of ranch dressing from your plate, avoid giving it as a regular treat. Ranch typically contains onion, garlic, and chives – all of which are considered toxic to cats. In addition, it's made from dairy products like mayo and buttermilk, which in general aren't the best thing to feed cats as many are lactose intolerant.
Ranch dressing ingredients and why it's not the best option for cats
To better understand why ranch may not be the best choice for your cat in terms of a treat, let's discuss what's usually in ranch. While there's no universal ingredient list (it varies so much depending on if it's store-bought or homemade, and even between brands) here's a list of common ingredients:
Soybean oil
Vinegar
Egg Yolks
Sugar
Buttermilk
Mayo and/or sour cream (if homemade)
Garlic, Onion, Chives
Dill weed, parsley
Salt and pepper
The danger of garlic, onion, and chives
Three of the main flavor components of ranch – garlic, onion, and chives – are all very closely related and they can all be toxic to cats in certain doses.
Onions and garlic contain an oxidant called n-propyl disulfide, which felines are hypersensitive to. It can cause their red blood cells to break down and lead to anemia. Because cats have very low body weight, it takes a surprisingly little amount to reach toxic levels!
Garlic is much more potent than onion, and all it takes is a single clove to potentially cause harm.
Diary
Another thing that's not so great about ranch dressing is it's commonly made up of a diary base such as buttermilk, sour cream, and/or mayo. Many cats are lactose intolerant, and eating dairy products can cause stomach upset.
However just like not all humans are lactose intolerant, neither are all cats. The general advice that milk and dairy products are bad for cats is coming from the side of caution, but if your cat can handle a little bit of milk (without vomiting or diarrhea) it's not harmful if given in small amounts.
But if it's a ranch you bought from the grocery store, it's usually less diary-based as it's composed largely of soybean oil, water, and vinegar. Even though those ingredients are harmful to cats, it has a ton of extra additives that aren't good for cats (including the onion, garlic, and chives spice mix).
Sugar and MSG
Certain brands of store-bought ranch dressing will contain a lot of additives like sugar and MSG to make it taste better. Neither of these things is great for your cat, but they won't harm them in small amounts.
Overall, the dairy, sugar, and MSG in ranch dressing is less of a concern than the garlic, chives, and onions that are used to flavor it.
How much is too much ranch? How much will make your cat sick?
There's no exact amount that is "too much" because the amount of garlic and onion in ranch can vary, so to be on the safe side try to avoid giving it altogether, especially in amounts larger than a teaspoon.
However if your cat accidentally ate a tiny bit of ranch dressing, it's probably not a big deal. It's more so a concern if it's ingested regularly over a long period of time, or in fairly large amounts.
Onion and Garlic toxicity symptoms in cats
vomiting
diarrhea
lethargy
rapid breathing
elevated heart rate
discolored gums
If your cat ingested what you'd consider to be a large amount, keep an eye on their behavior and call your vet with concerns, especially if they exhibit any of the above symptoms.
What about ranch-flavored tuna?
While it's OK for cats to have some tuna, avoid ranch-flavored tuna (or any other flavor). It still contains the garlic, onion, and chive flavorings within the mix. While it may not be enough to reach toxic levels (especially if only given a tiny bit) it's better to be extra cautious.
Plus, cats don't need the extra flavoring, they're perfectly OK with the plain tuna. Remember that cats are carnivores and have a completely different palate and nutritional needs than us, so giving them any type of flavored meat (especially with toxic substances) should be avoided.
What foods are safe for cats?
These food are typically considered safe to give your cat:
Any type of meat, assuming it cooked or processed to kill bacteria
Tuna fish (in small amounts)
Whole grains
Vegetables
Fruit (excluding grapes)
These types of foods are generally considered fine and healthy to give your cat in reasonable amounts, just don't go overboard.
There's also a gray area of food that's not dangerous, but not "healthy" either. Most processed foods like chips, crackers, cookies, etc are things you probably shouldn't give your cat, but won't immediately harm them if given a small amount.
As for dairy products, it's debatable. Some cats can digest it, while others can't.
You can read our guide on people food that cats can (and can't) eat here for more in-depth information.
The Bottom Line
Don't stress if your cat got ahold of a tiny bit of ranch, but it's not the best thing for them to consume regularly. As a general rule, it's always best to feed your cat mostly food that's meant for them, as it's properly formulated to meet their specific nutritional needs.