This post may contain affiliate links. This means I may receive a small commission if products are purchased through them. All opinions are honest and remain my own.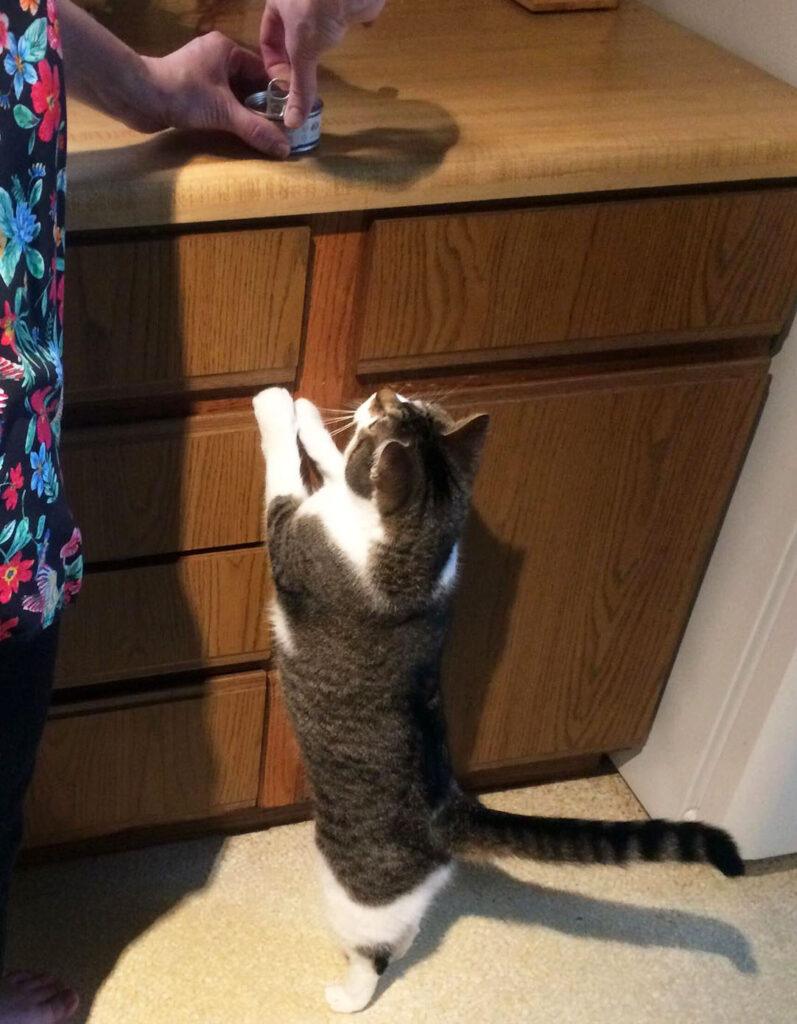 I'm a fan of tuna fish, so every now and then when I mix up a couple cans to make sandwiches, my cats go nuts. As soon as they hear the can opener they come running and once they smell that unmistakable fishy scent their excitement gets amped up to maximum. I've always poured out some of the water for them to lap up as a treat, but lately I've started wondering about the dangers of feeding cats anything that hasn't been specifically formulated for them. Is it safe to give cats canned tuna every day? What about once in a while, just as a treat? I decided to do some research.
It doesn't seem to pose any immediate danger for cats to have tuna every once in a while as a treat, but it is definitely not safe to feed it to them every day. Human-grade canned tuna is not nutritionally complete for felines and giving it to them every day could result in malnutrition. It's also possible for a cat to develop mercury poisoning from eating too much canned tuna. Stick to no more than 1 tablespoon per week for a healthy, adult cat and opt for the light tuna vs white (albacore) as it contains much less mercury.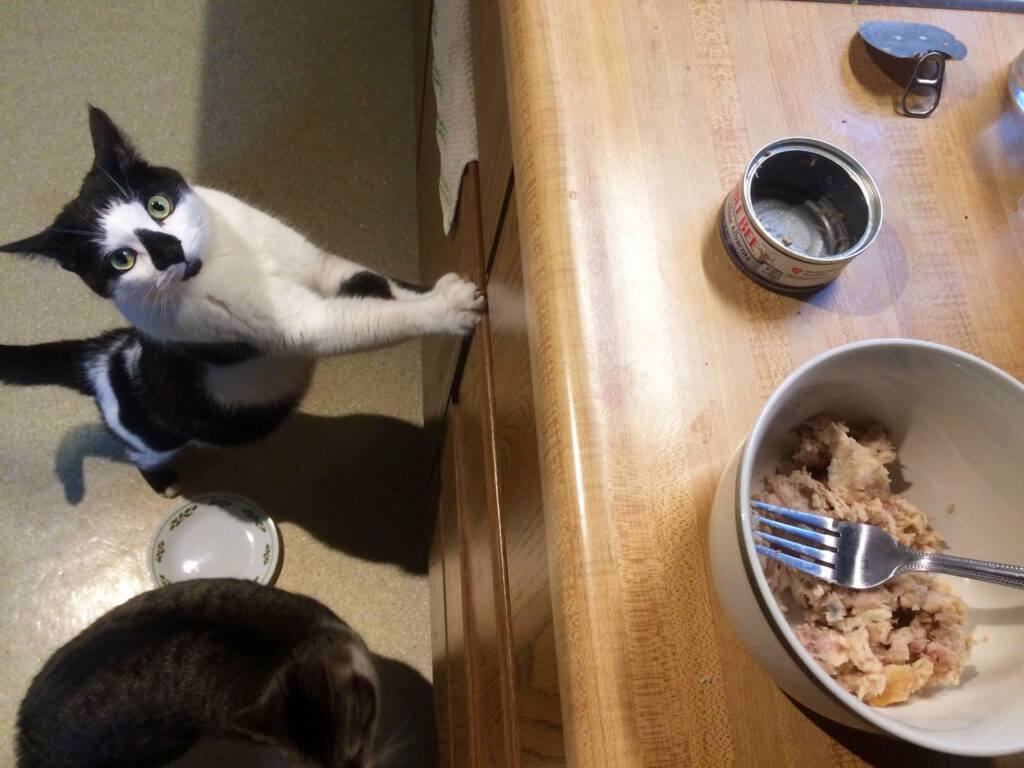 It's OK to give cats tuna as a treat
Tuna is not bad – it's a great source of protein, selenium, and a few select vitamins and minerals. It also provides some moisture to a cat's diet. If you open up that can of tuna and your cat comes running, don't feel guilty letting them have some (or drink the juice).
However, you probably shouldn't give it to them every day because cats can get mercury poisoning if eaten in excess, just like us. Further, you don't want to give them too much and spoil their appetite to eat their regular food (or end up giving them too many calories, especially if it's packed in oil).
Too many calories can lead to obesity, which in turn can cause diabetes and other illnesses.
Know your cat's nutritional needs
Cats have very specific nutritional needs and require a complete and balanced diet to stay healthy. Canned tuna fish, by itself, is just not nutritionally complete. While tuna is high in selenium and Vitamin D, as well as containing some iron and calcium, it also is lacking in many essential vitamins and minerals to keep a cat healthy and functioning for a long, healthy life.
Just as you wouldn't want to live off of one food entirely, it's not a good idea for your cat either. Eventually, it can lead to malnutrition and a host of ill effects if carried on for years.
Essential nutrients for cats
Cats require essential proteins and fats in their diet. They need essential amino acids from dietary protein, and without it, they can get sick. An adult cat needs 12.5 grams of crude protein and about 5.5 grams of total fat per day according to the National Research Council of the National Academies.
In addition, I also discovered they need a huge range of vitamins and minerals in their diets, just like us humans…
| | | | |
| --- | --- | --- | --- |
| Vitamin | Daily Rec. | Mineral | Daily Rec. |
| Vit. A | 63 µg | Calcium | 0.18 g |
| Vit. D | 0.4 µg | Phosphorus | 0.16g |
| Vit. E | 2.5 µg | Magnesium | 25 mg |
| Vit K | 82 µg | Sodium | 42 mg |
| Vit. B1(thiamine) | 0.33 mg | Potassium | 0.33 g |
| Riboflavin | 0.27 mg | Chlorine | 60 mg |
| Vit. B6 | 0.16 mg | Iron | 5 mg |
| Niacin | 2.5 mg | Copper | 0.3 mg |
| Pantothenic Acid | 0.4 mg | Zinc | 4.6 mg |
| Folic Acid | 47 µg | Manganese | 0.3 mg |
| Vit. B12 | 1.4 µg | Selenium | 19 µg |
| | | Iodine | 88 µg |
source: http://dels.nas.edu/resources/static-assets/materials-based-on-reports/booklets/cat_nutrition_final.pdf
Obviously it's not important to know the exact amounts of proteins, fats, vitamins, and minerals to give your cats (it's definitely not something I ever thought about before). However, I think this goes to show the importance of feeding your cats a balanced diet, and the easiest, safest way to ensure that is by feeding them food that is specifically formulated for cats. The pet food industry must meet certain nutritional regulations. While some brands might be preferable to others, they all are required to meet your cat's basic needs.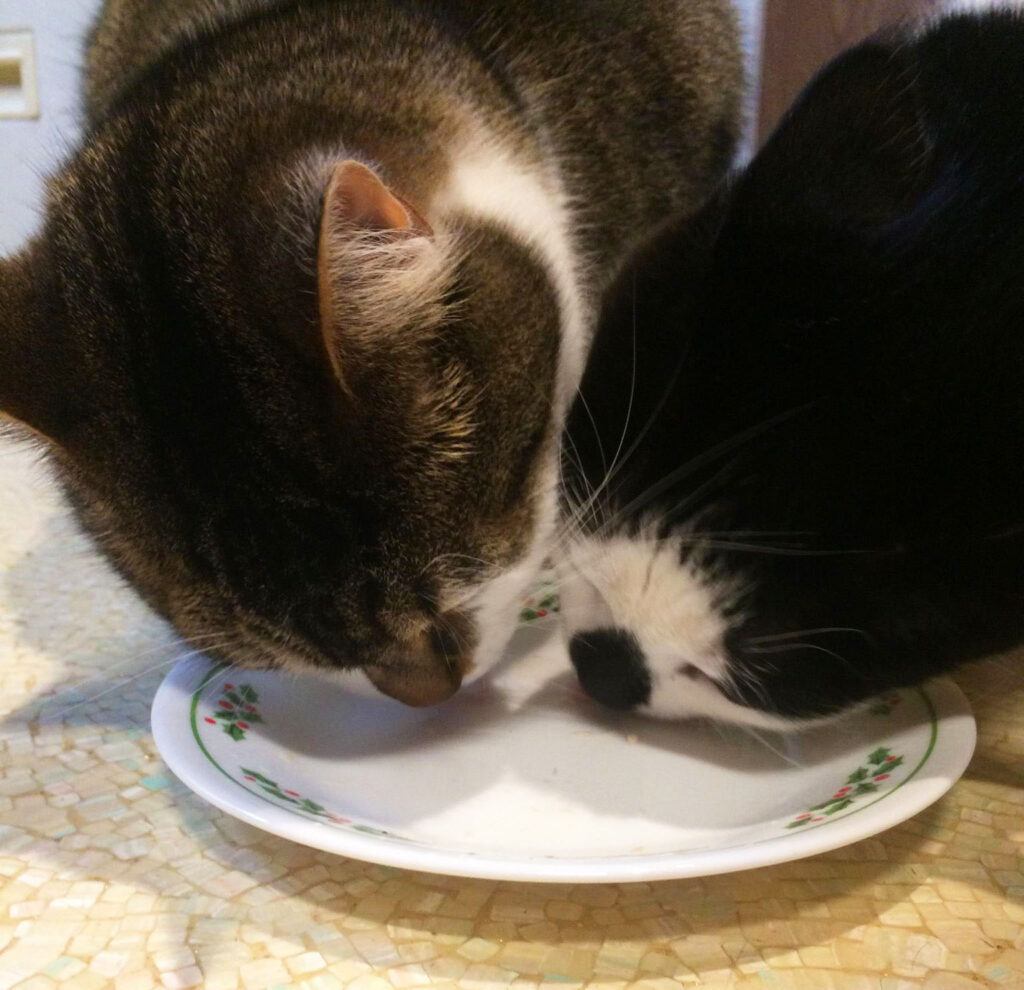 Effects of malnutrition in cats
There are unfortunately a lot of illnesses your cats can get if they're not given a proper diet. Malnutrition is most common in cats that are fed vegetarian or vegan diets, or that are fed exclusively home-prepared food.
If a cat is lacking just one essential component it can prevent the body from functioning normally.
Cats that are fed too much fish are vulnerable to thiamine (Vit. B1) deficiency. This can lead to decreased appetite, weight loss, and tummy troubles. Cats can also develop neurological symptoms over time, which you can read more about here.
There are also many other side effects that can result from malnutrition if lacking any nutrients/vitamins/minerals in their diets such as:
Fatigue/Lethargy
Muscle weakness/poor coordination
Weight Loss
Neurotic behavior
Gum swelling
Runny/hard stool
Caved nails
Partial blindness
Organ failure
(source: Vet Info)
Tuna packed in water vs tuna packed in oil
If you do give your feline some canned tuna, it's preferable to select tuna packed in water vs oil, because it has less calories and fat per serving. Since you're giving it as a treat, your cat doesn't really need the extra calories and fat since she should be getting it as part of her normal diet.
An average size cat only needs about 250 calories total per day! Too much can lead to an overweight cat, and you want to try and avoid that if possible.
The danger of mercury poisoning
Tuna is a deep ocean fish, so not one that cats in the wild would have historically had access to. Their bodies aren't equipped to deal with the high levels of mercury that is found in tuna. Tuna actually contains more mercury than most other seafood, so it is definitely a danger.
Children (and pregnant women) are actually recommended to avoid it altogether because their bodies are so small the mercury can build up faster. A cat is about the size of a baby – so the risk can be high if not careful about the amount given.
Chunk light tuna has less mercury than white tuna, so opt for that kind instead. (Some sources say that white (albacore) tuna can contain up to THREE TIMES as much mercury than light tuna!
How much is TOO much tuna to give a cat?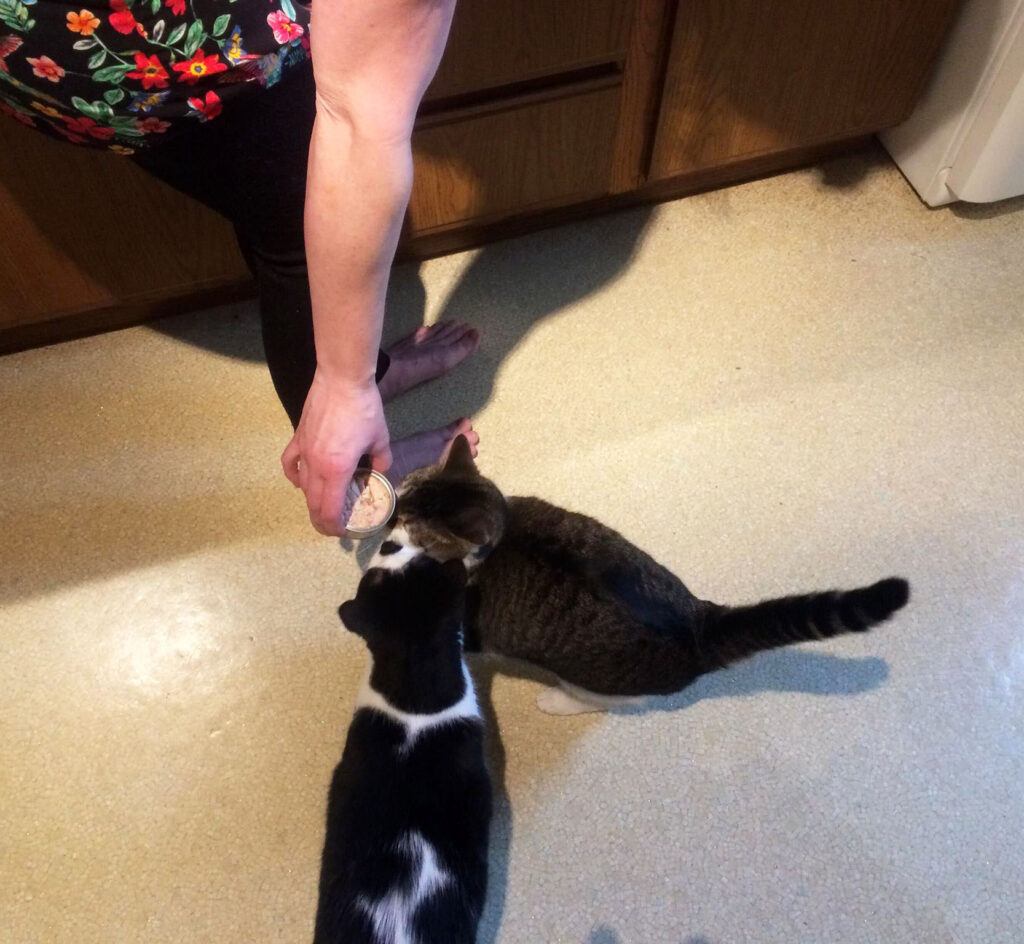 I found this seafood calculator that lets you put in your weight and stats to determine how much you can safely eat per week to avoid Mercury poisoning. I entered 9 lbs (an average size cat) and under age 14 – and it calculated that for tuna, it's safe to eat up to 1 half an oz serving per week! That is about 1 tablespoon per week, so very very little!
Granted, it's for humans – but it still gives you a pretty good idea that you should stick with an extremely small amount for your cat.
The Bottom Line
Giving your cat a bit of tuna every once in a while is not a big deal. However, due to the dangers of mercury poisoning, you really should not give your feline canned tuna fish on the daily. The recommended SAFE allowance is no more than 1 tablespoon per week.
If your kitty loves tuna, try feeding her canned tuna flavored cat food to supplement her diet instead. This will be more nutritionally complete, BUT if the product contains tuna it will still have some level of mercury. So don't exclusively feed your feline wet tuna flavored food, as the mercury levels can build up over time. Opt instead for a variety of flavors.