This post may contain affiliate links. This means I may receive a small commission if products are purchased through them. All opinions are honest and remain my own.
If you have a calico or tortoiseshell cat, you know how special they are. The unique coloring of these cats is some of the most beautiful around. Having had a calico myself, I decided to compose a list of all my ideas for calico and tortoiseshell cat names, in case I ever find myself with another one in the future.
When my husband and I were picking out a name for the abandoned stray calico cat that wound up being our baby of many years, we were going through an old movie phase. Not knowing at the time that calico cats are almost always female, we settled on the name Bela Lugosi (because of her decidedly creepy tendencies.) Luckily for us, Bela is a name that works well for either gender!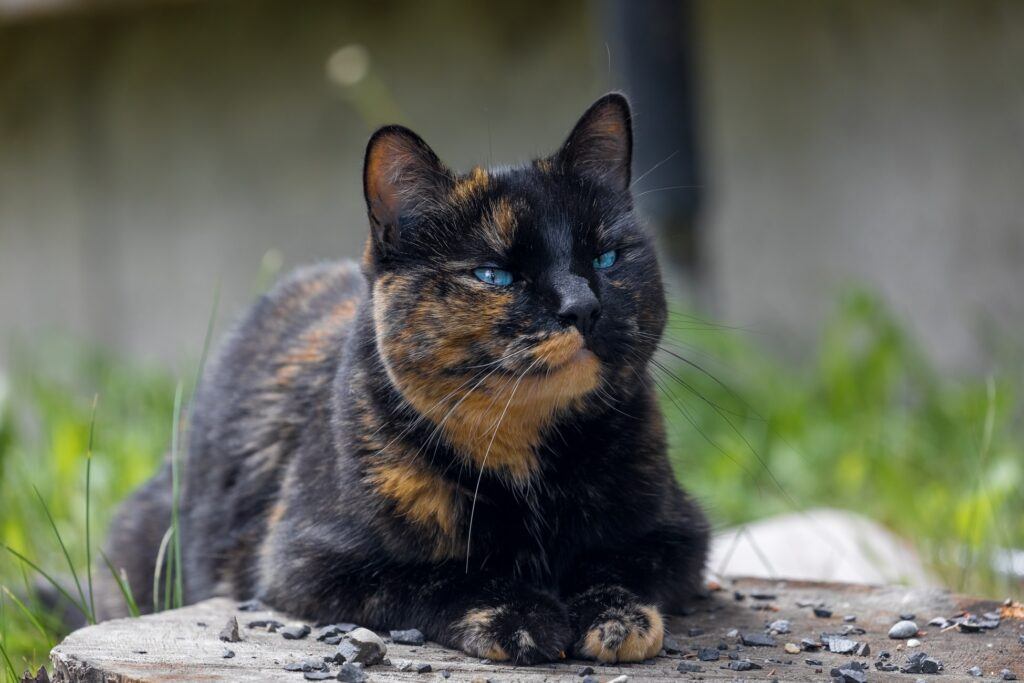 Not that it really matters; names are fluid. That's why I've included a whole spectrum of name ideas in this list. Some are just things that remind me of the white, black, and reddish brown patches on a calico's fur, or the exquisite marble effect of a tortie's coat. Others are characters that famously sport similar colors (like Bamm Bamm from the Flintstones!)
For both calicos and tortoiseshells, only one in every 3,000 is born a male. Of these rare males, nearly all are sterile. This is why calicos and torties cannot be bred, and why I decided to include many names that harken to the female spirit.
I also like the idea of names that suggest a hodgepodge or an amalgamation of hues and patterns. Calicos are considered to be lucky or magical in some cultures, so I played on that theme as well. What names do you like for calico or tortoiseshell cats?
A
Ali 
Agate (Aggie for short)
Amaretto
Amber
Andromeda
Annie
Arizona
Aurora
Autumn
B
Bambi
Bamm Bamm 
Beauty
Bella
Belladonna
Birdie
Bongo
Bouquet
Brew
Bridle
Brunhilde
Bruschetta
Buckeye
Burl
Butterfly
C
Callie
Callista
Camo 
Caterpillar
Chance
Chroma
Cloudy
Coffee
Collage
Colleen (an Irish term for an unmarried girl)
Confetti 
Coral
Cookie
Coquette
Countess
Cupcake
D
Dame
Dawn
Diva
Dowager
Duchess
Dusky
E
Eclair
Eclipse
Ember
Empress
F
Flame
Freckles
Fortune
Foxy
Freya (the goddess of love and beauty in Norse mythology)
Fusion
G
Galaxy
Gem
Ginger
Gizmo
Glory
Goulash
Grizabella
Gumbo
H
Hermione
Hobbes
Hocus Pocus
Hodgy (or Hodgepodge)
I – J
Ice Cream
Intarsia (a form of wood inlaying)
K
Kaleidoscope
Kitkat
Knotty
Koa (a type of wood)
Koi
M
Madame
Magic
Mahogany
Maize
Majesty
Maple
Marble
Marzipan
M…
Medley
Milkweed
Mineral (Minnie for short)
Mogwai
Monarch
Mosy or Mosaic
Motley
Mottles
Myrtle
P
Palette
Panda (red pandas are also reddish brown, black, and white)
Patches
Pebbles
Penny
Pepper
Pixel
P – Q
Pizza
Polka Dot
Poly (polychromatic)
Potluck
Potpourri 
Princess
Prisma
Pumpkin
Puzzle
R
Rainbow
Rarity
Reese 
Regina
Rice
Rocky Road
Rogue
Rooster
Rubble
Ruddy
Rum Tug Tugger
Rusty
S
S'more
Sable
Serendipity
Shelly
Shere Khan
Snapper
Speckle
Spectrum
Spices
Splendor
Spot
Sprinkles
Stew
Storm
Sundae
Sunset
Sushi
T
Tamarind
Tiger Lily
Tigger
Tiramisu
Toast
Tony
Toucan Sam
Tortie
Toto (another play on tortoise shell)
Treble
Trifle
Trilogy
Trinity
Trio
Turtle
U – V
Unique
Ursula (the name means "little female bear)
The process of picking out just the right name for your new kitty is such a fun and exciting time. We hope this list helped you think of some ideas! If you're new to cat parenthood and want to make sure you have everything you need for your sweet kitty, check out our article on 10 Essential Items For Your Cat: My Recommendations!