This post may contain affiliate links. This means I may receive a small commission if products are purchased through them. All opinions are honest and remain my own.
If you or someone in your home is allergic to cats, you may be looking into cats that don't shed. But are hairless cats like the popular Sphynx breed hypoallergenic? It seems to make sense based on the fact they aren't shedding all over the place!
Hairless cats like the Sphynx are less likely to trigger allergies in people, so by definition, they are hypoallergenic. However, that does not mean they don't produce allergens.
What does hypoallergenic actually mean?
It's common for people to think hypoallergenic means not producing any allergens, but it just means they produce fewer and are less likely to trigger an allergic response.
This may be where the confusion comes in when people say there's no such thing as a hypoallergenic cat. There are hypoallergenic cat breeds that are less likely to trigger allergies and produce fewer allergens, but there are no breeds that 100% eliminate the risk.
All cat breeds produce allergens whether they're hypoallergenic or not.
What causes people to be allergic to cats? Why are allergies to cats so common?
Cat allergies are the most common pet allergy, with an estimated 10 – 20% of people being affected to some degree. But contrary to popular belief, the real culprit of this is not actually their fur – it's a protein called Fel d 1, which is found in their saliva, skin, and urine.
This protein is incredibly sticky and unbelievably small – just 1/10 the size of a molecule of dust. This allows it to stay airborne for longer than other allergens, making it much easier to inhale.
This means that even Sphynx cats, and others that are hypoallergenic, may still trigger allergies in people due to their dander.
Read Also: I Have Allergies But I Want a Cat!
Does this all mean that cat hair has nothing to do with triggering cat allergies?
Even though cat fur isn't the actual source of the allergen that triggers an allergic response in many people, having a lot of cat hair in your home or a heavy shedding cat makes it worse.
Since cats spend so much time licking themselves, the protein is constantly being deposited onto their fur. When cats shed, their fur carries the Fel d 1 protein all over your home, which can be extremely irritating to those who are sensitive.
Certain cats like the Bengal, Cornish Rex, Devon Rex, and the Oriental who don't shed much or spend a lot less time grooming will release less of this protein into the environment, making them more hypoallergenic.
In the case of the Sphynx and other hairless breeds, they won't shed at all. But the protein can buildup on their skin, so you'll need to regularly bathe them and wash areas where they hang out to reduce the allergen source as much as possible.
There are also certain cat breeds who produce less of the Fel d 1 protein
There are certain breeds of cats that produce less of the Fel d 1 protein and therefore cause fewer allergies. The most hypoallergenic cat breed is actually the Siberian cat, which has a ton of fluffy hair!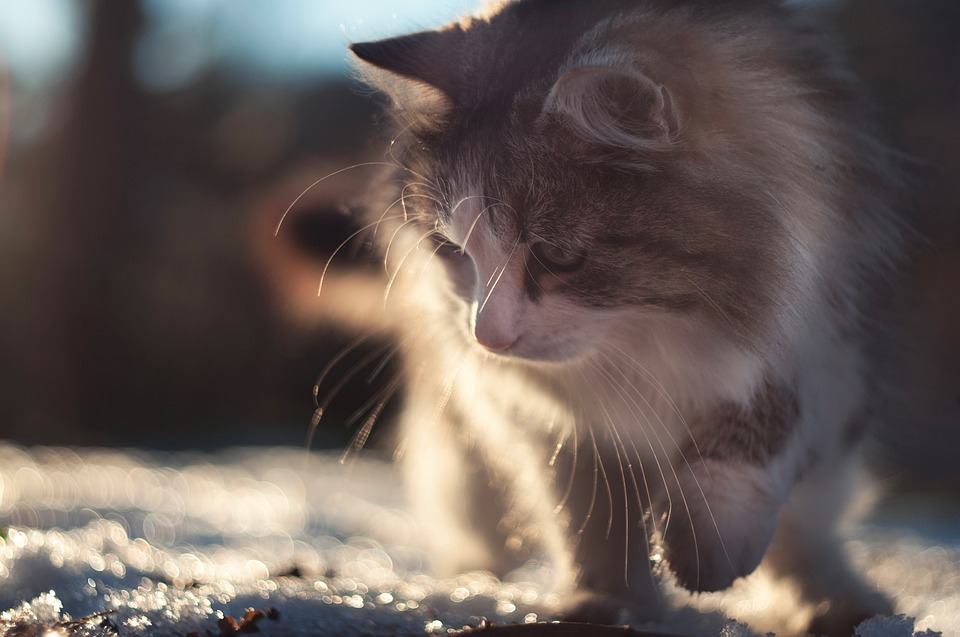 In addition to the Siberian, other cat breeds that produce less Fel d 1 protein are Russian Blue and Balinese.
Cat breeds that are considered the most hypoallergenic (most common breeds)
Choosing a particular breed of cat that is listed as hypoallergenic won't guarantee your allergy risk is zero, but it may help substantially. These are the most common breeds that are considered the most hypoallergenic, or the least likely breeds of cats to trigger allergies.
Siberian – produce less of the Fel d 1 protein
Sphynx – hairless so they don't shed
Russian Blue – produce less of the Fel d 1 protein, also traps allergens closely to the skin with its dense double coat
Balinese – produce less of the Fel d 1 protein
Devon Rex – they don't shed much
Cornish Rex – they don't shed much and produce less dander
Oriental – rarely sheds
Bengal – coats require less maintenance, so they don't spend a lot of time grooming (and they shed less)
Tips to further minimize cat allergies
Aside from adopting a cat that's more allergy-friendly, there are a few ways you can help reduce the hair and dander around your home that can intensify allergy flare-ups.
#1 Keep your house as clean and hair-free as possible
Although its not the hair itself that most people are allergic to, the FEL d 1 protein gets onto the hairs and therefore containing them is crucial for cat allergy management. Have someone brush the cat on a regular basis to minimize excessive shedding. For tips on the best ways to clean cat hair see my article How to Get Rid of Cat Hair Everywhere.
#2 HEPA filter vacuums
When you vacuum, just as many allergens get released into the air as get removed, so for a person with allergies it's important to use a vacuum cleaner with a HEPA filter. HEPA (High Efficiency Particulate Air) filters are able to trap a large number of tiny micros, minimizing the amount of allergens floating around your house.
#3 Use air purifiers
Air purifiers (like this one) also use a HEPA filtration system and are another great way to keep the air in your home clean and free of pesky allergens. And the best part? It's labor-free! Keeping at least one air purifier in your home is one of the most important steps you can take in controlling cat allergies.
#4 Allergen sprays
Another tool to keep in your arsenal is an allergen spray. An allergen spray is a formula that you simply spray all around your house to destroy all kinds of allergens including dust mites, pet dander, pollen, mold, and mildew. The most recommended brand is Allersearch ADMS. It's non-toxic and non-staining, so it's safe to spray on all surfaces, regardless of color. Mist Allersearch ADMS over furniture, drapes, carpet, pet beds, and anywhere else that needs it.
#5 Cat dander removers
They also make special formulas that you apply directly to your cat's fur to help reduce dander. Allerpet Cat Dander Remover works by removing the dander before it becomes airborne. Simply apply to a washcloth and lightly wipe across your cat's fur until damp.
#6 Don't let the cat in your bedroom
Though this might be heartbreaking, it's for the best. When cats sleep on your bed, their dander settles into the sheets and bedding, making it hard for you to get a good night's rest. Making your bedroom a cat-free zone will go a long way in alleviating allergy symptoms and help you feel better overall.
#7 Keep the litter boxes immaculate
Since FEL d 1 is found in kitty urine, keeping the litter boxes extra clean will help eliminate more airborne allergens. Try getting someone else to take care of that duty for you if it causes your allergies to flare up, or wear a dust mask.
#8 Medication
If all else fails, you could also try controlling cat allergies with medications like antihistamines, corticosteroid nasal sprays, or over-the-counter decongestant sprays. I would recommend trying the above methods first, however. Eliminating as much Fel d 1 as possible is the most effective way to deal with cat allergies.
---
The Bottom Line
Remember that no choice of cat breed can completely eliminate the risk for allergies, but adopting a hypoallergenic cat breed along with regular cleaning can help to minimize allergens enough so that you and your feline friend can co-exist peacefully!