This post may contain affiliate links. This means I may receive a small commission if products are purchased through them. All opinions are honest and remain my own.
If you've ever seen a house centipede in your home, you know that they're SUPER creepy. They're even worse than spiders in my book. They have these long flowing legs and seem to move about 100 mph. You know who is attracted to these guys? MY CAT!
Of course this leads into the question, are centipedes poisonous to cats? Even though they don't commonly bite humans, after I saw my cat trying to chase one across the floor, I had to do some research!
Cats are too large to be seriously harmed by the vast majority of centipedes. In rare cases, bites may cause severe reactions. If concerned, seek medical care.
The giant red-headed centipede of the southwest and south-central United States is the most dangerous to North America. Even though the bites are not considered fatal, they can produce pretty severe reactions, especially in a cat. Always seek medical care if you notice concerning symptoms or if you know your cat came in contact with one.
Why do cats like centipedes?
Your cat is a super curious and natural born hunter, so it's not surprising at all they take interest in centipedes. These guys have such long flowy legs and move FAST, and they're typically a lot larger than other types of bugs or insects you'd find in your home. (Technically, centipedes are considered arthropods).
Also, because both cats and centipedes are active hunters of the night, they are more likely to come in contact and find them than you are. I've seen my cat chasing a centipede more times than I'd like to admit.
Species of centipedes
There are actually thousands of species of centipedes in existence, but which ones you see depends on where you're located. If you're located within North America, these are the species you or your cat may encounter.
Common house centipede
The house centipede has about 30 super long legs and is a yellowish brown color. This is the one your cat will most likely come in close contact with because their habitat spans the entirety of North America, and they love to live indoors.
They are most likely found in humid areas like basements and bathrooms, and come out more in the spring and fall, when the temperatures change.
The house centipede can bite if handled, but it is very weak.
Bark centipede
The bark centipede is also very common throughout North America, but they're not found anywhere west of Texas within the United States.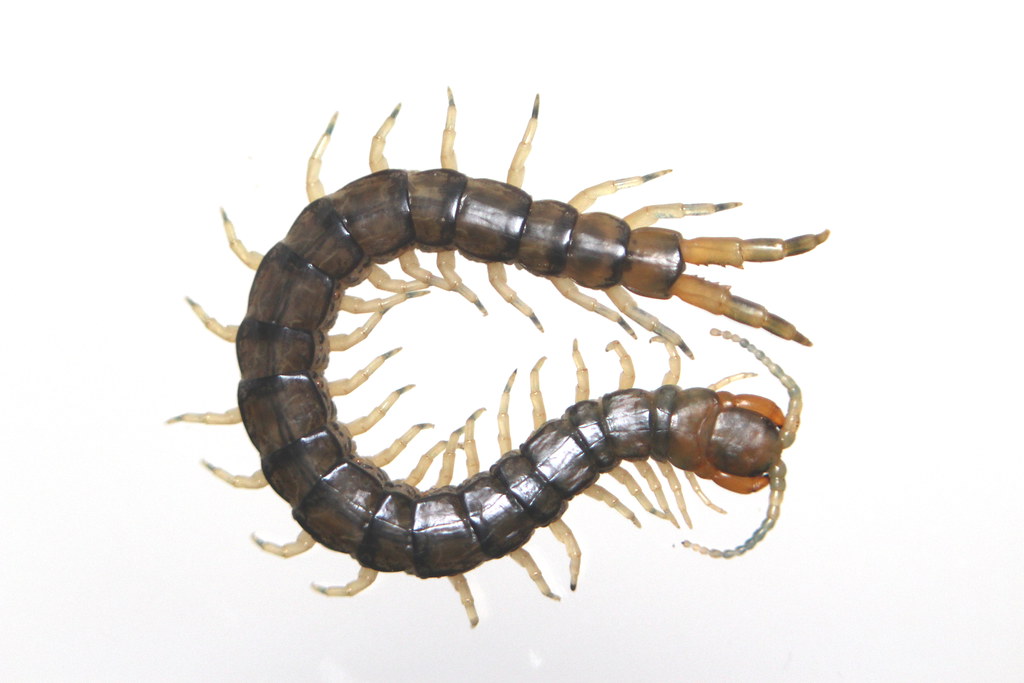 These guys are reddish brown with yellow legs, and are mostly found outdoors. But they can sometimes be found indoors, especially in basements or outbuildings.
Certain types of bark centipedes, such as the giant red-headed centipede, can bite and cause severe reactions in cats and even young children. These are the largest centipede found in North America, but their territory is restricted to the southwestern and south-central U.S. and northern Mexico. They're also not as commonly found within your home.
Cryptopid Centipede
The cryptopid centipede is found along the west coast of the United States and Canada, so unless you live there you're unlikely to see it. They look very similar to the bark centipede, which spans a much larger territory.
These guys are commonly found outdoors under stones and logs, but tend to wander indoors as well. They are known to bite and the bites can be rather painful.
Other types of centipedes found throughout the U.S., Canada, and Mexico
In addition to the house centipede, the bark centipede, and the cryptopid centipede, the scolopendrid centipede is found mostly in the southern and south-central U.S. You're less likely to find these guys indoors, but it's sometimes possible.
The soil centipede is also very common and found throughout the entirety of North America. However, because their habitat is within the soil, they (like worms) are rarely seen and not found in homes. Your cat is unlikely to encounter these.
What happens if your cat gets bit by a centipede
All centipedes are carnivorous and venomous, but the vast majority of them have venom that's too weak to seriously harm a cat. However, some cats may have more severe reactions.
Symptoms (you may notice) of a centipede bite in cats
fever
swelling near the bite
itching
shivering or rapid breathing
lack of energy
decreased drinking and appetite
In the vast majority of bites, nothing more than some initial pain and swelling may occur.
However if you notice a severe reaction, or if you know that your cat came into contact with a larger and more dangerous variety of centipede, seek medical care. The giant red-headed centipede is the most dangerous in North America.
What happens if your cat eats a centipede
The most likely thing that would happen if your cat ate a centipede is they would simply puke it up. Cats can have sensitive stomachs and centipede parts can irritate their stomach lining. It's very unlikely to cause any further harm.
To be safe, you should still keep a closer eye on your cat and watch for any concerning symptoms that may develop.
What about millipedes?
Like centipedes, millipedes are also arthropods. These guys may bite, but their pinchers are too small for your cat to feel it. They're not poisonous and very unlikely to cause any harm to your cat.
However millipedes can emit a fluid when they curl up and and feel threatened, which is likely if your cat is trying to play with it. If this fluid sprays on your cat, it can cause them some discomfort. You may notice your cat meowing or running up and down.
In most cases this is generally not serious and resolves on its own. In rarer cases, your cat may be allergic and develop a more severe reaction. Call your vet if you are concerned.
Also check out: Is Aloe Vera Poisonous to Cats?
The Bottom Line
In the vast majority of cases, a centipede won't harm your cat. If your cat develops any serious concerning symptoms that don't subside, seek medical care.