This post may contain affiliate links. This means I may receive a small commission if products are purchased through them. All opinions are honest and remain my own.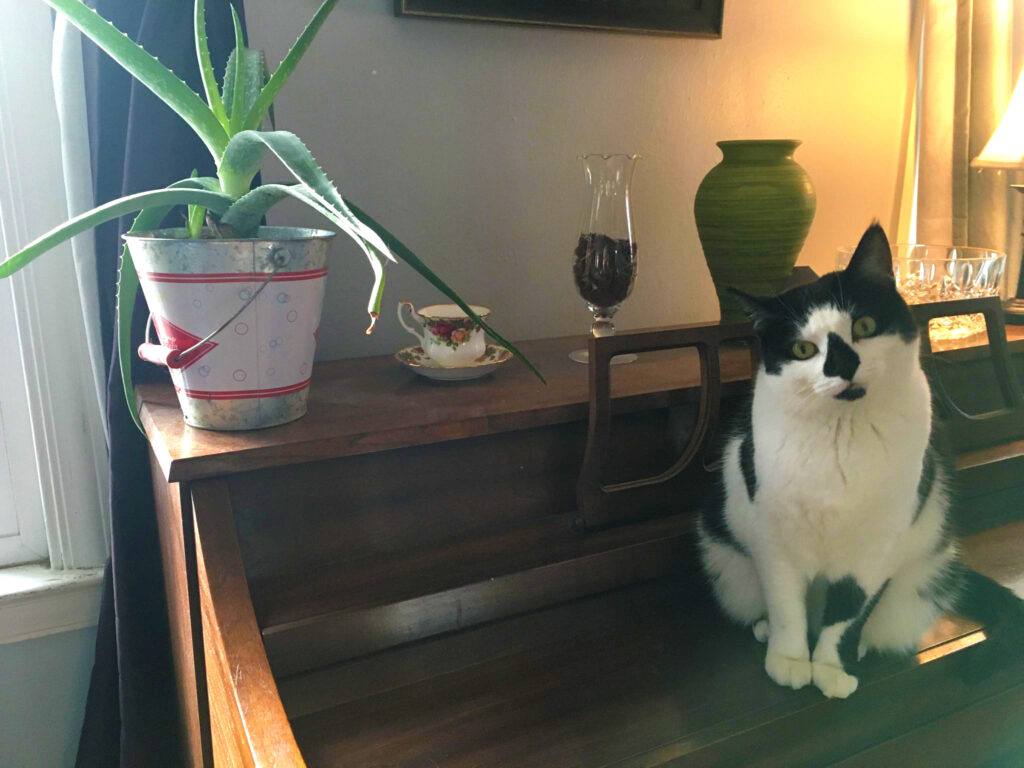 A question was brought to my attention recently; is aloe vera poisonous to cats? Being a devoted cat mom to two precious fur balls AND the owner of a medium-sized aloe vera plant that proudly sits atop my piano, when I heard that the plant could be toxic to them, I panicked. Were my babies in danger? I had never noticed them chewing on it before, but should I get rid of the plant? I immediately decided to do some research to find out.
Yes, the aloe plant is dangerous to cats. It contains a toxic compound called saponins, which is found in the outermost area of the plant leaves, just below the skin. If ingested, it can potentially make cats very sick. It is not usually, however, life-threatening.
So, the question remained, was it necessary to get rid of the plant now that I was informed of the potential danger? I'd had both the plant and my cats for years with no issue. I inspected the plant for any signs of bite marks but could find none. If my cats (Bear and Chickadee) had made it this long living in harmony alongside the succulent spears, should I just leave well enough alone? The plant, after all, was a gift from my best friend, repotted from her own GIGANTIC aloe plant and who has three cats of her own, also with no issues.
Cause of aloe poisoning in cats
The toxic part of the aloe plant is not the gooey gel found inside the leaves, but the whiteish/yellowish sap around the outside edges. This is the latex that the plant produces and it's the latex that contains the toxins (saponins) that can make cats sick.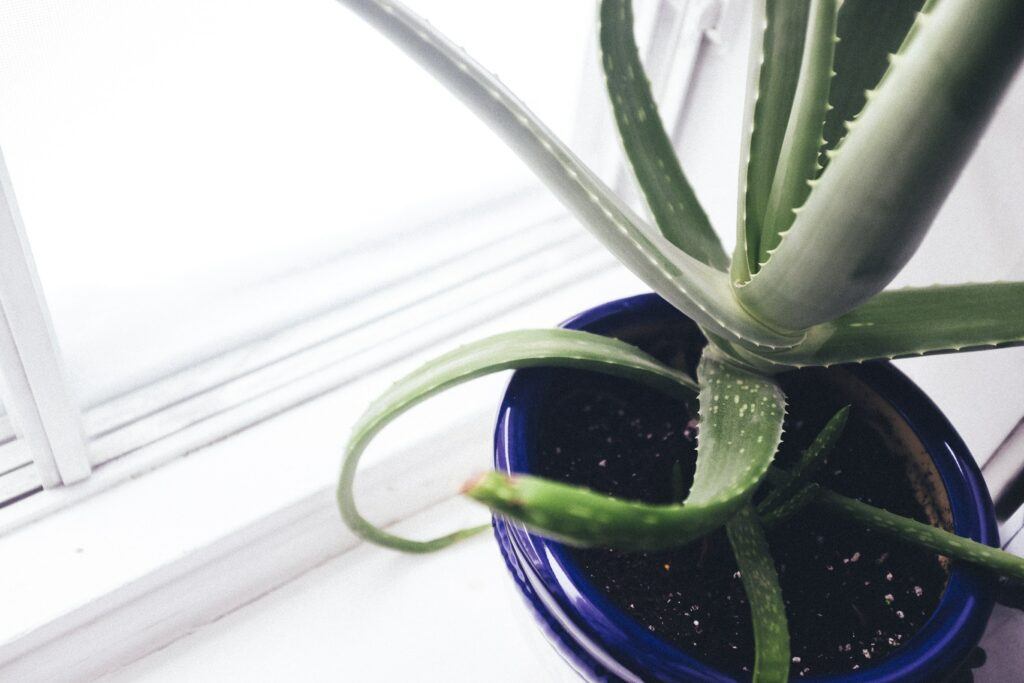 Symptoms of aloe poisoning in cats
The latex found in the outer white areas of the aloe plant is considered to be a purgative (meaning it has a laxative effect) and can cause symptoms like:
Diarrhea
Vomiting
Loss of appetite
Gastric upset
Change in urine color (to red)
Tremors (more rarely)
If you notice any of these symptoms in your cat, schedule an appointment with your veterinarian immediately. It is also recommended to take a piece of the suspected plant with you to the appointment.
What other plants are toxic to cats?
Because there are many many thousands of plant species in the world, the technical complete list of plants that could be toxic to cats is expectedly very long. That list, according to the American Society for the Prevention of Cruelty to Animals (ASPCA), can be found here.
What may be more immediately helpful is the ASPCA's list of the top 17 plants to keep away from your kitties. I've abbreviated that list to a quick, at a glance guide for you below:
Top 17 Plants That Can Kill Your Cat
Lilies. Highly dangerous. Causes kidney failure even in small amounts.
Marijuana. Can result in depression of the central nervous system, incoordination, vomiting, diarrhea, drooling, increased heart rate, seizures, and coma.
Sago Palm. Seeds (or nuts) are the most poisonous part.
Tulip/Narcissus Bulbs. The bulb portion is the most imminent danger of the tulip plant.
Azalea/Rhododendron. Vomiting, drooling, diarrhea, central nervous system depression, and (more severely) even coma or death.
Oleander. Causes GI tract irritation, abnormal heart function, hypothermia, or death.
Castor Bean. Contains ricin. HIGHLY toxic.
Cyclamen. Root portion of this plant contains highest concentration of toxins.
Kalanchoe. Can cause GI tract and heart problems.
Yew. Contains taxine, which can lead to central nervous system problems, difficulty breathing, GI tract irritation, and cardiac failure.
Amaryllis. Popular garden plant around Easter. Highly toxic for kitties.
Autumn Crocus. Causes multiple symptoms including bloody vomiting. and multi-organ damage.
Chrysanthemum. Contains pyrethrins that cause gastrointestinal upset, drooling, vomiting, and diarrhea.
English Ivy. Contains saponins that can cause vomiting, abdominal pain, and diarrhea.
Peace Lily (aka Mauna Loa Peace Lily). This type of lily contains crystals that will cause severe irritation and burning around your cat's mouth, vomiting, drooling, and difficulty swallowing.
Pothos. A popular houseplant that can cause swelling of oral tissue and other parts of GI tract.
Schefflera. Similar effects of the peace lily.
As a safety precaution, I would strongly recommend not having any of the plants on this list inside your house. Or, if they are, make sure your cats are unable to come into contact with them.
Are all succulents poisonous to cats?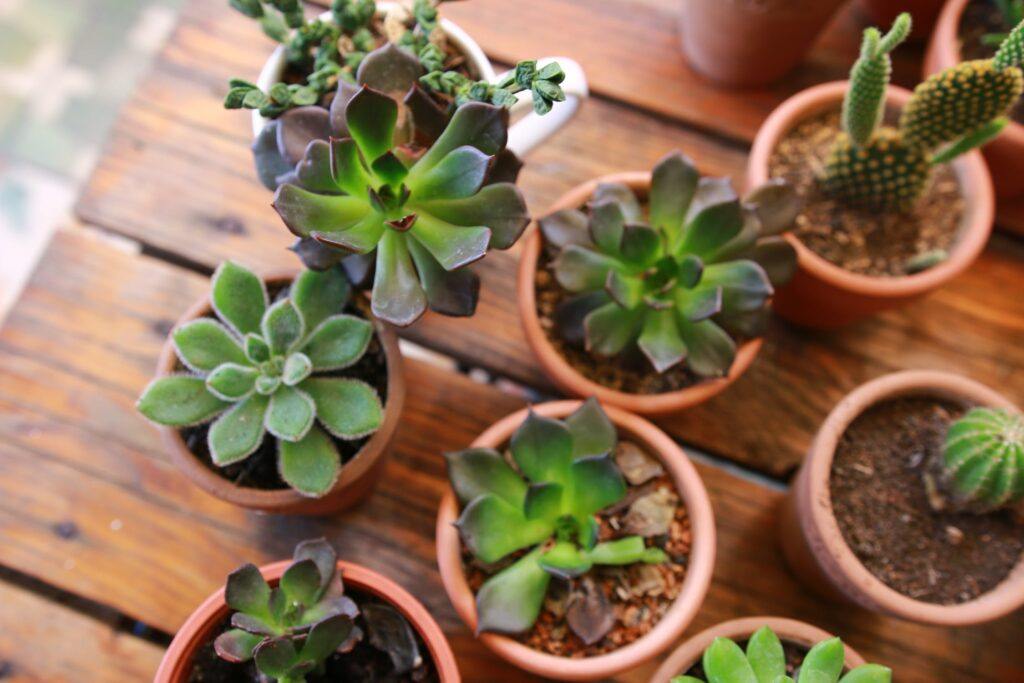 Nope! In fact, most succulents are completely harmless to both cats and dogs. Cat-friendly succulents include:
Echeveria
Sempervivum (hens and chicks)
Zebra Haworthia
Hardy Sedum
Christmas Cactus
Burro's Tail
Besides Aloe Vera, other succulent-specific plants that could be toxic for felines include:
Jade Plant
Fiddle Leaf
Snake Plant
Kalanchoe
If you have a plant and aren't sure of its species, then it is definitely best to keep it well out of the reach of cats and any other household pets.
Why do cats chew on houseplants, anyway?
Cats are carnivorous by nature, but as we all know they are also wildly curious. In the wild, they may eat plants in addition to meat for the added nutrients or fiber, or maybe they just like the way it tastes. Nobody is exactly sure.
For domestic cats, chewing on houseplants may simply be out of boredom, or they like the texture of the foliage. Some cats might eat one plant and leave the one next to it alone, as a matter of taste. In any case, it is best to keep the potentially harmful plants out kitty's reach.
So, do I need to get rid of my aloe plant?
After all of my reading, I have decided, for now, to keep my aloe plant in the same place it has always been. This decision was specific to my house and my cats. Since Bear and Chickadee have lived with the plant their whole lives and apparently decided they aren't interested in snacking on it, I feel pretty comfortable that it is probably safe. Even if ingested, the aloe plant toxins aren't a matter of life and death, so that knowledge helped me come to my conclusion as well.