This post may contain affiliate links. This means I may receive a small commission if products are purchased through them. All opinions are honest and remain my own.
If you're a cat owner, you will likely find yourself in need of hiring a cat sitter from time to time. Last summer before a vacation, I realized that my neighbors, parents, and my go-to cat sitting friend, were ALL going to be gone during the exact same week. For the first time I had to find someone I didn't know to watch my babies while I was away. I was nervous and realized that I didn't even know how much to pay a cat sitter. Where to start?
Luckily, a friend of mine with three cats (see their adorable photos throughout this article) has a professional cat sitter that she loves. I was able to glean a lot of helpful information from her experience.
On average, a cat sitter should be paid $20 – $30 a day for drop in visits, and $70 – $80 for overnight stays. The amount to pay a cat sitter will depend on a few factors:
The length of the visit
The number of visits per day
Whether or not you want them to spend the night
Your geographic location
The number of cats you have
Any additional, non pet-related duties you may want the sitter to perform
What does a cat sitter do?
A cat sitter comes to your home, where your cats feel the most comfortable. Most cats get really stressed out when they have to travel, which is why it is best to leave your cat at home while you are away. The cat sitter will make sure that your cat is properly looked after during your absence, and doesn't have to leave the safety and security of his own familiar territory.
Cat sitter duties include, but are not limited to the following:
Providing your cat with food and water – You should go over your cat's specific dietary needs with your cat sitter prior to your departure. Leave a detailed instruction sheet as well. Make sure they clean and change the water bowls every day.
Cleaning the litter boxes – Litter boxes should be cleaned every day, which is one of the reasons it's important to have someone come over each day that you are away.
Playtime and TLC – Cats can get lonely, bored, depressed, or anxious while their owners are gone for a long time. Having someone come over to breathe some life into the house and provide the kitties with much needed attention and stimulation is a service that should be a priority to any pet owner.
Administering medications – Again, something you will need to go over carefully with the sitter before leaving. Many professional sitters are also certified in pet first aid. Be sure to leave the contact information for your veterinarian, as well as a cat carrier, in case of any (God forbid) severe medical emergencies.
Phone updates – Any good cat sitter should send you daily pictures and phone updates of your cat. This always makes me feel a million times better when I'm away from my babies.
Making sure everything is ship shape around the house – One of the worst parts about leaving your home for any lengthy period of time is simply the not knowing if anything has happened. Was there a power outage? What if one of the cats threw up all over the place or got stuck somewhere in the house? A cat sitter takes this stress away.
Miscellaneous household tasks – Many cat sitters will be agreeable to some helpful household tasks while they are watching your kitties. Things like watering houseplants or bringing in mail are simple but important to be done every day. Depending on how many extra tasks you'd like them to be responsible for, you may have to pay extra.
Cat sitting rates
Average Professional Cat Sitting Rates – A General Quick View
| | |
| --- | --- |
| Length of Stay | Approximate Cost |
| 30 min or less | $10 – $20 |
| 60 min | $20 – $30 |
| Overnight | $65 – $80 |
Because there are so many variables, it's impossible to give an overall "correct" answer to this. In the case of my friend with the three cats, the sitter she found (her name is Deb and you can find her business profile here, if anyone reading this happens to live in SE Michigan) charges $20 a day. This fee includes all of the services listed above, and she comes over once a day, for about 60 minutes. Different sitters will have different rates of course, but $20 for a high quality daytime visit is a very good price for a professional cat sitter.
Let's say you aren't going away on a long trip, but are just stuck at work all day and need someone to stop by your house for 15 minutes to check on a young cat or administer medication to a sick one. These services are available as well, and would be less expensive than hiring someone to care completely for the cat while you are gone for multiple days.
There are also cat sitters that offer overnight services for people who are willing to pay more and who want someone to stay with their cat for longer periods of time. In order to find the specific service and rate you want, you will most likely need to take to the internet.
How do I find a cat sitter in my area?
This is the tricky bit. Word of mouth is usually the best way, but that option isn't always readily available. My friend found Deb using the Nextdoor app. If you haven't used Nextdoor before, it's a super convenient way to connect with the people that live in your surrounding area. It's free to join and is basically just a community forum for people to write posts about any topics or questions they want. It would definitely be worth a try to search for a cat sitter using something like that. Then at least you know the sitter would be in close proximity to you.
You could also try other social media websites designed to help find caregivers such as Care.com or Rover (although Rover is geared more towards dogs, you can find a cat sitter on that site as well). A referral or recommendation from your veterinarian would be a great option also. Professional pet sitting websites such as Pet Sitters International (petsit.com) or Petsitters.org would ensure that your sitter has top notch credentials.
So again, some ways to find a cat sitter near you:
Nextdoor.com
Care.com
Rover.com
Petsit.com
Petsitters.org
Recommendation by a veterinarian or friend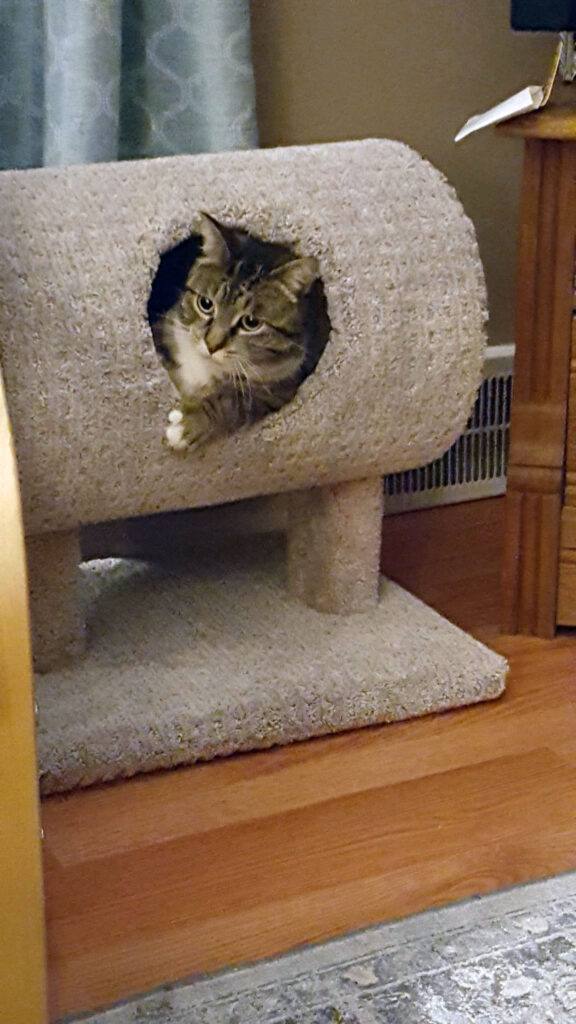 The all-important meet and greet
Once you have found a potential cat sitter, the next step is to meet with them BEFORE you leave on your trip. Introduce them to your cats to see if it's the right fit. Explain all of your cat's feeding requirements and specific needs. Show them where the litter boxes are and your routine for cleaning them. Supply the sitter with your contact information, as well as emergency numbers and veterinarian information. You will be leaving this person with a key to your house, so make sure that everything feels right and that it's a good fit. If something feels off, keep looking.
Yikes, I didn't realize it was so pricy. Is there a less expensive option?
Of course! I almost never have to use a professional cat sitter because I usually have family and friends in town who are willing to help. If you can find a neighbor or nearby friend who doesn't mind watching your pets for little or no compensation, then that's great! Make sure to bring that person a nice gift from your travels and a thank you card. I feel like that is often more appropriate than payment when it comes to someone you already know.
Another option is to ask around the neighborhood if there may be any kids on your block who would like to earn some extra money by watching your cats. You will most likely not have to pay as much as you would a professional sitter by going that route.
The advantages to using a professional sitter
While it may be nice to use a neighborhood kid for a much lower price than a professional, there are definitely advantages to shelling out extra for your cat sitting needs (once you have found a professional that you trust.)
Reliability – It's all in the name – professional. Hiring someone will ensure that they are there everyday. I'd recommend having a pet camera in place that you can check from your phone, just to be on the safe side.
More time spent with cats – Professional cat sitters do what they do because they love cats and they love spending time with them. They will give your cats the attention and playtime that they crave while you are out of town.
Daily photo updates – Because you are paying them well, cat sitters will take the time to send you a text and a picture of your cat every day, which is SO nice when you are away from your babies. (Deb even puts together little photo collages!)
Better equipped to handle emergency situations – If there is some kind of medical emergency or other unforeseen situation, a professional sitter will be more likely to know exactly how to deal with it. Caring for and understanding cats' needs is their job.
Ease of mind – Knowing that you've responsibly left your cats in good hands is a load off your mind when you're traveling (which can be stressful enough on its own.)